I know it's been radio silence around here lately – between family vacations and my girls not in camp at all this summer (they're doing swim and dive team, tennis and swim lessons at our pool instead) I have had very little time to work on projects or blog posts. But the Nordstrom Anniversary Sale opens to the public tomorrow and I wanted to share what I ordered this year.
If it seems like every blogger out there is pushing the Nordstrom Anniversary Sale…well, it kind of feels that way to me too :) Here's the deal with it, and why it's a great time to shop. Every July Nordstrom marks down a ton of new fall items. So it's brand new stuff that is generally on deep sale. Accessories, home, and beauty items are also included in the sale and you can find amazing deals on things you buy anyway, like makeup and sunscreen. The presale has been running for the past week, available only to Nordstrom cardholders. But most of the pieces are restocked for when the sale opens to the public tomorrow, on July 20th. All of the items are restocked again after the sale ends August 5th, but prices will return to normal for the rest of the season. So it's a great time to stock up on basics or things that catch your eye at end-of-season prices…except it's the beginning of the season. Does that make sense?
Here's what I've ordered for myself this year!
I love the silhouette of this dress, like a zsushed up shirt dress. I think the wide elastic waist will be super comfortable and flattering. I'm be wearing this from fall straight through the winter. It's a little bit of a splurge but it's a great brand and I know I'll wear this enough to make it worth the cost, and the sale price knocks off $60 from the full price!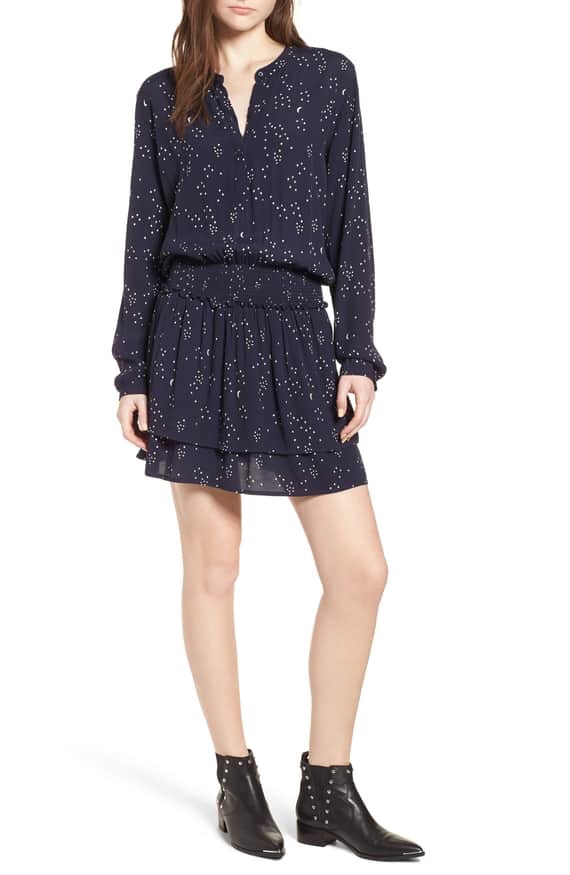 Shirtdress
I bought a pair of taupe flat booties last year and wore them so much I decided to add another pair to my shoe wardrobe this year. They work with everything from dresses to jeans and the comfort level means I wear them over and over and over. I like the cutout at the sides of these (I'll likely cut off the elastic). I wound up ordering them in black but I love this deep, warm grey color too. Oh, and they're WATERPROOF.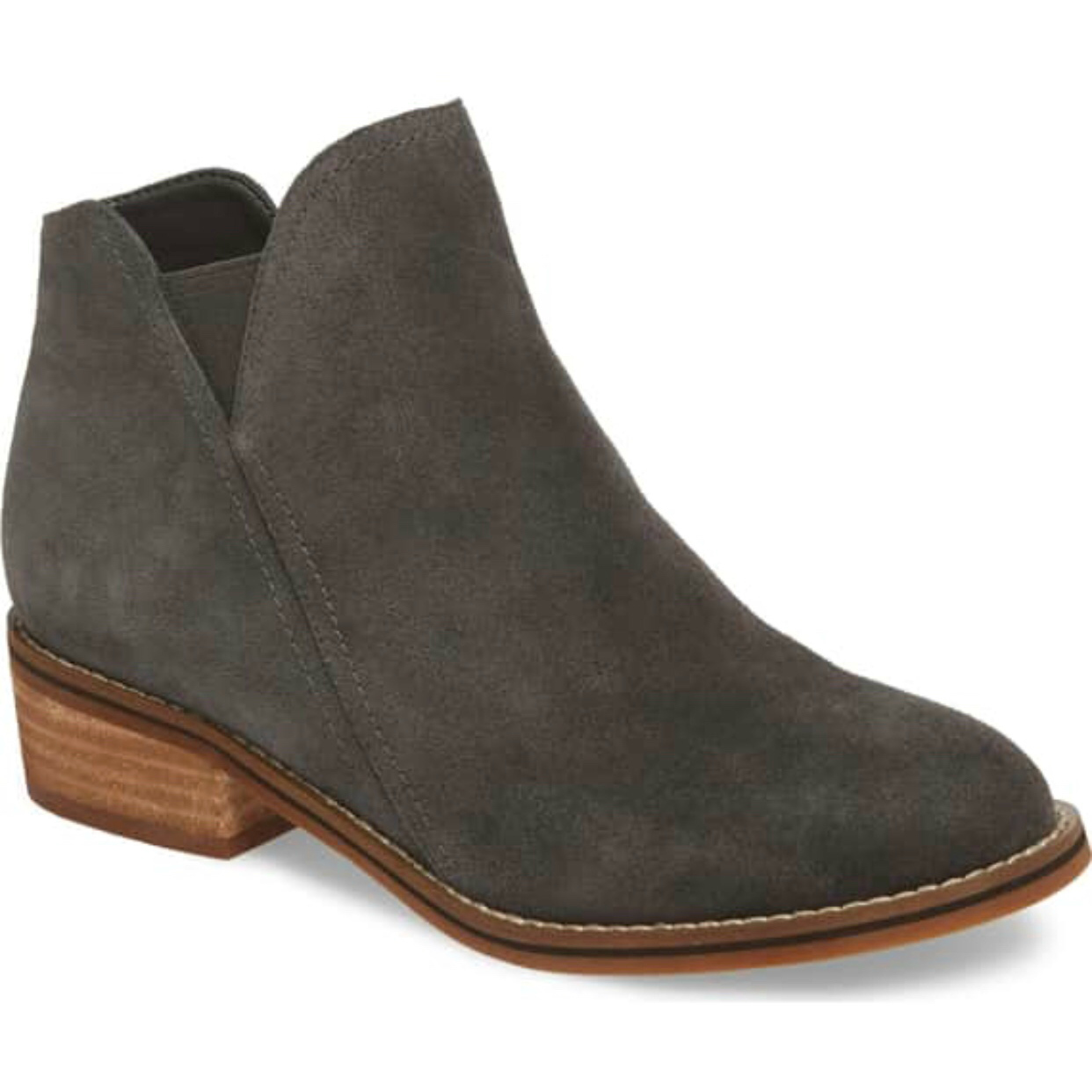 Waterproof Booties
Silky button-downs like this have become a staple for me. Casual enough to wear with comfy jeans and boots when working from home on weekdays but nice enough to dress up with skinny jeans and heels to go out. Buttoning up to the neck isn't my thing so I'll wear this with the top few buttons undone for a more laid back look.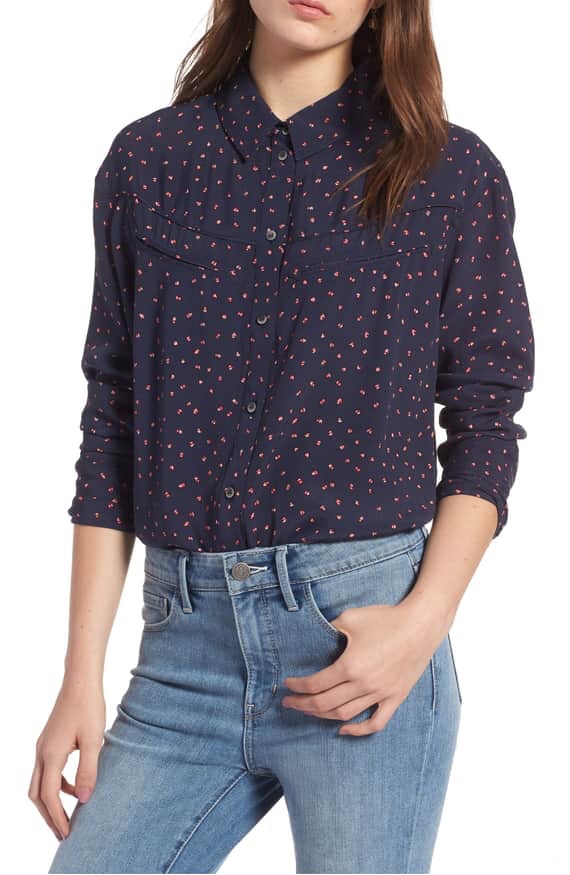 Long sleeved shirt
I'm a total sucker for cute sneakers. They're my favorite thing to wear on weekdays. I bought an ivory pair over ten years ago and it was time for an upgrade. These ivory and rose gold ones sold me immediately (as did the $40 price tag)!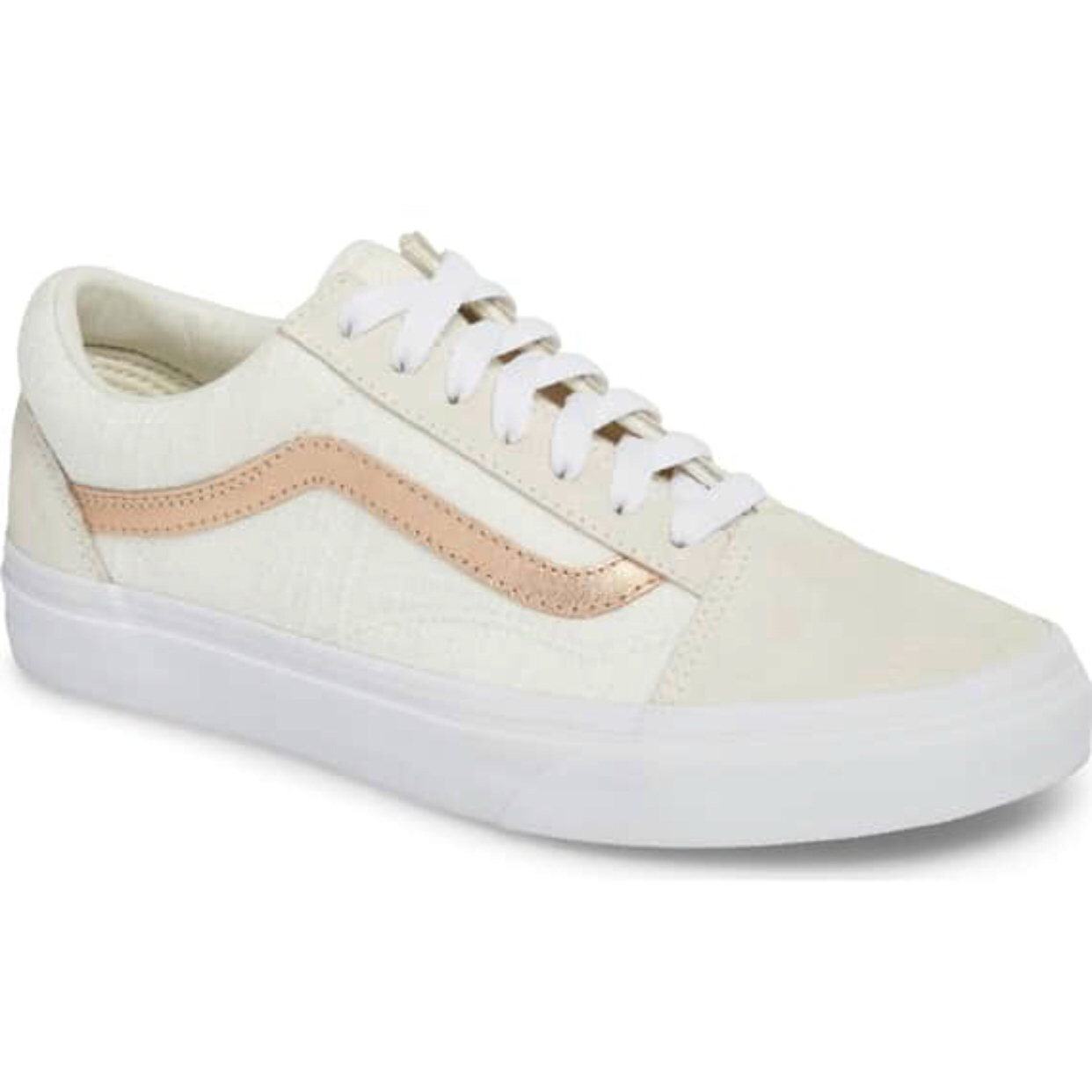 Sneakers
I have…..ummmmmm…….five or six of these sweaters already. They're fleecy and super, super soft. Like, people comment on it if they happen to touch one of them, something to tune of, "Oh my gosh, that is the softest sweater ever, where did you get it?!" My mom wound up buying one last winter and has fallen in love too. This silhouette with the seam down the front is new this year and I decided to order it in blush pink, which I think will look great with my camo jeans. The sweaters are also long enough to wear with leggings, making it pretty much the easiest way to be extremely comfortable while still looking cute. It comes in six colors and is under $40 during the sale!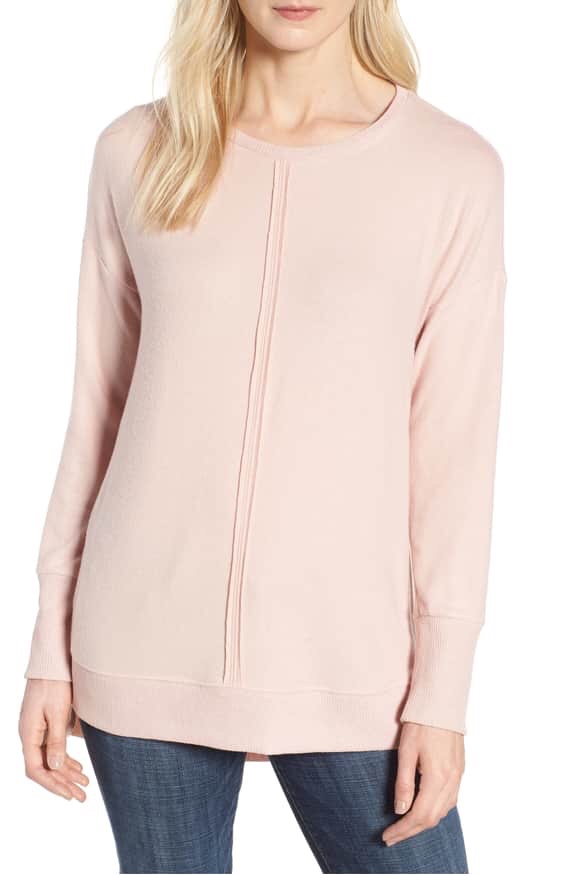 Fleece Sweater
I wear jeans almost every single day, so I'm often looking for a new pair to add into the mix. I love the high rise, leg length, and lighter wash of these. This brand has been getting amazing reviews and during the sale you can score the jeans for FIFTY DOLLARS. Amazing.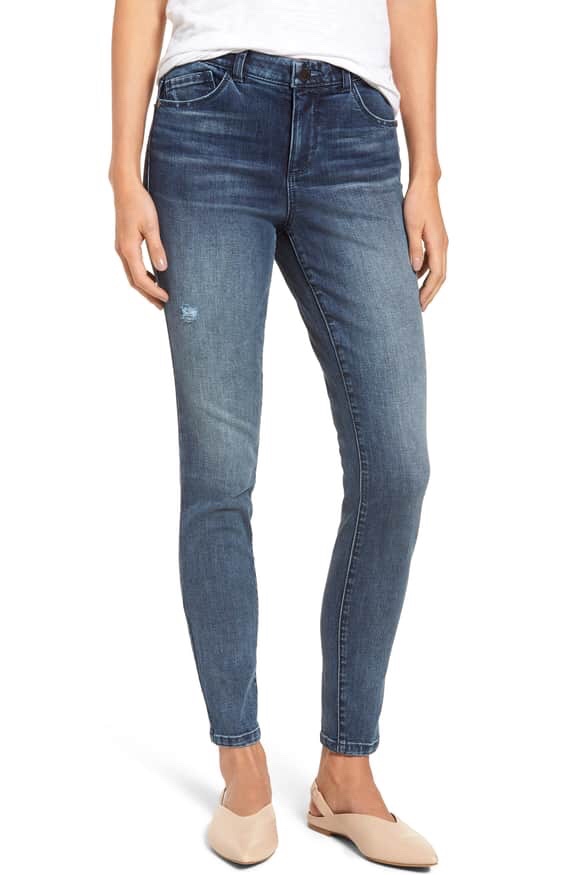 Jeans
Does this pattern look familiar? Yeahhhhhh…I liked the print on that silky long sleeved shirt above so much that I bought the pintucked sleeveless version too. The price was too good ($38!) for me to pass up. This has been selling out during the presale so if you like it, act fast before it's gone again! It has buttons down the full length of the shirt so you can wear it untucked, front tucked, or tied up at the waist with high rise jeans.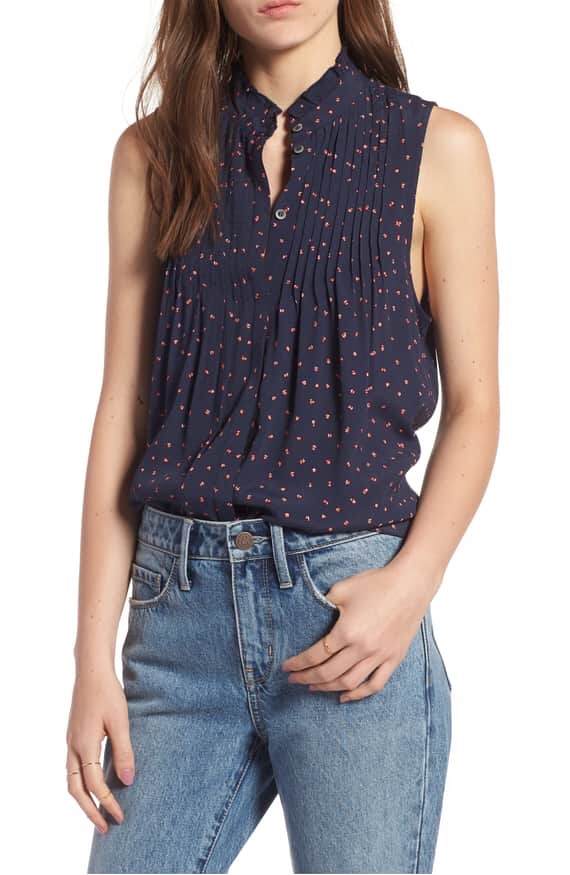 Sleeveless top
This suede jacket was my biggest splurge of the sale but I love love love the little bit of style and edge that a leather jacket adds to any outfit. The color of the jacket is NOT represented accurately in this photo. The color Bank Roll is actually a gorgeous olive green that will be an excellent neutral and will go with just about everything in my closet. I know this is a jacket I'll wear a ton for many, many years, so it's absolutely worth the $125 investment for me!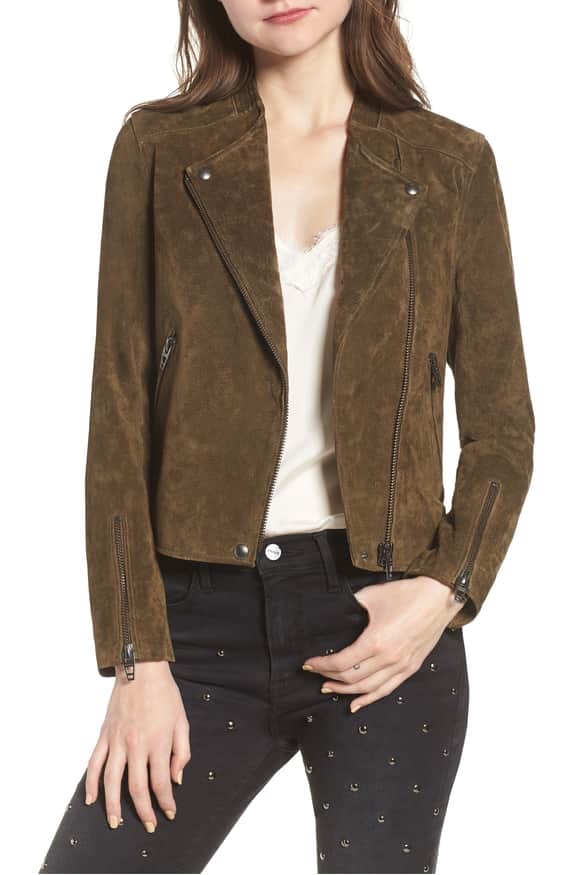 Suede jacket
I was SO psyched to see this sunscreen included in the sale. It's what I use all summer long on myself and my girls and it's marked down from $19 a bottle to $12 (you get a three-pack for $36). I stocked up for the rest of summer.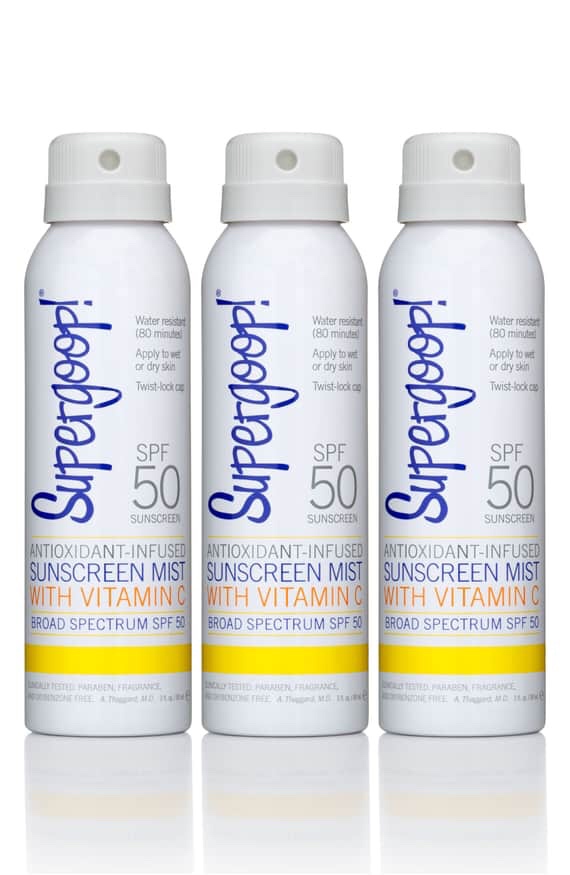 Sunscreen
Speaking of sunscreen, this has basically been my hero product of the whole summer. It's brilliant for reapplying to the face throughout the day and it's so light and refreshing (as opposed to putting more cream over your sweaty face, ew). It smells lightly of mint and rosemary (so nice) and in addition to being an SPF 50 sunscreen, it's also a makeup setting spray and controls oil. I've been using it on myself and my kids almost daily. With the Anniversary Sale you get a free travel-sized bottle with the full size one.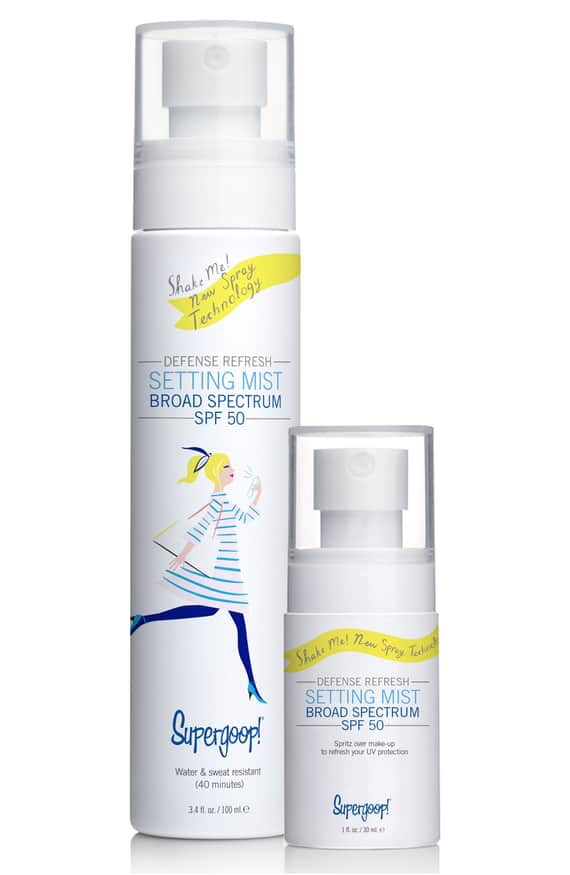 Face mist
And that's a wrap! I know it can be an overwhelming sale to weed through but hopefully I did some of the legwork for you here. Happy shopping!