Before I jump into the classic girl's bedroom plans I have to share with you today, I wanted to address the many posts that have published on my site over the past few weeks that have to do with essay writing. As most of you surely deduced, I didn't write these. Someone hacked my site and published tons of these posts. It took me a few tries to figure out a solution that actually seems to have worked in terms of keeping this creep OUT of my business, so I hope it's behind us now. Thank you for your patience and for all of you who got in touch to let me know something was amiss. Of course, it happened when I was on vacation and not fully checked in so I appreciate the heads up!
On to more relevant topics! My younger daughter, Ellie, who is 8, has been asking for years for me to paint her bedroom and I'm finally making good on my promise to do so. She has a lot of neutral white and beige in her room and some navy and yellow accent pieces that I wanted to keep. I kept picturing a pale lavender on her walls – I love lavender with both navy and yellow – but didn't want a purple that really screamed PURPLE. I sampled a few different lavenders and wound up choosing Spring Iris by Benjamin Moore, cut to 50% strength (mixed so it's 50% white paint and 50% of the tint). It's a nice soft lavender hue with blue undertones.
Here's a look at the major players in her new bedroom design. Some of the pieces here are similar to what I'm using since there are a number of vintage pieces as well as items I've had for years that aren't available anymore.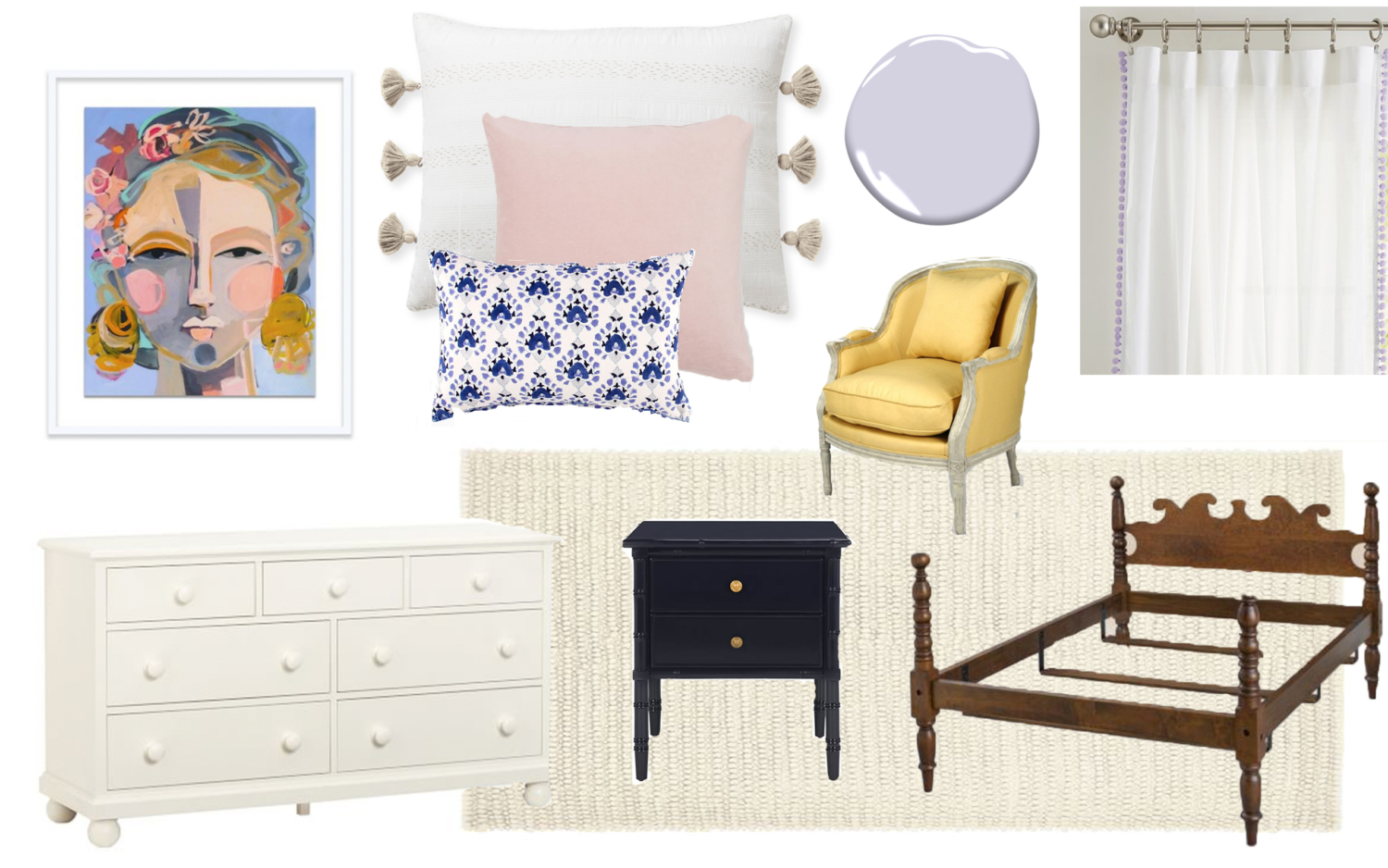 I have all the edging done and am planning to start rolling the paint on the walls this afternoon. The rest of her room "makeover" won't be a tremendous effort for me to finish since it's mostly using pieces I already have, but there are a few additions and small projects I have to bring it to a finished room. Here's my to-do list.
Paint the walls
Hang the curtains
Paint the mirror frame
Hang the artwork and mirror
Organize everything and put it back together!
I hope I'll wrap this little project up quickly but if I'm still in process this time next week I'll share some progress shots of where things stand.