I think we can go ahead and file this under "Things I never thought I would do." And that thing is trying on swimsuits for the whole world wide web. And yet here I am. In swimsuits on the internet. Here's why.
I found some really good swimsuits this year and we're all friends here and friends share great finds with each other.
I always feel like it's helpful to see things on a real person instead of a model or just a photo of the piece. Especially swimsuits because we all know how tricky they can be.
If I'd wear a bathing suit at the pool or the beach in front of a whole bunch of people, what the heck, why not here too?
I spend a lot of time telling my daughters that everyone is shaped and sized differently and you need to love who and what you are. And I've worked really hard since having daughters ten years ago to model the confidence and acceptance and love I hope they'll have for themselves. Bring on the swimsuits!
I wear both one pieces and bikinis and found two of each recently that I completely adore. Some stats on me so you can compare – I'm 5'8″ with long legs and a short torso. I'm typically a size 6 in clothes but usually size up in swimsuits. I have a 34 C/D chest. I like/need swimsuits with good support up top and bottoms that cover most of my bum. A little peekage at the sides is fine with me but you will never, ever catch me in a cheeky bathing suit bottom. Seriously, never. Style-wise, I'm pretty much always looking for a swimsuit that feels age appropriate for me (I'm 41) but also has some cute factor.
First up is this bikini I grabbed a month or two ago. Currently on sale too, hooray! The straps aren't adjustable, and I usually like the ability to hoist the girls up a little higher, but I found this top super supportive and comfortable just as it is. The bottoms with the ruffle detail at the waist are what really make this swimsuit though. It's such a cute detail. Cute, comfortable, and everything stays in place, so basically it checks all my boxes! I'm wearing a size 8 in the top and I went up to a 10 in the bottoms for a looser fit across the hips. I find this brand often runs pretty small in both clothes and swimsuits.
The first one piece I tried this year was this belted one. I'd written it off at first sight because I thought the belt, while cute, would be super annoying and sliding all over the place, but it's actually stitched in place so it stays put. The fabric is so silky and lovely and my first reaction when I tried it on was, "Ooooh, I love this," and honestly, how often does that happen when you try on a swimsuit?! I think it's super chic and classic with the colorblocking and the belt detail. Keeper for sure. I'm wearing a size 8.
The other bikini I bought this year is by Maaji, which is a new-to-me brand. They have so many cute suits!! I'm obviously feeling ruffles this year, since three of my four new suits have some kind of ruffle detail. I just loved this top, so feminine and pretty. The fit is really flattering and supportive too and the top does have adjustable straps so you can make them longer or shorter as needed. You can order a matching bottom, which I tried, and immediately sent back because it was very cheeky, waaaaay too much so for me! I like the mix-and-match look with the floral top and striped bottom anyway and these striped bottoms are one of my favorite swimsuit pieces that I've had for years. I'm wearing a Large in the top and my bottoms are a size 8.
The last swimsuit I have to show you is another one piece and surprise! More ruffles :) You also can't beat the price on this one at under $30. I thought the cut of the top might be too low for my liking but the back is adjustable (and adorable) so I could pull the front up a little higher. It's just a simple tank suit but the ruffle at the neck is a really pretty detail and I love the way the ruffles continue onto the back and then go into a crisscross tie. I'd say the bottom coverage on this suit is the sparest of all the ones I've shared here but it's still plenty of coverage for me to feel comfortable. I'm wearing a Medium.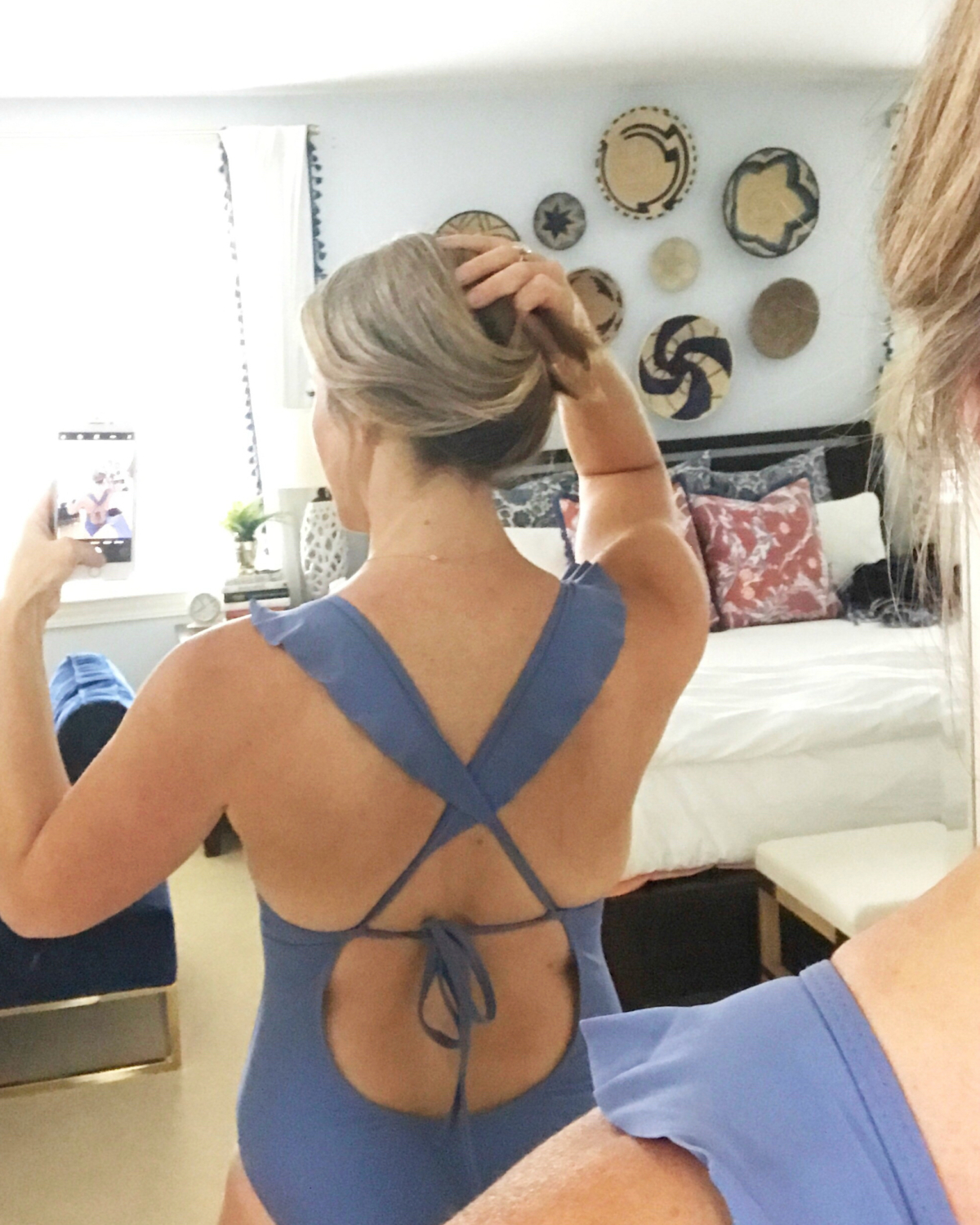 And there you have it! My four favorite swimsuits for this year. I hope this was useful for you to see how they fit on me, and I hope you find one (or more) that you love for this summer too!