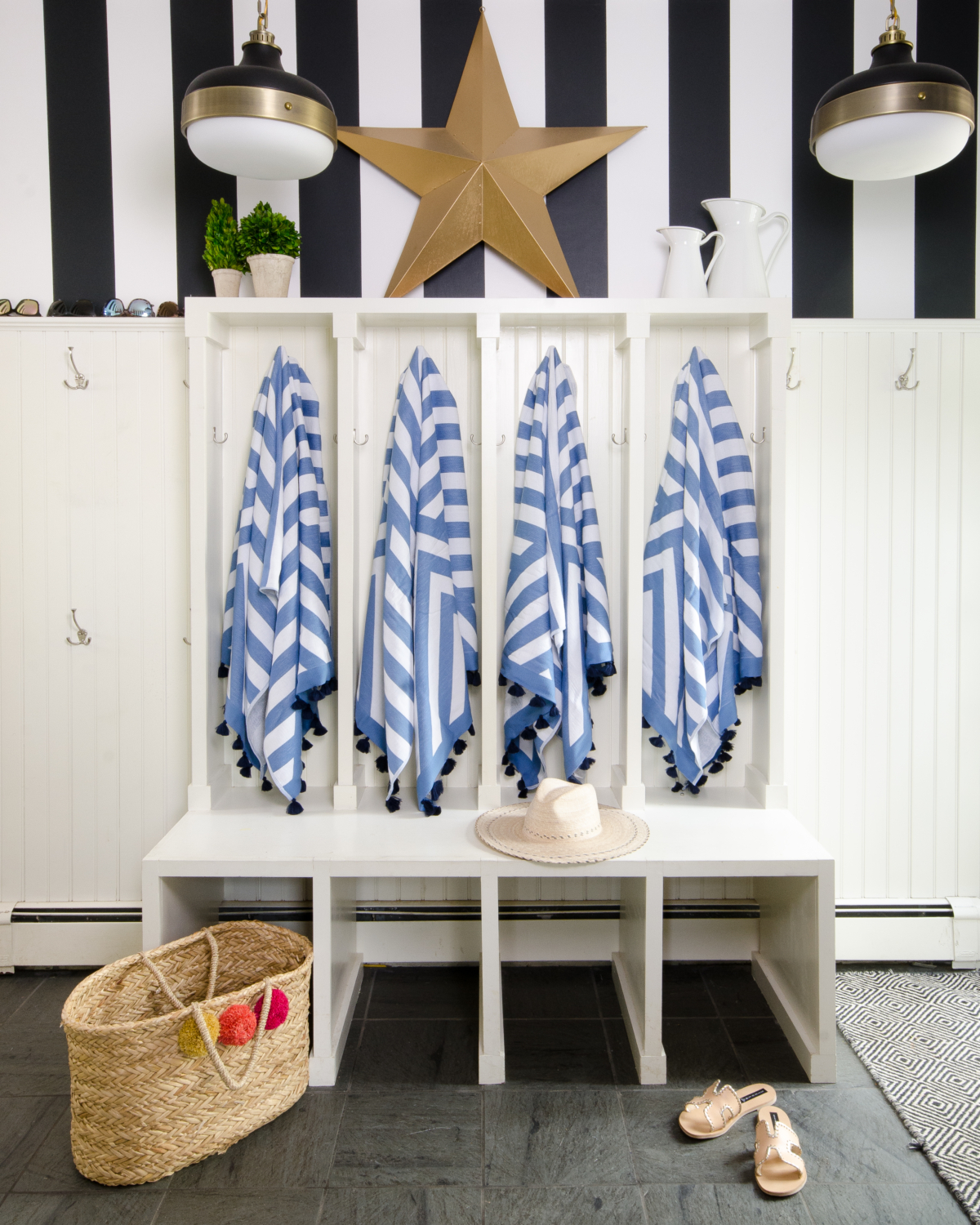 Serena & Lily has been one of my favorite brands for a long time now, so when they asked me to pick my favorite items included in their Memorial Day sale going on now, honestly my only issue was narrowing things down! I've always been super impressed with the quality of their items, from bath towels to throw pillows to wallpaper, and I have loved everything I've ever purchased from them.
Serena & Lily believes living well begins at home and are known for their fresh take on contemporary but classic decorating. The Memorial Day sale is one of their biggest events of the year, with 20% off almost everything (some exclusions apply, subject to change: art, gift certificates, Limited-Edition PUBLIC® C7 Bike, and final sale). Sorry for the legal-sounding disclaimer, just didn't want anyone to get their hopes up and then be disappointed! There aren't many exclusions though so it's a great time to snap up bigger ticket items you've had your eye on as well as those smaller odds and ends. I included a bit of both in my picks here. And I'll show you items I already have in my home as I go through them below.
To get me excited about some of their new products, Serena & Lily sent me four of their Sydney beach towels and they are fab.u.lous, you guys. Plush and soft on one side, smooth and silky on the other, with a row of tassels, which you know I love. Our pool club opens this weekend and I can't wait to start packing the pool bag! I'll be singing a different tune by August but for now, hooray!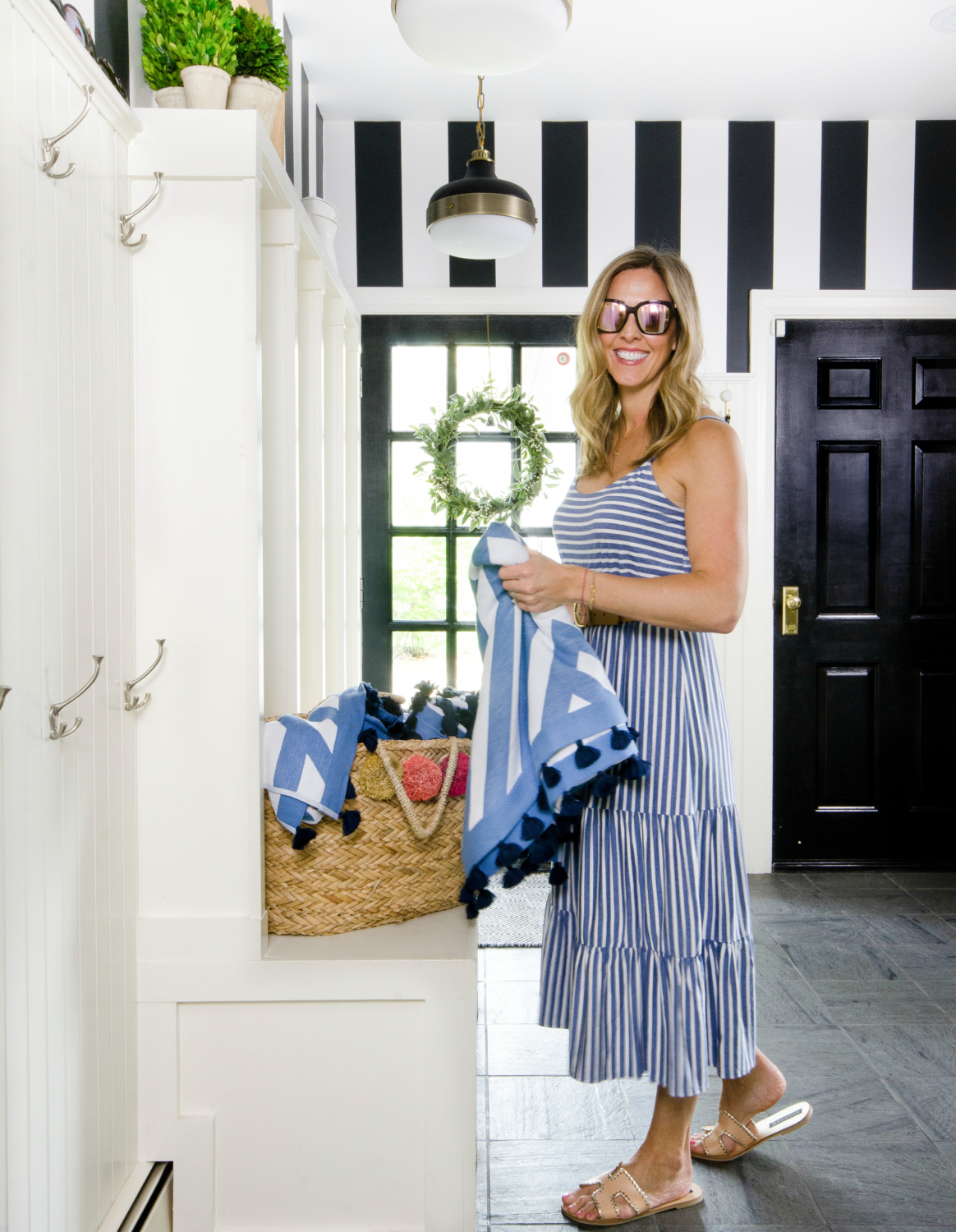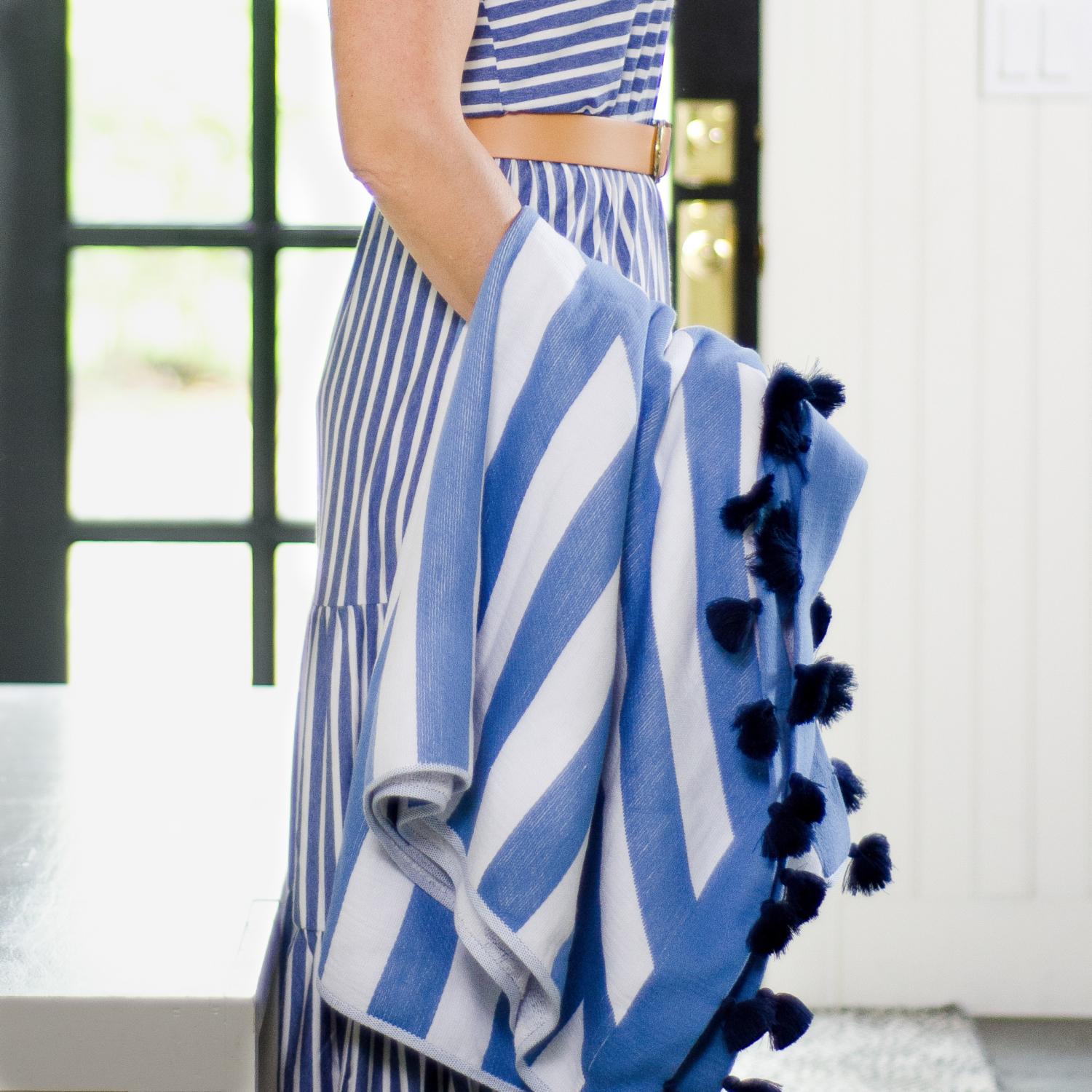 Here's an easy graphic showing all of my picks from the sale. I'll go through them individually below to tell you a little bit more about why they made my list!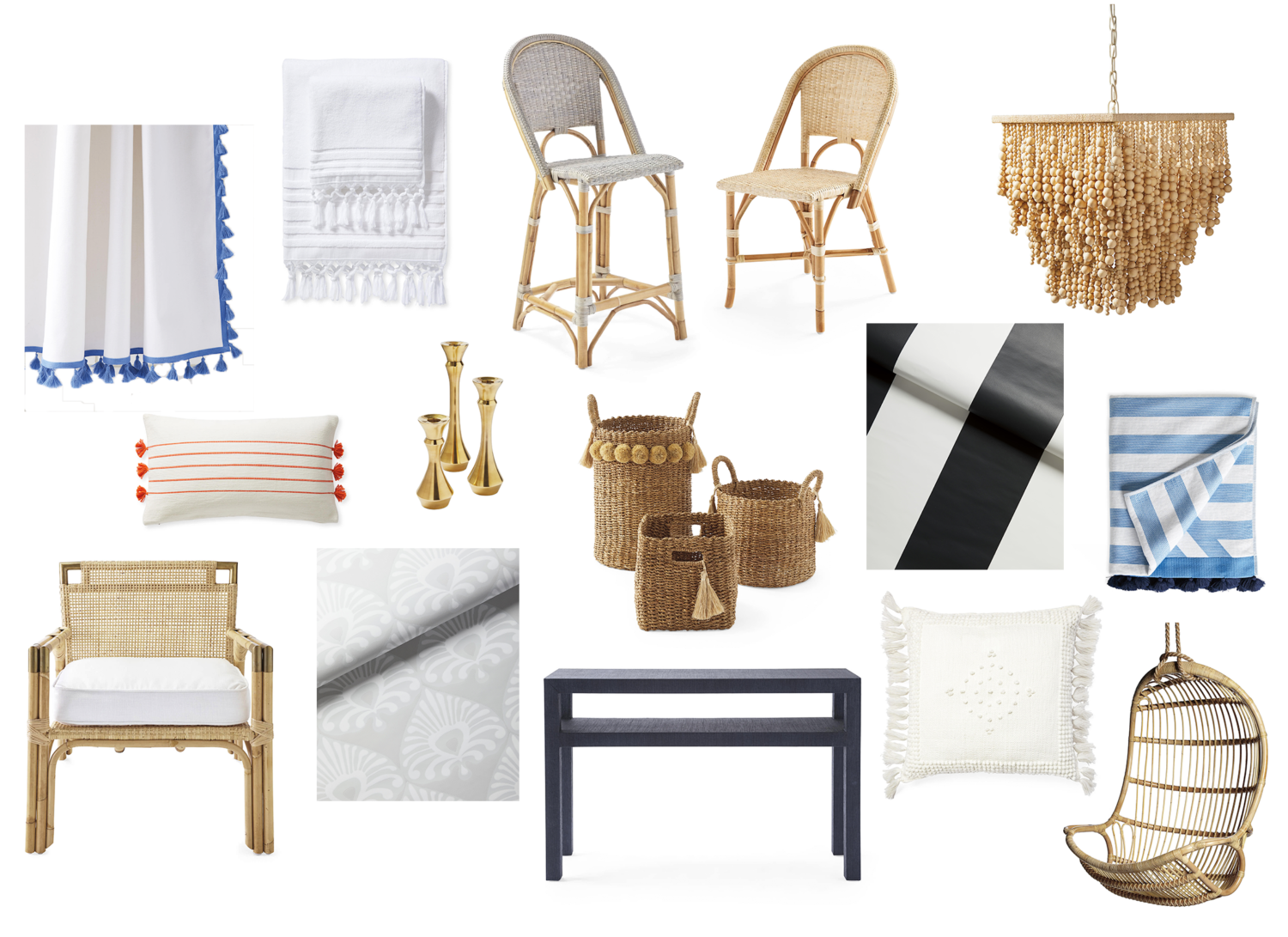 The shower curtain in my master bathroom is from Serena & Lily and I love it as much today as when I bought it five years ago. I'm planning a facelift to our guest bathroom in the near future and have my eye on this tassel shower curtain for that bathroom since I've loved my other Serena & Lily one so much.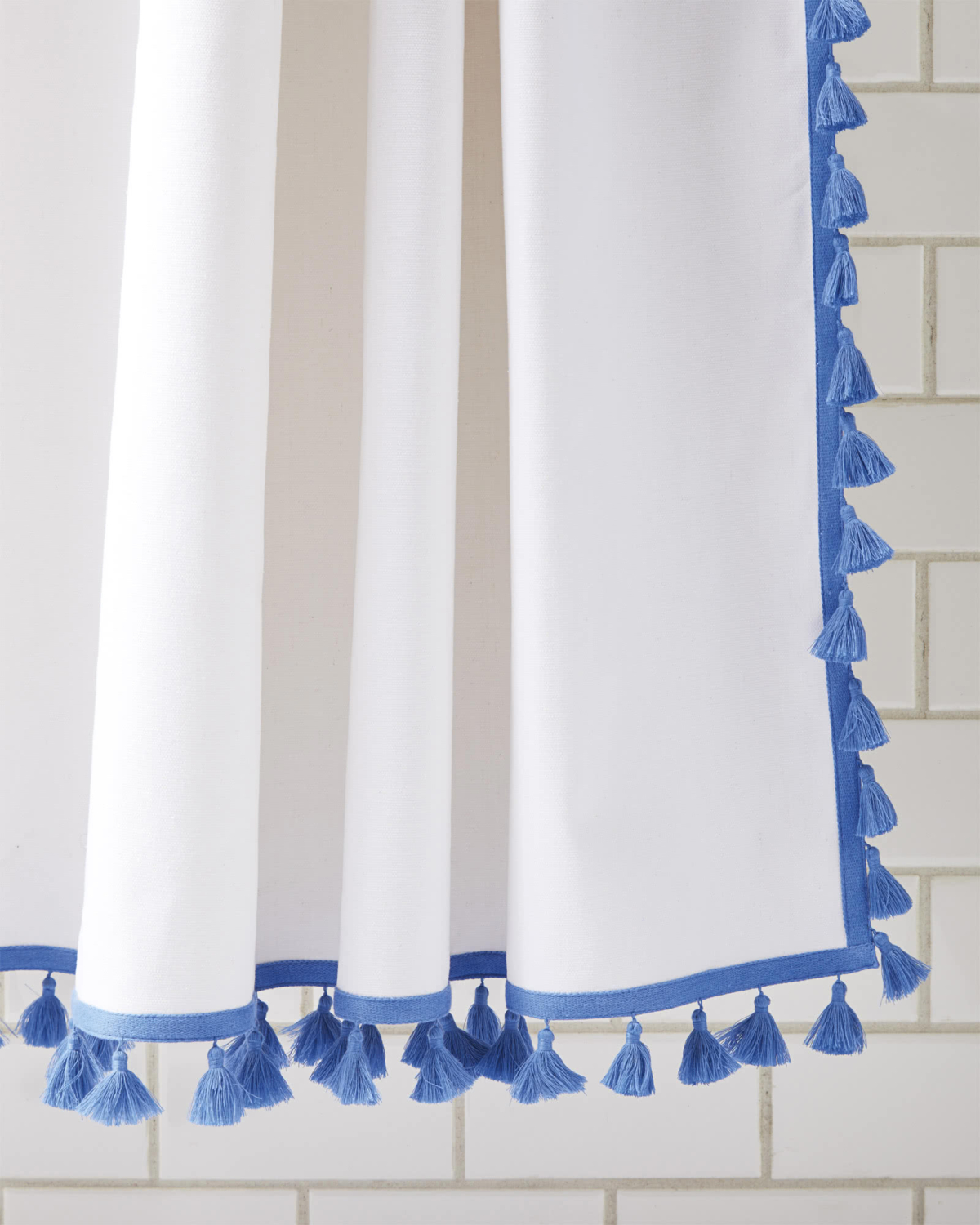 Speaking of tassels and bathrooms…these tassel bath towels are the perfect classic/boho mix. The tassels have a macrame weave to them and I love that they're simple but have that little extra detail for textural interest. I always buy white towels so I can bleach them if I need to but these come in a couple other pretty colors too. And much like my shower curtain, I've had a set of bath towels from Serena & Lily for a long time now and they've outlasted all of my other towels! Serena & Lily offers some set options that come with great savings. If you get their Essential Set, for example, (two bath towels and two hand towels) you save $20 off buying them individually and then can tack on an additional $30 off during the Memorial Day sale. Who else loves savings on top savings? Yep, I thought so. Me too :)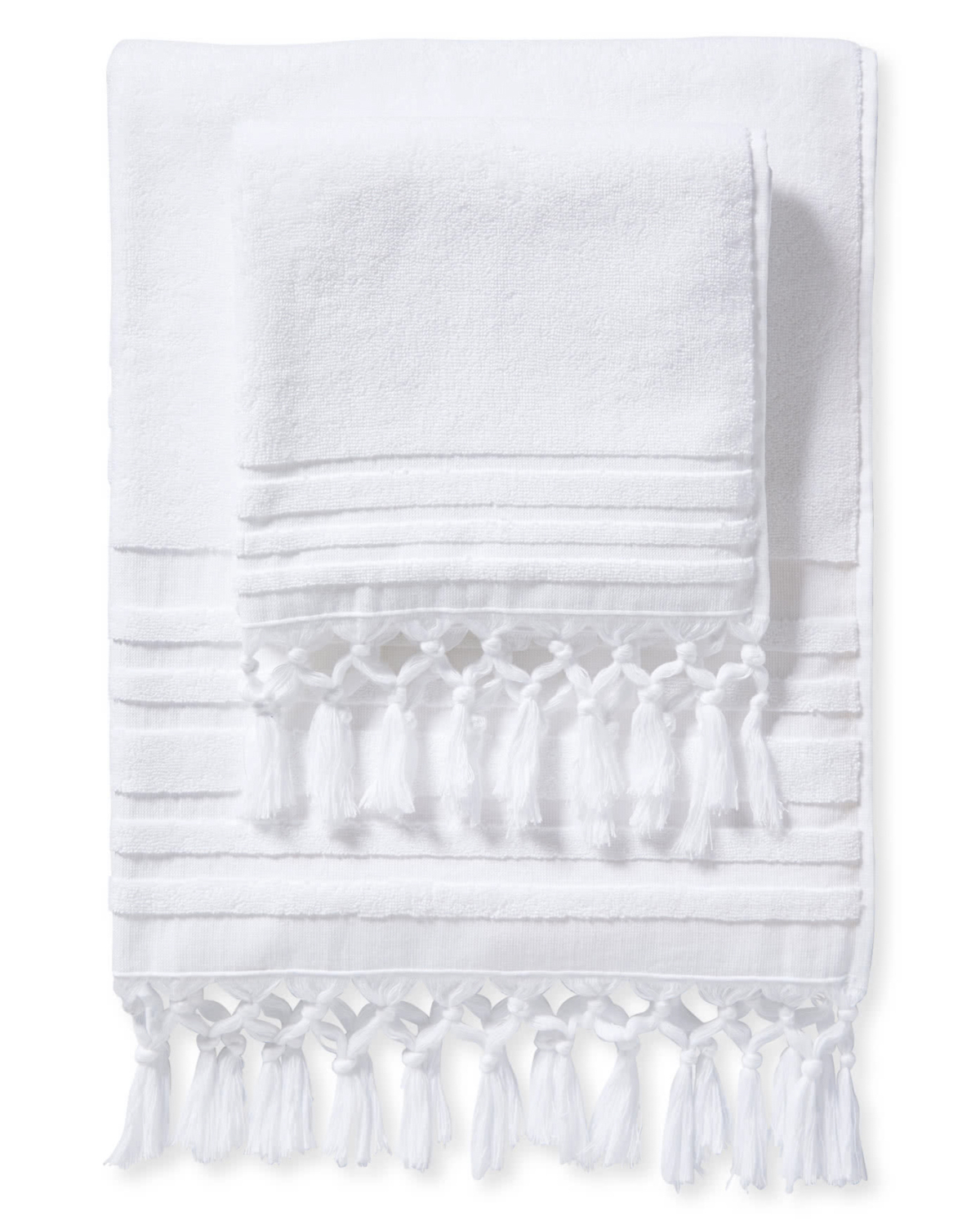 I saw the sunwashed Riviera counter stool in a friend's house recently and they stopped me in my tracks. I said something super eloquent like, "Oh, wow! These are…are these the?…wow these are so pretty, are they from Serena?…wait, no……where are these from?!" I've seen plenty of Serena & Lily's Riviera counter stools over the years but this new sunwashed line they have is stunning in person. They have all the texture and beauty of the originals but with a softer, simpler, more classic look. I'm seriously considering getting three of the sunwashed Riviera side chairs in the natural color for my kitchen table and the Memorial Day sale is a great time to score these gorgeous chairs at a discount.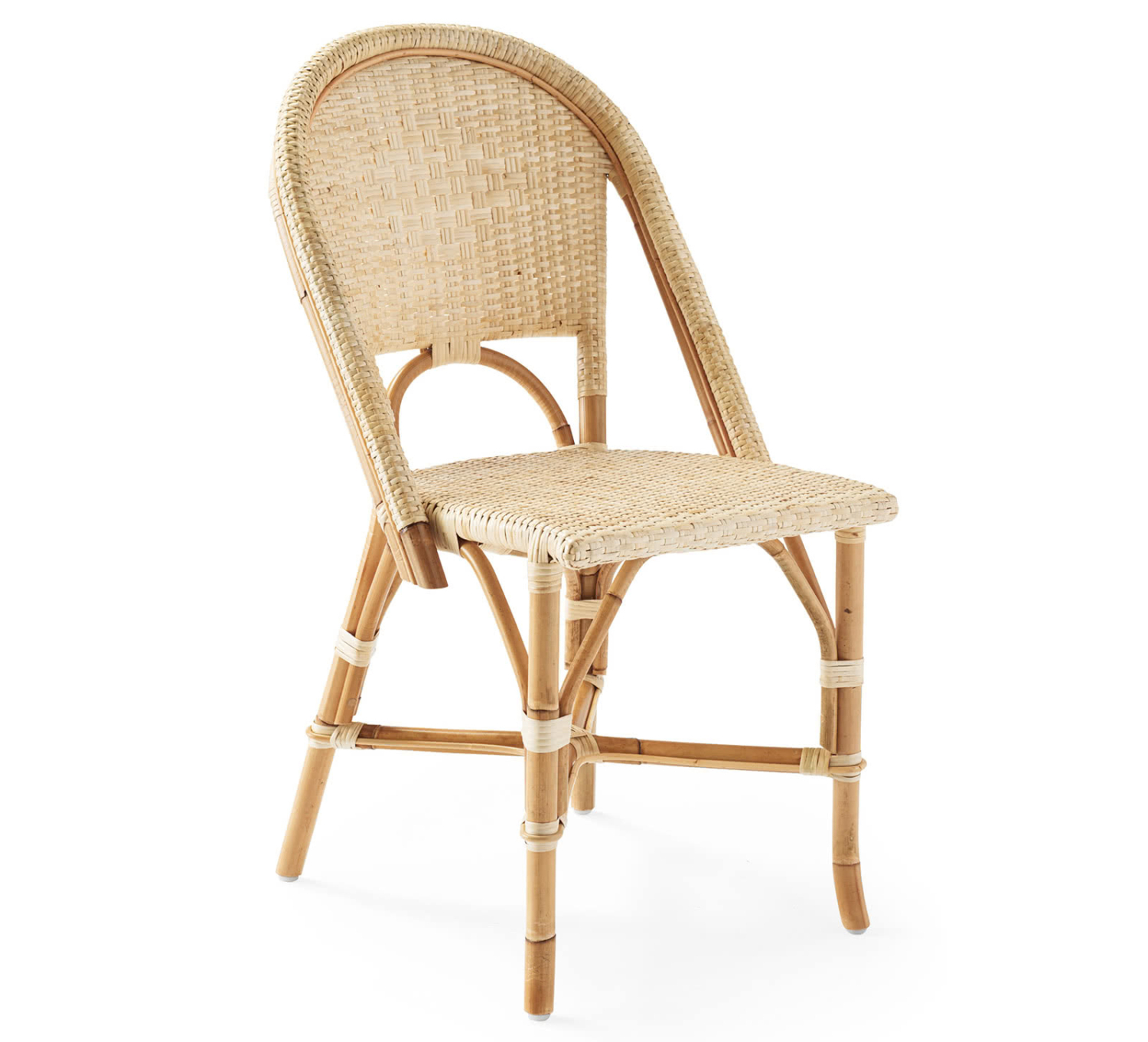 This wood bead chandelier is so gorgeous! I've seen (and loved) lots of wood bead chandeliers before but this shape and layering is a new take on the other ones out there and I love both the scale and shape of it. It also comes in a rectangular shape, which would be super cool over a dining table. And you get almost $200 off with the Memorial Day sale!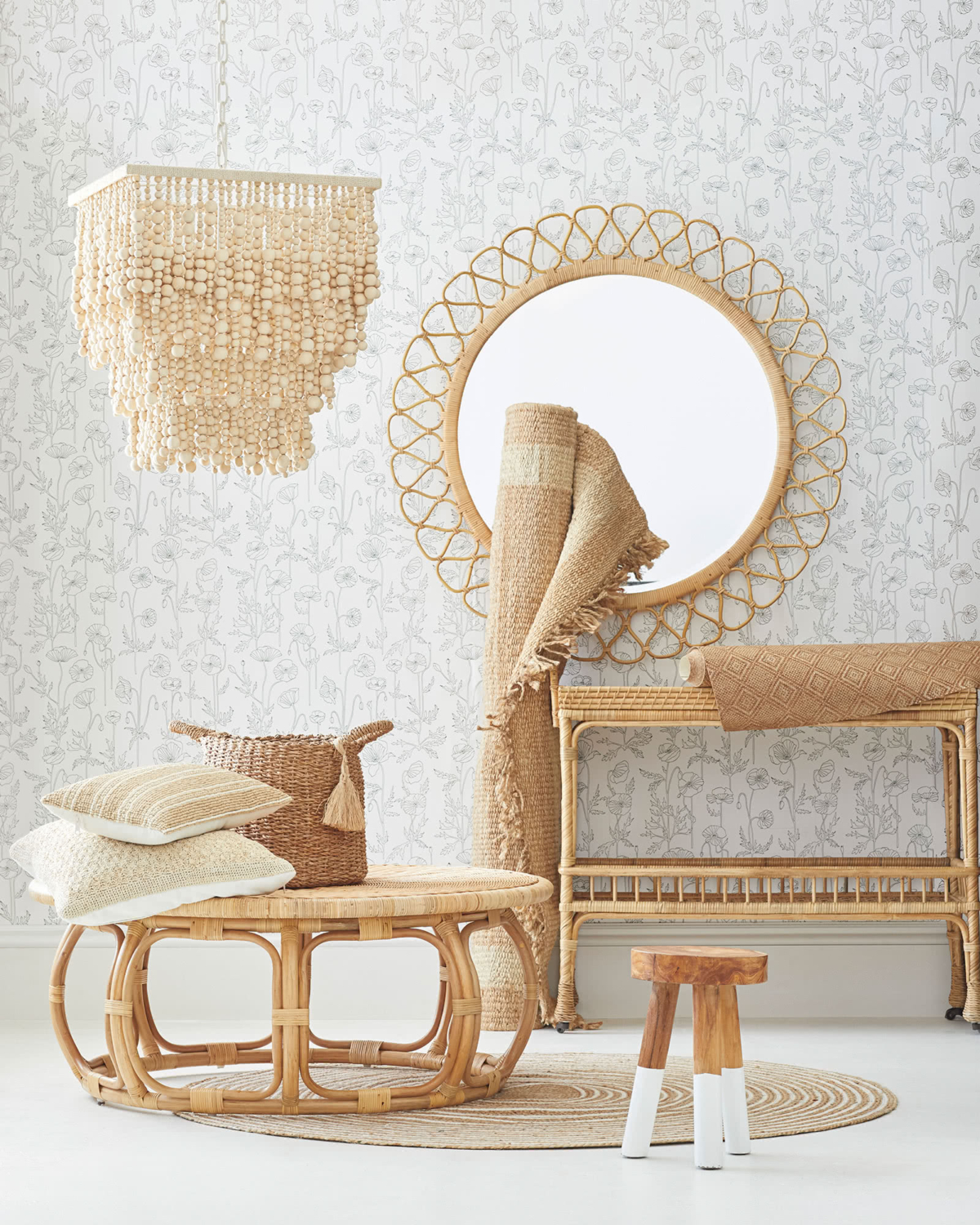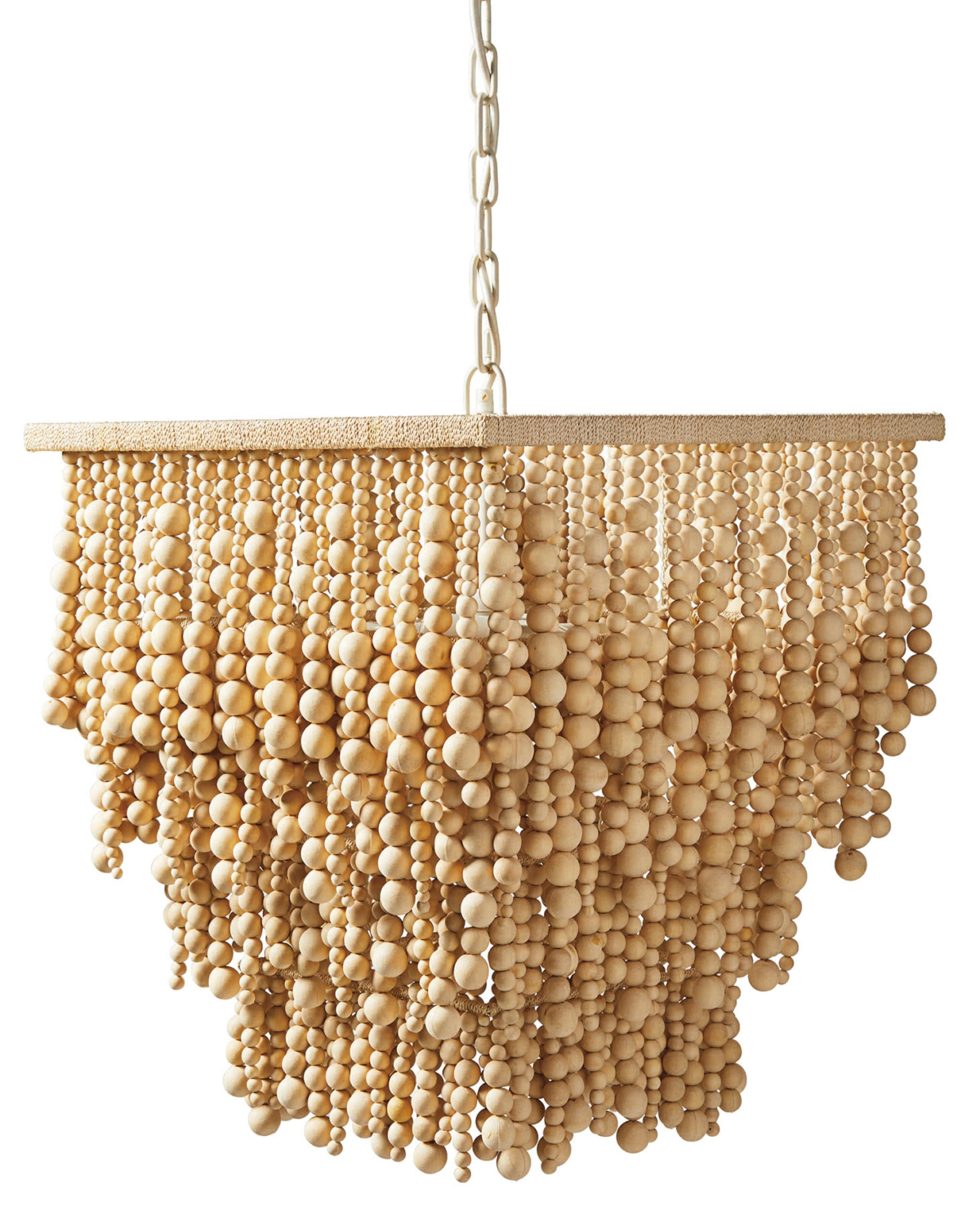 If this striped lumbar pillow looks familiar that might be because I shared it here just last week as part of my living rooms plans. It's the perfect little accent pillow with its embroidered stripes and tassels on the sides. It won't be the centerpiece of a room but every room needs great supporting actors that still have style and interest and this is a perfect example of that.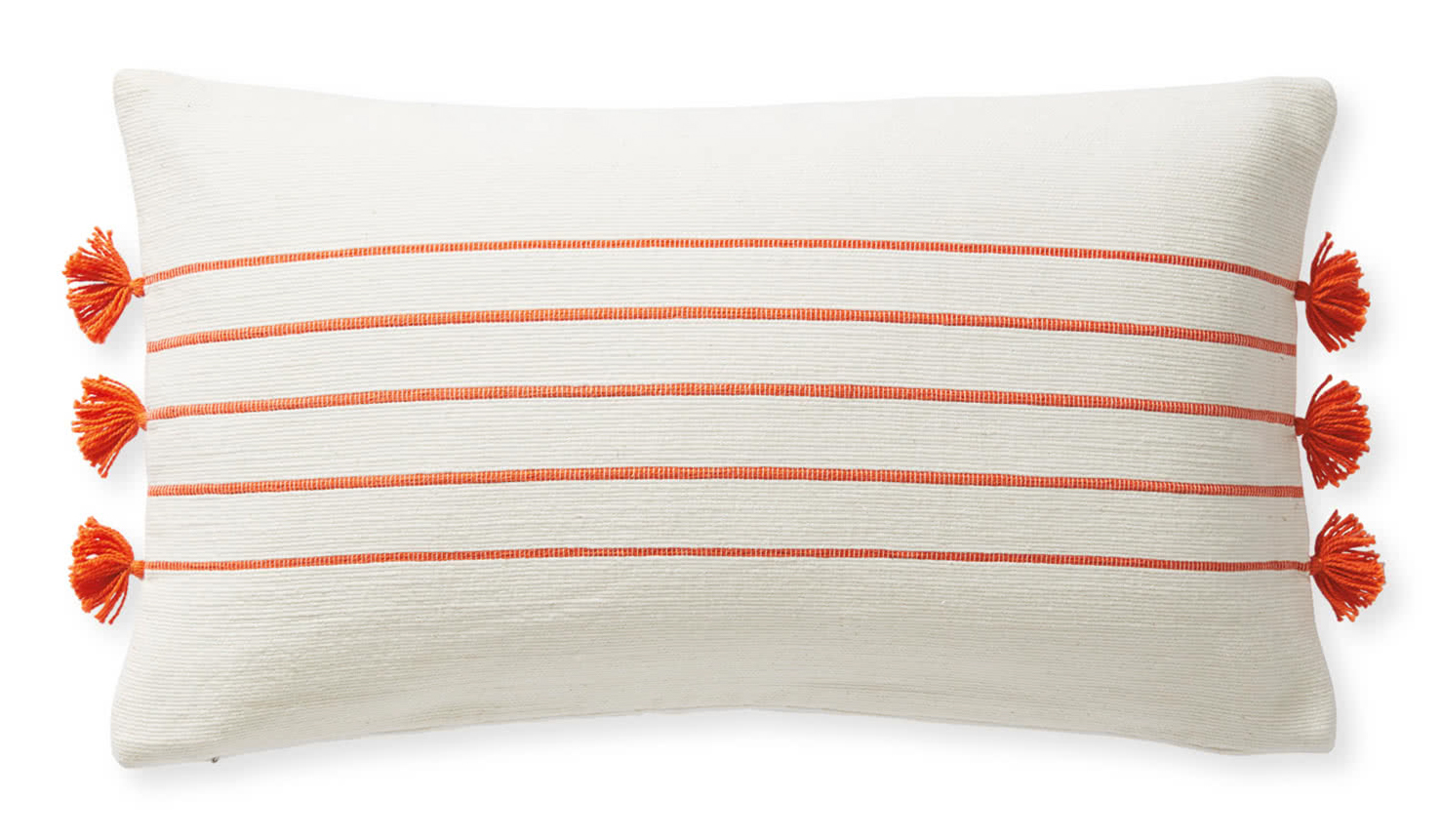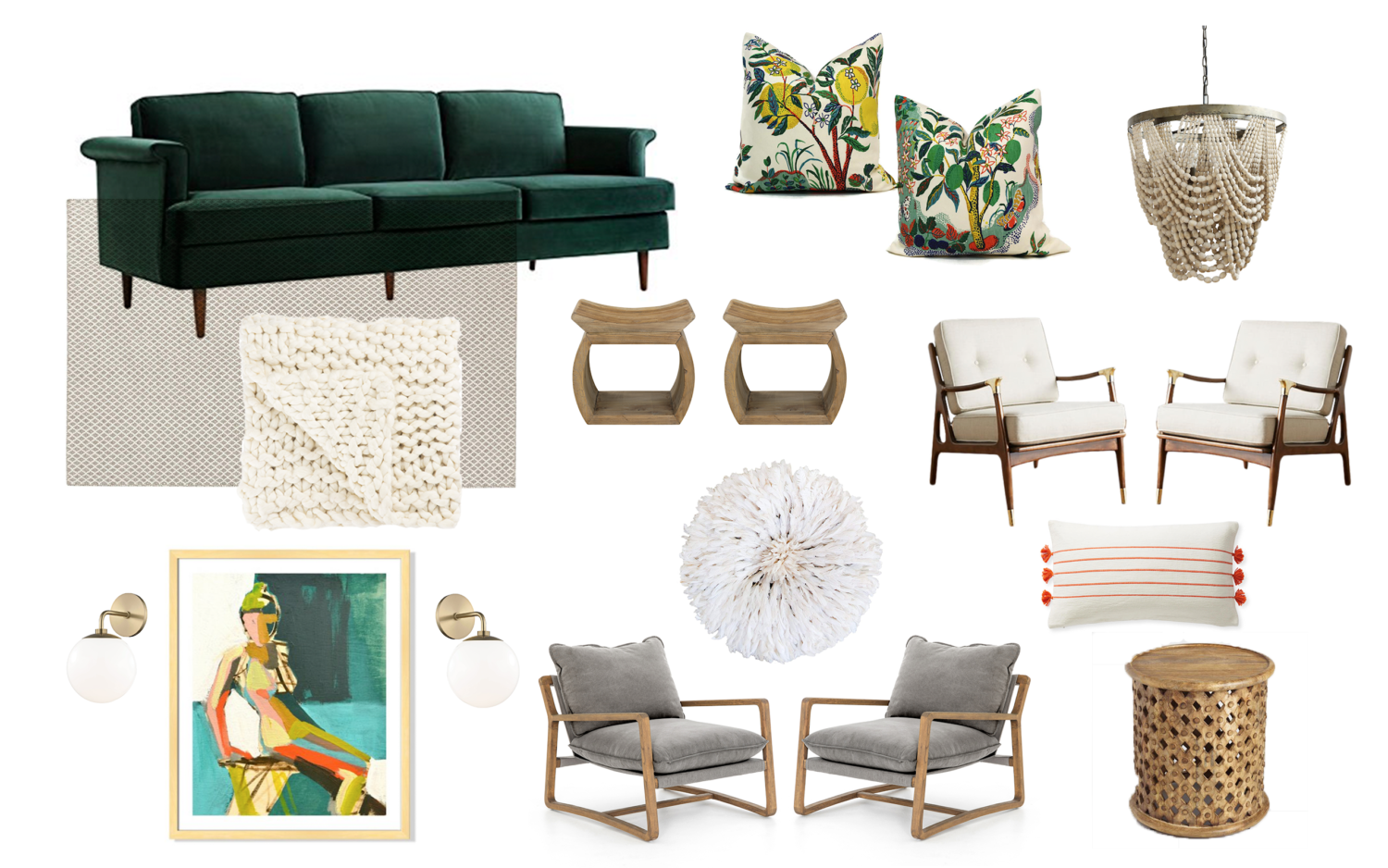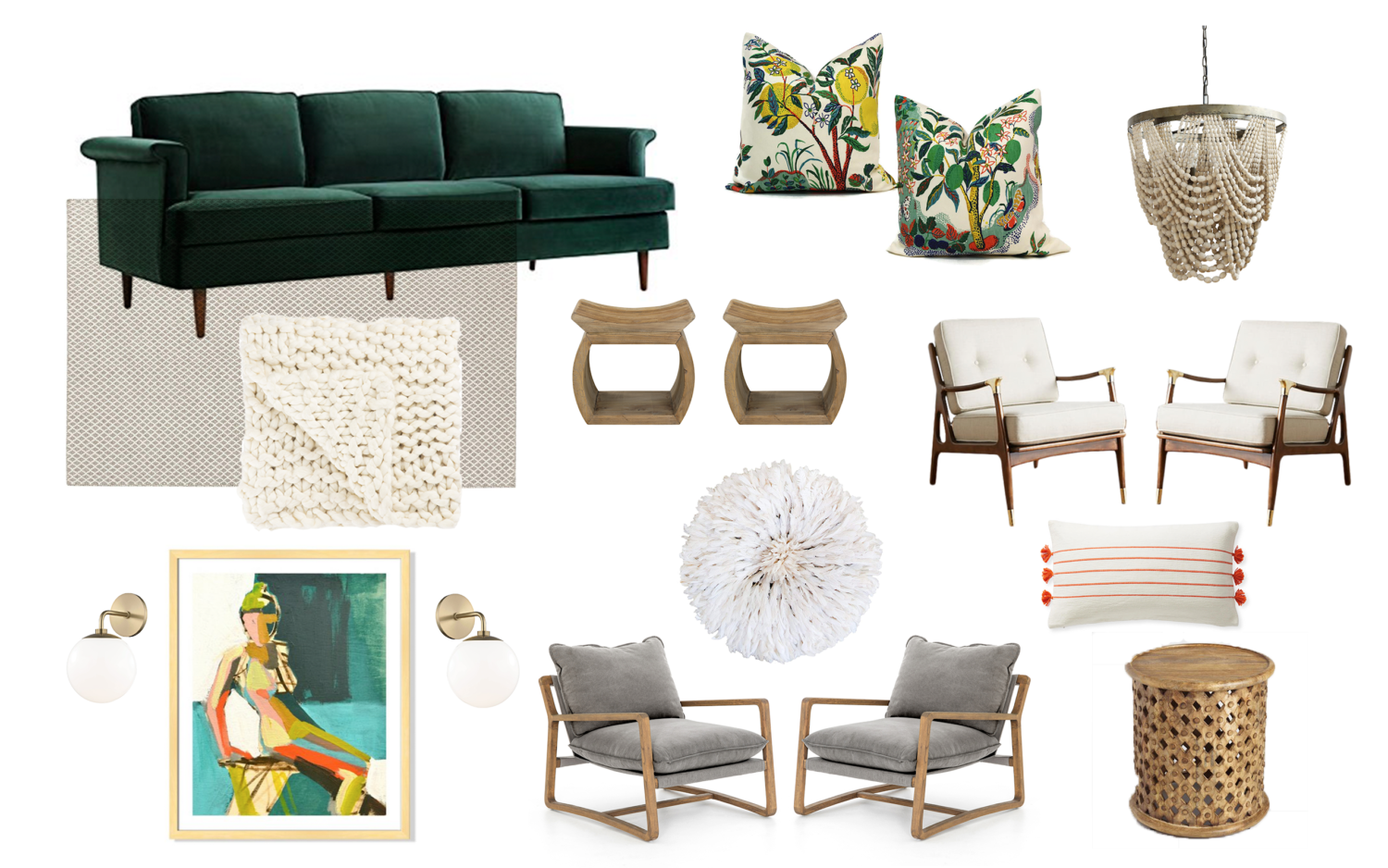 I actually bought these solid brass candlesticks years ago and had no idea Serena & Lily had brought them back until I started poking around the website last week. I pull them out every time I set a dining table and they're equally great on a mantle or side table too. They're chunky and substantial but still really elegant. You can see them on my dining room table this past Christmas here.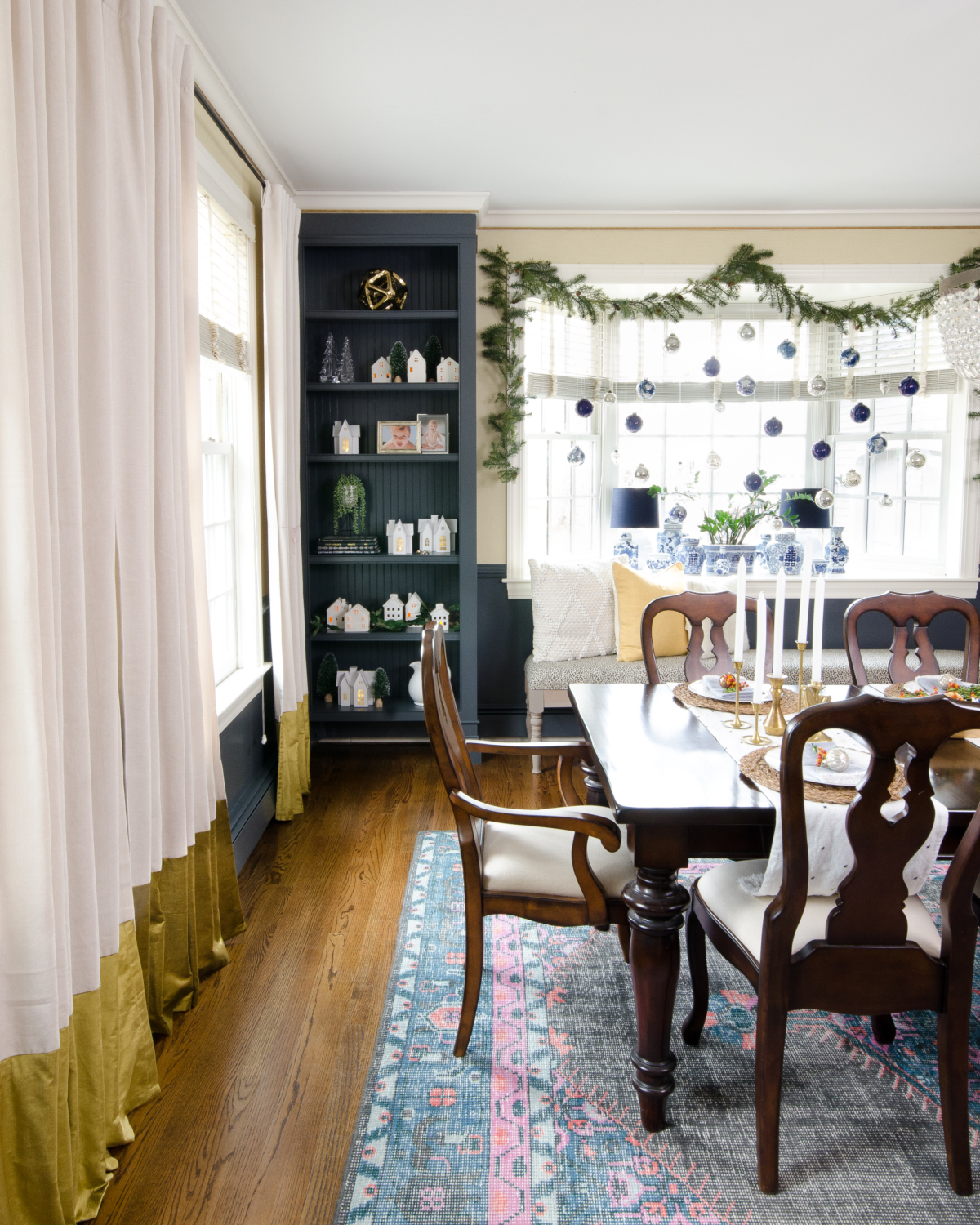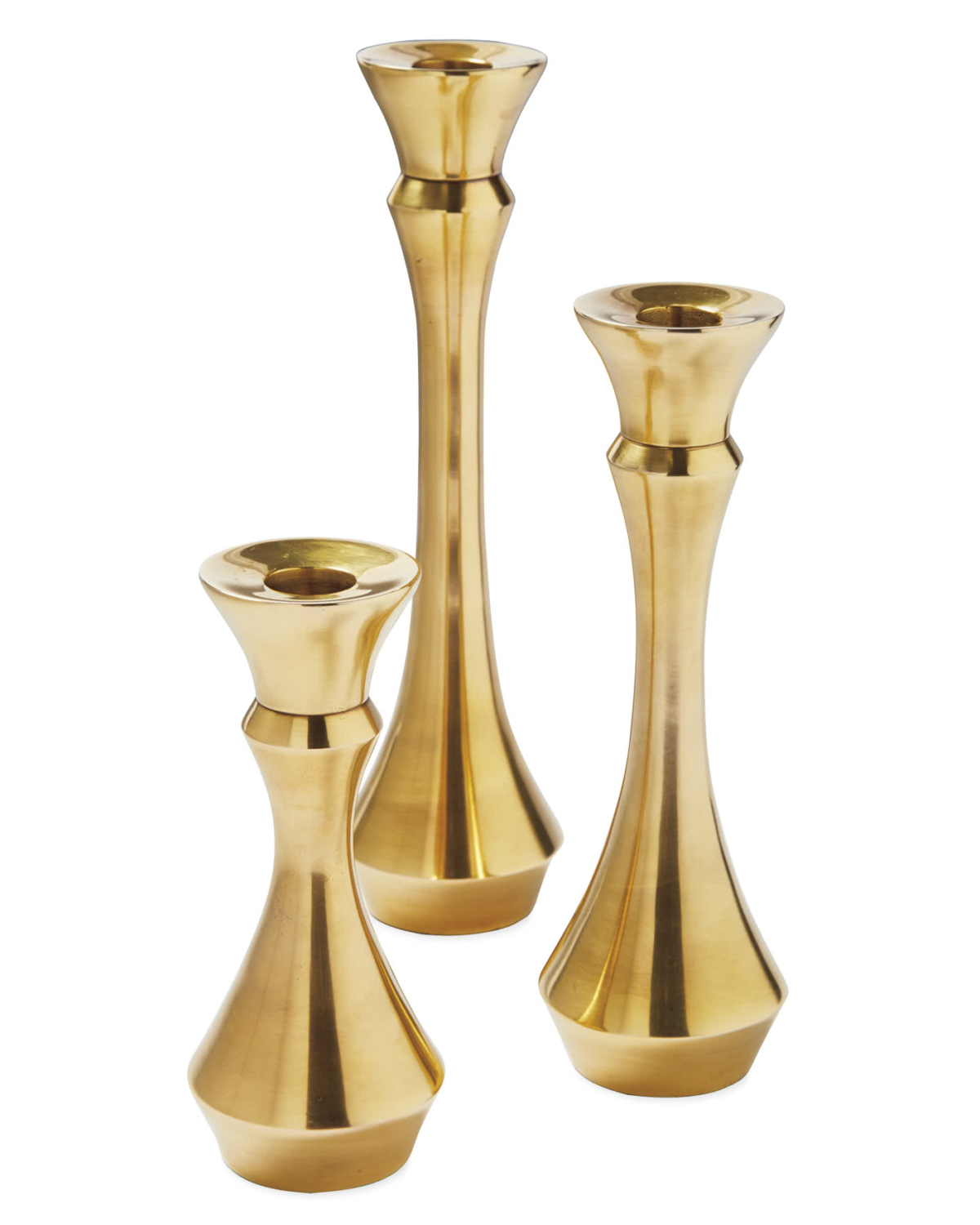 The baskets I've bought from Serena & Lily over the years are still my favorites in the whole house. They're so well made and always have some detail that elevates them above your average storage basket. These tassel and pom pom baskets are great!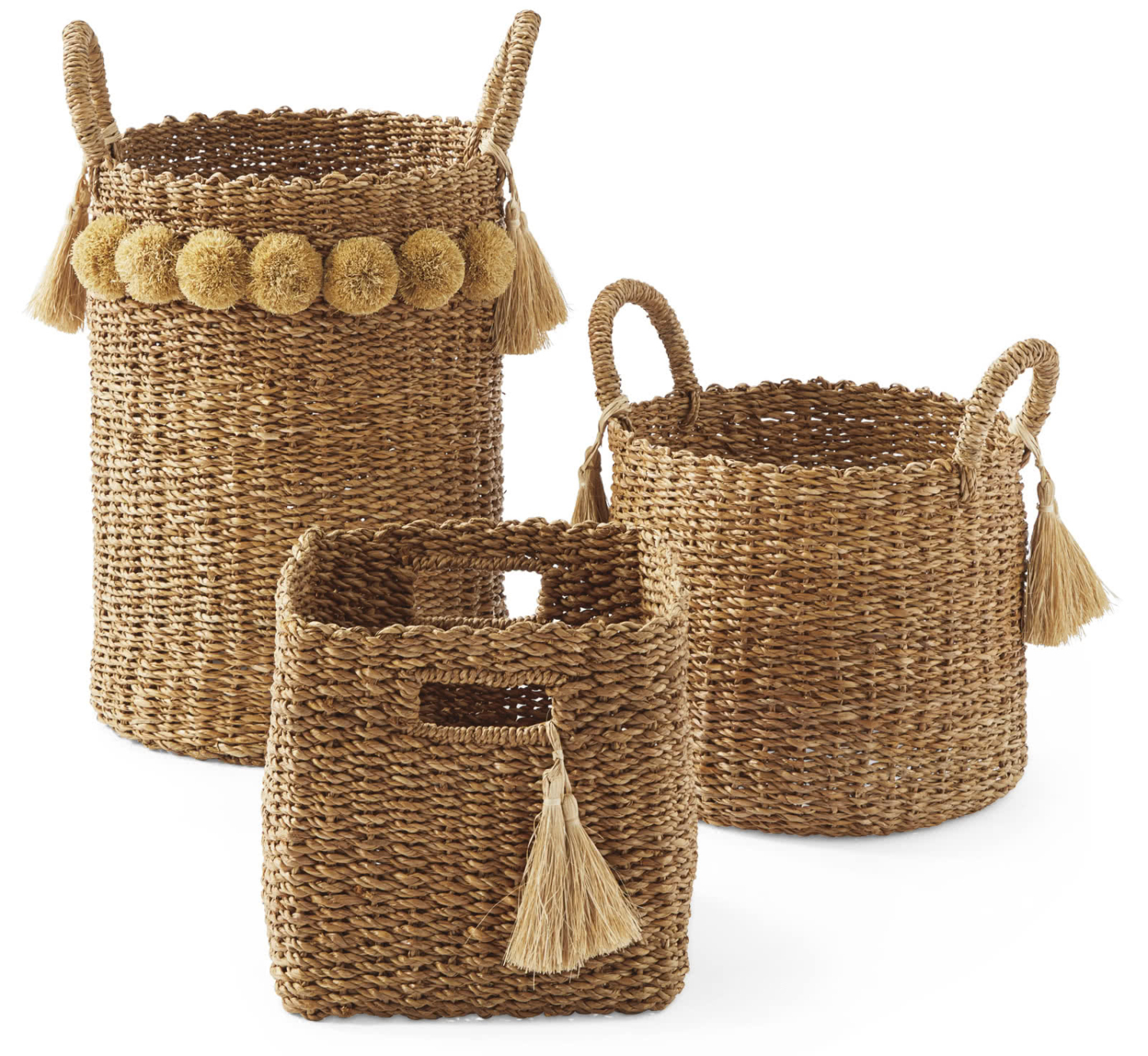 Ahhh, my favorite simple yet bold wallpaper. I hung this wide stripe wallpaper in black and white in my mudroom years ago and it's such a strong graphic statement without being overwhelming. I love it for a mudroom, laundry room, bathroom, or entryway. You could see it in the beach towel photos above, but here's another view of it in my mudroom.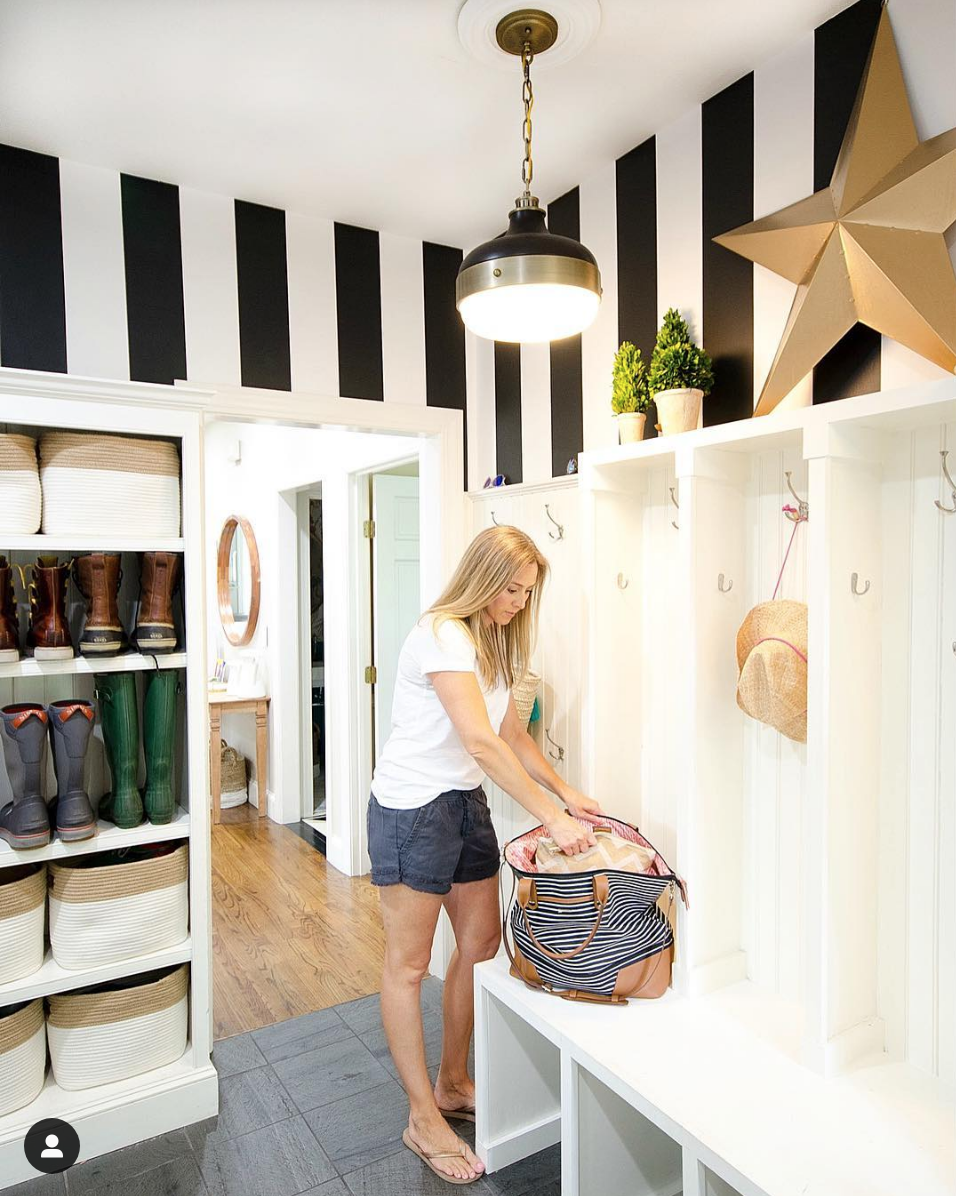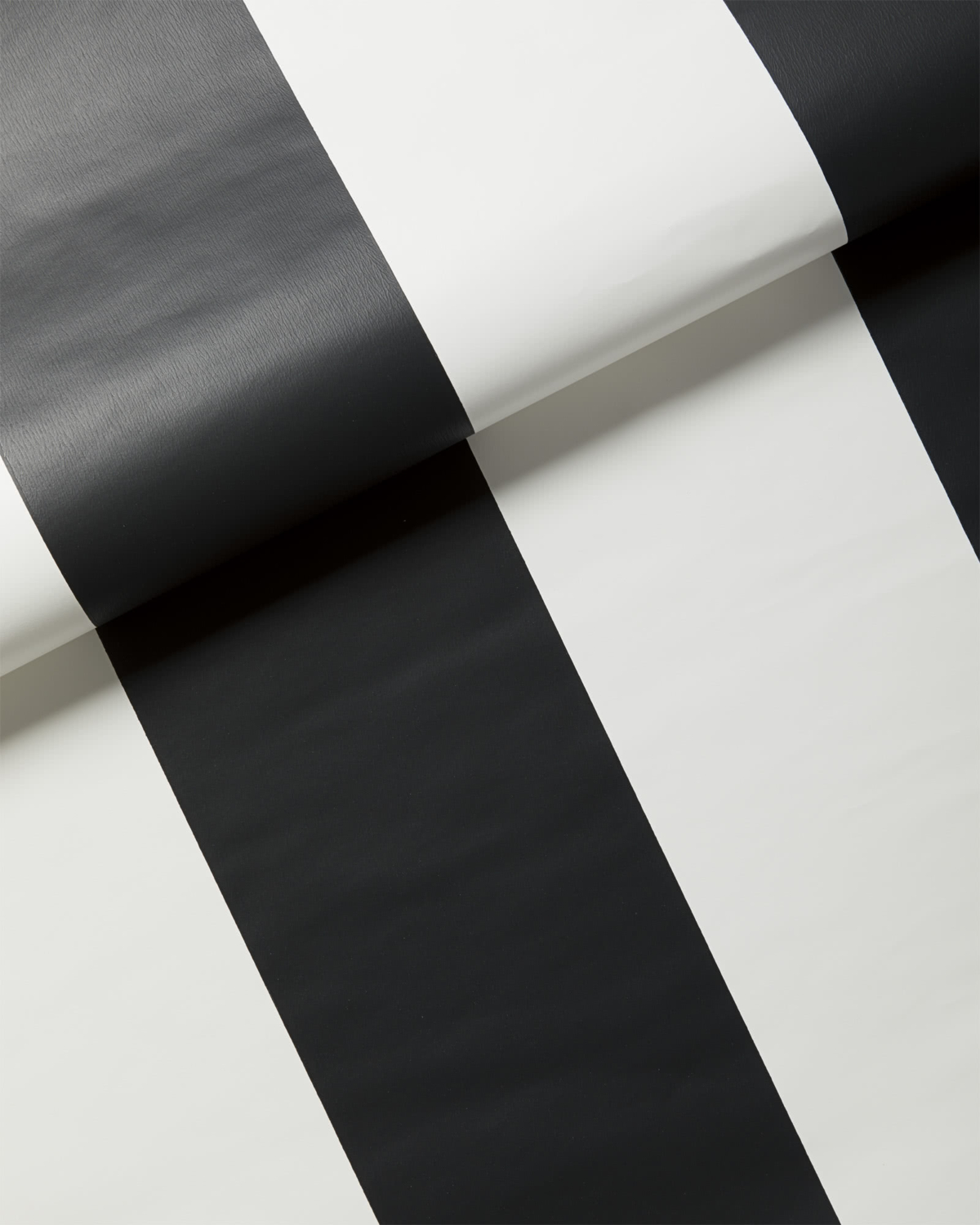 I'm so excited to use my new striped beach towels! They're very generously sized and like I mentioned above they're plush and absorbent on one side like a traditional beach towel but smooth and silky on the other side, almost like a hybrid of a classic beach towel and a turkish towel. And the graphic stripes and tassel trim are just next level. Much like the bath towels I mentioned above, there are some great deals to be had with these towels too – if you buy a set of four you save $34 over buying them individually, plus another $47 off with the Memorial Day sale, so it's the perfect time to stock up for summer!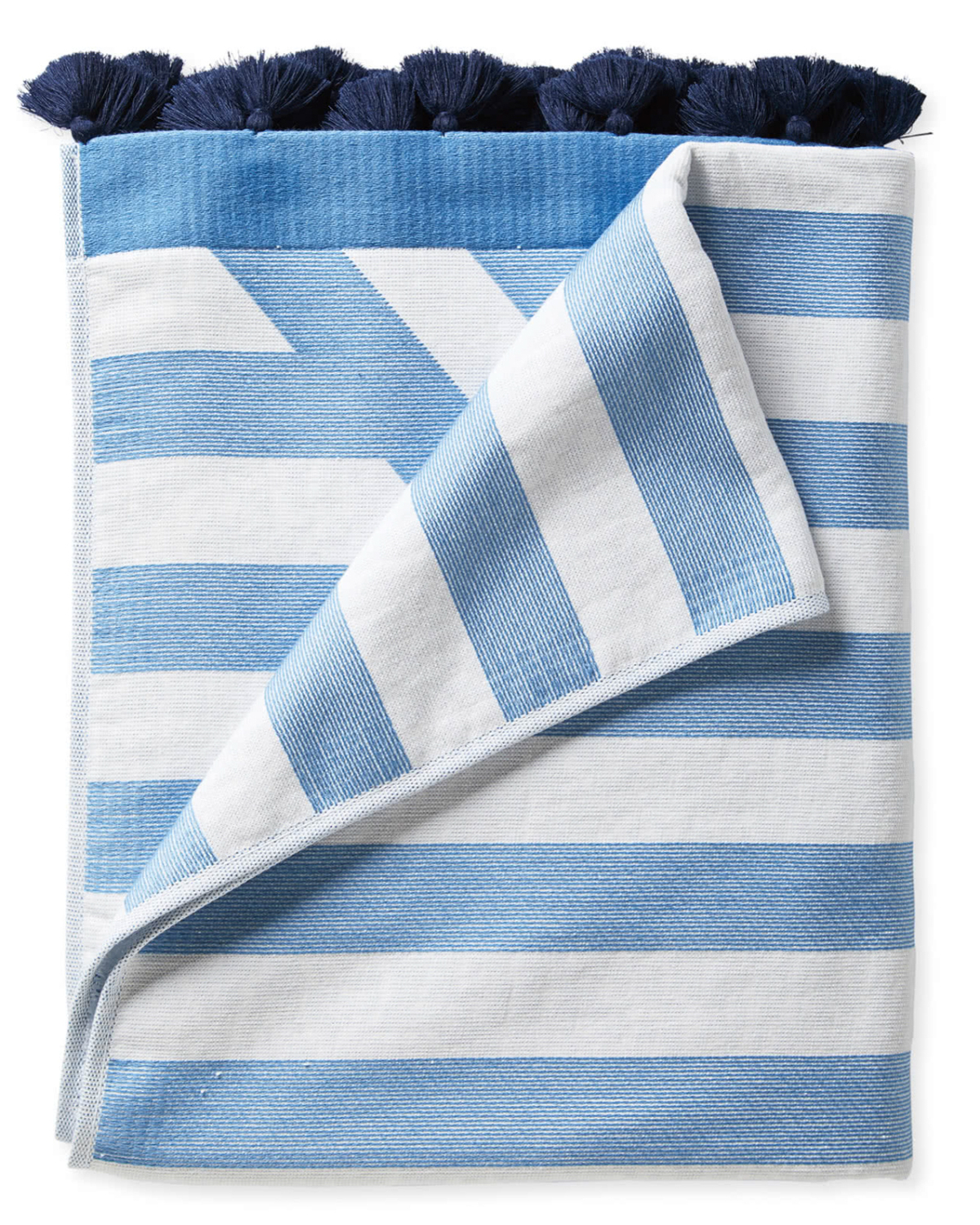 Oh my gosh, this rattan and brass chair. Yessss. I hadn't seen it before but the combination of rattan and British cane and brass accents is completely perfect. It's casual but refined and I very much wish I had a place for a pair of these! You can customize the cushion color and pattern with several options on the website. During the Memorial Day sale you'd save almost $180 per chair, so if you do have a place for these, snap them up and let me live vicariously through you!!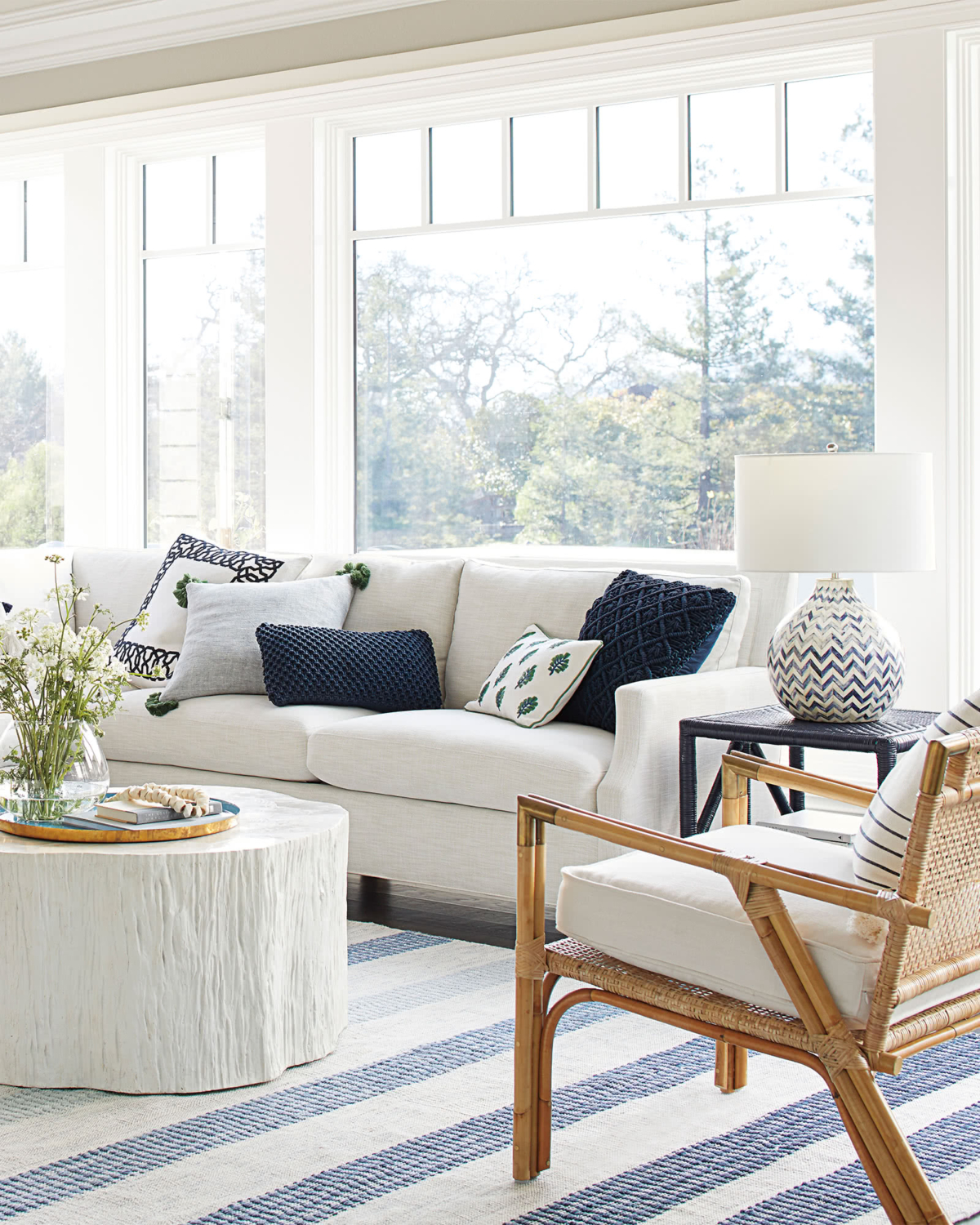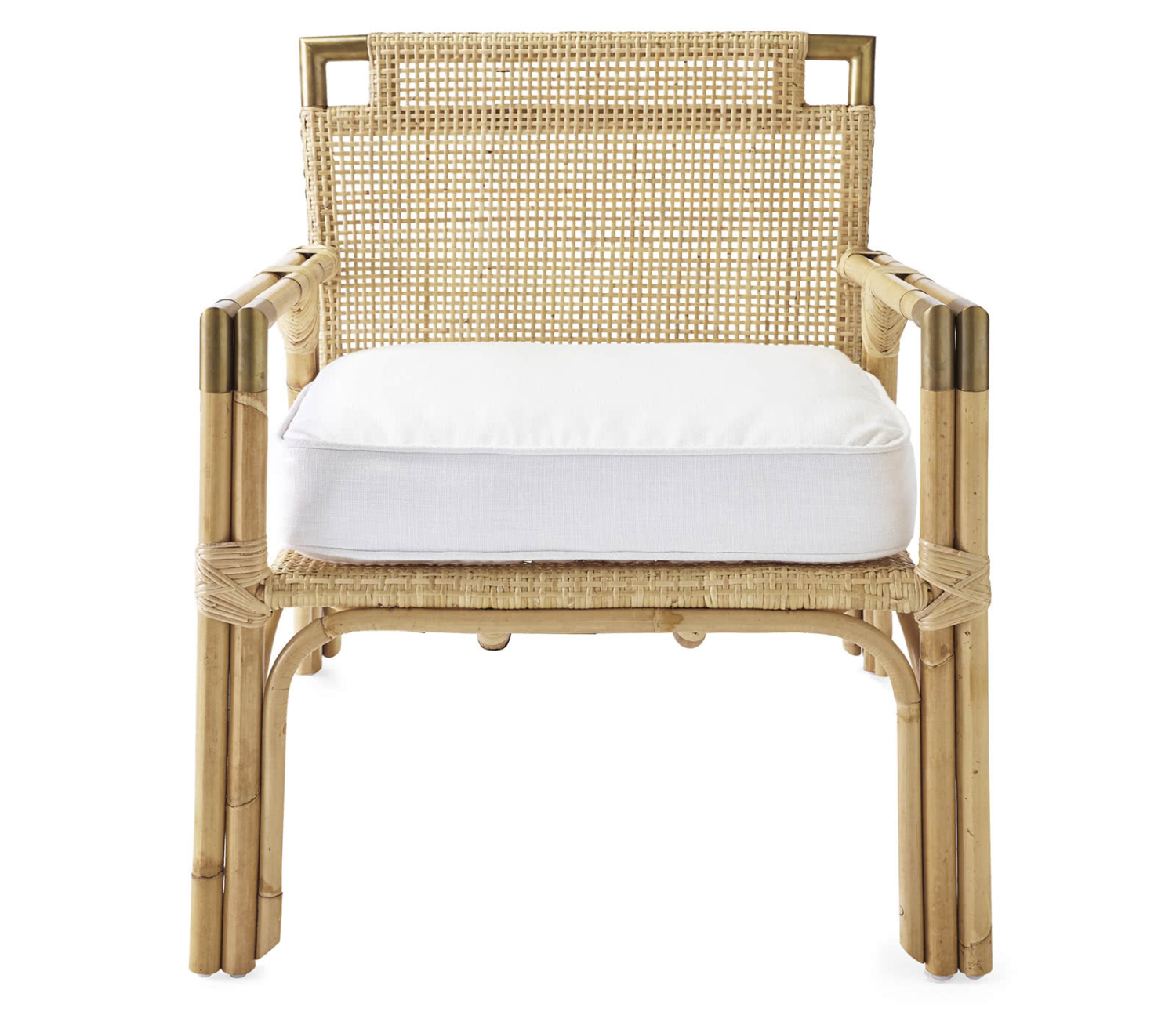 Serena & Lily has carried this palmetto wallpaper for awhile and I think it's so beautiful. I love that it's both soft and graphic with almost a hand painted look. It's a very strong contender for my entryway, which I've been wanting to wallpaper for years.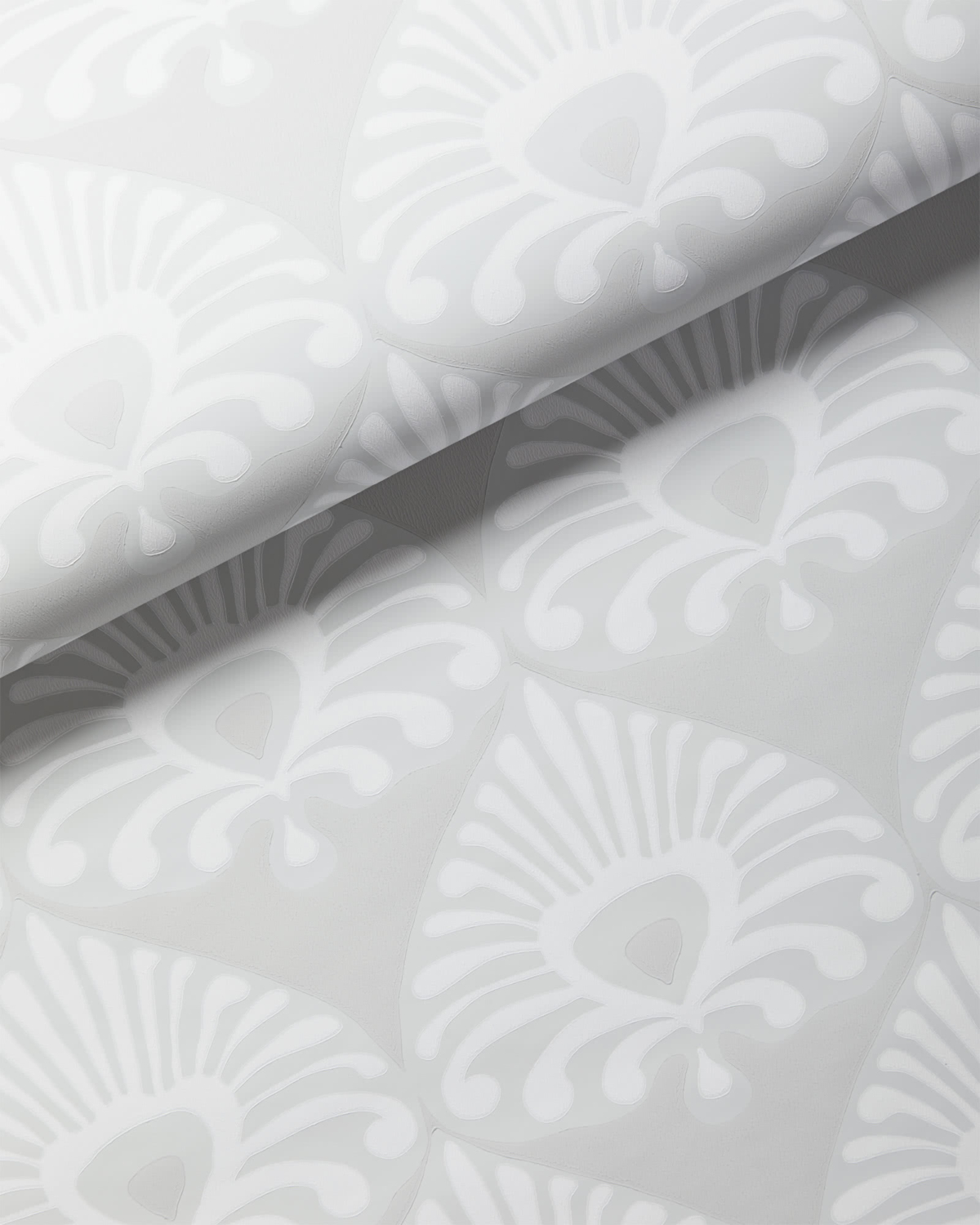 Serena & Lily jumped on the paper covered furniture train hard and they're some of the prettiest pieces I've seen. They're an investment for sure but make such a stunning statement in a room. Their raffia console table is my favorite style and at $240 off during the Memorial Day sale, this is a great time to go for it if you've been considering it. It's such a versatile piece and works equally well as an entryway table, dining room sideboard, or long night table.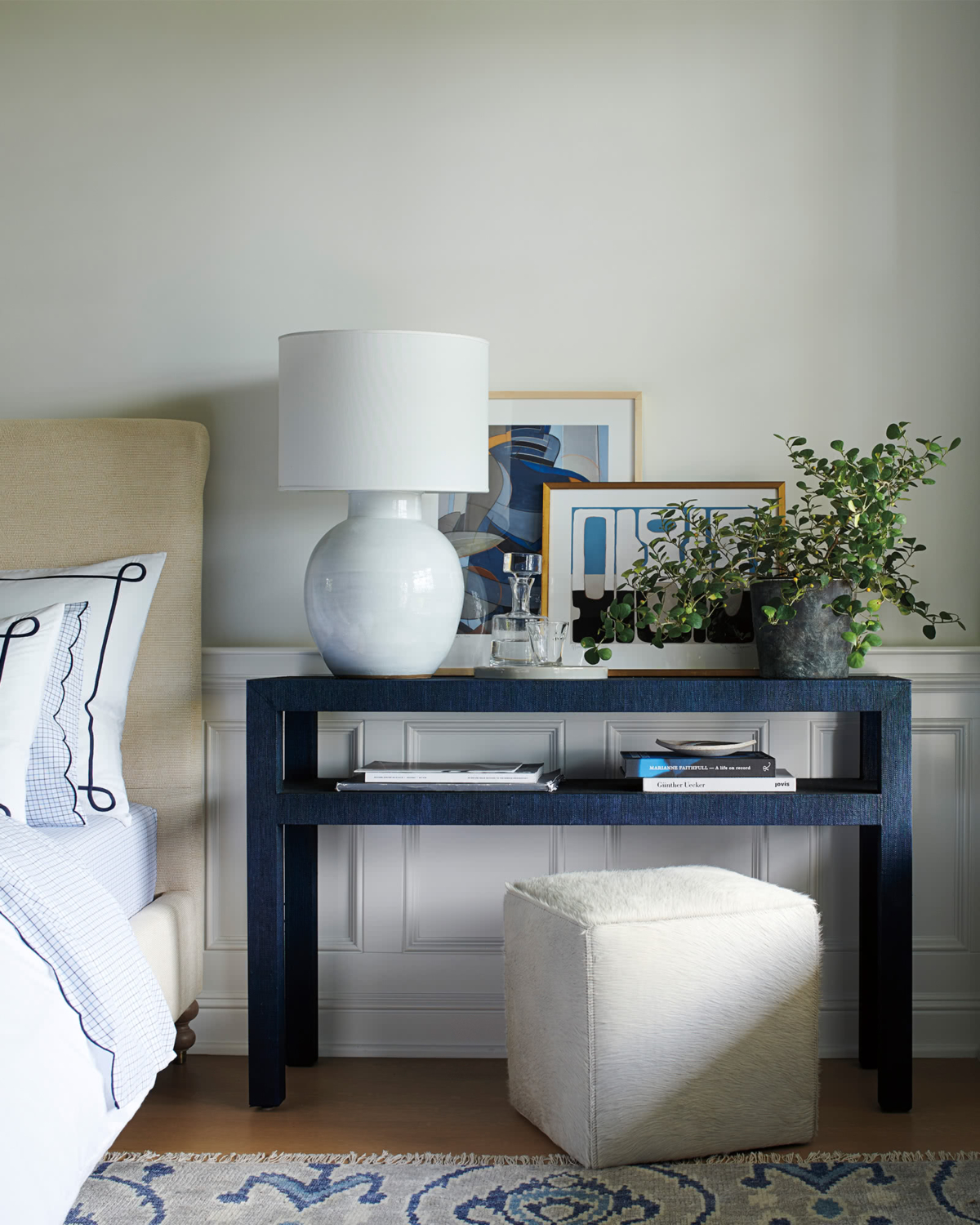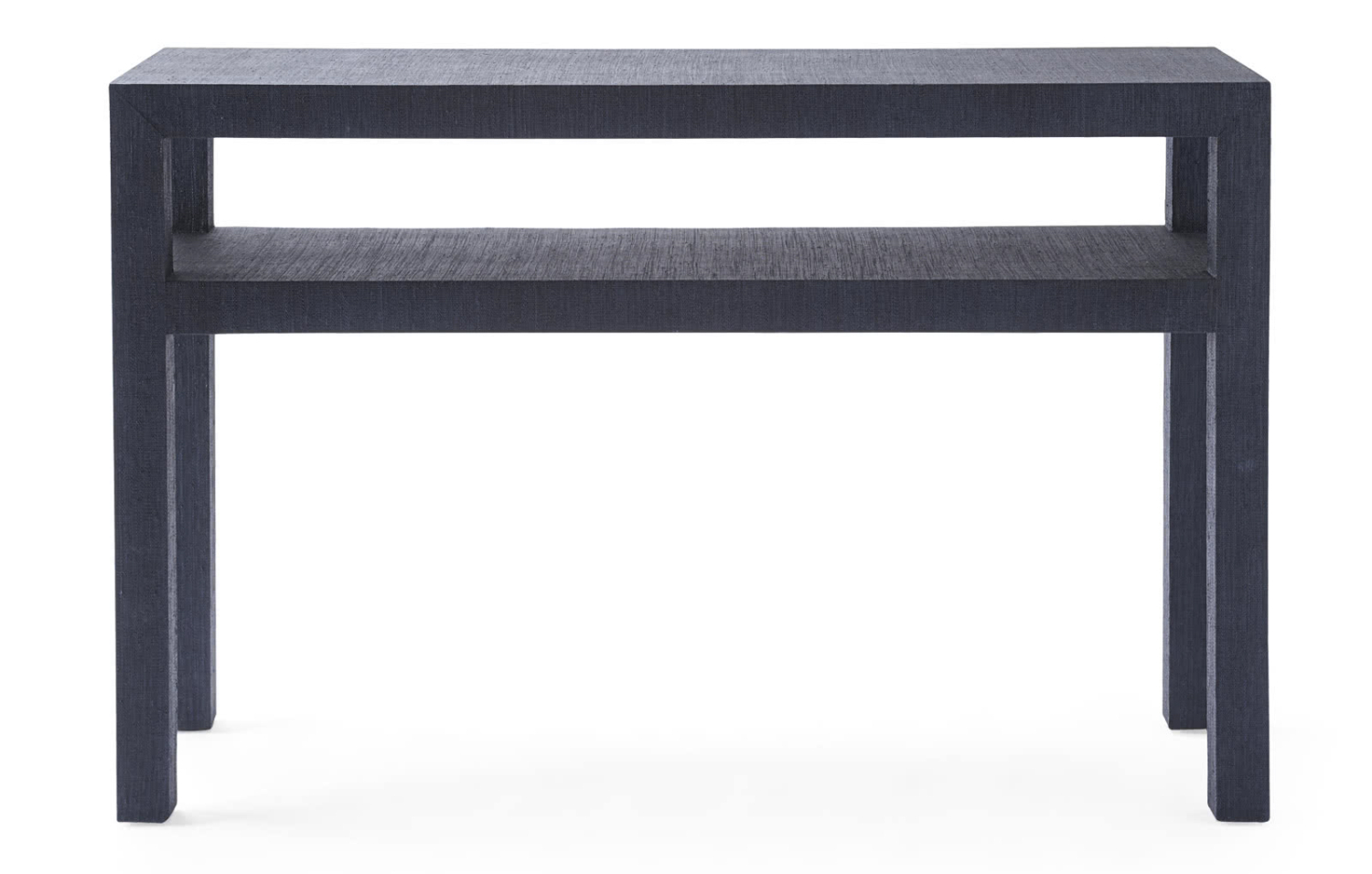 I bought a couple of these white tassel pillows a little over a year ago and I keep moving them around the house because I love them everywhere! Especially for a solid white pillow, they add so much texture and interest everywhere I've put them. The tonal embroidery is stunning and, hello, lush rows of tassels along the sides? Yes, please. Here's one of them in my family room. The black and white medallion pillow is also from Serena & Lily.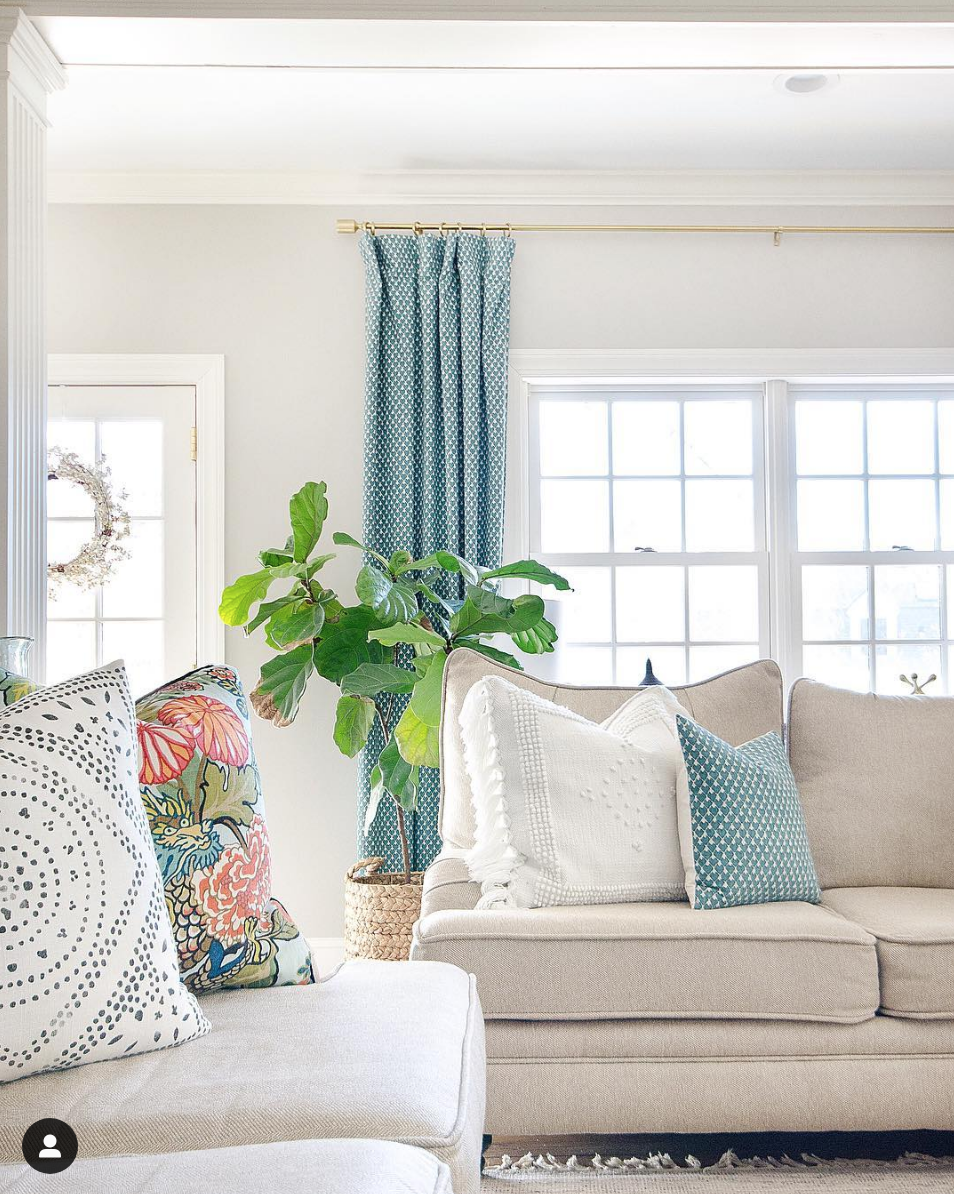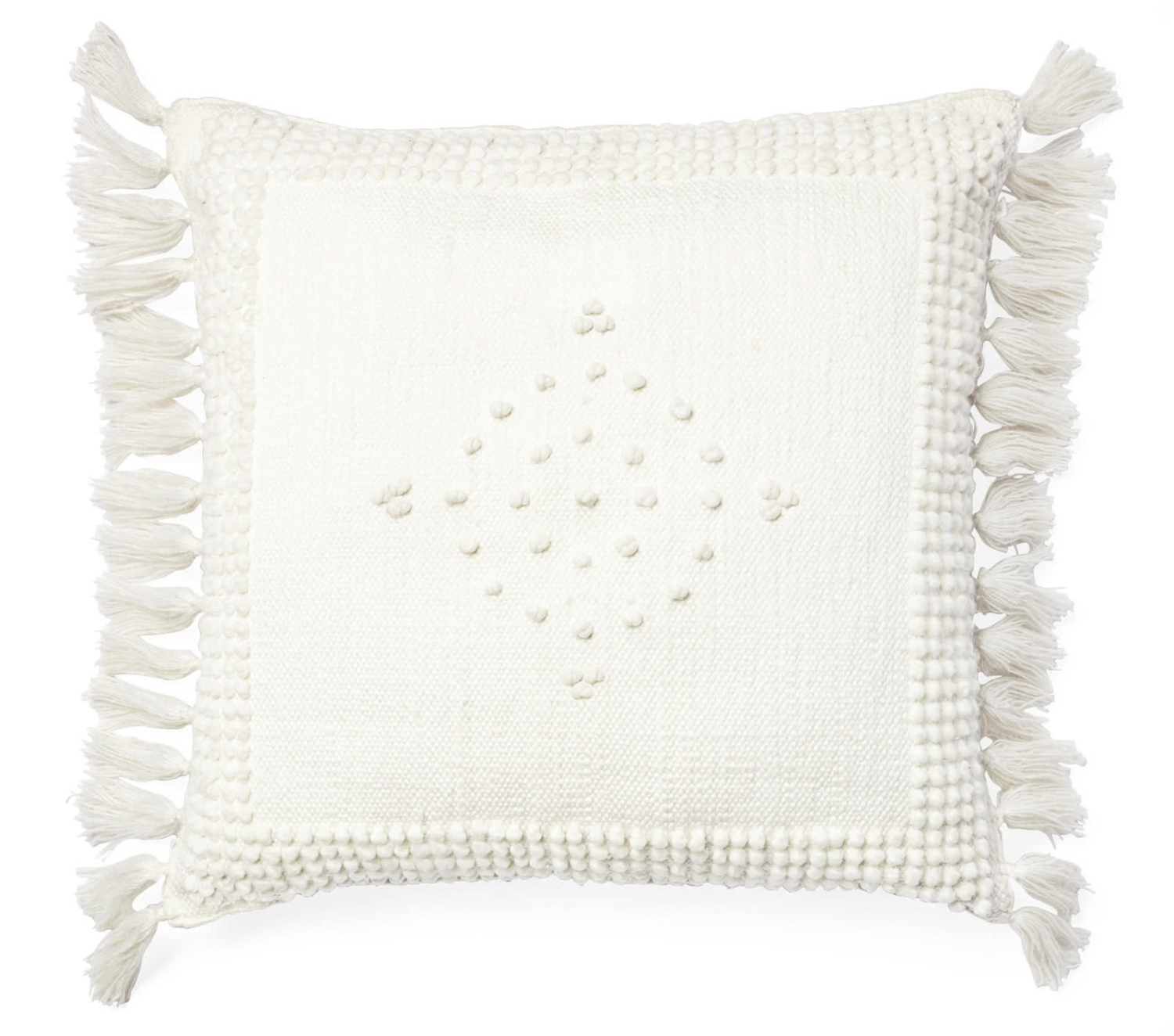 I think this hanging chair may be one of Serena & Lily's most recognizable pieces. It's such a beautiful chair to add to any room and is just as suited to a living room as it is to a bedroom or a porch. I have a similar one in my daughter's bedroom and we all love sitting in it. It's comfortable for reading or lounging and there's just something fun about a chair that's also a swing!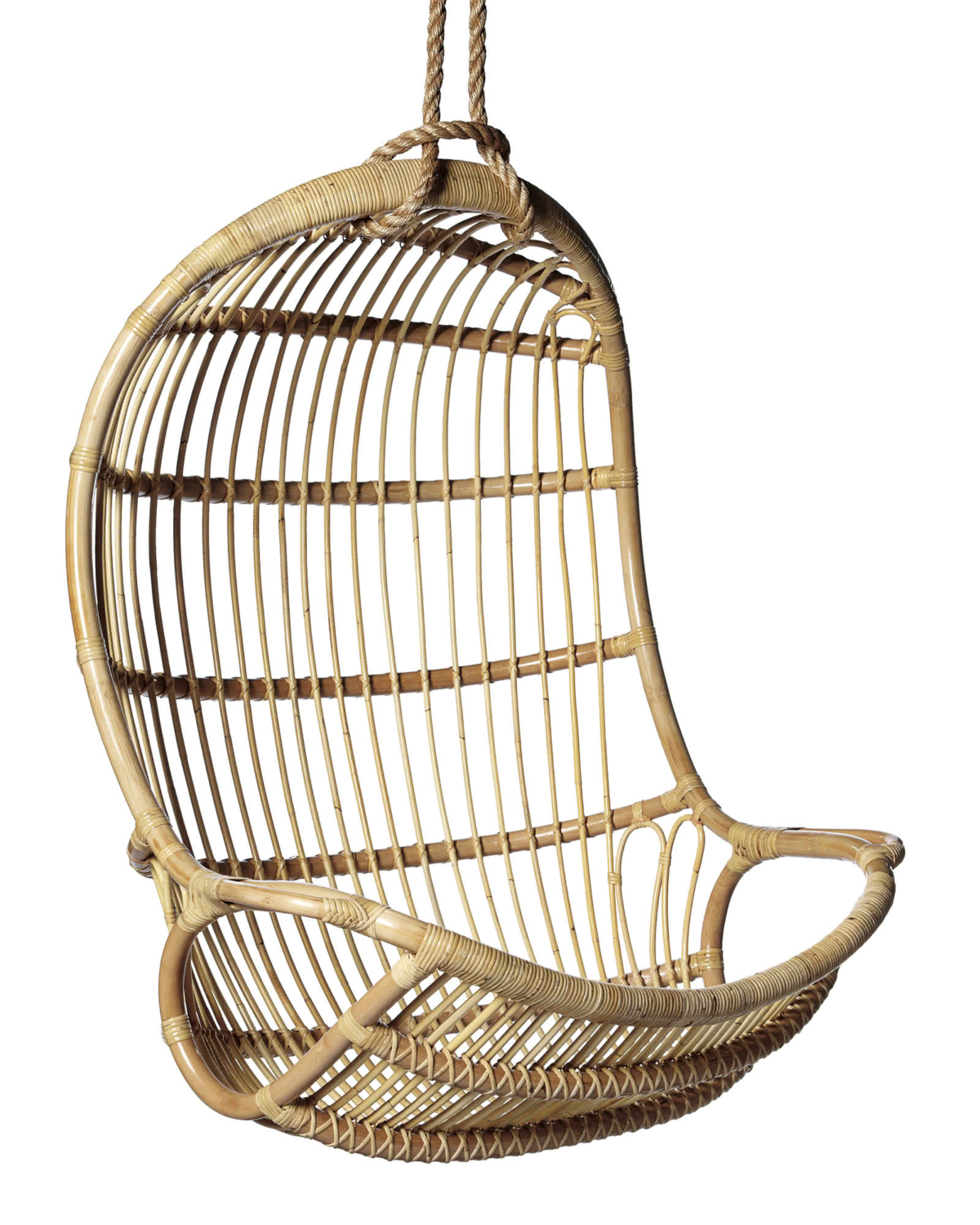 That's it for my picks from Serena & Lily's Memorial Day sale! I'm seriously considering going for it on the sunwashed Riviera side chairs and the palmetto wallpaper. As usual, I'm up to my eyeballs in projects that are half finished and shouldn't take on anything new at this point…but when the prices are this good it's hard to resist!!