My husband, Scott, and I bought our house in the Boston suburbs almost five years ago now, in June 2007. We were still sort-of-newlyweds, married eight months at that point. We both worked full-time, he in technology sales and I as an elementary school teacher. We had been looking at houses in both the city and the suburbs for over a year, not totally sure where we wanted to buy, and had seen a LOT of properties. Scott had fallen half in love once with a house I wasn't into. I fell several times and had to be talked off the ledge of obsession by my more methodical, rational-in-the-face-of-spending-a huge-chunk-of-our-savings husband.
Then one Sunday in April we drove out to an open house in a quaint little town 35 minutes outside of the city. We walked through the cozy cape-style house and uh-huh-ed and hmmmmm-ed and okay-ed as the real estate agent showed us around. I had left houses before exclaiming, "I LOVE this place!!" No such love-at-first-sight for me this time, and yet…there was something. I remember getting into the car and Scott asking, "So what did you think?" "Yeah, I liked it, it's got potential," I replied. And he said, "Yeah, I liked it too." Two days later we submitted an offer and two days after that we had ourselves a deal and a house. I'm still not sure exactly what it was about this house that pulled us in…but like I said, there was something about it that felt right for both of us.
So we moved in the end of June with a truckload of stuff and energy and plans for improvement. Five years later we've redone the kitchen, renovated two bathrooms and added a third, installed wainscoting in the dining room and master bedroom, painted every single wall in the house, ripped out and replaced all of the original front landscaping save one lovely azalea, and much, much more. For some of it we have hired help. Much of it we have done ourselves. We've learned so much along the way, and I tell you, I never imagined I could love power tools as much as I do. I hope that writing this blog will inspire me to take better before and after pictures because, frankly, I have been downright horrible at documenting some of the changes.
I can't wait to share both projects we've already completed and ones to come. For now, I will leave you with straightforward before and after shots of the front of our house.
Before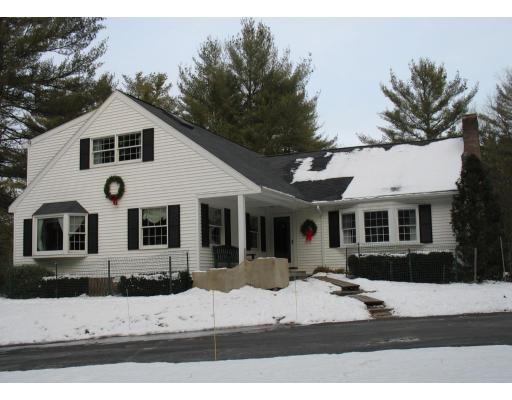 After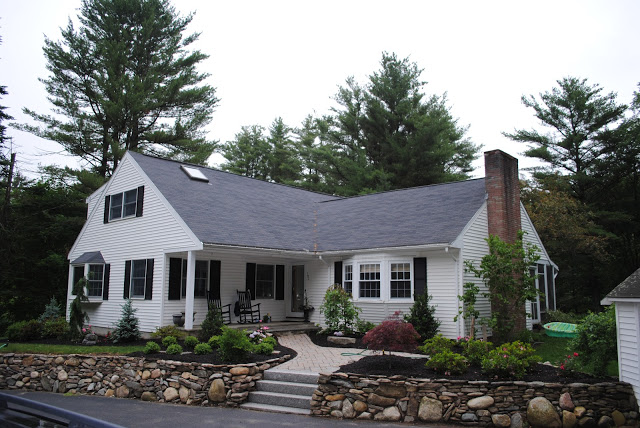 Scott built the stone wall rock by rock. My very talented brother, who is a landscaper, designed the new layout and content from 300 miles away, and then Scott installed all the new plantings.
It still makes me smile to hold these photos side-by-side. Granted, the first picture is covered in snow (this is Boston after all), but there wasn't much there besides some nondescript, rectangular shrubs. I absolutely love what my brother designed for us.
And so begins our little home story…