Fresh, homemade margaritas have become one of our favorite weekend cocktails.  After I made these margs for the first time, with freshly-squeezed lemon and lime and not a drop of pre-packaged mix, it was all over for me.  I've never been able to go back to a pre-made mix.  It's hard to put into words how much better these are…imagine the difference between a Twinkie and a freshly baked cupcake with velvety buttercream and you're close.
It takes a little elbow grease to squeeze the citrus, but I promise you it is worth every twist of the wrist.  If you have an electric juicer (and, seriously, why do I not have an electric juicer??) you'll be sipping a refreshing cocktail in no time.
Fresh Margaritas
Ingredients
1 c. white tequila
1 c. triple sec
5 limes
4 lemons
*simple syrup
In a large pitcher, mix the tequila, triple sec, and juice of 4 limes and 3 lemons.  Add simple syrup to taste – I add about 1/4 c.  Dilute with ice cold water to taste.  Slice the remaining lime and lemon into thin rounds for garnish.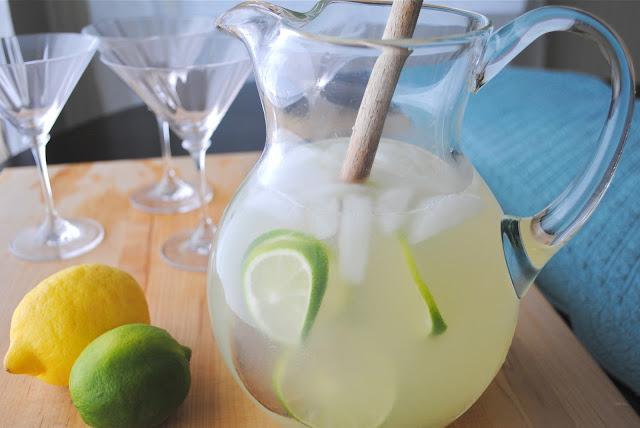 *For simple syrup, combine equal parts water and sugar in a microwave safe bowl or in a saucepan and warm in microwave or on stovetop until sugar dissolves.  I usually do 1 c. sugar and 1 c. water and keep the extra in the fridge – it's great for iced coffee!
Click
here
for printable recipe.