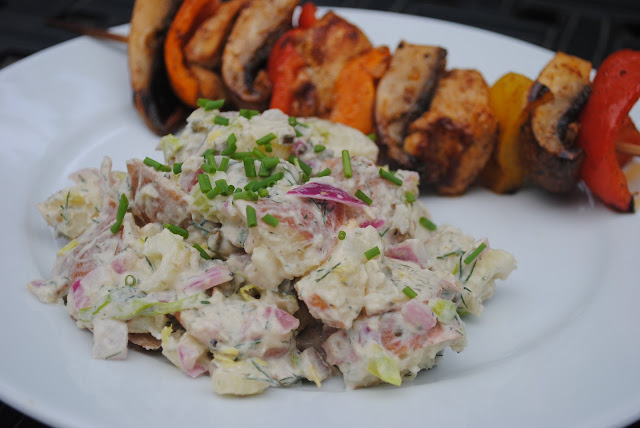 Is there a side dish that screams summer more than potato salad? This version is exceedingly versatile – it can be served warm, room temperature, or cold. You can substitute white wine for the white wine vinegar, sour cream or buttermilk for the yogurt, chopped dill pickles for the capers, and any herb you like for the dill. It's a great base recipe to add to your repertoire and is perfect for cookouts, weeknight dinners, and the leftovers are fabulous for next day's lunch.
On a side note, the kebabs you see in the background are coated in an absolutely delicious brown sugar, chili, and lime marinade from the recipe files of the lovely and inspiring Jenny Steffens Hobick, who has become a recent friend. I stayed very close to her recipe, only increasing the brown sugar a touch to suit my sweet tooth and using portobello mushrooms in place of the white mushrooms. I've made them twice in the past 10 days. Click
here
for her easy and delicious recipe.
Potato Salad with Dill and Capers
Ingredients
2 lbs. red-skinned potatoes, scrubbed and cut into 1/2″ chunks
2 tbsp. white wine vinegar
1/3 c. mayonnaise
3 tbsp. dijon mustard
1/4 c. yogurt
3/4 c. celery and leaves, sliced
1/2 c. red onion, diced
2 tbsp. capers, chopped
2 tbsp. fresh dill, chopped
chives for garnish
Place the potatoes in a pan of cold, salted water. Cover and bring to a boil. Lower heat and simmer about 10 minutes, until tender. Drain in colander and drizzle vinegar over hot potatoes.
Meanwhile, whisk mayo, dijon, and yogurt in serving bowl. Add celery, red onion, capers, and dill. I don't care for the taste of raw onions but I've found that putting raw onions in water, microwaving for 1 minute, letting sit for a short while, then draining takes away the sharp raw onion taste but leaves the more mellow onion flavor.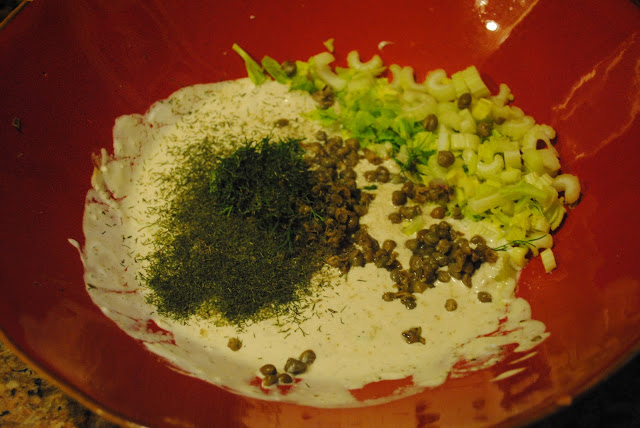 Add the potatoes to the bowl and stir gently until everything is coated in the dressing. Season with salt and pepper and garnish with chopped fresh chives if desired.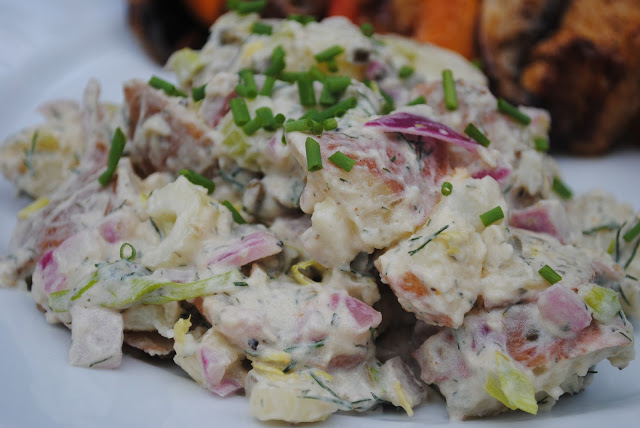 Click
here
for printable recipe.