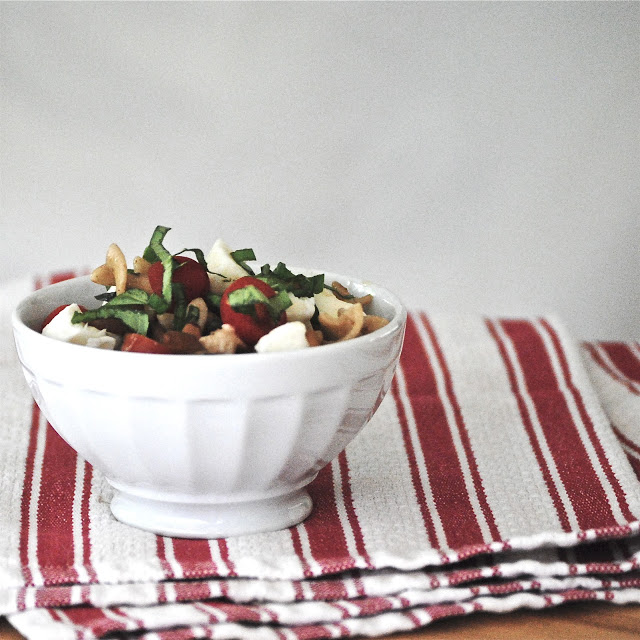 In general, I'm hesitant to say I have a "favorite" dish or favorite food.  I like a lot of food.  I like some modicum of variety in my food and in general I just love to eat good, interesting, delicious things.  In fact, the only things I think I could say I won't let cross my lips are oysters.  I have tried – oh, have I tried – but when the fried variety still made me openly gag at a restaurant I threw in the towel.  No one needs to see that.
Even if I don't have a single favorite, I think we all have at least a few favorites, and this pasta has been in my top five for a long time.  The original recipe came from a Bon Appetit of my mom's sometime in the 90's.  I think this version may differ slightly from the original but it's close and I've made it so very many times by now I know it by heart.  It's great warm, it's great room temperature, it's great cold, it's great leftover for days and days after it's made.  It has very few ingredients – mostly the classic caprese components of mozzarella, tomato, and basil – and goes together in the time it takes to cook the pasta.  I make it year-round but it's especially awesome this time of year when great tomatoes and fresh basil abound.
You can absolutely make this whole dish while the pasta is cooking (and I often do) but if you have ten minutes earlier in the day, mix up all of the ingredients besides the pasta and basil a few hours beforehand.  The marinating really increases the depth of flavor and the tomatoes release some of their juices.  I often use grape tomatoes, but use whatever great tomatoes you have on hand.
The recipe as follows serves two adults and two little ones with leftovers, but I often make a double recipe because the leftovers keep so well.
Fusilli Caprese
Ingredients
1/2 lb. whole wheat fusilli or rotini
1/4 c. olive oil
2 tbsp. balsamic vinegar
1 small clove of garlic, pressed
1 pint grape tomatoes, halved
2 large balls fresh mozzarella, drained and cut into cubes
1/4 c. pine nuts, toasted
1/4 c. sliced fresh basil
Bring pot of water to boil, add a tablespoon or so of salt, and cook pasta according to package directions.
In a large serving bowl, whisk the olive oil, balsamic, and garlic to blend.  Add tomatoes, mozzarella, and pine nuts.  When pasta has finished cooking, drain and add immediately to the mixture in the serving bowl.  Top with basil, season with salt and pepper, and toss well to coat mixture with sauce.  Add more oil and vinegar to taste.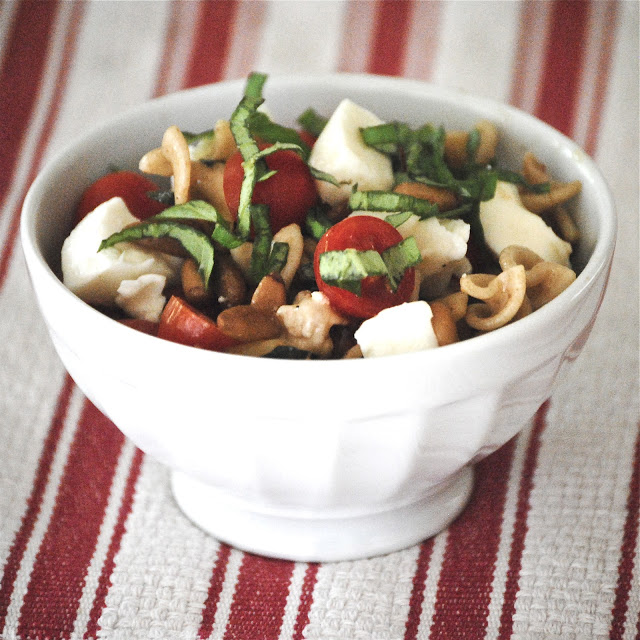 Click here for printable recipe