This caprese pasta – made with tomatoes, fresh mozzarella, and basil – has been hanging out at my dinner table for a solid two decades by now. I think the original recipe came from a Bon Appetit magazine of my mom's sometime in the 90's. I've made it so many times by now I know it by heart, and even after 20+ years I'm excited to eat it every time I make it. A recipe that you're still excited to eat after that long has got to be a good one, right? Oh, it is.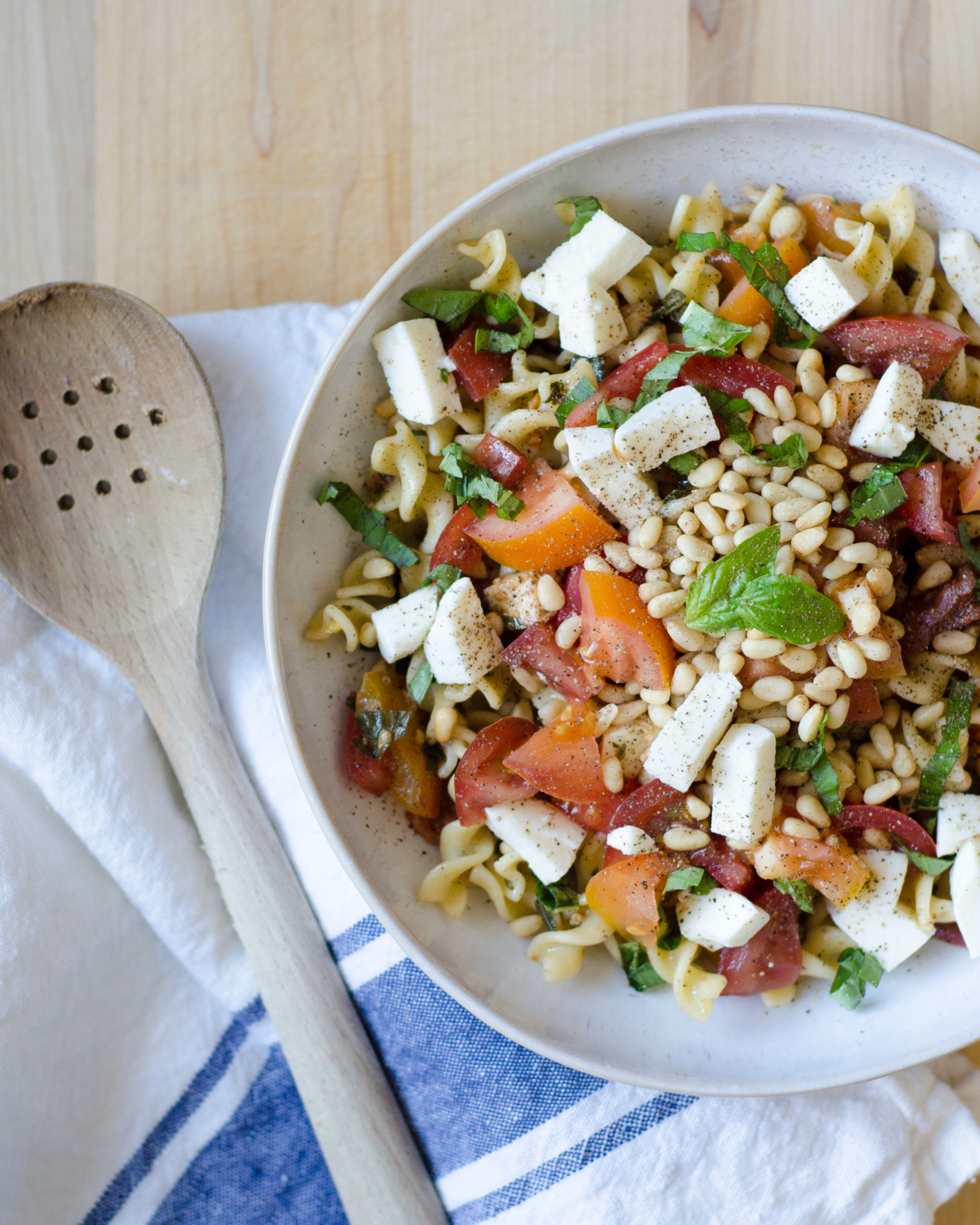 It's SO EASY too. Like on the table ready to eat about 20 minutes after you start making it. You don't need to cook anything but the pasta so it's lighting fast to put together. If you have time earlier in the day to get it started, I do love to let the tomatoes marinate a little in the balsamic, olive oil, and shallot, but if you're throwing this together last minute, it totally works that way too. I've made this caprese pasta on the fly many, many times. It's great warm, it's great room temperature, it's great cold, it's great leftover for days after it's made, but we rarely get more than one bowl of leftovers around here because we all love it so much.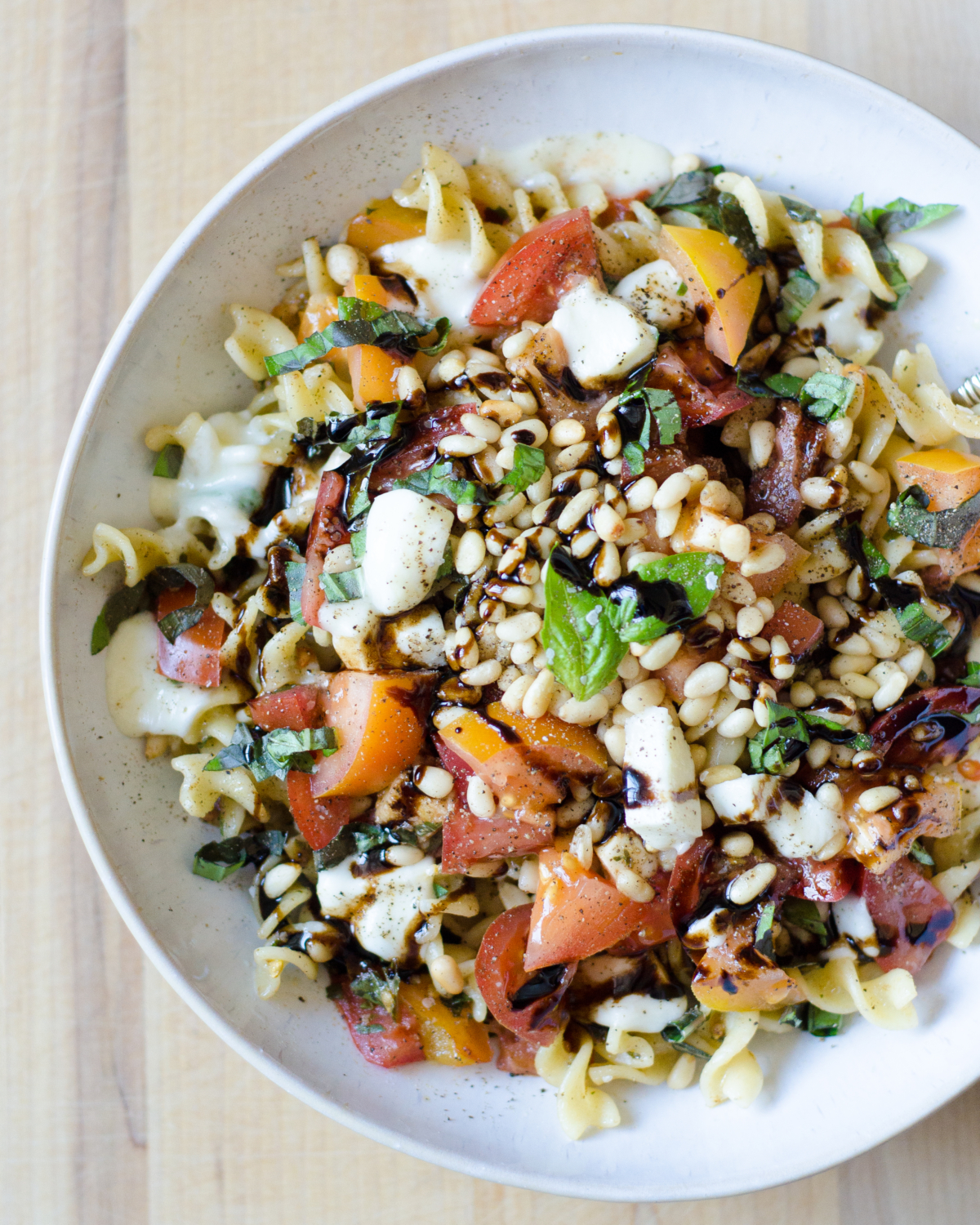 There are very few ingredients – mostly the classic caprese components of mozzarella, tomato, and basil – but if there's one "secret" ingredient in this caprese pasta (except it's not a secret at all because I'm going to tell you) it's the toasted pine nuts. The first time I made this for my in-laws my father-in-law was so confused at having nuts in pasta, but they really make this dish. Don't skip them if you can help it! Fresh tomatoes are my favorite to use in this recipe, heirloom tomatoes if I can get them and kumato brown tomatoes if not. If you need to make this a pantry meal though, drain 28 oz. of canned diced tomatoes and they will work just fine too. I keep basil and mozzarella in the freezer for when I haven't been able to get to the grocery store and need a quick dinner.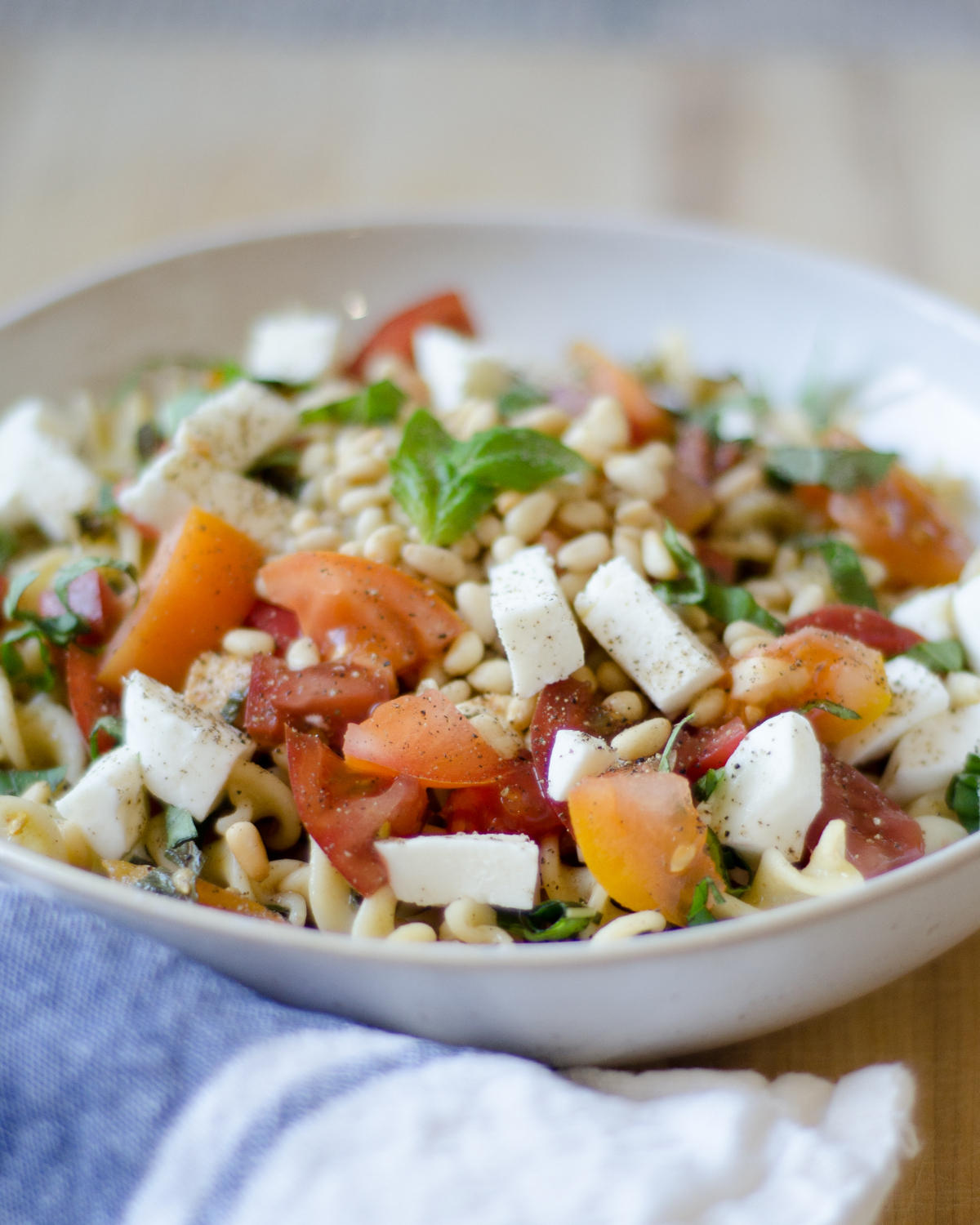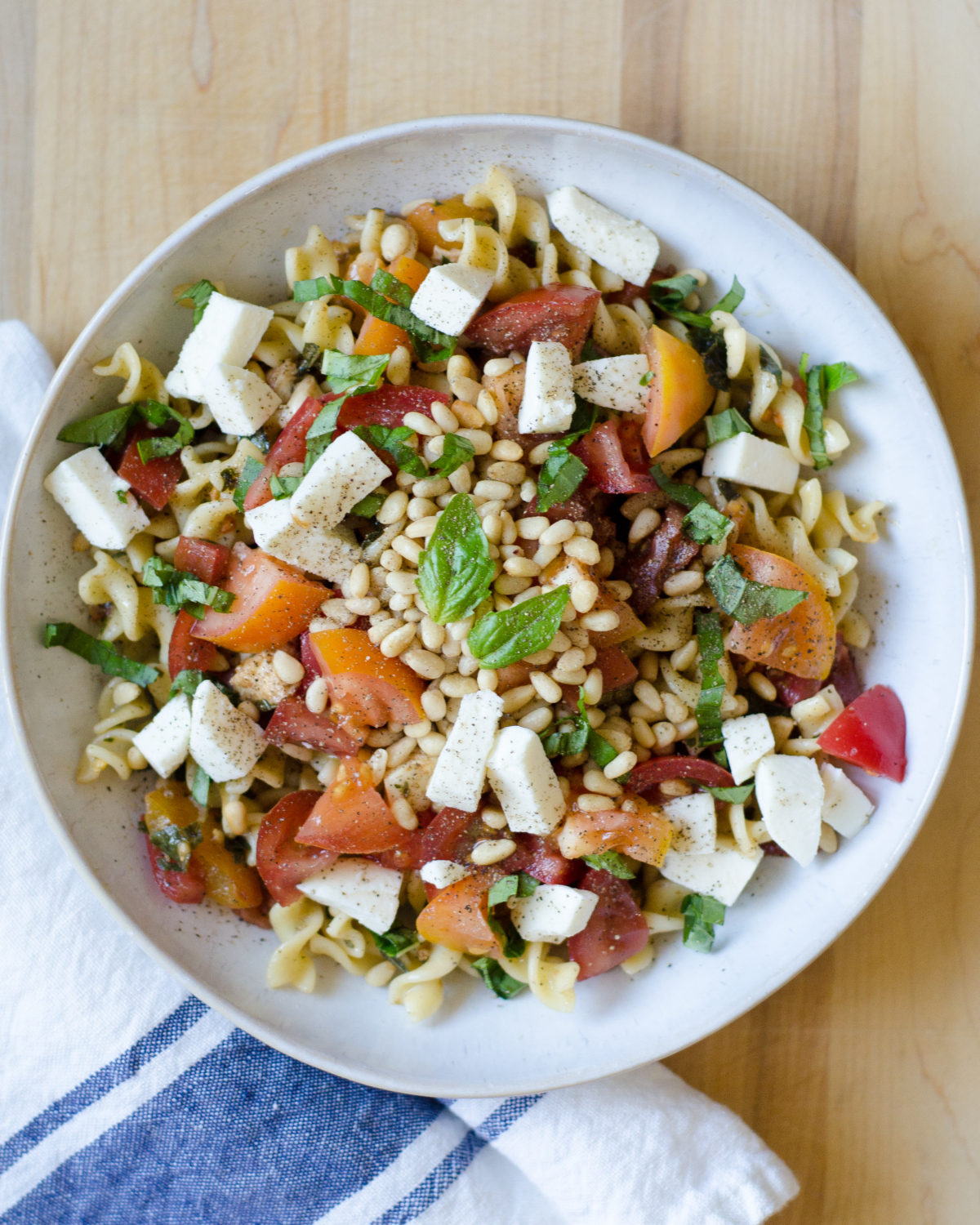 So if you are looking for a very delicious dinner idea that is ready in less than a half hour and will dirty only one cutting board, one pot, and one bowl (and honestly, who doesn't need more recipes like this to rely on), here you go, my friends. Caprese pasta. One of my top favorite pasta recipes of all time. And if you're looking for other quick, pantry pasta recipes, try my pasta puttanesca or tuna, lemon, and arugula pasta!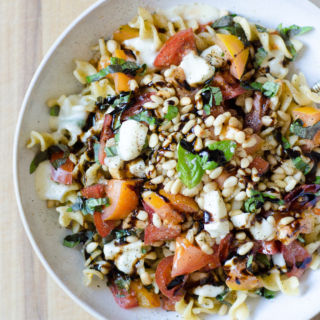 Caprese Pasta
A quick and delicious pasta with tomatoes, basil, mozzarella, and pine nuts.
Ingredients
1/2

c

olive oil

1/4

c

balsamic vinegar

1

small

shallot

minced

1

tsp

salt

1/2

tsp

pepper

1-1 1/2

lbs

fresh tomatoes

chopped

1

lb

fresh mozzarella

chopped

1

lb

fusilli pasta

1

c

basil

chopped

1/2

c

pine nuts

toasted

balsamic glaze

optional
Instructions
Set a large pot of salted water over high heat to bring to a boil.

Measure the olive oil and balsamic vinegar into a large bowl and whisk in the shallot, salt, and pepper. Add the tomatoes and mozzarella and toss to coat. This can be mixed several hours ahead and left to sit at room temperature or can be done while the pasta cooks.

Once the water has come to a boil, cook the pasta according to the package directions, usually 10-12 minutes. Drain in a colander and immediately pour the hot pasta over the tomatoes and mozzarella.

Add the basil and pine nuts and stir to coat well. Drizzle with balsamic glaze if you want a little more balsamic flavor!