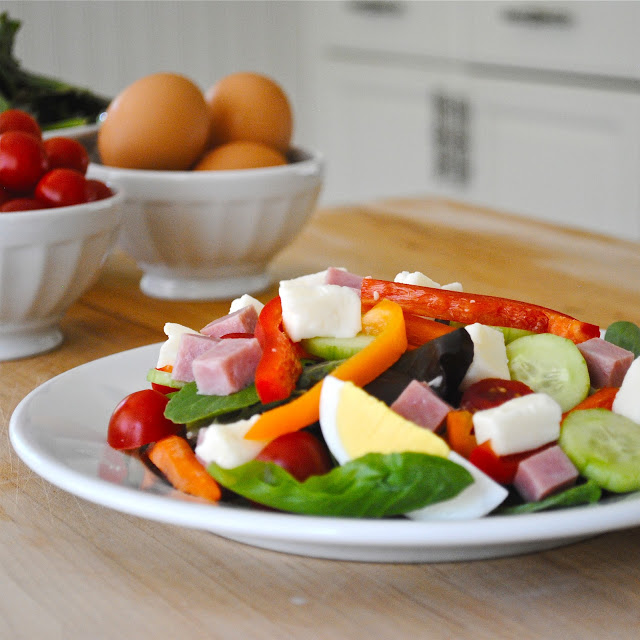 Chef salad was a regular, and a favorite, on our summer dinner table when I was growing up.  I still love it now, but for much more than just its great flavor.  It's packed with vegetables and is a great way to showcase fresh, summer produce in the simplest of ways.  It's super quick to make and requires only one itty bitty stretch with the stove on (crucial on a scorching day in a house with no central air).  The salad itself is cool and refreshing.  And it tastes just downright delicious.  Perhaps the greatest thing about chef salad, though, is that there are no hard and fast rules.  If there's something that you don't like, leave it out.  If there's something you love that I don't list here, add it in.  If you have a different kind of tomato or pepper or cucumber than what I suggest, substitute it.  It's a great I-need-to-use-this-extra-stuff-in-my-fridge kind of meal.
This is pretty much my M.O. for summer cooking – little time at the stove, crisp and cool, but still a tasty and satisfying meal.  If you make enough to have leftovers, be sure to store the extra without salad dressing so the lettuce doesn't get watery and wilted.
Chef Salad
Ingredients
3/4 lb. smoked turkey or ham steak – I like the turkey best because it's a bit leaner
1 large ball fresh mozzarella
4 hard-boiled eggs
red bell pepper
yellow bell pepper
1 pint grape tomatoes
1 english cucumber, peeled
3 carrots, peeled
several handfuls of baby romaine or spring mix greens
Cut all ingredients except greens into bite-sized pieces or strips.  Toss together gently and serve with Russian or Blue Cheese dressing.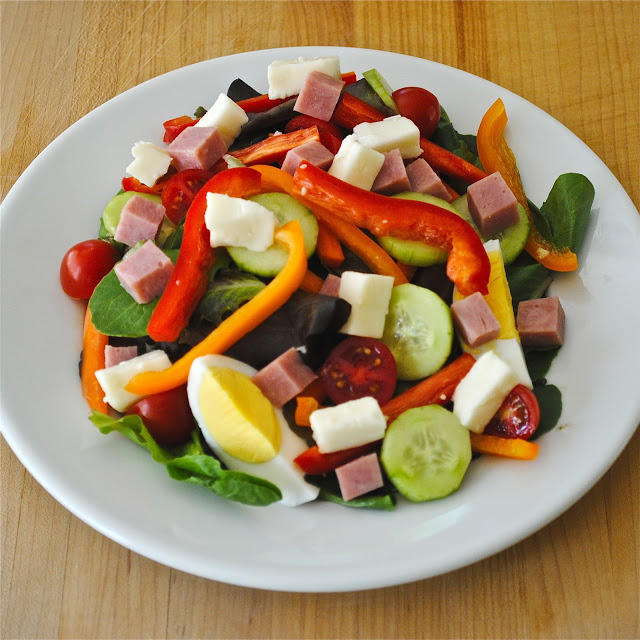 Click
here
for printable recipe