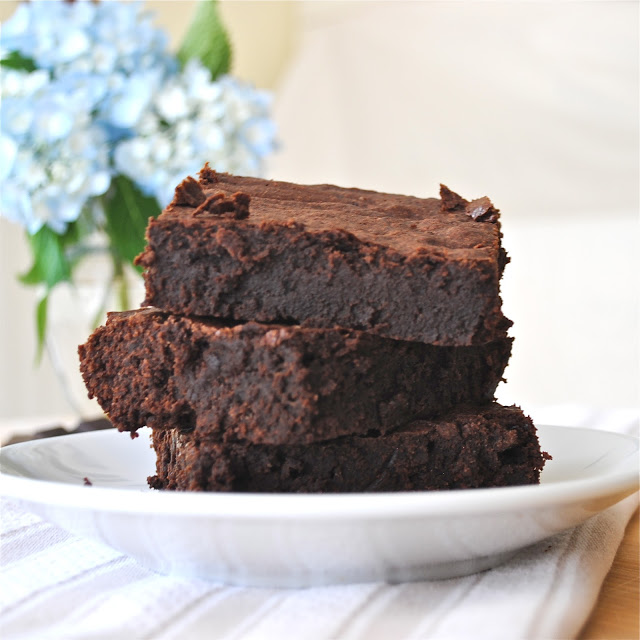 I pinned this brownie recipe on Pinterest a couple weeks ago and made them this week for a casual afternoon gathering with some friends and their kids.  They're kind of amazing.  I'm not even sure they should be called brownies.  Maybe "fudge cookies" or "molten cake bars."  "Brownies" doesn't quite seem descriptive enough for these, dark, rich, chewy, melt-in-your-mouth, darkest-of-chocolate delights.
They are decadent and wonderful and rich, so much so that I found I couldn't eat more than a couple bites in a sitting, so that does keep your portion size down.  And the chocolate is all dark, dark, dark, so that practically counts as health food with all of the antioxidants, right?  Bottom line: you probably shouldn't eat these every day.  But when it comes time to make a batch of brownies, I ultra recommend this version.
*A little baking tip for you: if you are out of semisweet or bittersweet chocolate when you go to use it (which I was) but have an inexplicably large quantity of unsweetened chocolate (which I did) you can substitute the unsweetened for the sweetened ounce for ounce and add 1 tbsp. of sugar for each ounce of unsweetened chocolate.
Dark Chocolate Brownies
Ingredients
1 1/4 c. flour
1 tsp. salt
2 tbsp. unsweetened cocoa powder
11 oz. semisweet or bittersweet chocolate, coarsely chopped
1 c. (2 sticks) unsalted butter
1 tsp. instant coffee granules (I used decaf)
1 1/2 c. sugar
1/2 c. packed brown sugar
5 eggs
2 tsp. vanilla
Preheat oven to 350 degrees. Butter the sides and bottom of a 9×13 glass baking dish.
In a medium bowl, whisk the flour, salt, and cocoa powder together.
Put the chocolate, butter, and instant coffee in a large microwave safe bowl and microwave for one minute.  Remove and stir or whisk, then repeat until chocolate is completely melted and all ingredients are incorporated.  Add the sugars and whisk until completely combined.  Let mixture come to room temperature.
Add 3 eggs to the chocolate mixture and whisk until combined. Add the remaining eggs and whisk until combined. Add the vanilla and stir until combined. Do not overbeat the batter or your brownies will be more cakey than fudgey.
Sprinkle the flour mixture over the chocolate mixture. Using a rubber spatula, fold the flour mixture into the chocolate until just a bit of the flour is visible.
Pour the batter into the prepared pan and smooth the top. Bake for 30 minutes, until a toothpick inserted into the center of the brownies comes out with a few moist crumbs sticking to it. Let the brownies cool completely, then cut them into squares or triangles.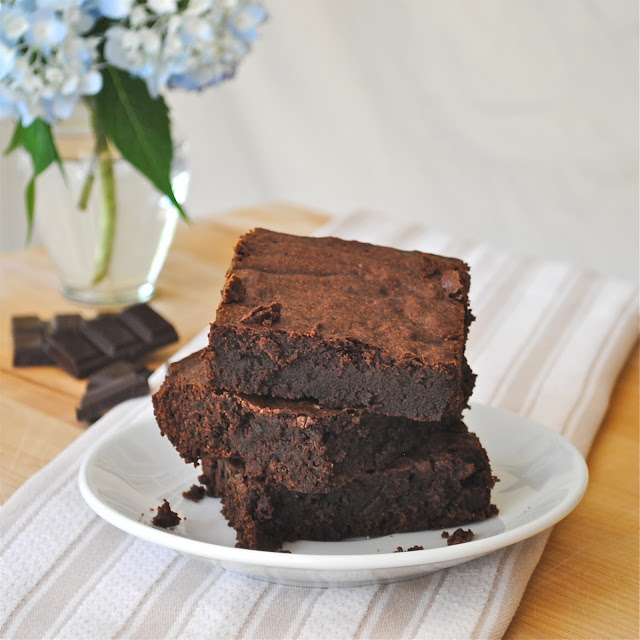 Click here for printable recipe
Adapted from recipe here