We're currently enjoying a week at the Delaware beach with my parents, so I'm off my usual routine of cooking and home projects. So as to not leave you high and dry this week, I thought I'd do a bit of a house tour to show you some of the rooms in our house that received love and renovations long before I ever started thinking about blogging.
Today I'm starting off with our Master Bathroom. When we bought our house five years ago there was no master bath. There was one full bath downstairs next to the guest room and one full bath upstairs that was shared by the three bedrooms there. No big deal at first because it was just Scott and I living upstairs, though the bathroom was in serious need of updating. I don't have a single before picture but it consisted of a teeny tiny vanity topped with Formica, a small, cheap, mirrored medicine chest, a linen closet, plastic yellow and white tiles on the walls, and a dark, dingy tub no matter how much scouring I did. Not quite the lovely master bath one dreams of.
Original layout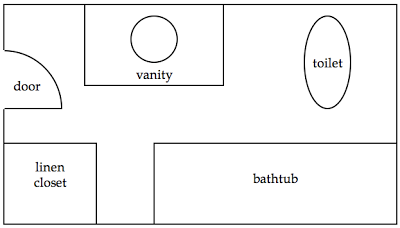 Our original thought in buying the house had been to dormer the walls of our master closet and put in a master bath there, but we quickly realized that plan would cost tens and tens and tens of thousands of dollars and we just weren't looking to sink that much money into the project. I can't tell you how many laps I did around the upstairs of our house – and it's not that big – before I had a lightbulb go off in my head that we could convert the existing bath into a master bath by eliminating the linen closet, which shared a wall with our bedroom, cutting the door to the bathroom there, and sealing up the old doorway.
New layout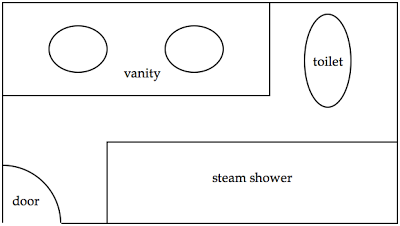 We hired someone to work with us on this project, since I was 6 months pregnant and neither Scott nor I felt comfortable with the scope of the project as a DIY. But we did the design and chose all the finishes ourselves. To help keep costs down we opted to leave the plumbing where it was – toilet in the same place, sink in the same place, shower in the same place. The space was completely gutted and the new and old doorways were respectively cut and sealed.
It's a rather small bathroom so we eliminated the tub completely and went with a glass steam shower to keep the bathroom visually open. The key to keeping a glass shower looking nice between cleanings? A squeegee! Give it a quick wipe after showering and it wards off some of the inevitable soap residue.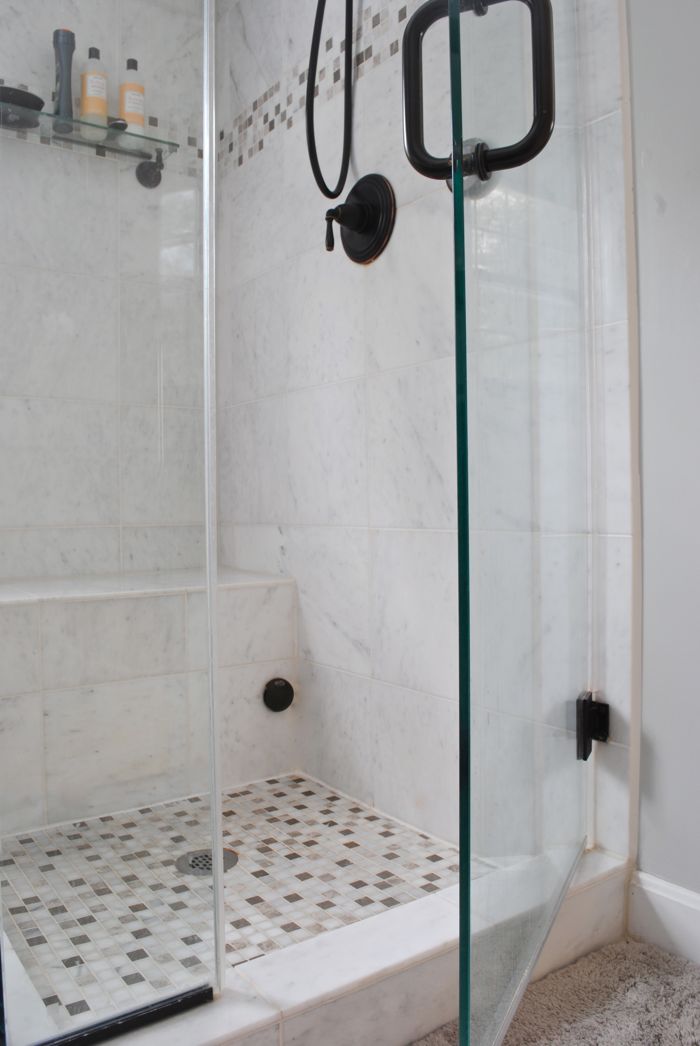 We got a great deal on the white and grey marble and tiled the bathroom floor and shower walls with it. We chose a coordinating mosaic marble tile in shades of white and grey that we used to tile the floor and ceilings of the shower, add a decorative band about 3/4 of the way up the shower walls, and add a backsplash behind the vanity.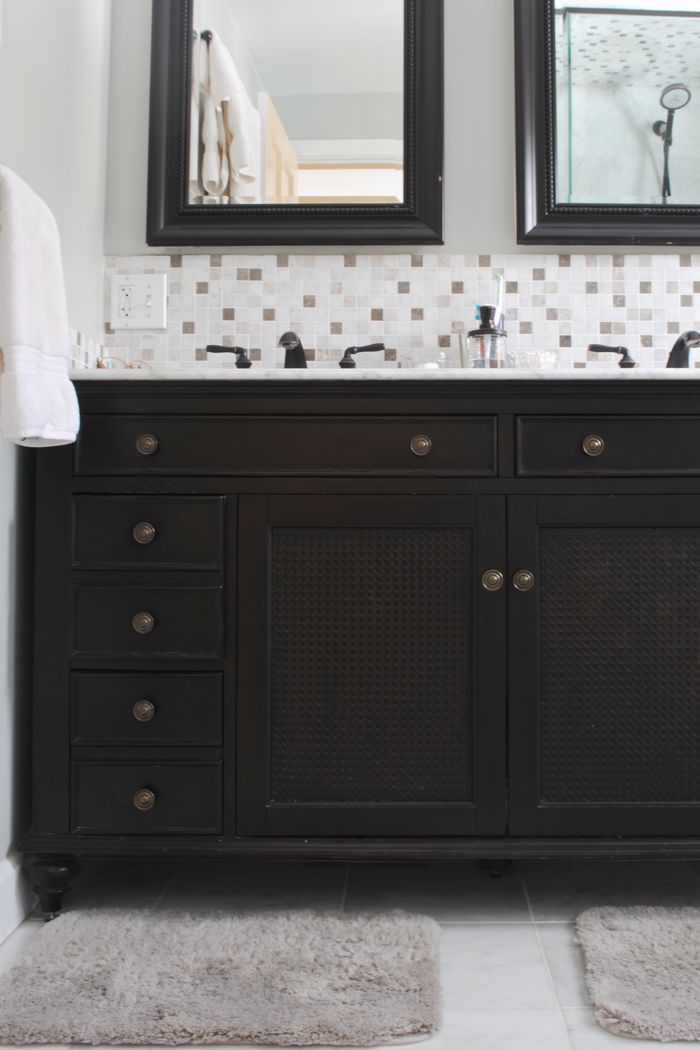 I loved the contrast of dark fixtures against the white marble so we went with an oil rubbed bronze finish on all the hardware.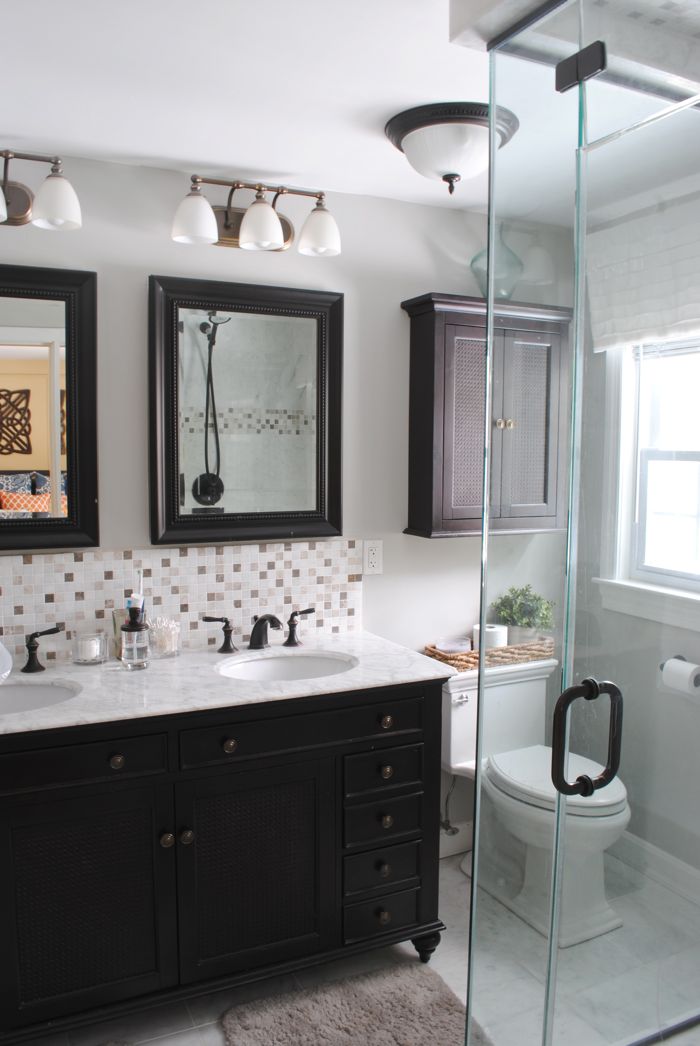 We definitely wanted a double-sink vanity, and there was plenty of room for a smaller scale one based on the new layout. We chose one with dark wood cabinetry, British cane inset on the doors, and furniture-style legs, and topped it with a marble slab similar to the tile on the floors and shower walls.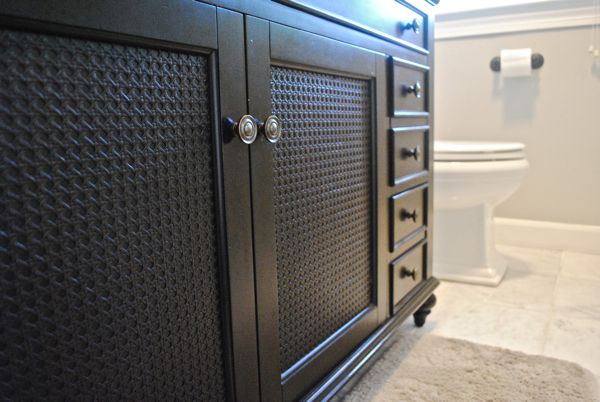 We purchased a wall cabinet with the same dark wood and British cane inset as the vanity and mounted it above the toilet to give us some storage for toilet paper and such since we were losing the linen closet. I had been worried about the lost storage space but we gained so much other storage with the larger vanity and the wall cabinet, I've never once missed the closet.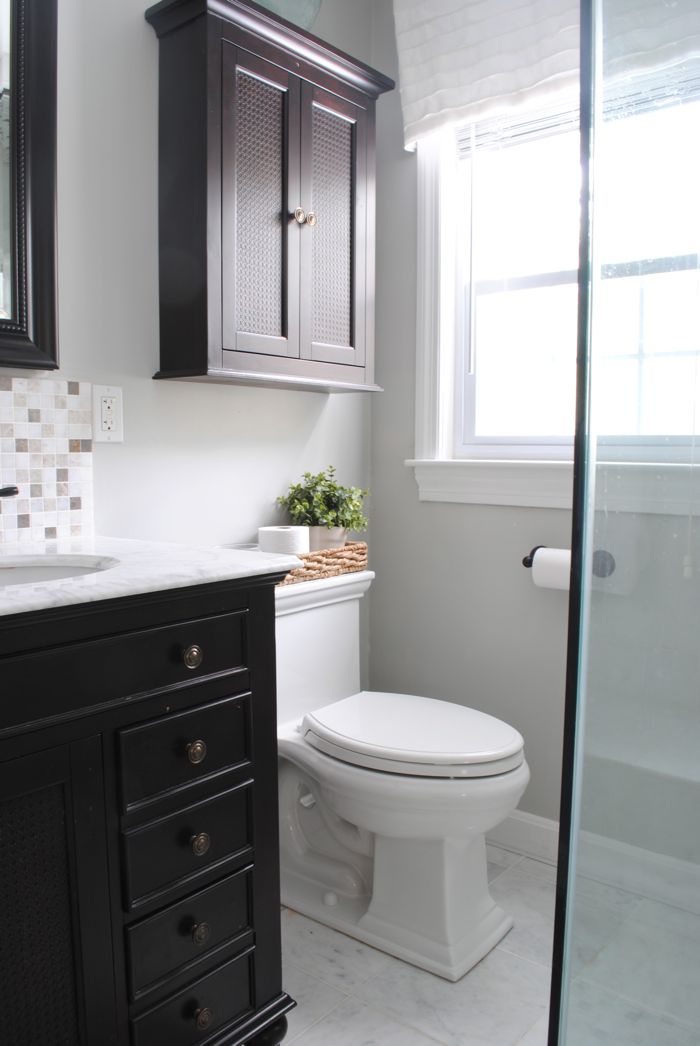 While this is a small bathroom as master baths go, it's such a light, bright space, and I'm so happy to just have a master bath, I never really notice how petite it is.