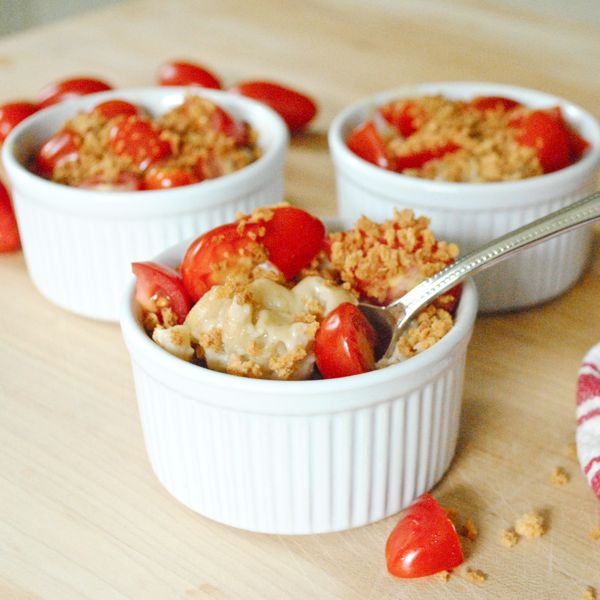 This is the macaroni and cheese I grew up with.  The addition of truffle oil is mine but otherwise this is the exact recipe my mom always made when I was a girl and it's the only macaroni and cheese I make now.  I've tried a couple other recipes here and there but this is the one I always come back to and the only one I've ever made more than once.
It has everything going for it – it's pretty quick and easy to make, doesn't overdo the cheese (have you ever had one that's been almost floating in grease?) but still has intense cheese flavor, and it tastes amazing.  Plus it's pretty versatile.  If you're in a rush you can serve it creamy and right out of the pot in about 30 minutes.  My favorite way to make it, though, if I have just a smidge more time, is to spoon all that creamy macaroni and cheese into a baking dish, layer sliced fresh tomatoes on top, and sprinkle fresh bread crumbs over the tomatoes.  A drizzle of truffle oil over the bread crumbs and about 15 minutes in the oven and you have rich, truffley, golden-on-top mac and cheese.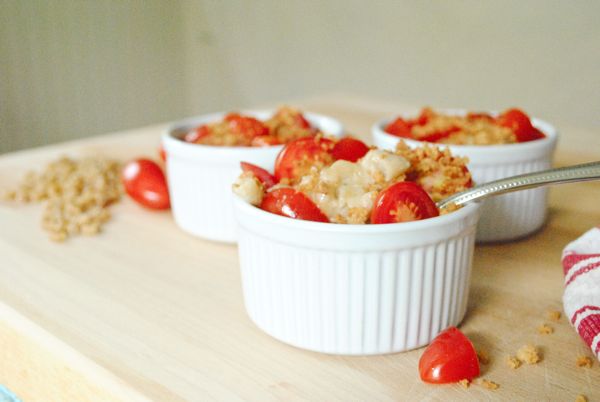 If you have even a little more time, you can spoon the macaroni and cheese into ramekins, top each ramekin with a tomato slice or grape tomatoes, the bread crumbs, and truffle oil, and you have a lovely dinner party side.  Seriously, who doesn't love mac and cheese?  Make it look a little fancy in individual dishes and your guests will think you're serving them something special.  Because you are.
Truffle Macaroni and Cheese
Ingredients
2 c. dry whole wheat pasta elbows
2 tbsp. butter
3 tbsp. truffle oil (divided)
1/4 c. flour
2 c. milk
1/2 tsp. salt
1/4 tsp. pepper
2 tsp. dry mustard
1 tsp. Worcestershire sauce
8 oz. sharp cheddar cheese
3 tomatoes, seeded and sliced into rounds
1 c. fresh bread crumbs
Preheat oven to 350º.
Cook the pasta in boiling, salted water according to package directions.  Drain and set aside.
Melt the butter and 1 tbsp. of truffle oil in a medium saucepan over medium heat.  Add the flour, whisk, and let cook a minute or two.  Pour about a third of the milk in and whisk until relatively smooth – mixture will be thick and may have some lumps at this point.  Pour another third of the milk and whisk again until smooth.  Add the remaining milk and whisk.  Let cook about 5 minutes, until the milk has thickened.
Add the salt, pepper, dry mustard, and Worcestershire and whisk to combine.  Cut the cheese into cubes and add to the milk mixture.  Stir occasionally until the cheese has melted.  Add the cooked pasta and stir to combine.  If you're ready to eat, spoon the macaroni and cheese into bowls and serve.  If you're planning to bake, read on!
Pour the macaroni and cheese into a rectangular baking dish or ramekins.  Top with tomato slices and sprinkle with fresh breadcrumbs.  Drizzle the remaining 2 tbsp. truffle oil over the breadcrumbs.
Bake in the oven about 15 minutes, until the breadcrumbs have turned golden.  Spoon into bowls or onto plates and serve.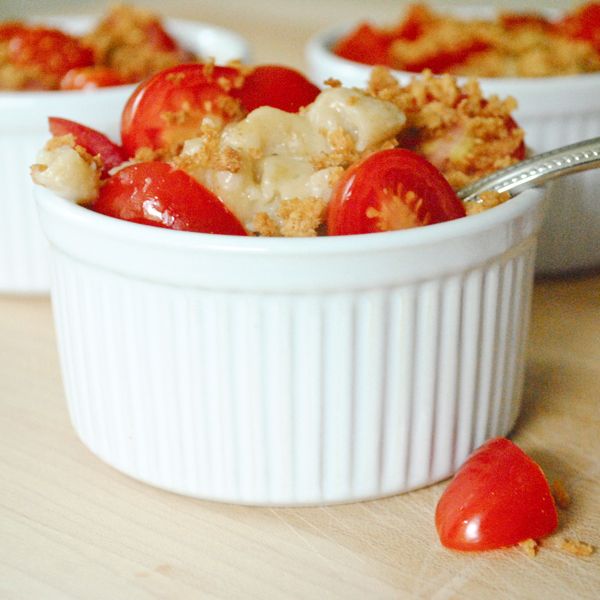 Note: If you have trouble finding truffle oil but can get your hands on truffle butter, substitute 3 tbsp. of truffle butter for the 2 tbsp. butter and 1 tbsp. truffle oil and drizzle the breadcrumbs with 2 tbsp. olive oil.
Click here for a printable recipe.