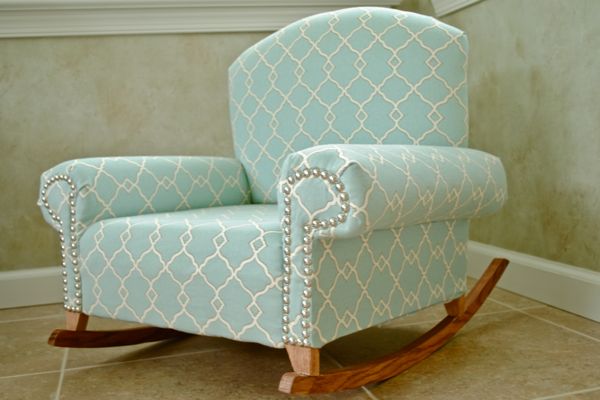 My sweet niece, Lily, tuned one on Monday. We drove to PA for the weekend to be at her birthday party on Sunday. I've been so excited to give her her birthday gift – a child-sized rocking chair I made from scratch, frame, rockers, upholstery, and all (the fabric is Waverly Chippendale in Mist). You may remember the little rocker I reupholstered a couple months ago. After taking that one apart and seeing how it was made I felt pretty sure I could make one myself, and pint-sized upholstered rocking chairs have become something of a first birthday tradition in my family. My mom's grandfather was an upholsterer and made a little upholstered rocking chair for her first birthday. My parents had an exact replica made for Ada's first birthday (you can see it in the same post detailing my reupholster of the small rocking chair linked above). And now I've made this one for Lily.
I wouldn't say it was easy and I had a number of stops and starts and frustrations to work through. I sprained my thumb, smashed my index finger with a hammer, and gave myself three nasty cuts on my hands but somehow managed to avoid bleeding on the finished upholstery. I spent almost every nap time and several nights for three weeks working on this chair. While it wasn't an
easy
project it clearly wasn't impossible either and once I take a little break from chair making I'll be jumping right back on the horse and trying another one. Each piece of furniture I build teaches me so many new things and I love stepping back at the end of it all and knowing that I made the thing sitting in front of me.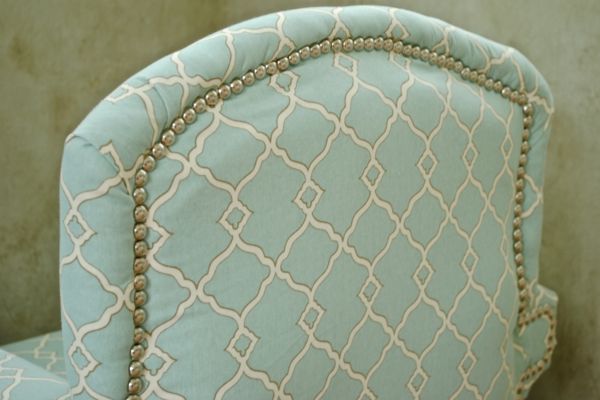 Lily's chair was modeled after the rocking chair my great-grandfather made for my mom. It's similar but I've realized a few things I could do differently to make it even more like the original, so my plan is to build another model soon that I can offer as a tutorial here on the blog and also sell the finished product to someone looking for a handmade little heirloom piece for a special small person.
Lily jumped right up into her chair with a big smile on her face the moment it was unwrapped, which made every hour spent and every bruise and bloodied finger more than worth it.
How cute are those chunky little legs??