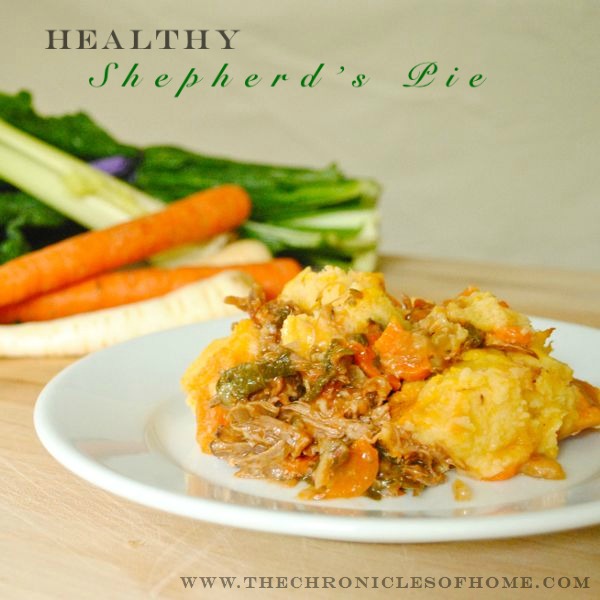 Shepherd's Pie probably isn't the first thing that jumps to your mind when you're trying to think of a healthy meal.  This version, however, is loaded with vegetables, making it a great healthy dinner option.  It's still richly-flavored comfort food but has so many good-for-you ingredients, you can feel great about what you're putting into your body.
Instead of the traditional lamb I use beef here, and this is my secret to keeping the dish both healthy and doable for a weeknight.  Whenever I cook a chuck roast, I make sure I save about a pound of the leftover meat.  To cook the chuck, I place it in a Dutch oven with red wine and water covering the meat about 3/4 of the way.I roast it, covered, in the oven for about 4 hours, until the meat shreds apart.  I carefully go through the meat with a couple of butter knives, shredding it all and removing any visible fat.  Then I set aside about a pound of the shredded, de-fatted meat and freeze it until I'm ready to make shepherd's pie.
This shepherd's pie is delicious, it's healthy, it's the perfect comfort food on a cold night…so go make some for yourself soon!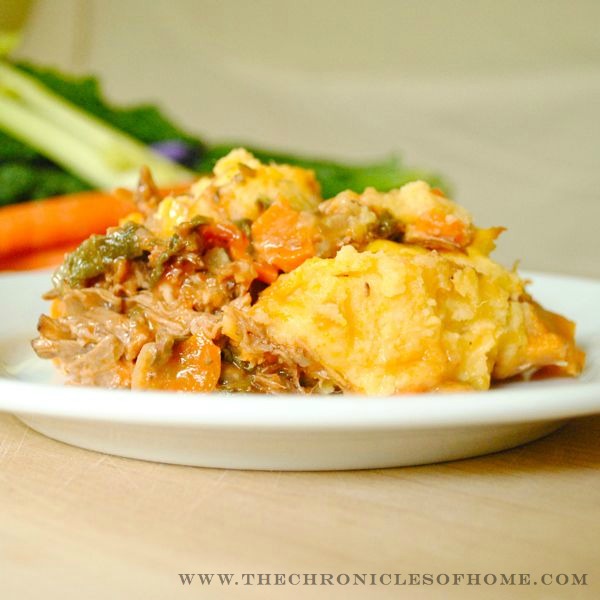 Healthy Shepherd's Pie
Ingredients
Filling:
1 tbsp. olive oil
1 medium yellow onion, diced
1 c. peeled and chopped carrots (about 3 medium)
1 c. chopped celery (about 2 large stalks)
14 oz. can diced tomatoes, drained
3 cloves garlic, minced
2 tsp. tomato paste
2 bay leaves
1/2 tsp. dried thyme
14 oz. can chicken broth
14 oz. can beef broth
large bunch Swiss chard, center stems removed, chopped
1 tbsp. flour
1 lb. cooked, shredded beef from a chuck roastTopping:
1 c. peeled parsnips, cut into chunks
2 c. peeled potatoes, cut into chunks
2 c. peeled butternut squash, cut into chunks
1 tbsp. butter
Heat the olive oil in a large pot over medium-high heat.  Add onion and saute 5 minutes.  Add carrots, celery, tomatoes, garlic, tomato paste, bay leaves, and thyme.  Saute until partially tender then add broths and bring to a boil.  Lower heat and simmer until vegetables are very tender, about 15 minutes.  Stir in Swiss chard and cook until wilted, about 5 minutes.
Put the flour in a small bowl, scoop a bit of the hot broth into the bowl, and whisk until smooth.  Add to the pot and stir in the beef.  Bring to a boil and season with salt and pepper.  Remove from heat.
While the filling is cooking, bring a large pot of salted water to a boil.  Add parsnips and cook 2 minutes.  Add potatoes and squash and cook until very tender, about 10 minutes longer.  Drain, reserving 1 cup of the cooking liquid.  Return vegetables to the pot and use a hand mixer to puree the vegetables with the butter.  Add reserved cooking liquid a bit at a time until everything is smooth.
Preheat the oven to 375º.  Pour the filling into a rectangular baking dish.  Spread the warm topping over and bake until the filling bubbles at edges and the topping begins to brown, about 30 minutes.  Let cool slightly and serve.
Click
here
for printable recipe.