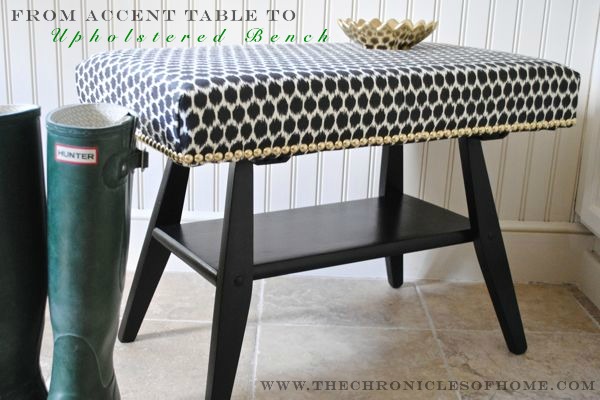 In case you couldn't tell, I kind of have a thing for benches.  Big benches, little benches, tall benches, short benches,
bun-footed benches
,
x-leg benches
, you name it, chances are I will love it.
So no big surprise that on a thrifting expedition this past summer I found myself drawn to this humble little piece.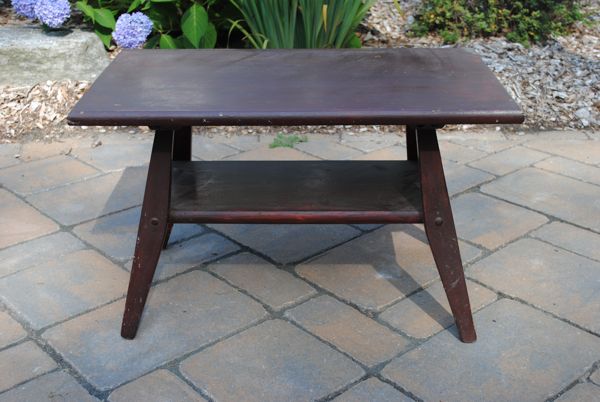 It's more an accent table or small-scale coffee table but definitely had a bench-y vibe.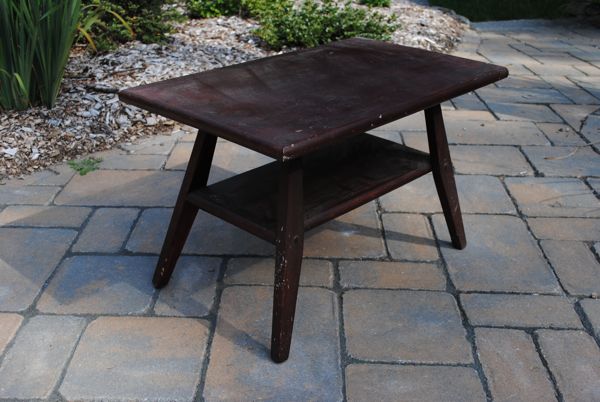 I brought it home and from there I stalled.  I didn't have a plan for it, just thought it had some potential so I waited for inspiration to strike.  Which it did many months later in the form of this fabric, Seeing Spots by Waverly in Noir, which I purchased for a reupholstery project currently in the works.
I had enough fabric leftover to convert the top of the little table into an upholstered seat and settled on that as my plan.  The first step was lightly sanding and cleaning the table.  I followed that with two coats of Rustoleum semi-gloss spray paint in black (no need to do the top since it would soon be covered in foam, batting, and fabric).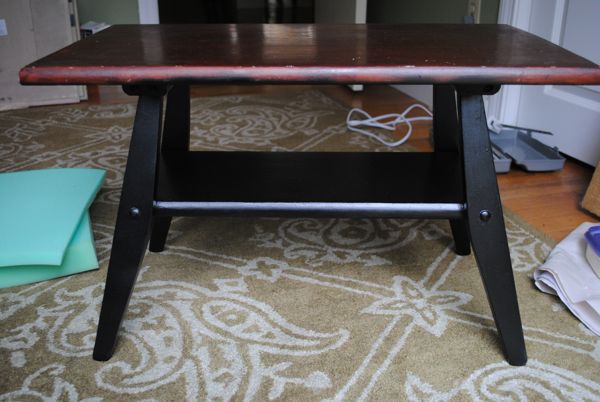 I cut 3″ foam (actually a 2″ piece and a 1″ piece since I had these on hand).  My assisstant offered to test the cushiness.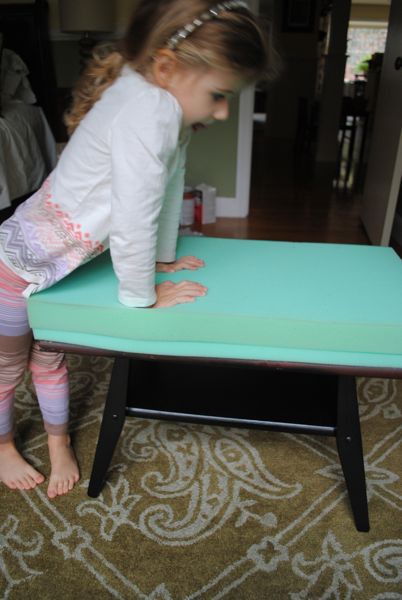 I wrapped the foam in batting and stapled it to the underside of the table.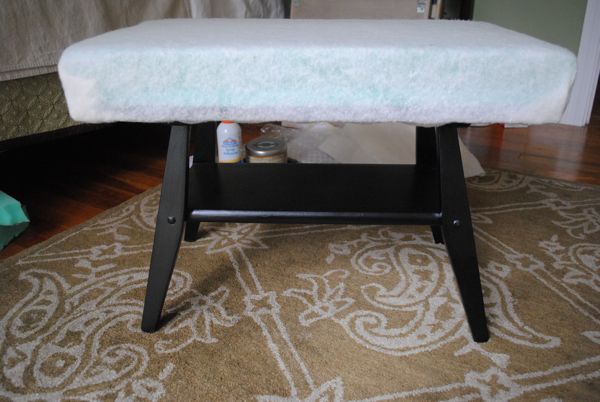 I lay my fabric upside down on the floor and cut it several inches larger than the table top on all sides.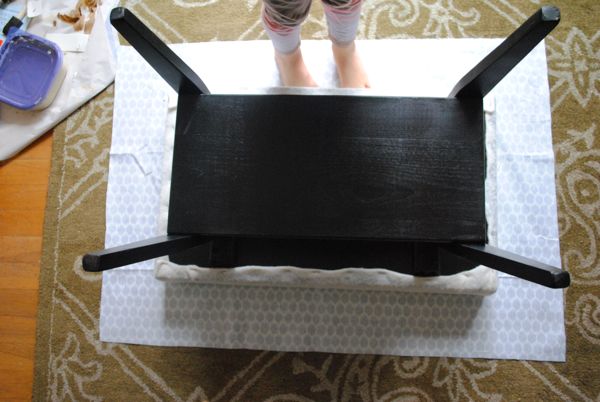 For the actual upholstery of the top, I followed the same procedure as for the x-leg benches I made, which you can read here.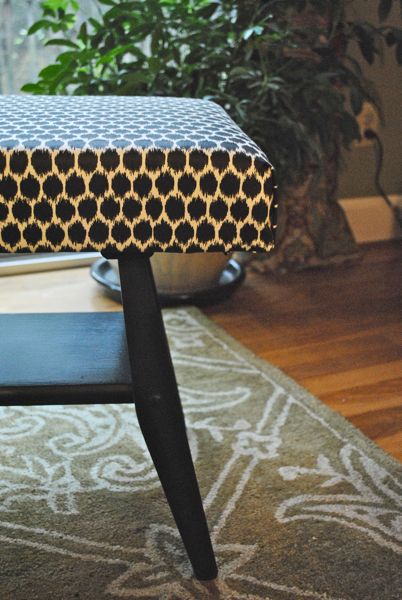 Once the upholstery was done, I marked dots 1/2″ apart close to the edge and in a very straight line and hammered in brass upholstery nails.
Done!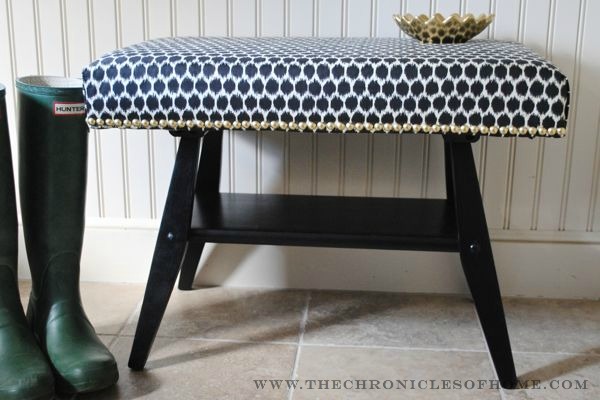 The bench is currently living in my front hallway next to our coat closet but I have promised Scott that I will make good on my promise to sell some of my refurbished pieces so even though I kind of want to keep it (it is a bench now, after all) I will be putting this one up for sale either on Craigslist or perhaps will venture into the world of Etsy selling.  It would make a great entry bench, small upholstered coffee table, or accent bench in a living room.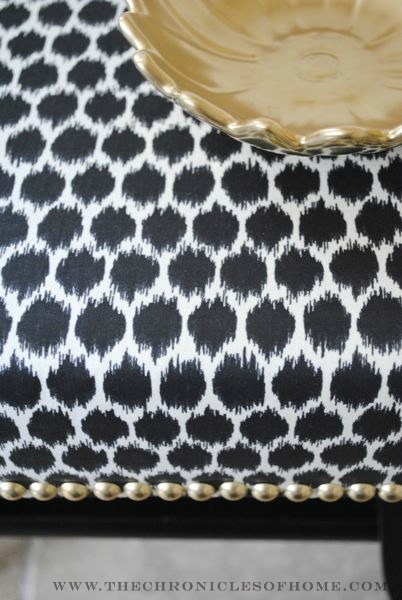 I just love the black, white, and brass together.  Happily, I have that other reupholstery project I mentioned with the same fabric…and that one I'm not planning to let go!
Linking to
Liz Marie Blog
,
Miss Mustard Seed
,
Finding Fabulous
, 
The Shabby Nest
,
Craftberry Bush
,
Design, Dining, and Diapers
,
Simple Home Life
,
Happy Hour Projects
,
The Winthrop Chronicles
,
Primitive and Proper