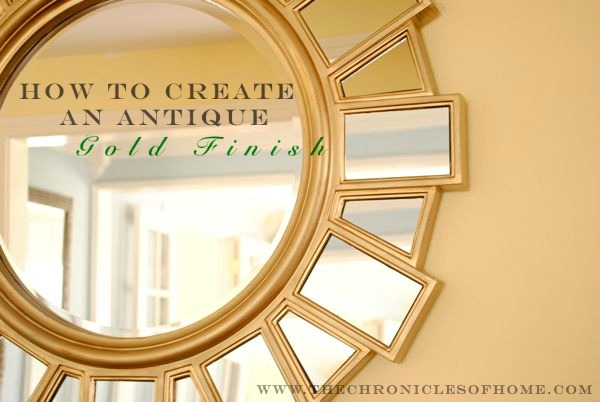 When I saw the announcement for this Fall's Pinterest Challenge I knew exactly what I wanted to do.
I'm a few days late joining in but had some hurricane-related power issues to work through that delayed my joining the party.  Better late than never, right?!
I'd seen these DIY gilded frames on Jenny's blog a few weeks ago and pinned the idea thinking it was a great technique for faking an antique gold finish.  I'd also recently seen this gorgeous mirror from Z Gallerie in an antique gold finish.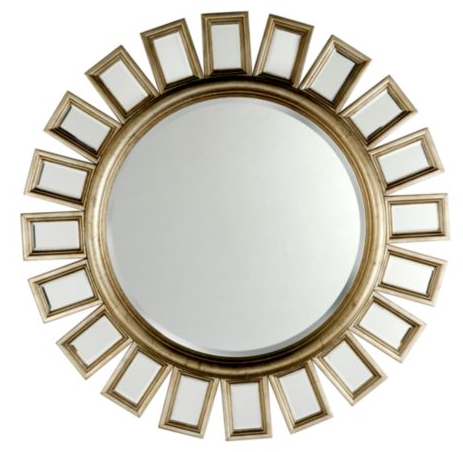 I had plans to move our current entryway mirror upstairs to replace one that fell and shattered into a thousand tiny pieces over the summer and this Z Gallerie beauty was exactly what I wanted to put in its place in the front hallway.
Before I started saving up for this one, I did what I usually do – took a swing through Home Goods looking for a similar product.  And after some digging in the mirrors department I found this gem.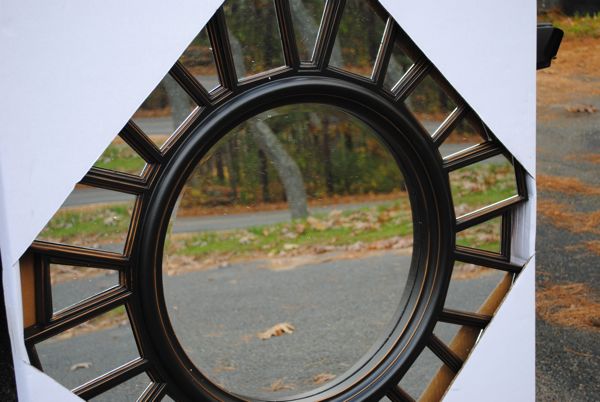 Same basic look + the wrong finish = the perfect opportunity to try out that pinned idea!
I started by taping all of the mirrored surfaces with Frog Tape, which is a little more expensive than blue painter's tape, but I've found it really does what it says and gives crisp edges.  I used Frog Tape for the edges and blue tape for any center sections of mirror that were exposed.  Using a razor blade to cut the edges of the tape made for faster work here, but it was a little slow and tedious even so.  I kept picturing the distressed gold finish I'd be getting and it got me through the task with a smile :)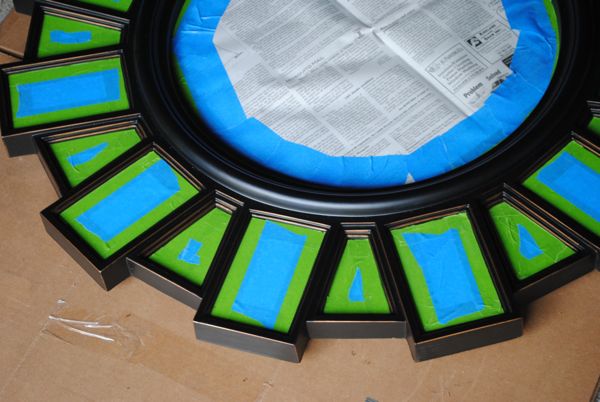 Wearing a mask and spraying outdoors, I gave the mirror two coats of Rustoleum Bright Coat Metallic Gold spray paint.

When I went to check on the paint after an hour or so I found all this crackling in spots, which I was thrilled about since I was going for an antique, distressed look, but I have no idea why it happened!  Anyone have a theory?
When the paint had dried I used a small foam craft brush to apply a wood stain and polyurethane blend to the gold paint.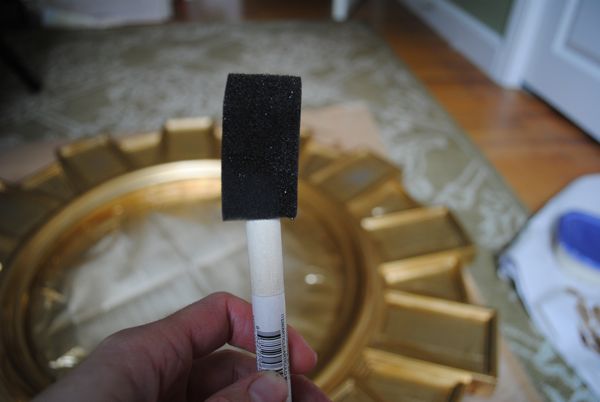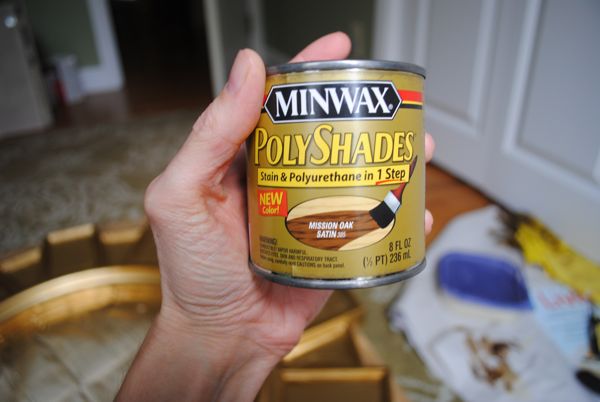 I let the stain dry overnight then rubbed the mirror all over with fine steel wool to remove some of the stain and let just a touch of the dark underneath hint through the gold in spots.
 Before steel wool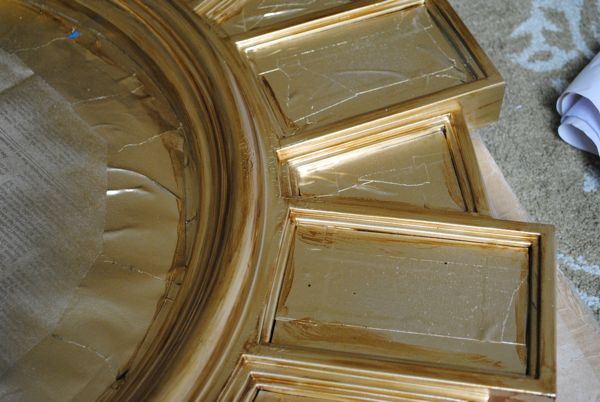 After steel wool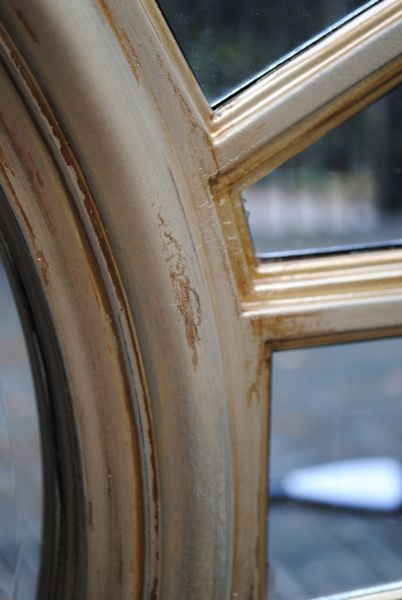 Here's a look at the before and after entryway space.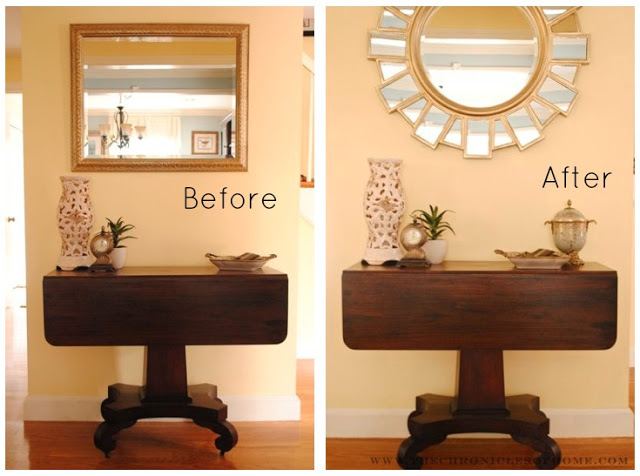 I still like the old mirror, obviously enough to be hanging it elsewhere in the house, but I love having such an interesting piece be the first thing you see when you walk through our door.  It still serves the purpose of providing a place to check yourself before walking out the door but it's a real statement piece too.  No one would have looked at the old mirror and said, "Oh wow, this is gorgeous!"  And since I've only had the new mirror hung for less than 24 hours no one has said it to me about the new mirror either, but I sure am thinking, "Oh wow, this is gorgeous" every time I walk by!
I don't want to go all King Midas on the house but I'm loving the antique gold finish so much, I'm wondering if I might like to refinish the picture frames I have going up the stairs.  What do you think?  A good unifying move, or too much glam?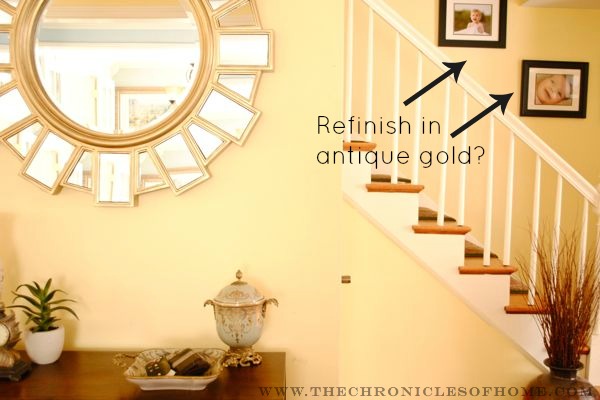 For a fraction of the cost of the Z Gallerie piece, I couldn't be more thrilled with my new mirror.  And I sure love having this antique gold technique to add to my repertoire!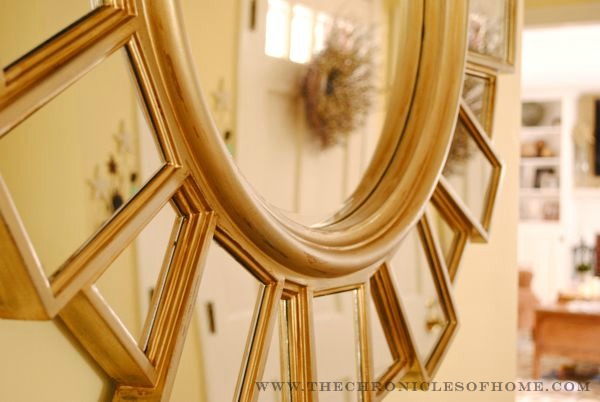 Also linking to The Winthrop Chronicles, Home Stories A to Z, My Uncommon Slice of Suburbia, Simply Designing, The Shabby Nest, Craftberry Bush, Design, Dining, and Diapers, Simple Home Life, Happy Hour Projects