I tend to be pretty traditional with my Christmas decorating colors, and find myself drawn to burgundy reds, evergreen greens, and golds.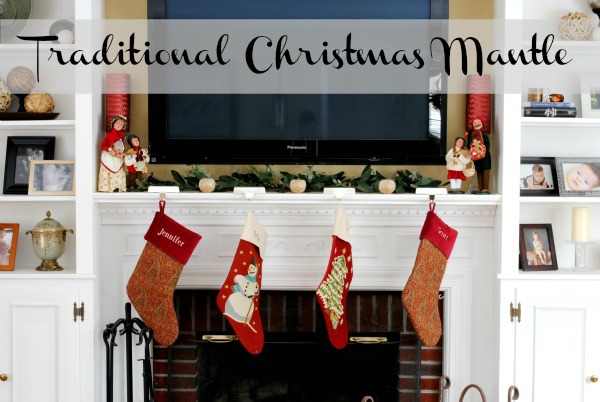 Today I'm giving you a peek at our mantle, which, as you can see, is pretty well dominated by the huge TV above it. This doesn't leave me a whole lot of room for mantle decorating but I've done a little bit of layering to create some interest even with such a simple setup.
I always hang our stockings from heavy nickel-plated, monogrammed stocking holders I got at Pottery Barn several years ago. Ada's and Ellie's crewel embroidered stockings were from Pottery Barn as well, purchased last year. I like them a lot more than Scott's and my older velvet and paisley ones, but they all coordinate well enough so for this year at least, they're staying.
Behind the stocking holders I lay a faux bay leaf garland and placed an ivory and gold round candle between each stocking holder. Underneath the mantle I stacked a few pretty birch logs in our firewood holder.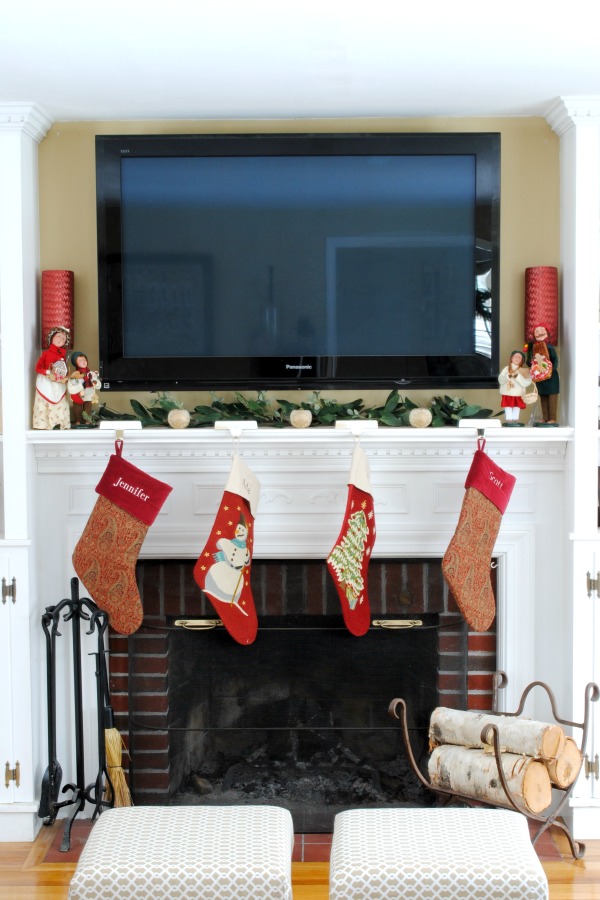 My favorite part of the mantle are my Byers' Carolers. Do you have any? They're made near where I grew up and, more than anything else, make me feel like Christmas is coming when I take them out of their special packaging each year.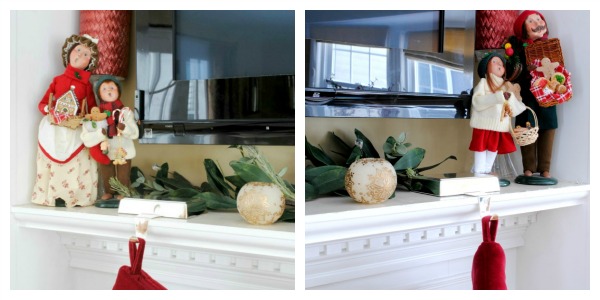 They're completely hand crafted and have the most exquisite little details. These are the only dolls I've gotten excited about as an adult. They're so special. I had a very serious conversation with my two and four year olds about how "Mommy's special dolls" need to be handled. Which is basically not at all by anyone under the age of ten! Or maybe eighteen.
My mom must have at least fifty carolers by now and so being surrounded by their festive outfits and accoutrements is a nostalgic Christmas thing for me. They have an unbelievable display in Chalfont, PA, where they're made. If you ever find yourself anywhere near there, it's worth a visit and will give you an instant jolt of Christmas magic.
Tomorrow I'll have another holiday appetizer idea for you and will be sharing some of the other holiday touches around my house come Monday.
Linking to the Christmas Cheer party over at Ten June today!