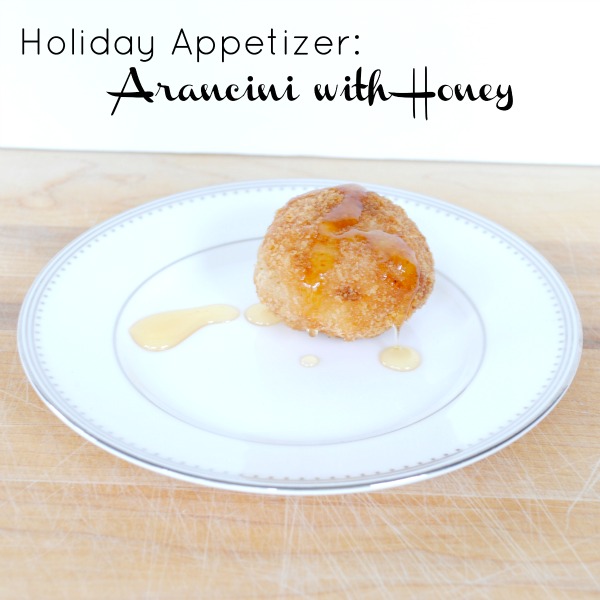 December is a big month in our house.  Not only do we have the excitement of celebrating Christmas with two little girls, but both girls also have their birthdays a couple weeks before Christmas.
Our extended family is coming to celebrate this weekend and I decided to do an appetizers lunch and birthday cake.  I'll feature a few of the recipes in the coming weeks, and today am sharing these delicious little rice croquettes called arancini.  They're essentially little balls of risotto stuffed with cheese, rolled in breadcrunbs, and fried.  A drizzle of honey is the perfect finishing touch.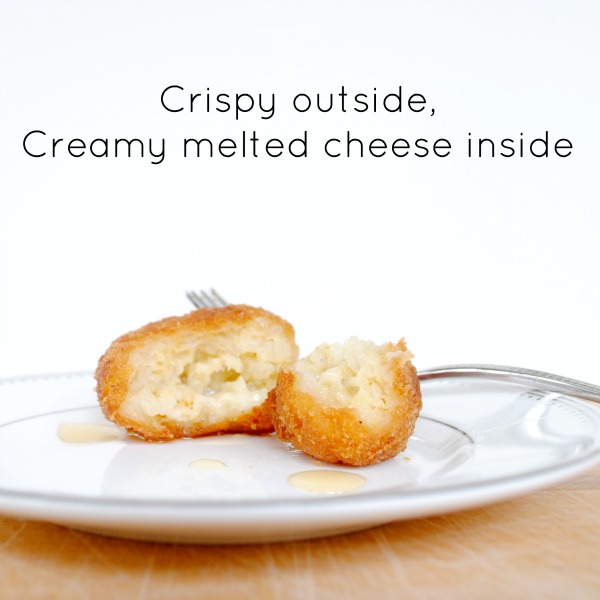 I'm doing as much as possible ahead of time so I can enjoy the visit with everyone.  I assembled and fried the arancini over the weekend and put them in the freezer.  I'll pop them in the oven shortly before serving to warm them through and crisp the outsides.
They make a great party appetizer as finger food or plated on little cocktail plates.  And they have that perfect cocktail party snack attribute of being able to be eaten with one hand while your guests have a drink in the other.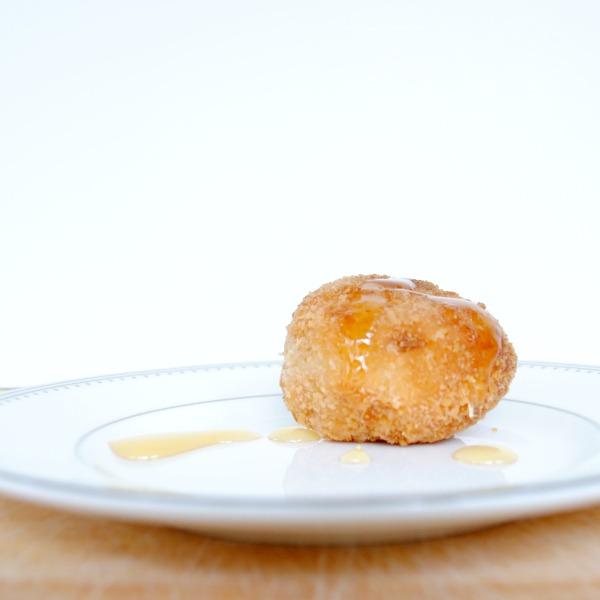 The absolute easiest way to make these is to cook risotto for dinner one night prior to making the arancini so all you have to do when it's time to assemble is pull the leftovers out of the fridge.  I've included a simple risotto recipe below the arancini instructions.
Arancini with Honey
Ingredients
For breading:
1 c. bread crumbs
For croquettes:
2 c. cooked and cooled risotto (recipe below)
1/2 c. bread crumbs
1/4 c. grated Parmesan
2 eggs, beaten
4 oz. Fontina cheese, cut into small cubes
Vegetable oil for frying
Honey
Put the bread crumbs for breading in a shallow bowl.
In a medium bowl, combine the risotto, bread crumbs, parmesan, and
eggs
.With damp hands, form about two tablespoonfuls of risotto into a ball. Press a cube of Fontina into the center and cover the cheese completely.
Roll the ball in the breading to coat and set on a plate.  Repeat with remaining risotto.
Pour oil about 1/2″ deep in a large saucepan.  Heat over medium-high heat until hot.  Fry the arancini in batches, turning once the first side is golden.  Drain on paper towels.
Place on platter and drizzle with honey.
You can also cool them completely and freeze them.  Before serving, thaw at room temperature and warm them in a 275 degree oven until the outsides are crisped, about 20 minutes.
Click here for printable recipe.
_______________________________
Basic Risotto Recipe
2 c. chicken broth
3 tbsp. olive oil
small onion, chopped
3/4 c. arborio rice
1/4 c. white wine
1/4 c. grated parmesan
1/4 tsp. salt
1/4 tsp. freshly ground black pepper
In a large, heavy saucepan, heat olive oil over medium heat.Add the onion and cook until translucent. Add the rice and stir to coat with the olive oil. Add the wine and simmer until most of the liquid has evaporated.
Add 1/2 cup broth and stir until almost completely absorbed. Continue cooking the rice, adding the broth, 1/2 cup at a time, stirring frequently and allowing each addition of broth to absorb before adding the next.
Remove the pan from the heat and stir in the parmesan, salt, and pepper.