Happy Friday everyone! I've been sitting on a fun little announcement for about a month now and am very excited to tell you today that I've been asked to join the 2013 creative team over at I Heart Naptime. I Heart Naptime's weekend link party, Sundae Scoop, has been one of my favorites for awhile and Jamielyn, the founder and managing editor, is always full of great baking and craft ideas. There are fifteen women joining the creative team this year and I'm really excited to be part of such a talented and sweet group of people.

I Heart Naptime's tagline is "Inspiring Nap Time Creativity." Which is a pretty good summary of when things happen over here at my house. The question I get asked the most is, "When do you do all this stuff??" And pretty much, the answer is, "naptime." Thank goodness my girls both nap…I live a little bit in dread of the day my four year old drops her nap. I usually do my cooking in the evenings but almost all of my project work and photography happens between 1:30 and 4:00 p.m. M-F.
Anyhow, Jamielyn has asked me to contribute a healthy recipe each month and I'm thrilled to do so. Today is my first post and I've given you a healthy take on pizzeria pizza – whole wheat crust loaded with veggies, garlic, ham, and mozzarella. It's a regular visitor at our Friday night table.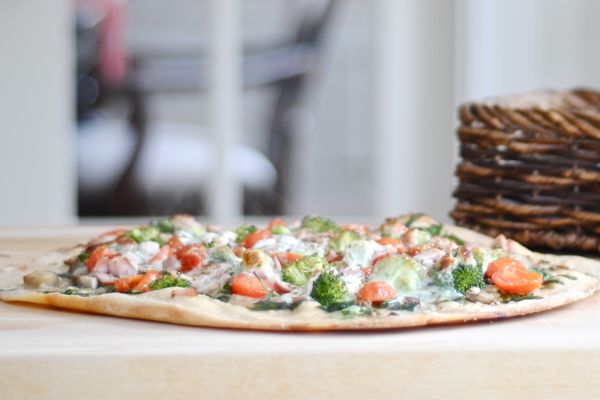 Click here to hop on over for all the details and instructions on how to make it for yourself.
Hope you have a great weekend!