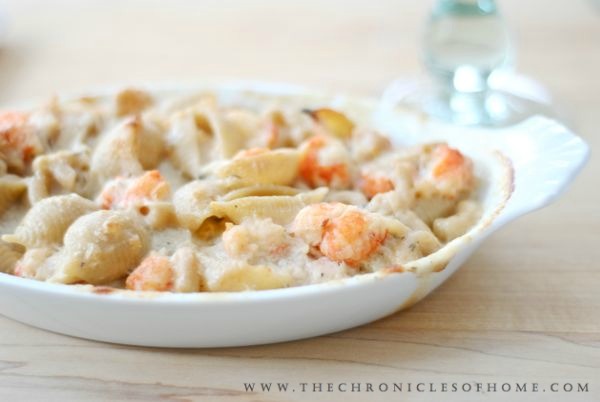 Isn't there something about lobster mac and cheese that just screams decadence?  Until recently I'd only ordered it in restaurants and had never made it at home.  Lobster meat is usually pretty pricey, which is the main thing that held me back from trying it sooner.
And then my mom made a brilliant discovery at Costco – they sell a 2 lb. bag of wild-caught langoustines for $20.  So $10 a pound.  And that's a pound of straight meat, no shells, and all of that meat has the flavor and consistency of lobster tail meat.  We may start eating lobster weekly!  Well, probably not, but it's opened the door to so many recipes I breezed past before because I thought, "Nah, lobster's too expensive."
So, lobster mac and cheese.  I basically adapted my favorite, classic recipe from my mom that uses a béchamel sauce as the base.  I used a combination of sharp cheddar and gruyere cheeses and added them a little differently than I usually do to get that pleasantly gooey-out-of-the-oven texture.  I wanted a string of cheese clinging to my fork as I took a bite.  Mmmm…can't you picture it?
This is easy enough (and cheap enough!) to add to your weeknight repertoire, but baked in individual little ramekins or gratin dishes it's also special enough to serve for guests or a special dinner with your sweetie.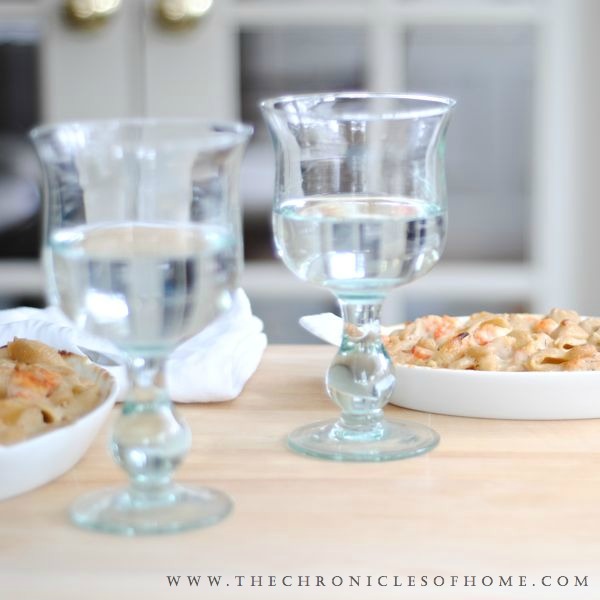 Mom, seriously, food find of the decade with these langoustines.  I'm a little worried I may develop a cholesterol problem with the new accessibility of lobster meat!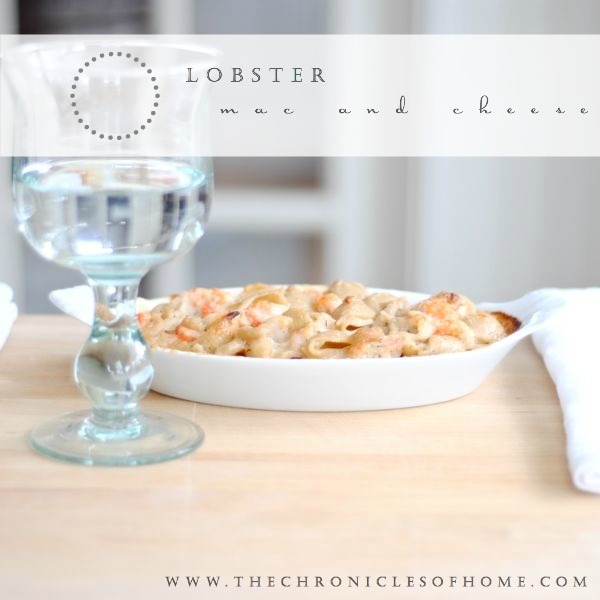 Lobster Mac and Cheese
1/2 lb. small shells or gemelli pasta, cooked in salted water
1 tsp. Worcestershire sauce
5 oz. Gruyere cheese, shredded
5 oz. sharp cheddar cheese, shredded 
1 lb. lobster meat, cut into bite-sized pieces
Melt butter in saucepan over medium heat.  Add flour and whisk until smooth.  Cook a minute or two but don't let the flour brown beyond just a touch of color.  Add dried mustard, Worcestershire, thyme, salt, and pepper and stir to combine.  
Pour in about a third of the milk and whisk until smooth.  Add the next third and repeat, then add remaining milk and whisk to combine.  Cook about 5 minutes, until thickened.
Remove from heat and stir in cooked pasta, Gruyere, Cheddar, and lobster.  Pour into a rectangular baking dish or individual ramekins or gratin dishes.  Bake until cheese is bubbling, about 30 minutes.  Serve hot.