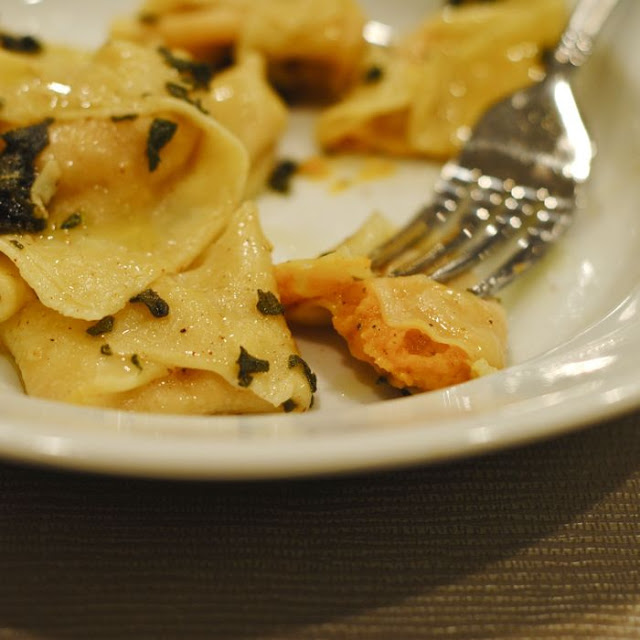 Pasta made from scratch is one of my most favorite delicacies.  I never order pasta in a restaurant unless it's made in house because I cook the boxed stuff all the time at home.  And every now and again we have a real pasta treat at home at make it from scratch ourselves.
If you've never made, or had, fresh pasta, it's sort of similar to its dried and boxed cousin but also worlds apart.  It's very tender and delicate and, I think, best served simply so the freshness of the pasta itself can shine through.
I've never made pasta entirely by hand but only used the attachments for my Kitchen Aid mixer, which very simply and easily knead and roll out the dough for you.  Seriously, it's so simple, a four year old can do it (and she loves to, comes running when she sees I have the pasta attachments out)!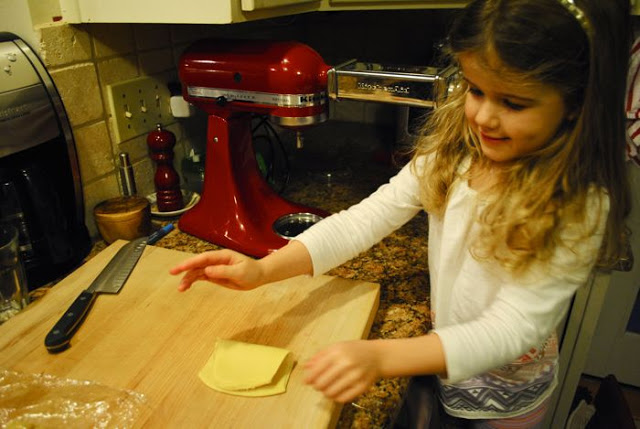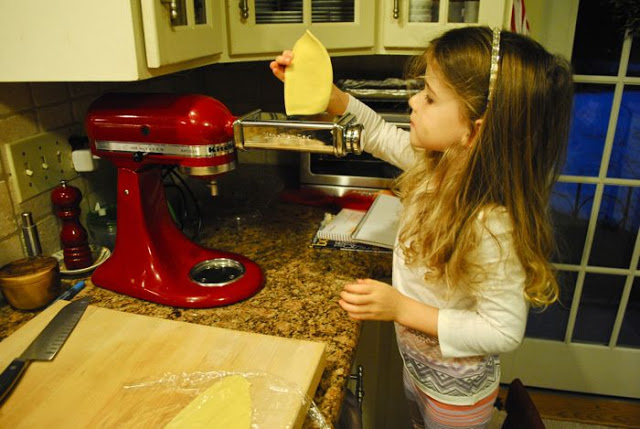 If you do not have or want to buy these attachments (and they aren't cheap, I have the three piece set and the cheapest I found them online was
$164.99 through Sears
) you can use store-bought wonton wrappers, but I promise you, homemade pasta is practically life-changing it's so good.  We make fettucine most often and it is out of this world topped with truffle butter.  Amazing.
I don't have any lovely staged photos to share with you, because we ate every bite of these ravioli the night I made them.  So here are a few real-life shots, under the kitchen lights, after the sun had set, shadows and all.  Keeping it real today :)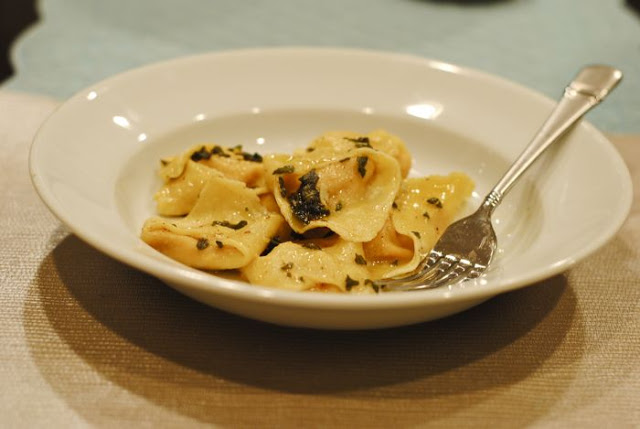 Homemade Butternut Squash Ravioli – serves 4
Basic Egg Pasta (from Kitchen Aid pasta attachments manual) or wonton wrappers
1 lb. butternut squash, peeled, seeded, cut into 1″ cubes
2 tsp. olive oil
3 tbsp. parmesan cheese
1/8 tsp. nutmeg
5 tbsp. unsalted butter
1 1/2 tbsp. chopped fresh sage
1/4 tsp. fresh lemon juice
Preheat oven to 400º.  Toss butternut with olive oil and season with salt and pepper.  Roast on a baking sheet for 20 minutes, until very tender.  Transfer to a food processor and process with parmesan and nutmeg until very smooth.
If using homemade pasta, cut prepared dough into 3″ squares.  Spoon about a tablespoon of squash mixture into the center of each pasta square.  Wet the edges with water (I keep a little cup nearby and dip my finger in and rub along the edges of the pasta), then fold in half, corner to corner, to make a triangle.  Press the edges to seal completely, making sure there are no openings.  Place on a floured baking sheet.  Repeat until you've used all the pasta squares.
Bring a large pot of water to boil and add a few tablespoons of salt.  Gently place the ravioli into the water and boil 6-8 minutes until the ravioli have risen to the surface.  Drain.
Meanwhile, heat butter in a frying pan over medium-high heat and cook until it starts to turn golden.  Add the sage and fry until crisp.  Remove from the heat and stir in the lemon juice and season with salt and pepper.  Pour over the ravioli, toss gently, and serve.
Click here for a printable recipe.
* * * * *
Thanks to your very generous voting, I've moved up from 7th to 5th place since yesterday in Emily Henderson's
nightstand styling contest
!  Thank you, thank you, thank you!  I still have a way to go to get to 1st and win those pretty nightstands for my sweet two-year old though, and I'll probably keep reminding you to vote until voting closes in a couple weeks, so you may as well just jump on over and click "vote" now :)  But seriously, thank you SO MUCH for the support!