Thank you again for all the super nice comments this past week about my sofa reupholstery job.  It's one of my favorite projects to date and I'm happy to report it survived its first real test with flying colors.
Ellie went running into the living room on Monday directly after drinking a berry smoothie and apparently rubbed her dark-purple-smoothie-covered-mouth on one of the cushions.  Once I recovered from my mini-stroke, I grabbed a wet washcloth and it came right off.  Just water, no hard scrubbing even.  So, I would totally recommend this fabric to any of you with messy little people living in your house!
Today isn't exactly a tutorial because any given couch will be a little different.  But I hope some of the techniques I used, tutorials I referenced, and materials sources might be helpful to you in small and big upholstery projects alike.
So, as a reminder, this is what I started with:
I know…EW.
One BIG bonus to this sofa is that the arms are removable, so I was able to pop them off and work on the arms and the center separately.
Step one was stripping every last bit of leather off and then removing all the staples.  The tools I would most recommend for this part are a pair of very sharp scissors, a small flathead screwdriver (for prying staples), and a pair of needlenose pliers.
It can be kind of tedious but in the end it's worth getting all the staples out.  I had Pandora playing and it took me a couple hours to get everything stripped down.  There will be cambric (the black cloth underneath) that doesn't all need to come off.  Just pull out the staples at the edges where your new fabric will go under.
After that I worked on upholstering the base in my new fabric.  I wrapped and stapled across the front bottom of the sofa and across the back on both front and back, then re-stapled the cambric underneath where I needed to,  Like any upholstery project, you have to play with your fabric a bit to see how it lies best.
For the arms, you can see how I pleated and stapled them here (the front is on the left and the back on the right).
To finish the arms I cut two identical pieces of fabric with a rounded top and used brass nailheads to attach them to the fronts.
For the backs, I stapled the fabric on and them made double cord welting to cover the staples.
I worked about 8 hours straight the day I started and got the whole sofa stripped and the frame and arms finished.
To finish exposed edges I made single welting and stapled it to edge I needed to finish.
I held the fabric for the inside upside down and stapled the top right up against the top welt.
Then I used tack strips along the sides to seal the fabric down right up against the welt.
I sewed removable box cushion covers with welting and zippered backs for the three seats and flat back cushions with welting and zippered bottoms.
Tutorials I used to help me through this can be found here: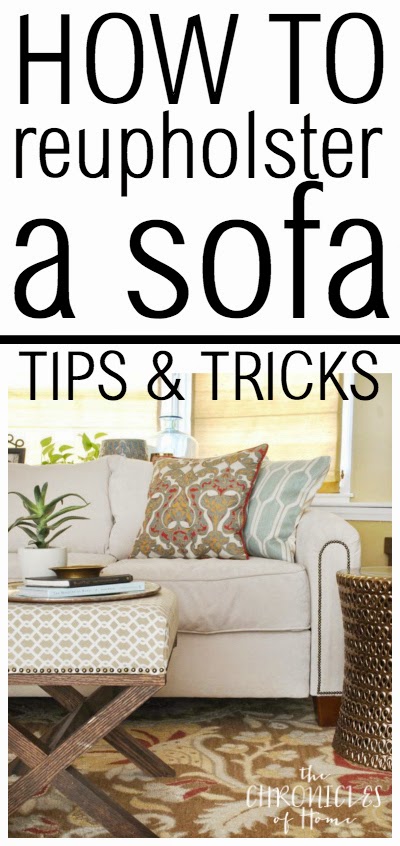 The fabric I used can be found here.
Have I missed anything??  If you have questions, please ask and I'll try to help.
Happy upholstering!