Hope you're all having a great week so far! We just returned yesterday afternoon from such a fun long weekend with great friends. Scott's four best friends from high school, wives, and kids all gathered in Marion, MA for a weekend of swimming, beach time, watching our kids play together, eating, drinking, and so much laughing. And, guess what? I forgot my camera! So I have no photos to share, but we had a blast and I miss everyone already.
And, of course, today was the big day! I spent the morning primping, smiling, posing, and laughing like crazy during the Better Homes and Gardens photo shoot. David, the photographer was cracking jokes and had an ongoing litany of, "Hey, how ya doin? Gorgeous! Great smile! Tilt your head this way. Pretend you're laughing! Hahahaha!" It was SO much fun working with him. Kris, my stylist was so sweet, really easy to talk to and work with, and had stellar staging skills. The whole thing was the experience of a lifetime and I loved every single moment. I'll share a full recap later this week or next week.

Today, I'm posting over at my pal Anneke's blog, This, That, and Life, as part of her series A Little of This, A Little of That. I'm sharing a little bit about me and what I'm thinking about and doing lately. Click HERE to go to the full post, and say hi while you're there! Anneke is such a sweetheart.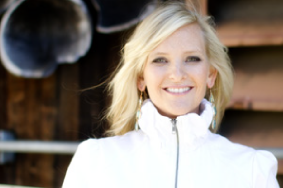 Hope you're having a great day!