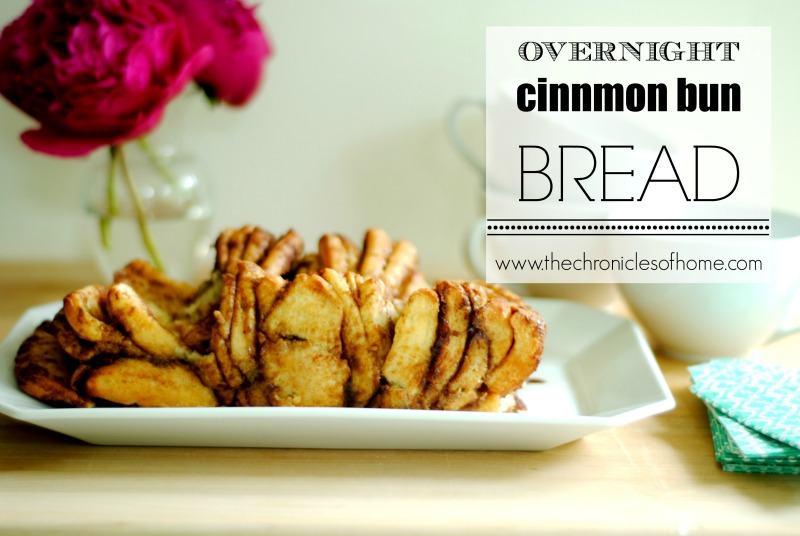 I have a tasty little breakfast idea for you today, perfect as a special 4th of July breakfast or brunch treat if you're having overnight guests this week.  Add a big bowl of red and blue berries and you've got the perfect "theme" breakfast without any of the kitsch.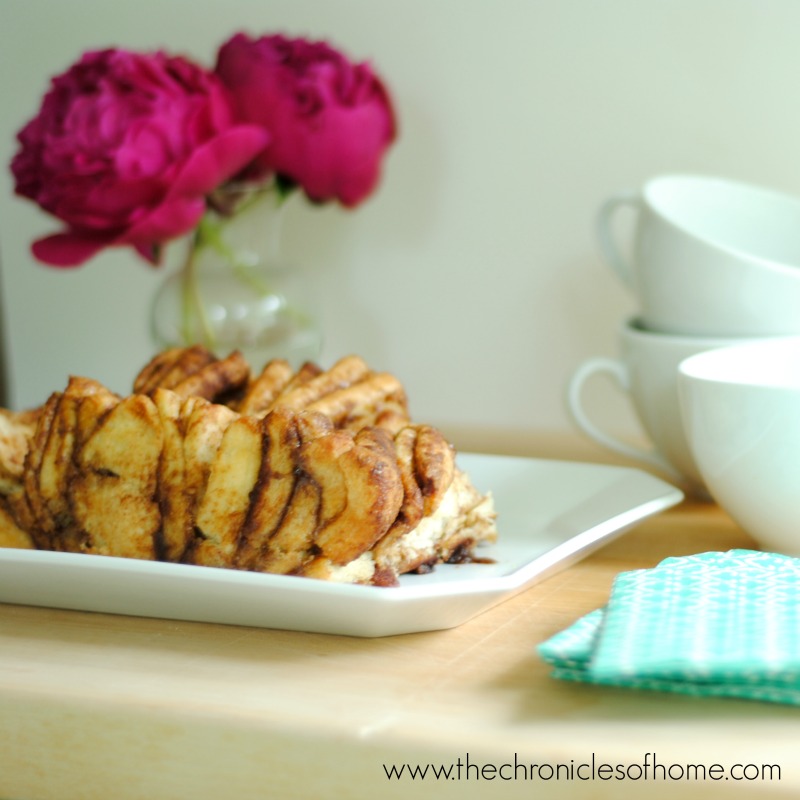 I adapted this slightly from a recipe I'd pulled out of Better Homes & Gardens last year and only just got around to making.  And now I am wondering why it took me this long to make it.
This is yeast baking for the the timid.  This overnight cinnamon bun bread is practically foolproof.  I'm not sure there's a more mouth-watering smell than fresh cinnamon buns baking in the oven and you get all of that heavenly aroma with this divine cinnamon loaf.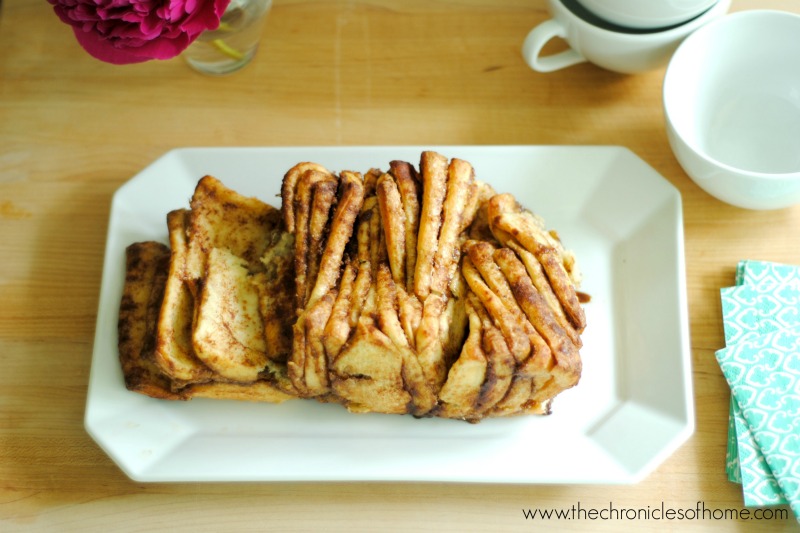 I think this bread is kind of a three way cross between cinnamon buns, cinnamon bread, and monkey bread.  It's aromatic and rich like cinnamon buns, has the cinnamon sugar swirls of cinnamon bread, and pulls apart easily like monkey bread.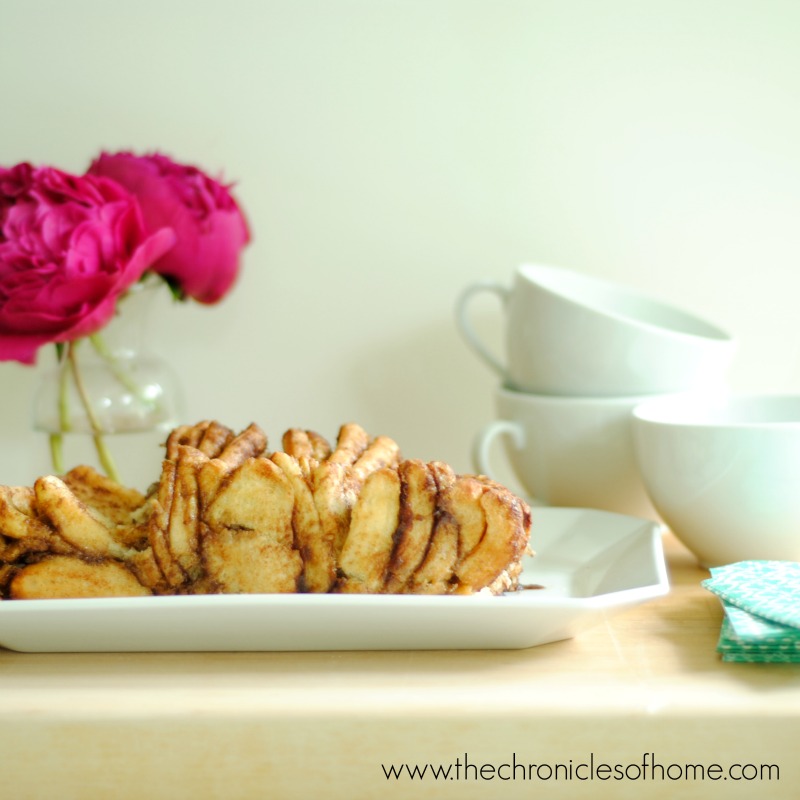 Happy baking (and eating), friends!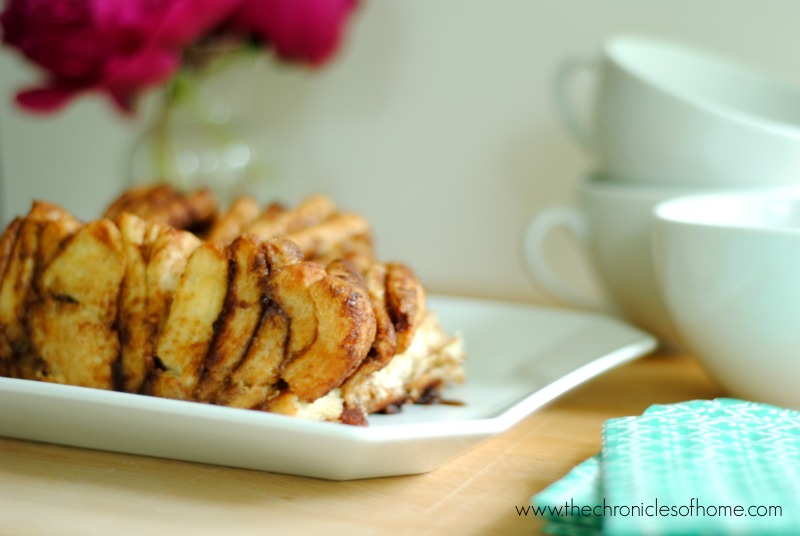 If you want to pin this idea for later, here's a convenient strip with the basic steps outlined for you in pictures!

Overnight Cinnamon Bun Bread
3/4 c. milk
1 pkg. yeast
1/4c. butter, melted
2 tbsp. granulated sugar
1 egg, lightly beaten
1/2tsp. salt
3 c. flour
1/2c. butter, at room temperature
1 c. dark brown sugar
2 tbsp. cinnamon
Place the milk in a glass measuring cup and warm in the microwave about 30 seconds – it should feel just warm to the touch. Pour into the bowl of a stand mixer, then add the yeast. Stir until yeast is dissolved. Let stand 5 minutes or until foamy.
Beat 1/4 c. melted butter, 2 tbsp. sugar, egg, and salt into the yeast mixture until combined. Add half of the flour, and beat on low for 30 seconds. Increase speed to medium and beat 3 minutes more. Stir in remaining flour. Shape in a ball (dough will not be smooth). Transfer dough to an oiled bowl. Cover and refrigerate overnight or up to 2 days. (Or, to make right away, cover and set in a warm place to rise for 45 to 60 minutes or until nearly double).
Butter a 9x5x3 loaf pan and set aside. Remove dough from the refrigerator. On a lightly floured surface roll dough to 20×12-inch rectangle. Spread dough with the room temperature butter and sprinkle with the brown sugar and cinnamon. Cut dough rectangle crosswise in five strips. Stack strips, then cut into six pieces, leaving stacks intact. Loosely stagger pieces in pan, cut sides up. (See the strip above for photos of this process).
Cover the bowl with a towel and place in a warm, draft-free place to rise for 60-90 minutes or until nearly double in size. Preheat oven to 350. Bake loaf about 45 minutes or until golden brown (check the center to be sure it's done). Cool in the pan on wire rack for 10 minutes. Transfer from pan to a serving plate.  Cool about 20 minutes more then pull apart or slice to serve.
Click here for a printable recipe.
Adapted from recipe
here
.