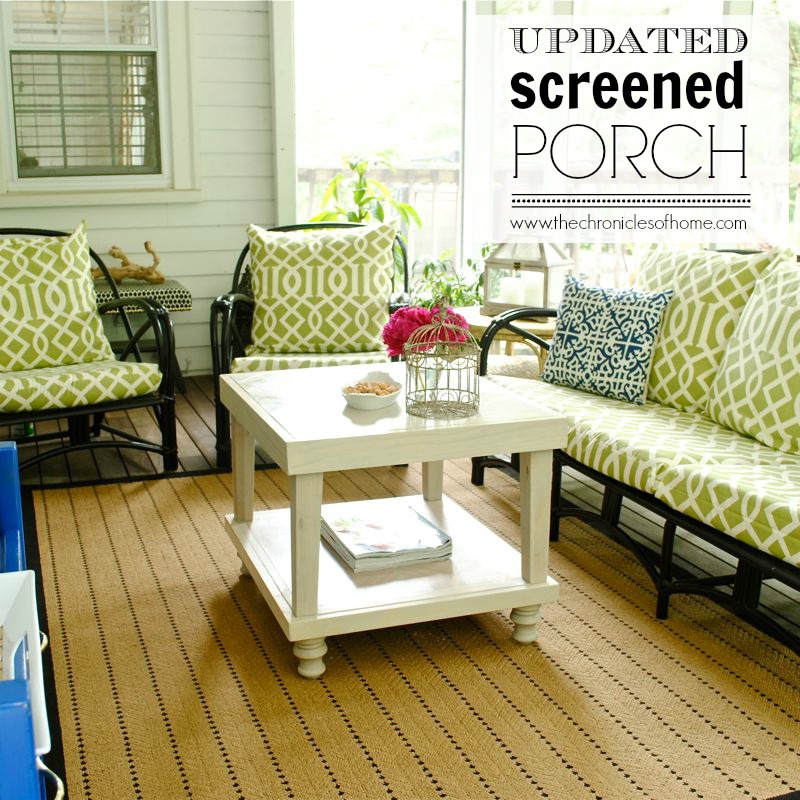 Last year was the first year I rolled up my sleeves and tackled the screened porch off our living room. My dad helped me re-screen torn panels, I did some touch up painting, and cleaned, cleaned, cleaned what had become a totally filthy space.
And we LOVED using it. It's the perfect spot for morning coffee or evening cocktails and it very quickly became my favorite room in the house last summer.
For the winter we kind of pushed everything up against the inside wall but I still had a pretty big cleanup job out there come springtime this year. As I was wiping and scrubbing and vacuuming and putting things back in place, I started playing with the furniture layout and decided to rearrange things for a cozier conversation area.
Last year, the furniture was on either side of the french doors that connect the porch to the living room. p.s. Can you tell this was before I figured out my camera had settings other than "Auto?" :)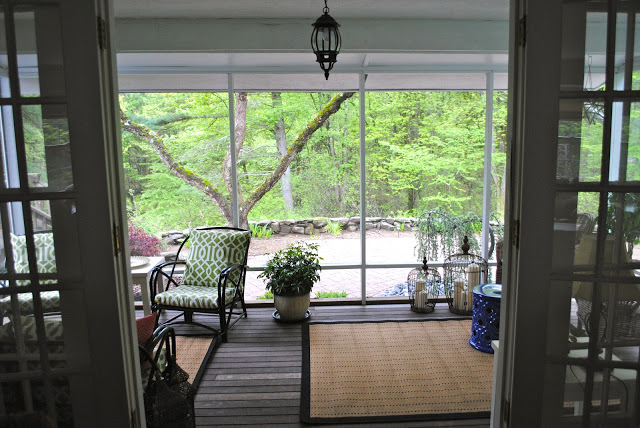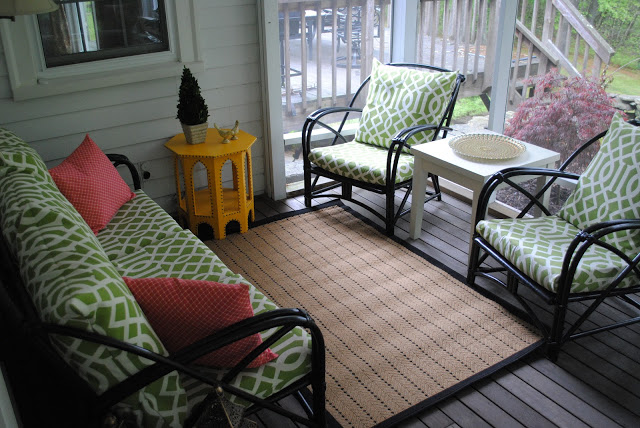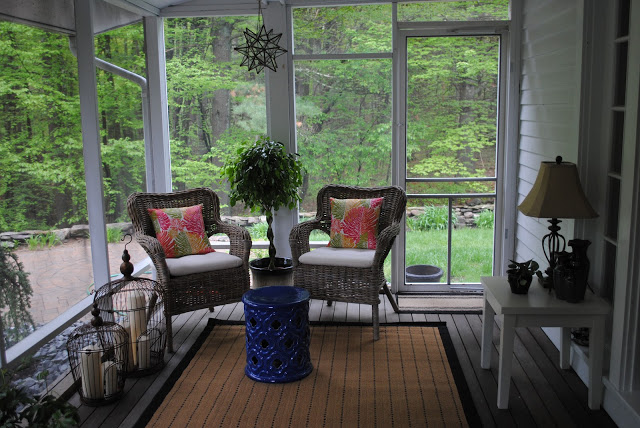 This worked fine, really, but the main seating area had no room for a coffee table and the wicker chairs were waaaaaay on the other side of the room.
I decided to center the sofa on the french doors and arranged the rest of the room around that. I also moved some other accent pieces from last year to different places and brought in some new-old pieces I'd had in the basement. And here's what we have this year!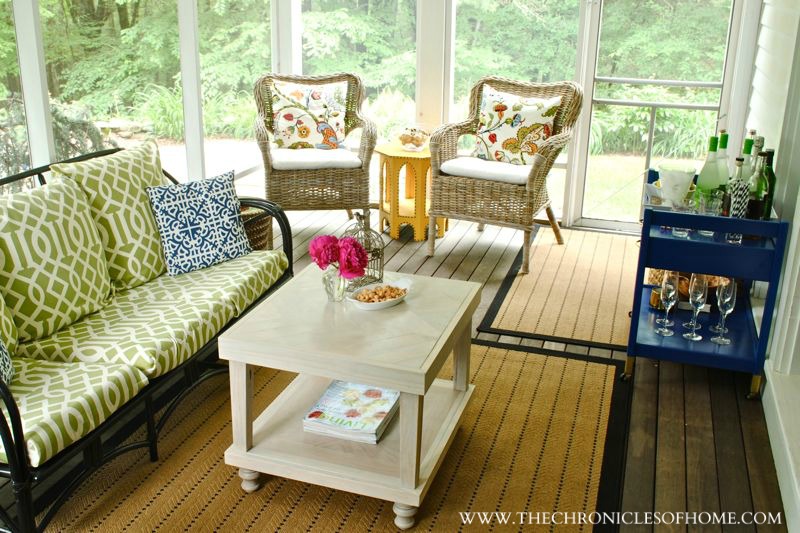 The wicker chairs will still get pulled forward when we have people over so there's a better conversation area, but they look much more a part of the room with the other furniture pulled closer.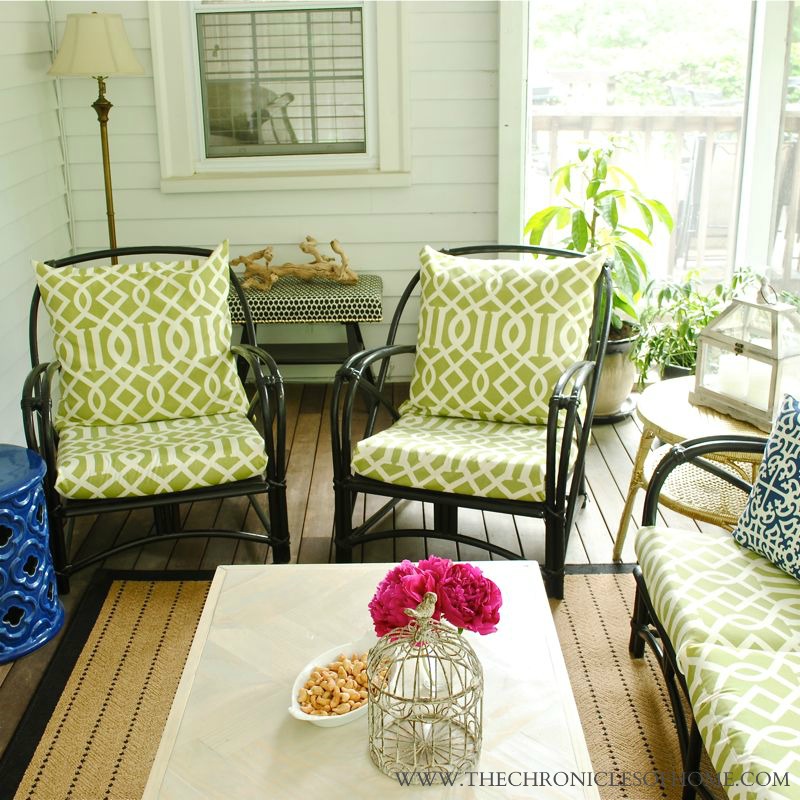 I may still add some more plants to this back wall. I love the lush, alive feel they bring to a space. And the one on the far right?…I have kept it alive for an entire year! This is very impressive for me.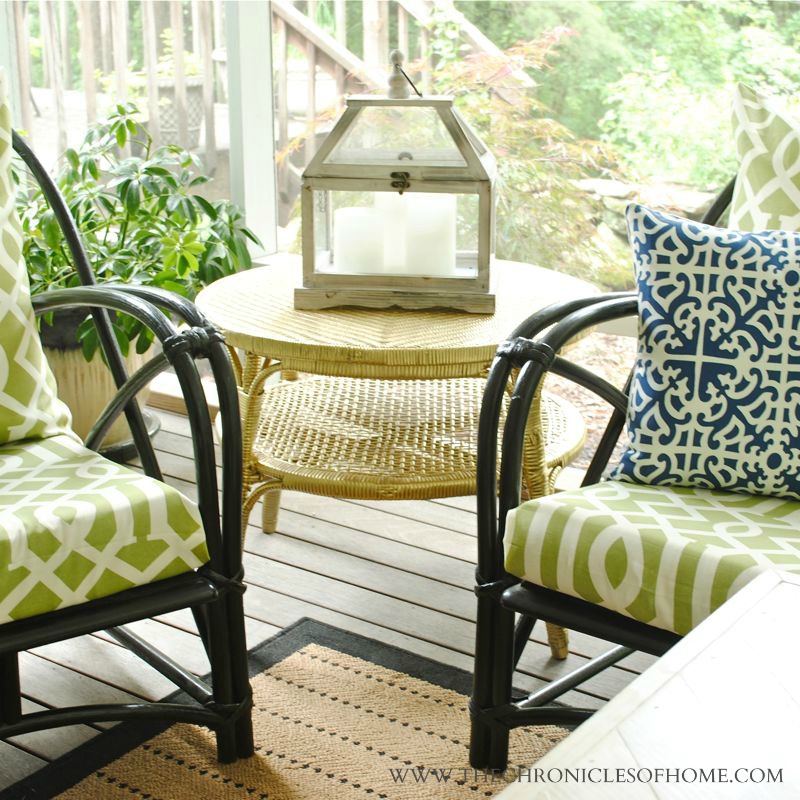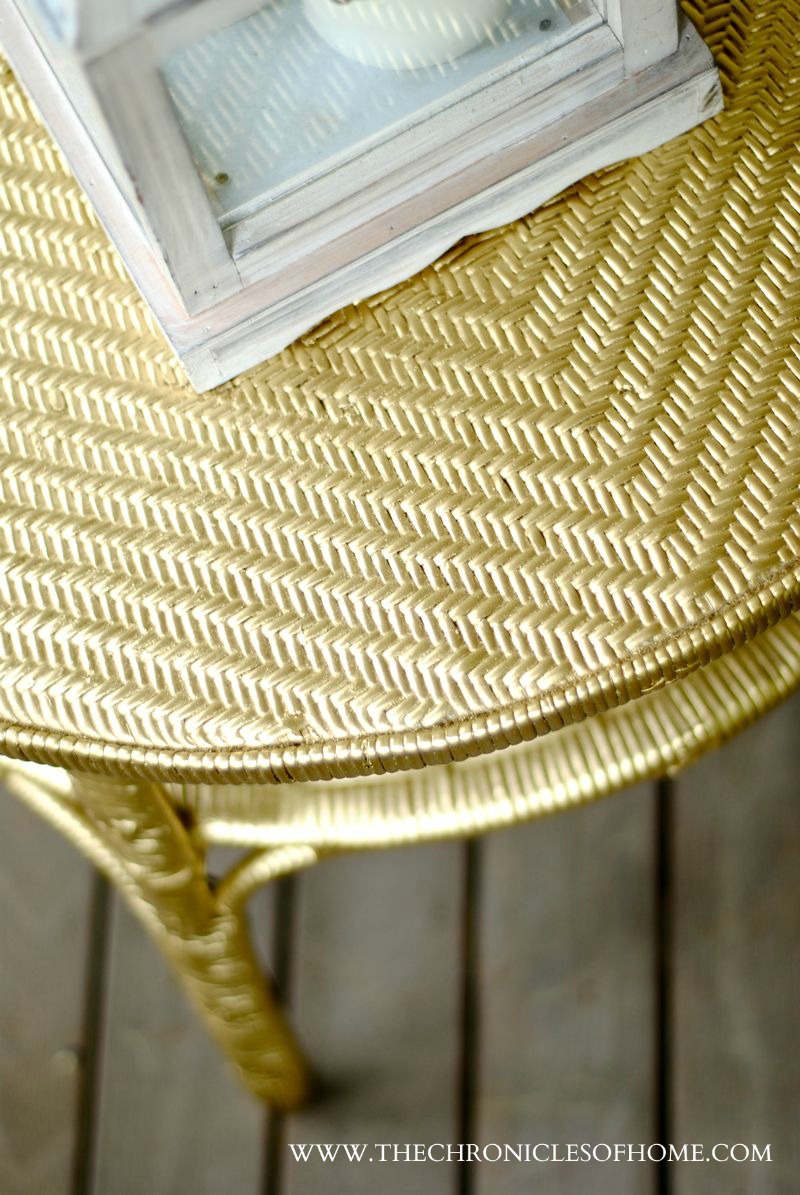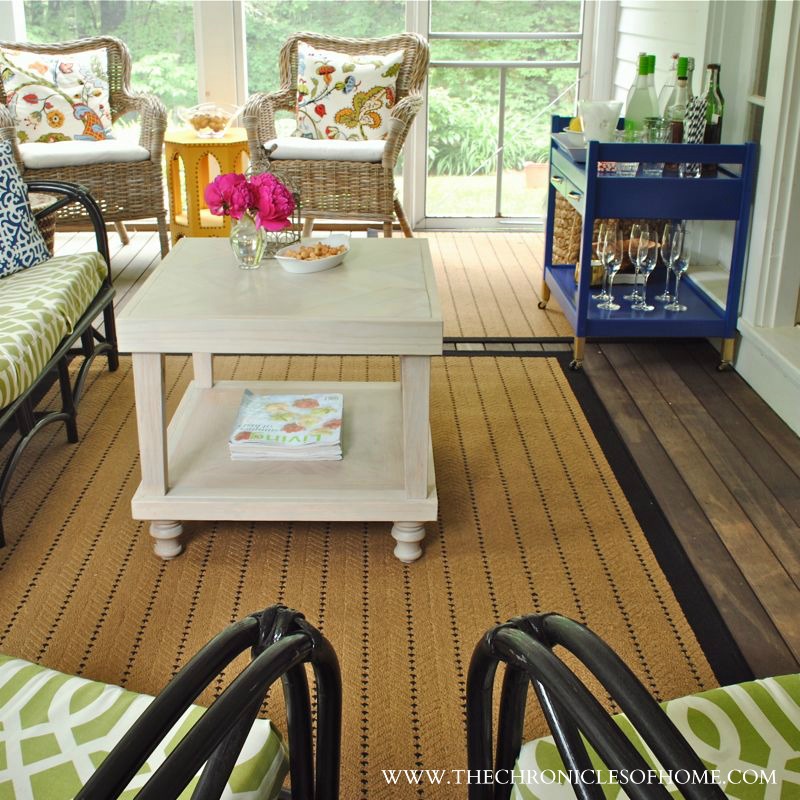 You'll be hearing more about that little blue bar cart, which just got a new lease on life, soon!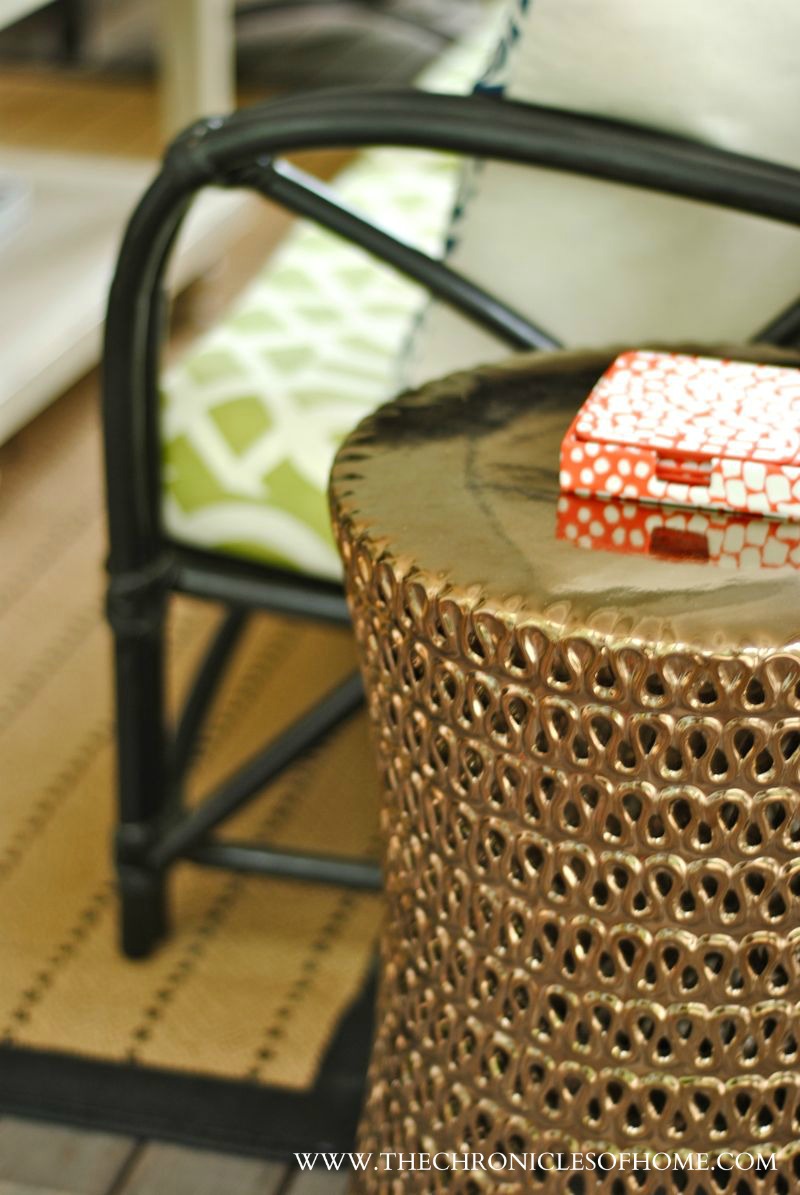 I used this, and another, garden stool as side tables in the room since they can also be used as extra seating if we need it.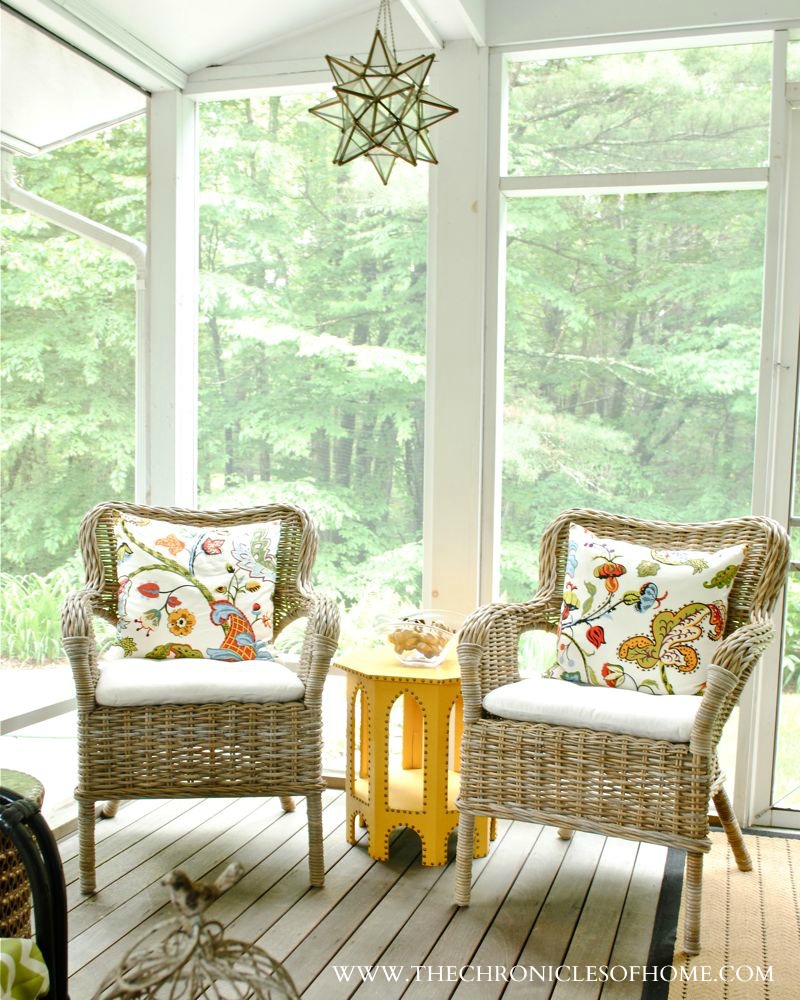 The wicker chairs got some new pillows this year, thanks to my mecca and Scott's nemesis, Home Goods.
I have also, however, furnished this room with A LOT of hacked and/or thrifted pieces. I like to think of it as The Room of Misfit Furniture, where unwanted or defective pieces have found a happy home. Want a rundown on all the misfits?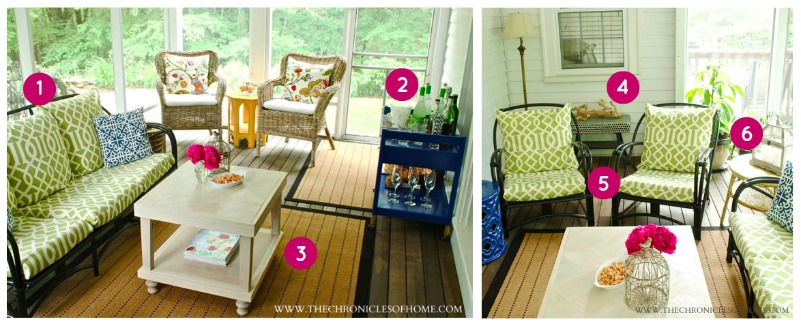 A vintage sofa I bought on Craigslist, which I spray painted, and then sewed new cushion covers.
An old TV cart from IKEA (like, 20 years old, I think) which my parents gave me and I turned into a beverage cart (details coming soon!)
A herringbone coffee table I made from two old end tables that were in our basement.
A little table I picked up for free on trash day and turned into an upholstered bench.
The Craigslist chairs that go with the sofa.
My name is Jen and I am a trash picker. Another trash day acquisition! I don't have any before photos of this little round wicker table but it was white and badly stained before. A nice coat of metallic gold and it's the cutest little side table.
So, if you need me the next few months, you can find me here!
I'm heading to my family's lake house later today and will be there through the weekend. No wifi up there so I'll be off the blogging grid, but follow me on Instagram if you want to keep in touch until I pop back up here again next week!