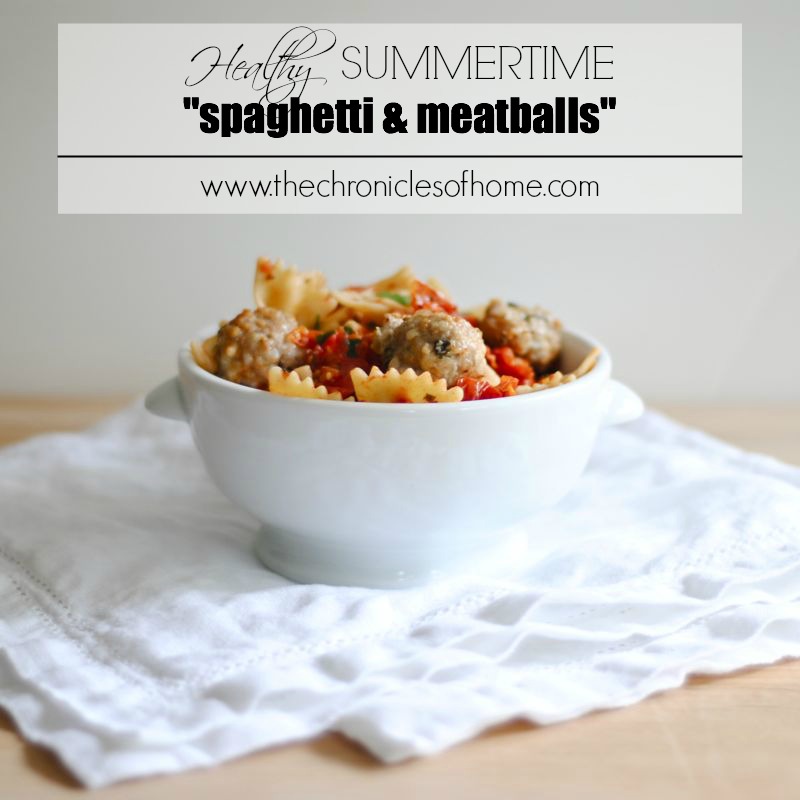 Sometimes…okay…most times I have grocery shopped this summer with both my little girls in tow I've been aware of how much longer it's taking me and how slightly stressed I am about what they're grabbing or where they're running off to and I find myself thinking, "Oh, this will be so much easier when they're in school and I can food shop alone."
But the thing I love about food shopping with my girls is letting them be a part of what we'll be cooking that week and letting them help choose our ingredients.  It adds a level of excitement to dinner and they're extra enthusiastic about eating those nights.
Most recently, we were in my local Stop & Shop to pick up one of Barilla's "Better For You" pastas.  I've long been a fan of the Barilla Plus line, which tastes like a white pasta/whole wheat pasta hybrid and is made with a blended flour mix of wheat, lentils, chickpeas, flaxseed, barley, oats, and spelt.  As such, it's an excellent source of protein, fiber, and omega-3s…can your pasta say that??  And if the nutritional punch isn't enough for you to run out and buy it, it also tastes really, really great.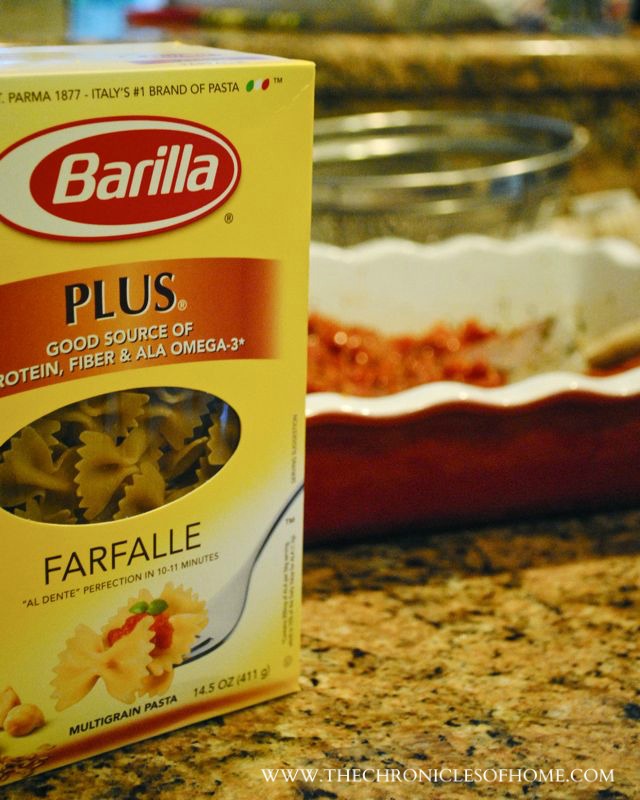 While we were shopping, I took a few different shapes down off the shelf and Ada and Ellie very excitedly picked "their" pastas – Ada chose farfalle and Ellie chose spaghetti ("I want dis one, I want dis one, Mommy, I want dis one!").
I used the farfalle to make a summer riff on spaghetti and meatballs, which is one of my favorite comfort-food, cold weather meals, but I pretty much never make when the weather is warm.  A big simmering pot of sauce just doesn't sound as good to me when it's hot outside.
This version uses slow roasted tomatoes and herbs in place of the traditional sauce, and if you have never made slow roasted tomatoes, you simply must.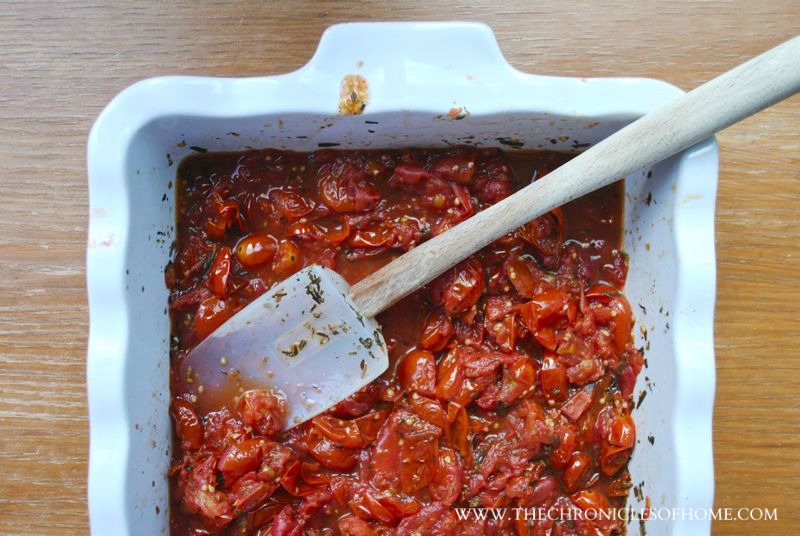 They are so easy, and so delicious, I really can't think of a single reason not to make them.  Their flavor gets so much sweeter and more intense in the oven, you'll want to eat them straight out of the baking dish!  They go perfectly with the super flavorful roasted chicken meatballs I made here.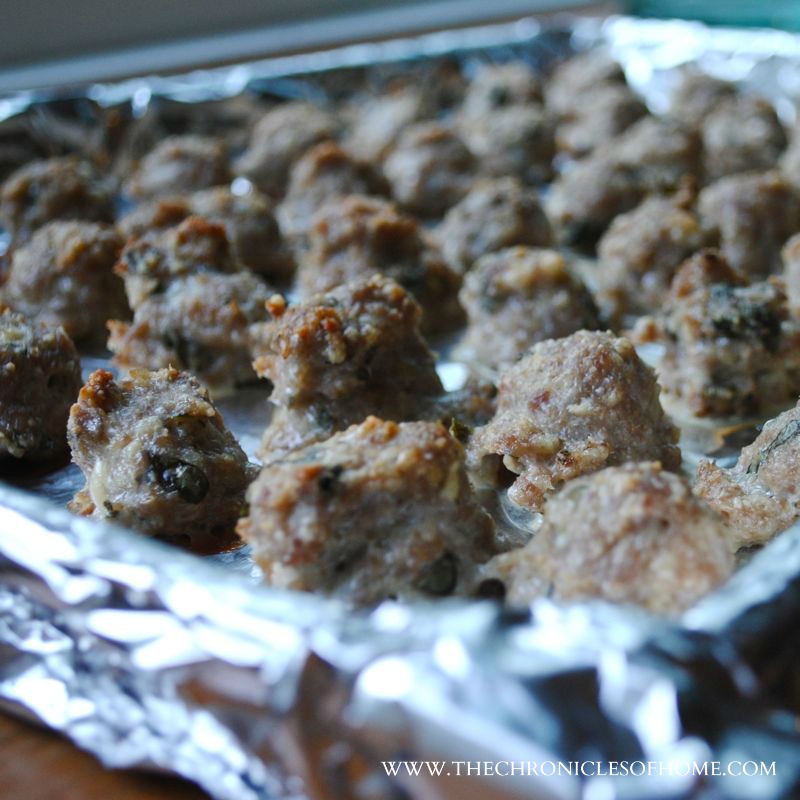 So what do you get when you pair fresh tomatoes and herbs, lean chicken meatballs, and any shape of the Barilla Plus "Better For You" pastas?  One very tasty, very healthy, very summery version of spaghetti and meatballs that is going on my "make again" list for sure!
Want to look more into Barilla's excellent line of pastas?  You can find their Facebook page
HERE
.
Healthy Summertime "Spaghetti & Meatballs
Ingredients
2 lbs. grape tomatoes (about 4 c.)
2 tablespoons olive oil
1 tsp. dried thyme
1 tsp. dried oregano
1 tbsp. fresh rosemary, minced
1 lb. ground dark meat chicken (or turkey)
2 shallots, minced
6 garlic cloves, minced
1 c. grated Parmesan
1/4 c. dried breadcrumbs
1/4 c. fresh basil, minced
1 tsp. kosher salt
1 egg, beaten
1 box Barilla Plus pasta, any shape (I used farfalle here)
1/4 fresh parsley, mincedPreheat oven to 200º.
Put tomatoes in a rectangular baking dish and add olive oil, thyme, oregano, and rosemary and toss to coat the tomatoes.  Roast in the oven at least 3 hours and up to 8 hours.  Let cool and use a potato masher or large spoon to  crush the tomatoes into a chunky sauce.
For the meatballs, put ground chicken, shallots, garlic, Parmesan, breadcrumbs, basil and salt in a medium bowl and use a fork to combine.  Add egg and work it through the meat mixture with a fork.
Line a baking sheet with foil and preheat the oven to 400º.
Use a spoon or small ice cream scoop (the mini size of this one is my tool of choice!) to shape the meat mixture into small meatballs.  Roast in the oven for 30 minutes until cooked through.
Meanwhile cook pasta according to the directions on the box.  When you drain the pasta, reserve some of the cooking liquid.
Toss cooked pasta and the tomatoes in a large bowl or the baking dish from the tomatoes.  Add a little of the pasta cooking water to it if it seems dry.  Add meatballs and parsley and toss with more pasta water if needed.
Click HERE for a printable recipe.