***
Find an update on sealing butcher block HERE, after I lived with it for four years
***
While the actual title of this post is "How to Stain and Seal Butcher Block Counters," an alternate title could be "How NOT To Stain and Seal Butcher Block Counters."  Because I definitely, definitely did both.  So for those of you with butcher block counters of your own, or considering butcher block counters for your kitchen, or who just like to hear about the reality of DIY going bad before it goes good, I invite you to come on in, pull up a chair, and learn from my mistakes.
We bought this house with a butcher block counter already installed on the island, however it was rather stained and had probably been sealed with just some wax or oil so had its natural pale color. The butcher block counters that make me swoon have a richer, darker, shinier finish. I knew I could achieve this same look with good quality products and some elbow grease. I also knew that to make butcher block counters as highly-functioning as possible you need to seal them up so they don't soak up every water, oil, and food stain that touches their surface.
Here's a list of products I highly recommend for staining and sealing butcher block. If you are starting with fresh butcher block, not a slab that is being refinished, you won't need the coarse grit sandpaper listed here.
Dust extractor (an investment but HIGHLY recommended for any home improvement project that requires sanding – it basically eliminates all dust in the air so there is almost no cleanup!)
Rag (I usually use an old t-shirt)
And now for how to stain and seal butcher block counters…or rather, how not to… The very first thing I did was sand the butcher block down to bare wood using a pad sander, coarse grit sandpaper, and a dust extractor.  I didn't even realize how darkened and stained the wood was until I started getting down to the bare wood and saw the difference.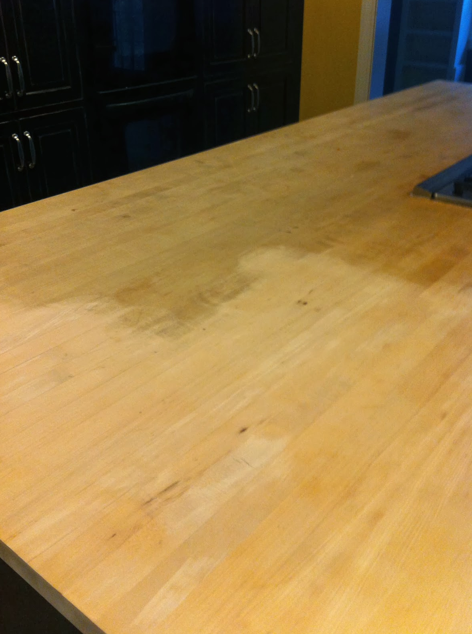 Isn't that crazy??
After I finished sanding with coarse grit sandpaper I went over everything with fine grit to get it nice and smooth.
Here's where we talk about what NOT to do when staining butcher block counters.
Do NOT skip wood conditioner.  I didn't think I needed it because the wood wasn't soft but the stain soaked in so unevenly and looked pretty awful.  So I applied another coat of stain on top, thinking it would even things out.
Do NOT do this either.  It just accentuated the blotchy spots and left me with that much more to remove later.
At this point I knew I was going to have to sand the counters back down to bare wood again, which had me feeling slightly devastated. But using a dust extractor has been an absolute game changer for me because there is no mess after sanding, so I accepted my defeat and went back to square one.
So here I was, back down to bare wood, ready to have a go at round two.  So…now for how to stain and seal butcher block counters…you know, the right way.
buywithoutprescriptionrxonline.com/strattera.html
rxbuywithoutprescriptiononline.net/zovirax.html
STEP ONE

– apply a wood conditioner appropriate to the stain you're using.  If you're using an oil-based stain, use a wood conditioner meant for oil-based stains.  If you're using a water-based stain, use a wood conditioner meant for water-based stains.  I was using a water-based stain so used this wood conditioner.  The counters won't look much different at this point, just perhaps a little more intensely grained.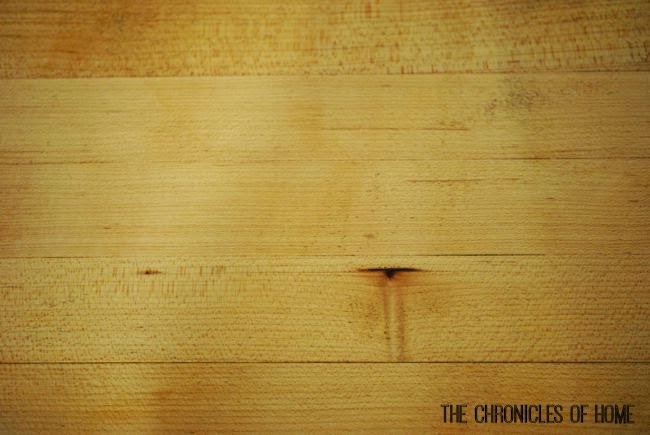 STEP TWO

– give the entire surface a good sanding with fine grit sandpaper.  That's right – sand again after the wood conditioner has dried. The wood conditioner will cause the grain to raise in spots and sanding makes it nice and smooth and ready for stain.  You should do this by hand, and not with a power sander. Wipe the surface down with a microfiber cloth to remove any dust.
STEP THREE

– apply your stain.  I used Daly's water-based stain in walnut.  I applied the stain using a foam brush, and moved quickly to cover two side-by-side boards the entire length of the counter.  Then I wiped the excess stain away with an old t-shirt.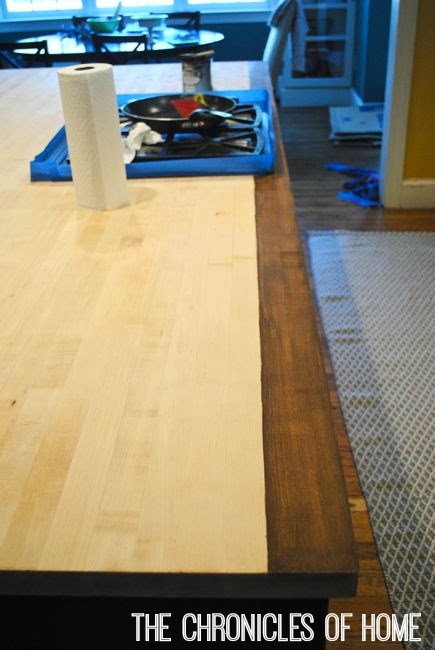 As you overlap rows of butcher block, pay close attention to the stain buildup you get when you go over some of the last stained row with stain for the next row.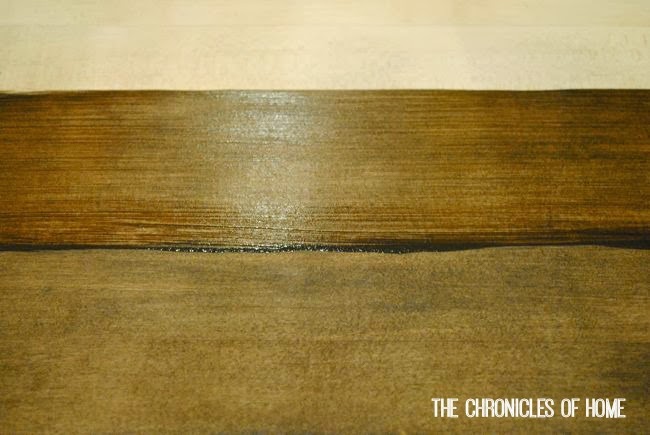 To avoid those stripes from sinking in, you'll need to wipe them away with a rag almost immediately.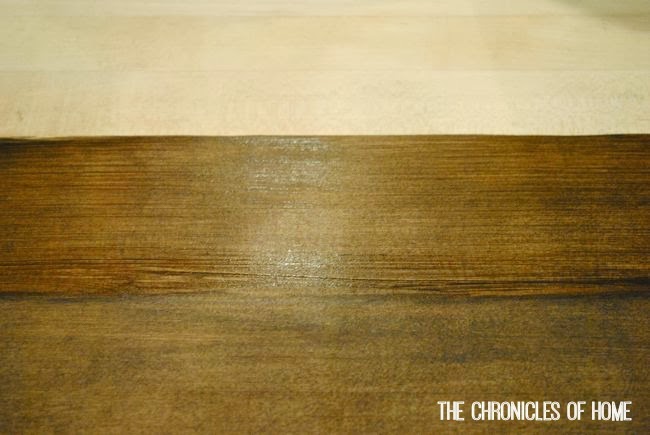 When the entire counter is finished, it might look a little dull and streaky – don't despair!  Once you add the sealer coats, the shine softens everything.
STEP FOUR

– after letting your stain dry overnight, apply a coat of Waterlox Original Sealer.  I found it best to apply this with another old t-shirt remnant.  If you have a kitchen vent or hood, turn it on before you start – this stuff is STINKY.  If you live in a warm enough climate, open the windows!  Let it dry for 24 hours.
STEP FIVE

– sand the entire surface by hand with fine grit sandpaper to remove any little bubbles. Wipe with a microfiber cloth.  Repeat the Waterlox application.  Let it dry 24 hours.
STEP SIX

– repeat the sanding, wiping, and Waterlox process one more time.
The process is a bit drawn out but the results are so worth it. The counters are sealed thoroughly now and look just beautiful. Let's take another look at where we started.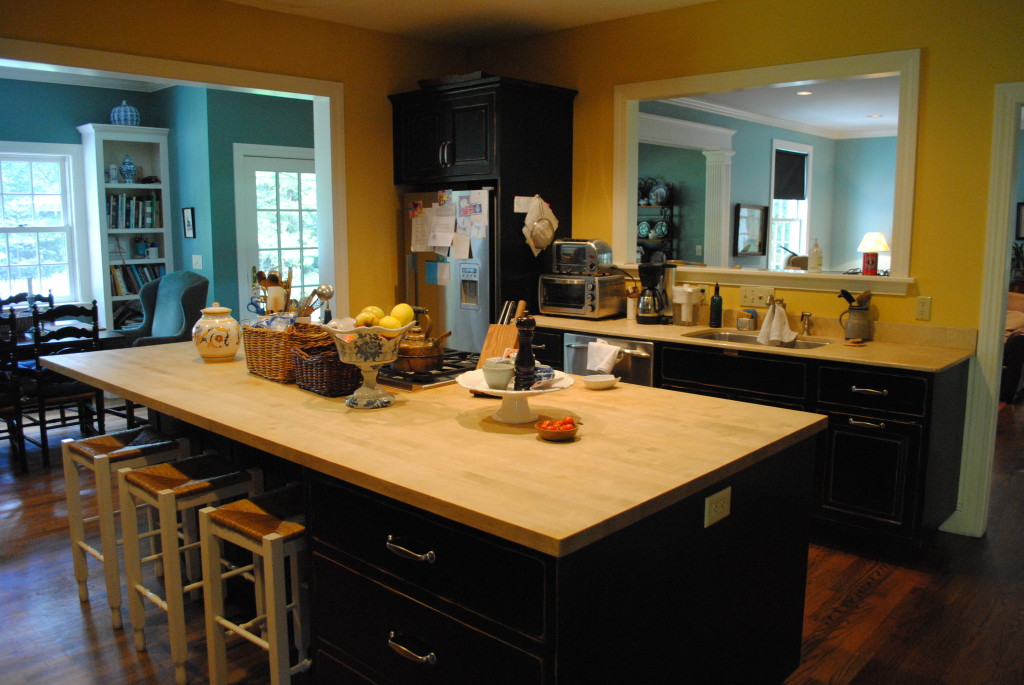 And now here's a special fast forward to not only the refinished counters but including other facelift changes I've made to the kitchen over a year and a half.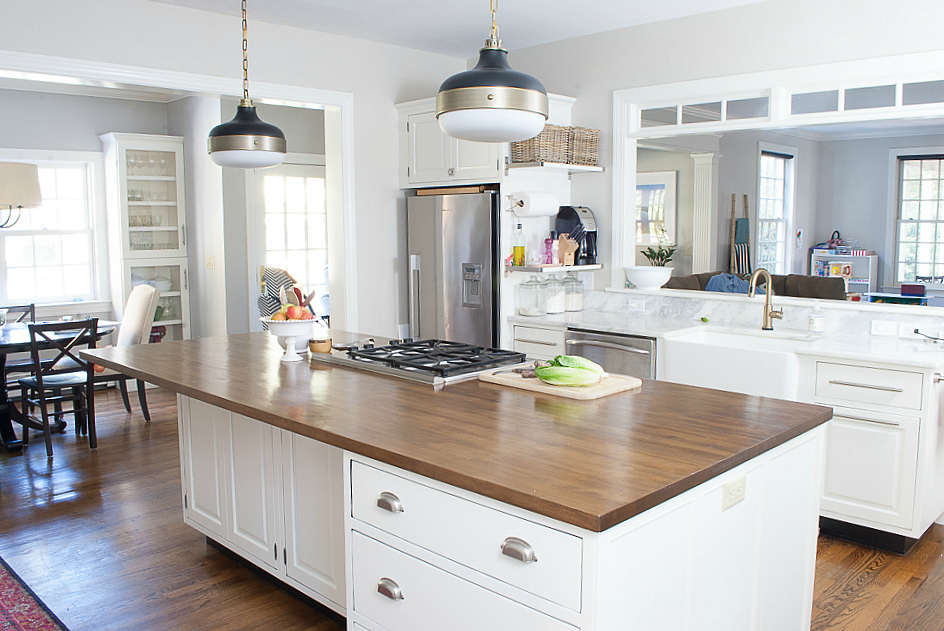 What a difference, right?!
To maintain the counters I will probably give them a light sanding and a top coat of Waterlox every year or two. After living with them for two years now, there is a lot to like about this kind of counter. We're in the process of replacing the cooktop with a full range and being able to just cut the counter out with a regular saw was a great perk. Plus any damage to the counters can be sanded out and refinished, which is not the case with stone counters. I absolutely love the warmth the wood adds to a white kitchen too.

So would you consider wood counters in your kitchen?  I'm not sure I would have, if I hadn't inherited these with the house.  But I'm so glad now that I did.