A few weeks ago in my
F4 post
, I promised you an easy fish taco recipe, and today I'm delivering.
Fish tacos, if you're not familiar, are a much lighter-flavored version of a traditional Mexican taco. Their simplicity is part of what makes them so good.  A few fresh, really good ingredients and you've got an easy and delicious weeknight meal.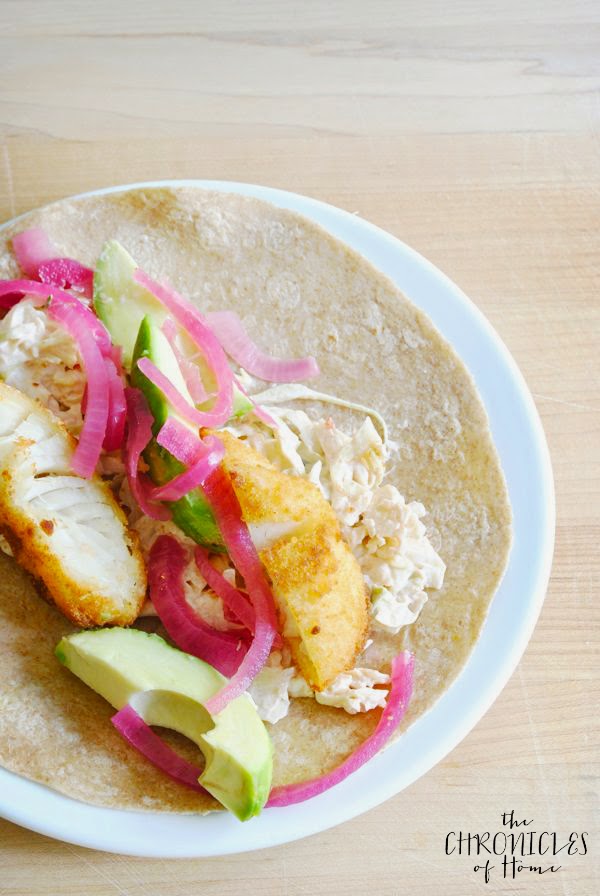 There are so many different ways to make fish tacos, but my favorite versions have always included crispy fish, pickled red onions, and a creamy cabbage slaw.  And my secret shortcut, that really makes this a cinch to pull together, is that I use frozen fish fillets (Whole Foods 365 are my favorite).  Saves SO much time and tastes just as great as if I'd breaded the fish myself.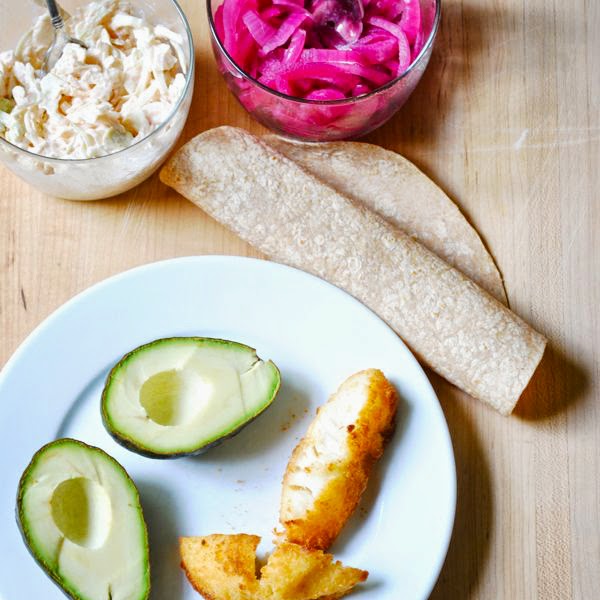 The other ingredient that makes such a difference here are the peppadew peppers – I puree them into the slaw dressing and they add this incredible depth of flavor.  They're vinegary and peppery and just the perfect little, "Oooh – what's the flavor?" addition to the slaw.
Fish Tacos
Frozen fish fillets (count on 1 fillet per taco)
1 red onion, sliced
apple cider vinegar
shredded green cabbage, about 3 cups
1/2 c. mayonnaise
1 tbsp. lime juice
1 tsp. honey
3 peppedew peppers
Tortillas (corn are traditional, I like Trader Joe's Multigrain)
sliced avocado
Cook the fish according to package directions.
For the the red onions, place them in a microwave-safe bowl and pour apple cider vinegar to cover them about halfway.  Add enough water to almost cover.  Microwave for two minutes then let sit while you prepare the rest of the taco components.
To make the dressing for the slaw, combine mayo, lime juice, honey, and peppadew peppers in a food processor and process until well blended.  Season to taste with salt and pepper.  Toss with cabbage until well coated.
To assemble, pile cabbage, onions, fish, and avocado into the center of a tortilla.  Wrap it up and eat with your hands or be dainty and use a knife and fork. :) I usually prefer to eat these with my hands!