It's been a rough few days.  I came back from my little holiday break totally ready to get down to business – take down the Christmas decorations, start painting my kitchen cabinets, take care of some blog maintenance that's been on my to-do list for awhile, etc.  And then on Friday morning I discovered I have moths in my closet.  Like the kind whose larva eat your clothes.  And I have to get rid of them or they will eat holes in all of my wool clothing and possibly then move on to the silk.  I've already deduced that they are apparently fancy moth larva who think cashmere is especially delicious so I'm worried about the silk.  I've been doing A LOT of research on them the past several days and while I sincerely hope you don't need this post any time soon, I'm going to tell you how to get rid of closet moths.  I can't save you the work ahead, but I can at least save you all the research on what to do.  Here it is in one place.
What I wanted to do was throw a toxic smoke bomb into my closet, shut the door, and come back a week later.
But seeing as I actually have to live in this house, with my two little girls, and I also don't want to destroy every item of clothing in my closet, the smoke bomb solution wasn't actually going to work.
Then I just wanted to yell and cry and storm around the house for a little while breaking stuff in anger, but luckily I determined that was another unproductive idea.
In the grand scheme this is not a big deal.  It is not lice.  It is not cancer.  They are just clothes.  It's just a week of my life.  But it is not a fun job and it's annoying to deal with and I'm still a little pissy about it even though I know that things could be much, much worse than closet moths.  So I decided to channel my frustration and newfound knowledge on moth extermination into this post that will at least, I hope, help you avoid this situation yourself.
You feel lucky, don't you?
So what does one do when one discovers there are moths eating one's clothes?  I am going to tell you.  You won't like it, but these are the necessary steps to get rid of the nasty little buggers.
FIRST
Empty your closet.  The whole. darn. thing.  It sucks, but it's necessary.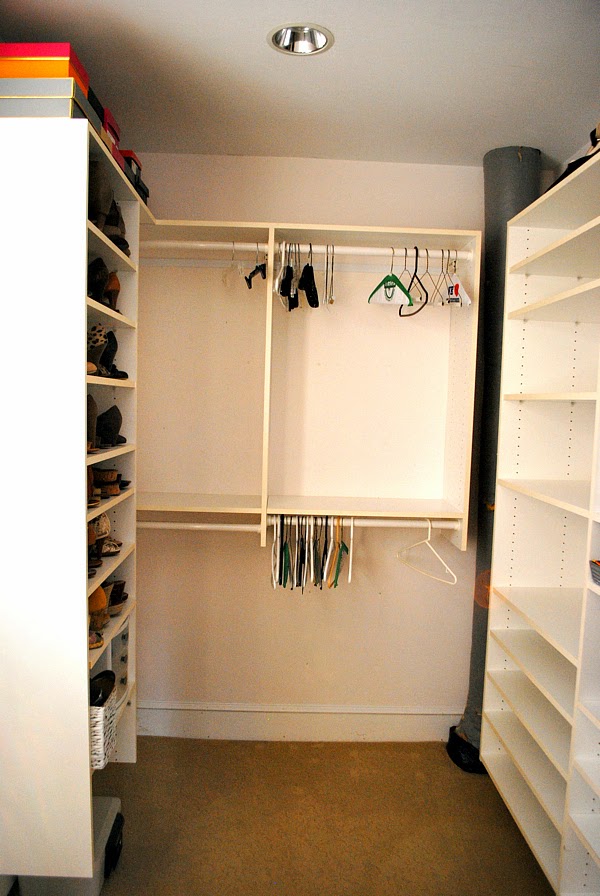 You can see here that my shoes have made it back in (left side) but the closet is otherwise pretty stark.
SECOND
Wash every single thing that is machine washable in hot water.  This will leave you with unfortunate MOUNTAINS of laundry to fold but it can't really be avoided.  I still want cry just a little at all the ironing and folding still ahead of me, and you can see that the taking down of the Christmas decorations has been put on the back burner while I deal with this nonsense.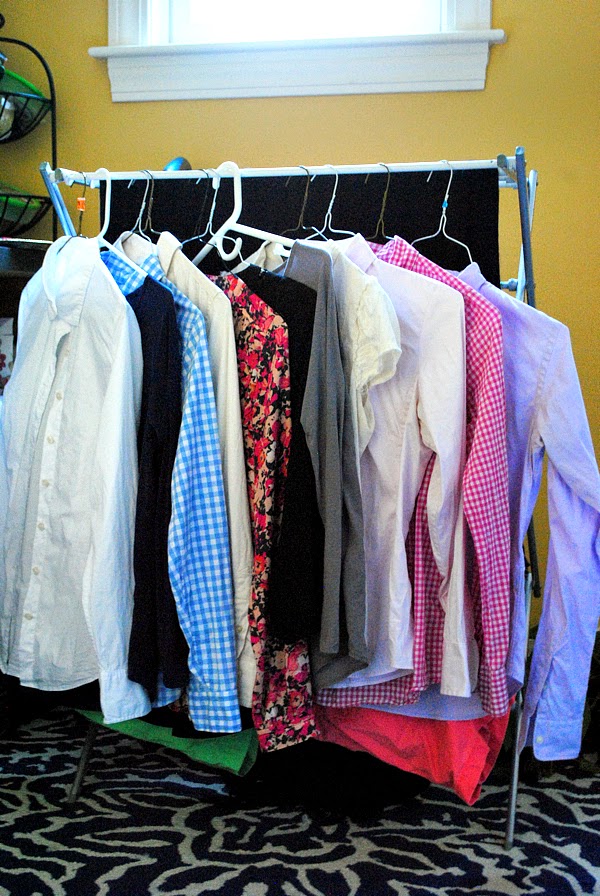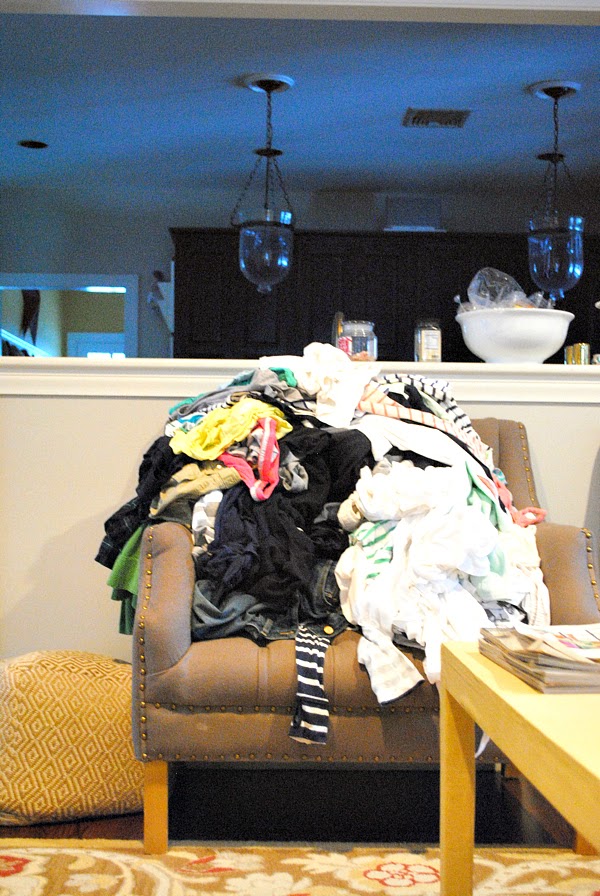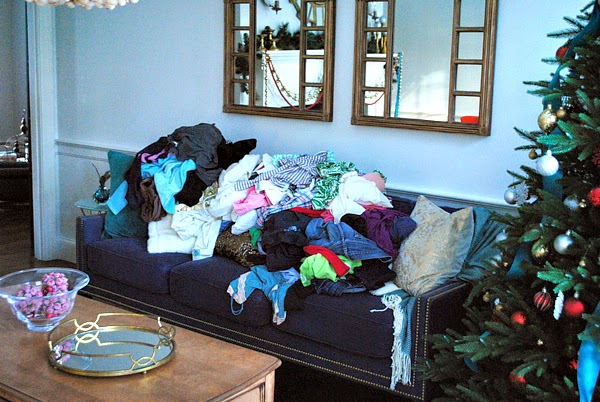 It's practically impossible to tell where the moths have laid their eggs, and if those eggs hatch into larva (jerks) it's snack time again in your closet.  So hours of folding pales (a little) in comparison to going through this again.
THIRD
You also have to deal with everything that is not machine washable.  You can take all of it to be dry cleaned but that would have been wicked expensive for me.  The other option is to freeze everything for a week.  I never thought I would feel lucky to be having outside temperatures in the teens but this means that instead of shoving a bunch of my clothes in the freezer I could hang them on a garment rack and put them in trash bags on my screened porch, where the temperature is currently hovering right around 10º.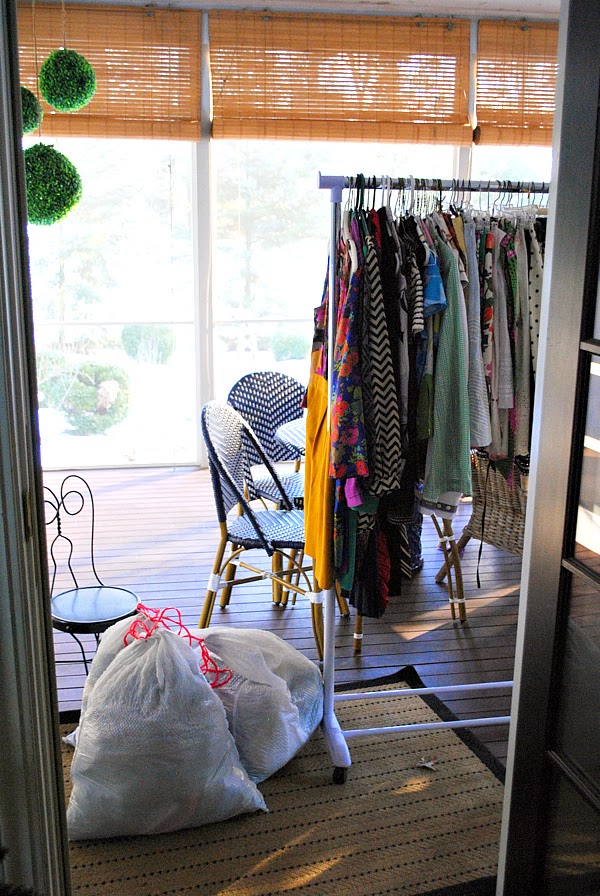 FOURTH
Back to the closet.  Ugh.  Vacuum every inch.  Every corner.  Every nook and cranny and surface of the floor and ceiling and shelving where eggs could be hiding.  Then wipe it all down with either a vinegar and water or a bleach and water solution.  I put my shoes back in after completing this step.
FIFTH
After all this work you are definitely going to want to try to keep any future moths and their babies from opening a buffet in your closet.  There are lots of moth repellent solutions out there.  Cedar is a well known natural moth repellant but isn't always strongly scented enough to keep them away.  Mothballs definitely work, but let's face it, they smell horrible, are toxic, and possibly carcinogenic.  I definitely don't want that in my house.  The overwhelmingly most effective repellent in every article I read was lavender.
Pretty win-win, actually.  Keeps the moths away and smells lovely.
I ordered a one-pound bag of lavender from Amazon (HERE) and a pack of muslin bags (HERE) and am going to scatter them all over my closet.  I will probably do this, honestly, forever from now on.  This whole thing has been such a colossal pain in the neck I will happily toss lavender all over my closet for the rest of my life to avoid having to deal with this again.
The other item I bought was a moth trap (HERE).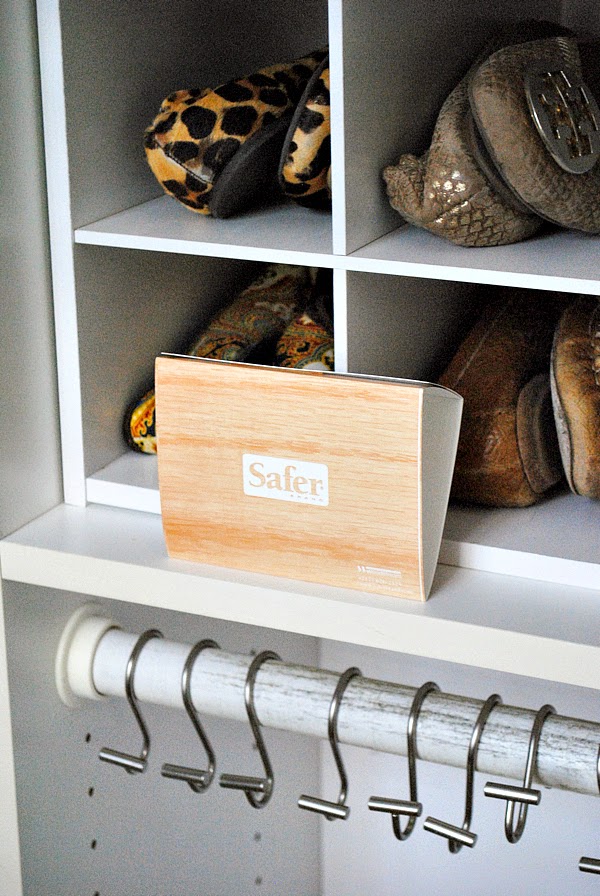 These don't repel moths like the lavender will, but they'll let me know if moths get in here again and will hopefully trap them before they can leave their cashmere-eating spawn behind.  The amount of lavender I'm about to put in here should keep any moths from wanting to come in and hang out awhile, but I mostly want to be sure I've gotten any that are hiding.  Do they even do that?  I think this whole experience has curdled my brain a bit.  I haven't slept well the last few nights because of apocalyptic visions of household moth takeovers running through my head.
There you have it.  I hope to resurface from underneath my laundry Everest soon.