Last January, my husband and I followed the popular Whole 30 diet.  I was curious to see if I felt an energy surge like so many Whole 30 devotees report and Scott just likes to do some kind of cleanse every January.
For me, it was an interesting exercise in cooking creativity but it was also a tainted experiment for me because I came down with the flu about halfway through and just felt awful most of the time.  There were a few recipes I made while on the diet though that we really loved and that I've continued to make since.
Breakfast while on Whole 30 can be kind of challenging because you start to feel like you're stuck on a hamster wheel of eggs.  This recipe still has the eggs but the addition of sweet potatoes, spinach, and sausage really makes it seem like something special, and with some advance planning it's a super simple breakfast.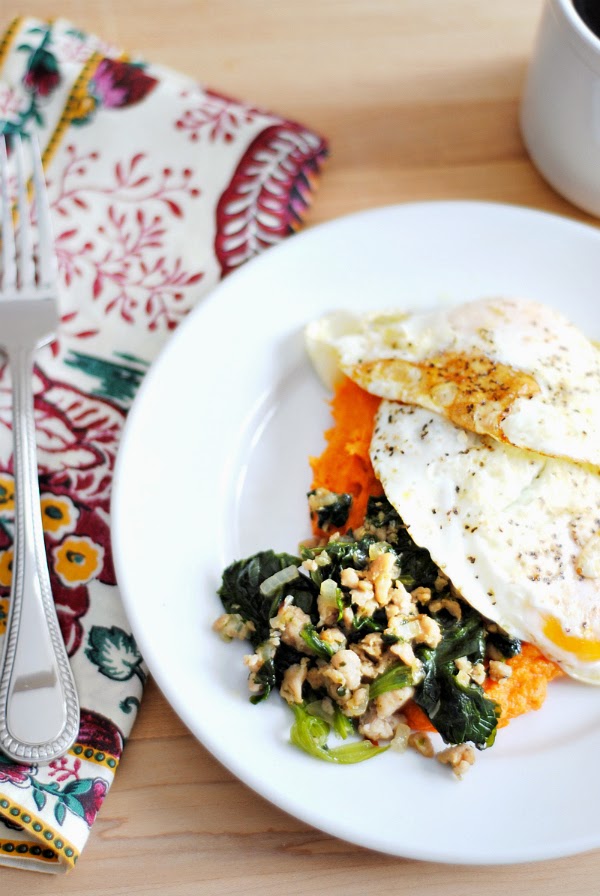 To make this a breeze to pull together, I plan a dinner that includes roasted sweet potatoes (wash, wrap in foil, and bake at 400º for about an hour, until soft.  Cut open and scoop out the flesh).  I make sure to put a few extra sweet potatoes in the oven and when I've scooped out all the flesh I do a quick puree with some clarified butter, salt, and pepper.  I simply store whatever we haven't eaten for dinner in the fridge.
Sausage without any kind of sweetener (important for Whole 30) can be hard to come by so I started making my own last year, and let me tell you, it is MUCH easier than it sounds.
All you have to do to make homemade sausage is combine these ingredients in a food processor: 2 lbs. ground pork (not lean), 1 garlic clove, 2 tsp. dried sage, 1/2 tsp. dried thyme, 1 tsp. salt, and 1 1/2 tsp. pepper.  Process just until combined.  I use an ice cream scoop to spoon mounds onto wax paper that I press into patties and freeze.
Once I have my sausage made, the rest is a cinch.  I sauté some onion in olive oil then add in the sausage and crumble while it cooks.  Last I toss in a few handfuls of baby spinach (fresh or frozen, both work fine) and cook until the the spinach is wilted.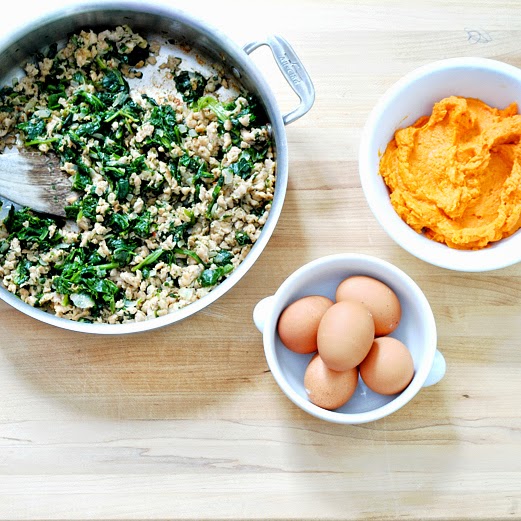 To make the olive oil fried egg, you add a couple tablespoons or so of olive oil to a nonstick pan over medium-high heat.  Crack the eggs into the oil and fry until the whites are set, then flip and cook for only a few seconds longer if you want a soft yolk.
To assemble I spread some of the sweet potato puree on a plate, top with the sausage and spinach mixture, and then the eggs across it all.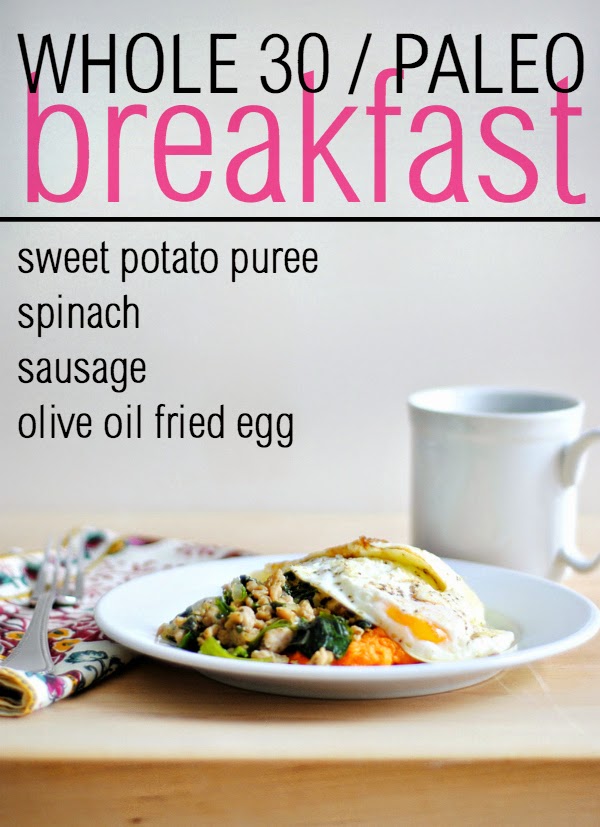 I found the key to satisfying breakfasts on Whole 30 was planning ahead like this.  The sausage and spinach mixture keeps beautifully for several days in the fridge so once that's done it really doesn't take any longer than just frying your eggs.  This also makes a great lunch or dinner, but I especially love having a way to work some extra veggies into my breakfasts, where I don't usually eat quite as many vegetables.I'm not actually doing Whole 30 right now but judging by the flood of #whole30 in my Instagram feed, I'm guessing a lot of you are :) I'd love to hear any of your favorite healthy breakfast favorites too – even not following a diet, I find it kind of easy to get stuck in breakfast ruts.