Ahhhh…painting kitchen cabinets. At once my favorite and most detested household project. This is now the third time I have painted our kitchen cabinets.
You read that right.
Not here in my current house, mind you. I first took the project on many years ago now, when Scott and I bought our first house. I didn't really know what I was doing and they came out pretty well but after several years were showing signs of wear. So I painted them again shortly before we moved.
I knew pretty early on that I was going to paint the cabinets in our current house, where we've been living now for a little over a year. The cabinets were excellent quality but the black, while kind of interesting and striking, sucked all the light out of the kitchen.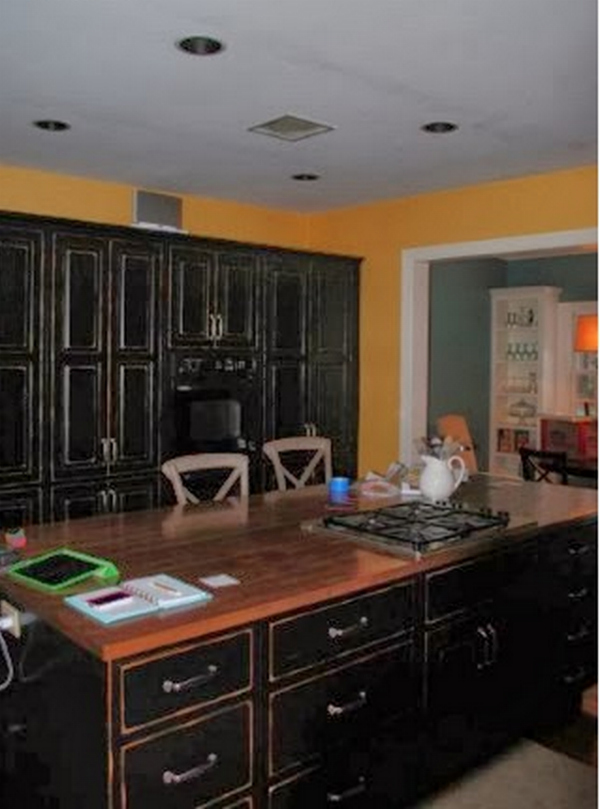 (Can I just say that looking at this old photo of where the kitchen started for us a year ago makes me positively giddy?! I couldn't be happier with the outcome. Read on to the end, you'll see :)
By now, I practically consider myself an expert on painting kitchen cabinets so I'm going to break it down for you step-by-step, and there's even a video showing you how to use a paint sprayer!
The process is messy and drawn-out because of all the steps and waiting for things to dry along the way, but I would do it again in a heartbeat. I can't think of anything that will totally transform the look of your kitchen as much as painting your cabinets, and hiring it out can run anywhere from $2000-$7000.
STEP ONE – remove all cabinet doors and drawer fronts, then remove the hardware from them. Label every one – you won't want to skip this step, it makes reattaching them SO much easier! I stick a piece of painter's tape on each door/drawer and label where it goes. Also label and/or organize hinges and any hardware you'll be reusing.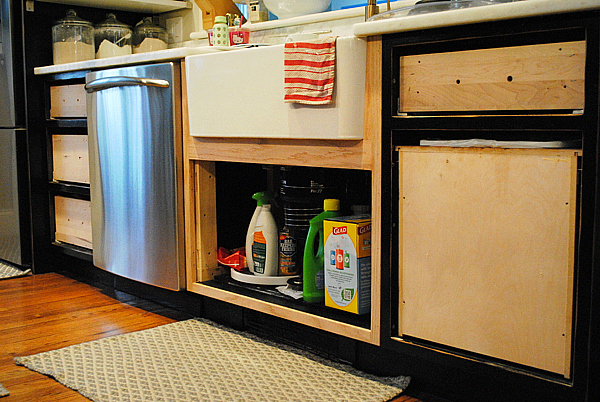 STEP TWO – if you're going to be replacing the hardware with something that has different holes than the original hardware (which I was), fill the old holes on both sides of the door with wood filler and let dry overnight.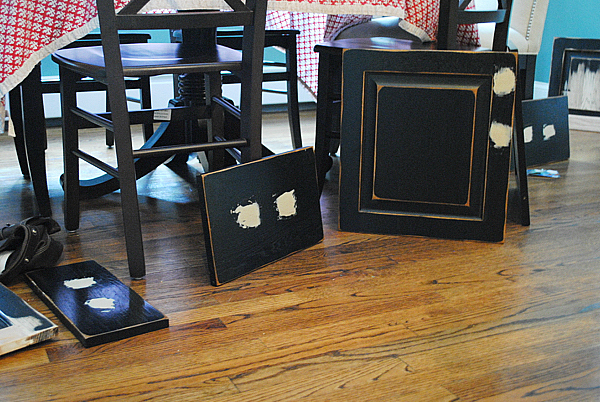 STEP THREE – sand dried wood filler smooth. I use coarse grit sandpaper first then finish with fine grit. I also use an electric pad sander hooked up to a dust extractor. The sander gives an ultra smooth finish and the dust extractor cuts down on the mess, a lot. (This is a good sander and this is the dust extractor I have.)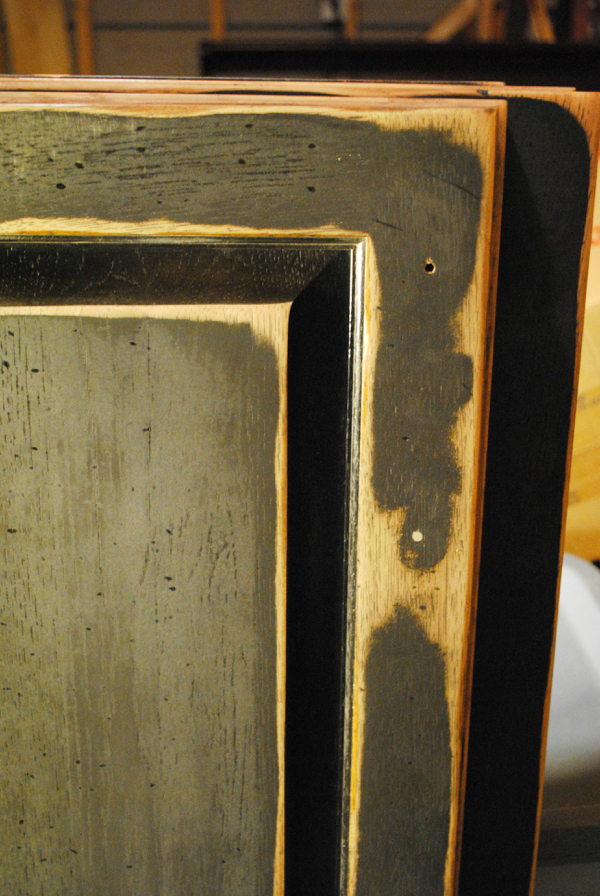 STEP FOUR – go over all doors, drawers, and actual cabinet frames with fine grit sandpaper (I used the pad sander and dust extractor again here). You do not have to go down to bare wood, you just need to rough up the surface a bit. You can see here how the sanded door looks duller than the unsanded one.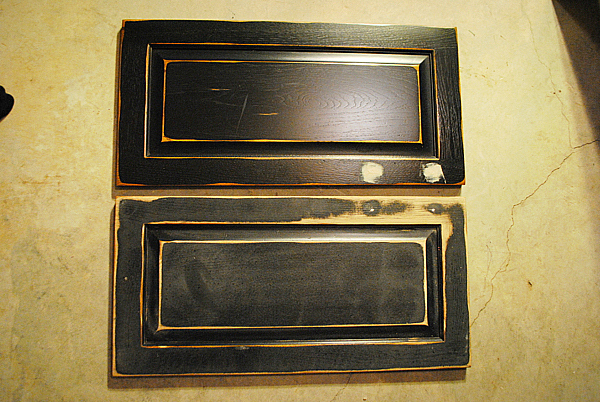 STEP FIVE – either wipe everything down with water and a lint-free cloth or vacuum to remove any debris before painting.
STEP SIX – Give everything a coat of primer. I use a foam roller and a brush for the cabinet frames and a paint sprayer for the doors and drawer fronts.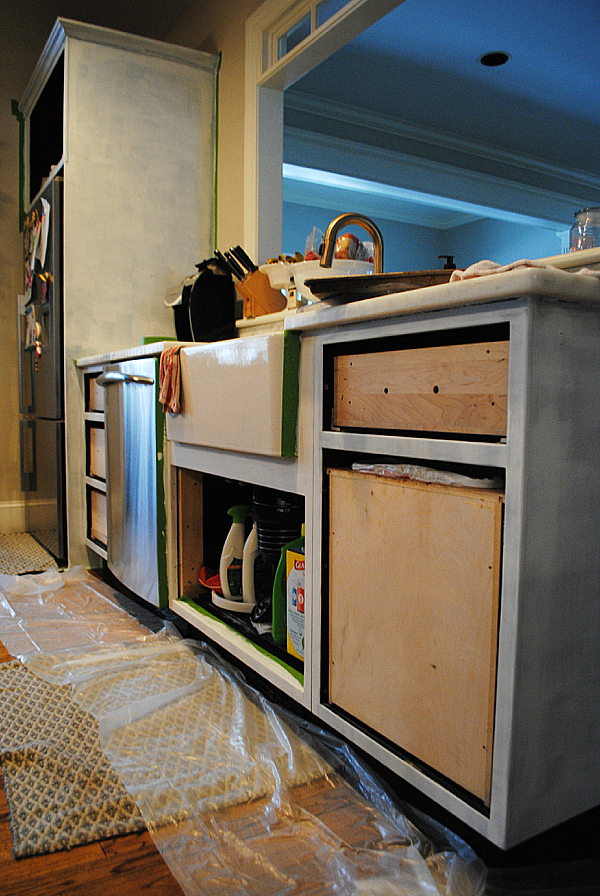 I lay 2×4's inside an area I taped off with plastic sheets and put the doors and drawers on top of the 2x4s.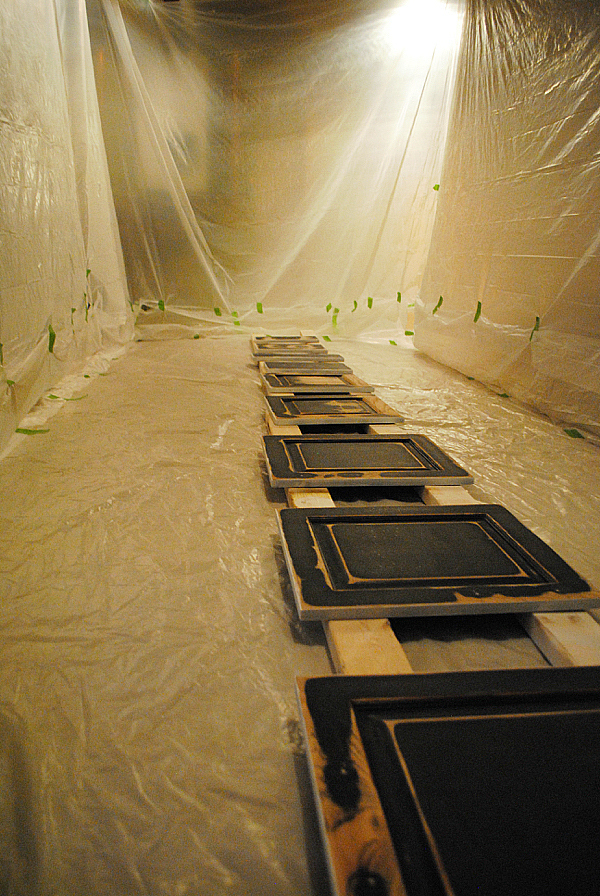 I made a quick video (under 5 minutes) going into a bit more detail on painting with a sprayer and showing you how to use one. The one I've used for awhile now is Homeright's Finish Max Pro. If you are reading this post, and presumably getting ready to paint your kitchen cabinets, you should definitely, definitely buy this. I've painted kitchen cabinets without this sprayer and I've painted cabinets with it and it is awesome. The finish is SO smooth and it saves loads of time over rolling and brushing. If you buy yourself one piece of equipment to do this job, this is the one to get.

STEP SEVEN
– apply paint. As with the primer, I used a brush and foam roller for the cabinet frames and the sprayer for the doors and drawers. I found two coats of paint was enough coverage with the roller and three was the right number with the sprayer. I let the final coat on the doors and drawers dry overnight before flipping them to make sure there was no tacky paint that would stick and peel off. This process can take a few days because of drying time, but if you're using a sprayer, the active time is actually pretty minimal.
As far as which paint to use, my go-to is Sherwin Williams Pro Classic in semi-gloss. It has amazing self-leveling properties (which means it levels out bumps to dry really smooth) and dries hard, almost like an oil paint. But it's water-based so is easy to clean up. It's my favorite for cabinets. I had Sherwin Williams color match Benjamin Moore's White Dove because it's my favorite shade of white.
STEP EIGHT – reattach the doors, drawers, and hardware. You can see my painter's tape labels are still hanging by a thread and they make the reattaching part so much easier!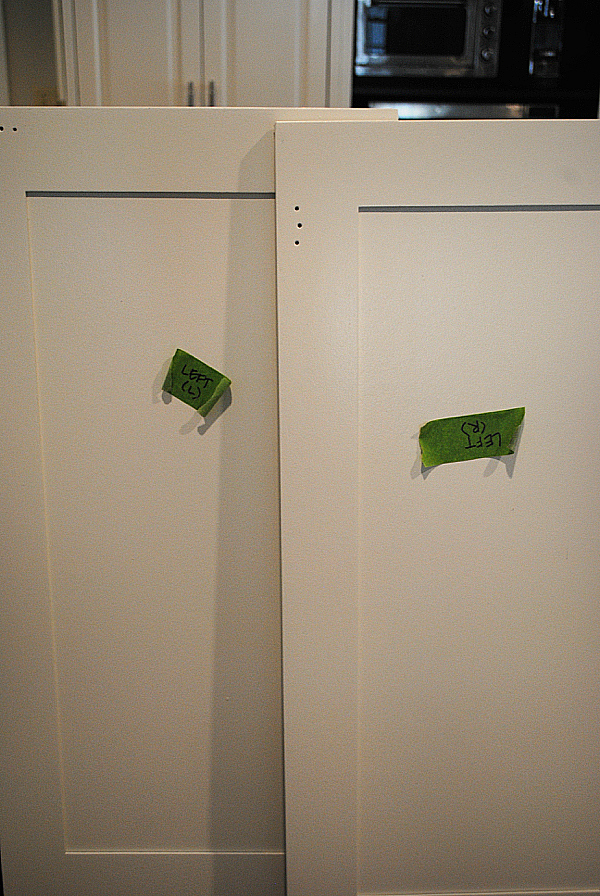 Pat yourself on the back. You likely just spent a couple of weeks living in mess, with your kitchen torn apart, BUT you saved yourself thousands of dollars and your kitchen looks completely transformed.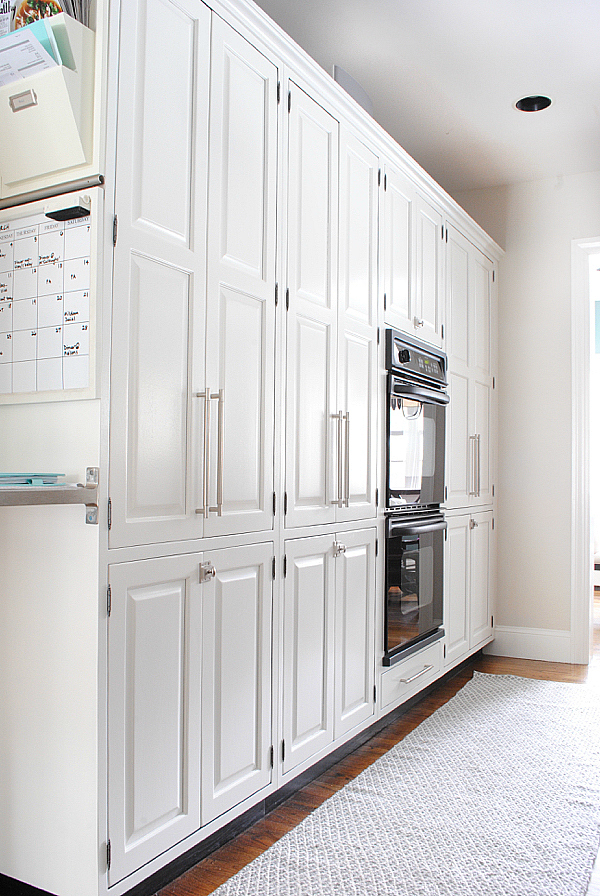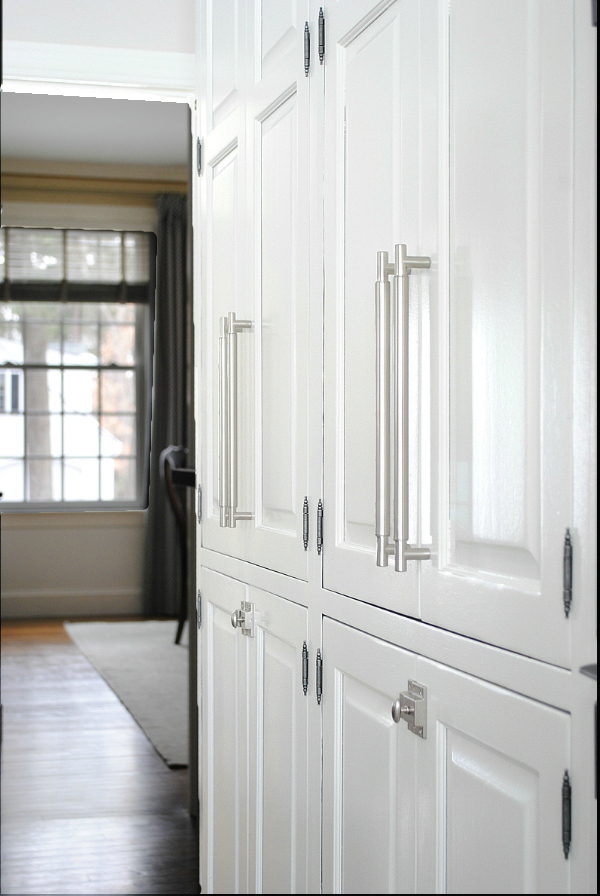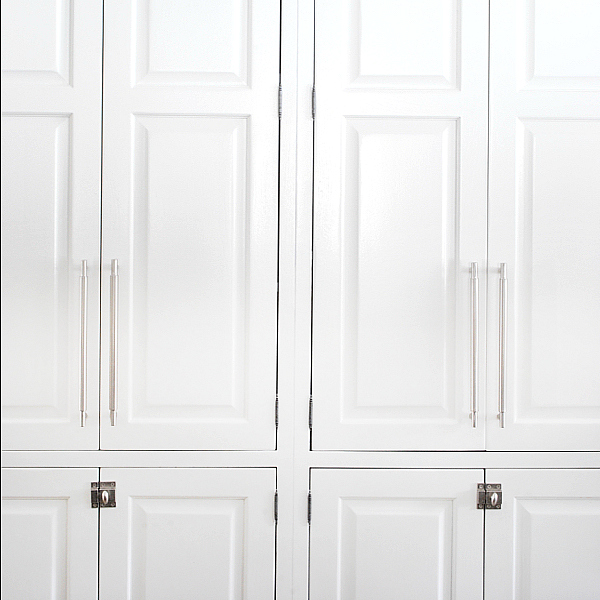 What a change, right?!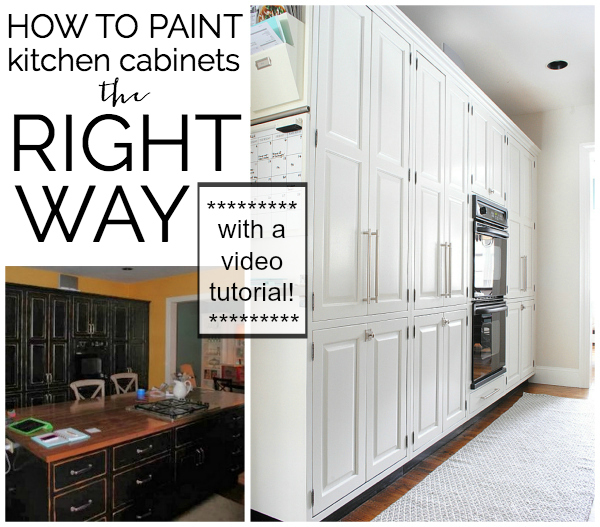 This post is sponsored by HomeRight. All opinions and ideas expressed are my own and are sincere. As always, I only ever share products I truly love and use myself.
Post contains affiliate links.