This poached salmon with grapefruit and avocado…and mixed grains…and arugula…and homemade grapefruit mayo (I didn't want to make the title ridiculously long) is sooooo delicious. It's one of those meals that's so pretty, so fresh and tasty, you feel great just eating it.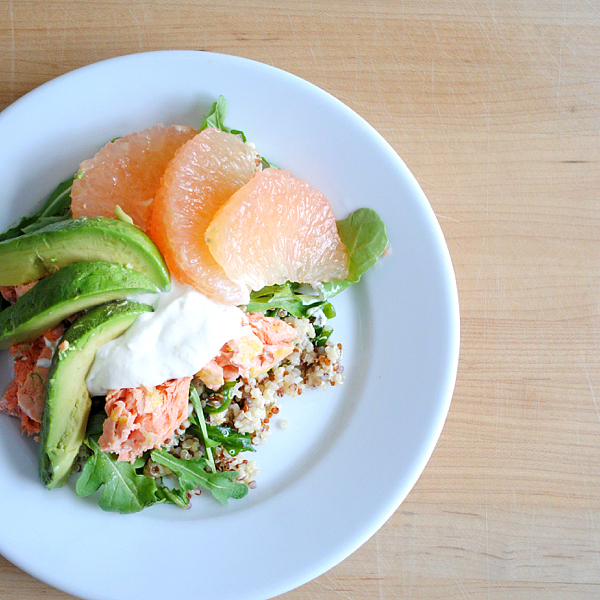 It's also one of those magical dishes that looks gorgeous and impressive but is deceptively simple. It's mostly simple ingredient prep and then layering, and while the homemade grapefruit mayo may sound intimidating, it's nothing more than combining ingredients in a blender.
If you're Paleo or on another grain-free diet, this is still wonderful without the grains – just eliminate them and make the grapefruit mayo without the bit of sugar. It's only a tiny bit to begin with and doesn't make a significant flavor difference. You could also sub raw honey or a bit of date for the sugar.
This is a meal I come back to again and again – as warm weather approaches I crave simple, light dishes and this has become a fast favorite!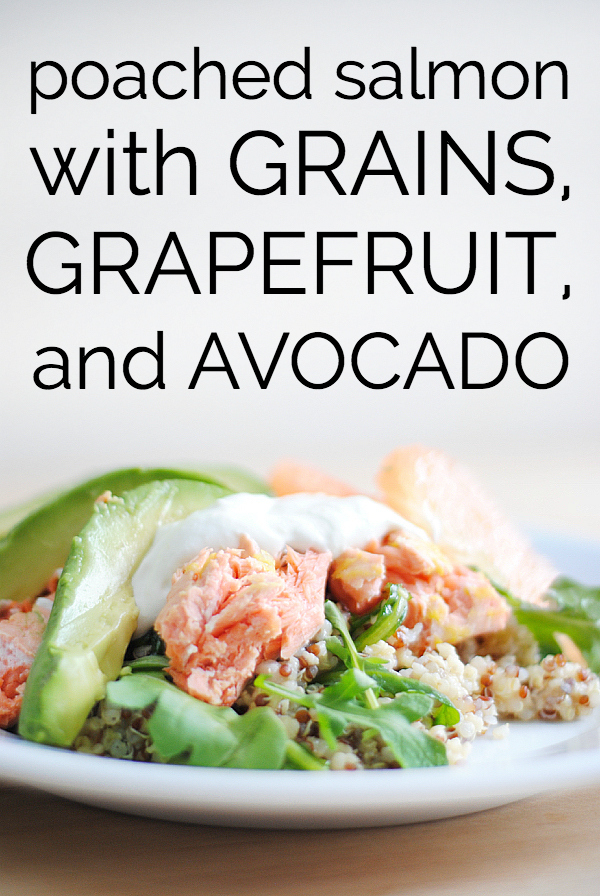 Poached Salmon with Grapefruit and Avocado – serves 4
Ingredients
1 c. mixed grains (I used a "Super Grains" blend from Whole Foods that included white and red quinoa, millet, and buckwheat)
1/4 c. fresh grapefruit juice
1/4 c. olive oil
1/2 tsp. dijon mustard
2 c. arugula
4 small salmon fillets
1 tsp. lemon zest
2 red grapefruits, skin removed and cut into sections
1 avocado, sliced
2 egg whites
1/4 tsp. dijon mustard, divided
2 tbsp. lemon juice
1 tsp. grapefruit zest
1/4 tsp. kosher salt
1/4 tsp. sugar
1 c. grapeseed oil
Cook the grains according to package directions – mine cooked in lightly salted water for about 18 minutes. Remove from heat, let cool a few minutes, then stir in grapefruit juice, olive oil, and 1/2 tsp. dijon. Add arugula and stir to combine. (tip: as I'm sectioning the grapefruits, I squeeze the extra juice into the grains for added flavor)
Place salmon in a pan and add about 1/2 inch of water to cover by about halfway. Sprinkle with salt and scatter lemon zest. Cover and bring to a boil then lower heat and simmer 5 minutes.
To make the grapefruit mayo, combine egg whites, 1/4 tsp. dijon, lemon juice, grapefruit zest, 1/4 tsp. salt, and sugar in a blender. Blend until combined. With blender running, slowly pour in grapeseed oil until mixture comes together and becomes creamy.
To assemble, layer grains, salmon, grapefruit, and avocado on plates and top with grapefruit mayo.