I have been compensated for this post by Collective Bias, Inc. and its advertisers, Alexia and Walmart. All ideas and opinions expressed are mine alone. #SpringIntoFlavor #CollectiveBias
Keeping all the balls in the air when throwing a party can be a daunting task. Make it a weeknight party when errands, kids' schedules, and work are thrown in the mix and you might rather just forget the whole thing than deal with the stress.
But.
It doesn't have to be that hard. With a very little bit of planning, a list of to-dos to keep you organized, and some ready-made food and drinks, you can pull together a weeknight gathering with tasty eats, festive atmosphere, and a casual vibe that lets you enjoy your guests!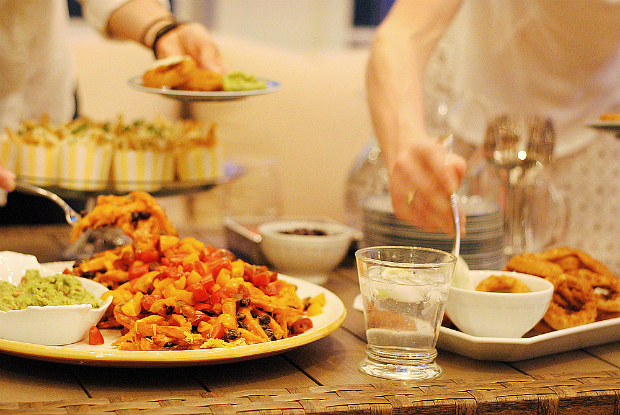 The food I served for a recent girls' night hinged on three different Alexia frozen products – rosemary fries (brand new and currently only available at Walmart), sweet potato fries, and crispy onion rings. I'm a big fan of Alexia products and love that they offer high quality, all-natural products that help me take some shortcuts without sacrificing wholesomeness. I often buy them to serve as simple side dishes with dinner but they're a great base for recipes in and of themselves, as you can see here.
Here's my "recipe" for a laid back girls' night, though really, this would work for any kind of gathering.
Food
Truffle rosemary fries with garlic aioli and parmesan (recipe below)
Sweet potato fries "nachos" with guacamole (sweet potato fries topped with black beans, shredded cheese, and chopped tomatoes, served with guacamole on the side)
Onion rings with basil green goddess dip (dip based on this recipe)
Several days ahead
Hang lights – I strung globe string lights above the seating area on my screened porch for a festive atmosphere.
Shop for supplies – food, drinks (I always have alcoholic and non on hand), cocktail napkins, etc. I found the Alexia products at Walmart in the Frozen Snacks aisle.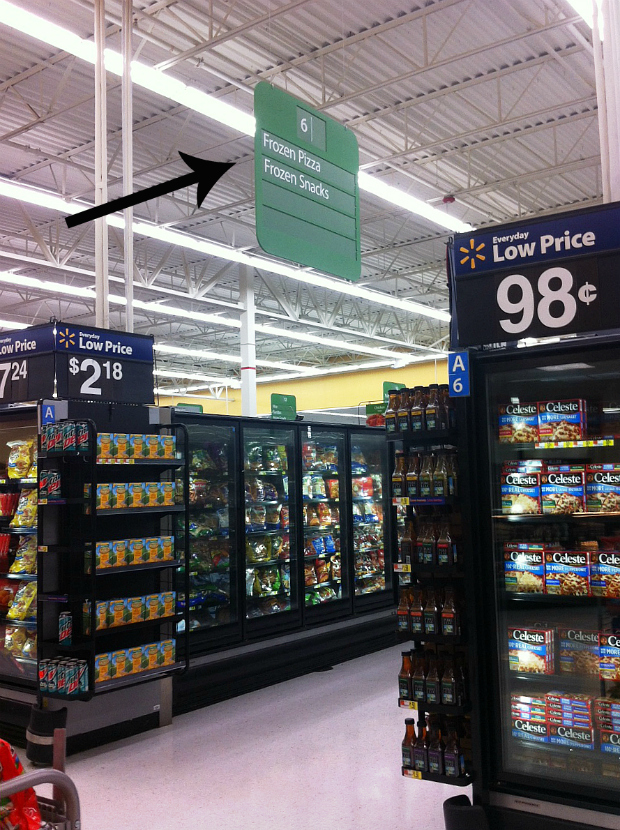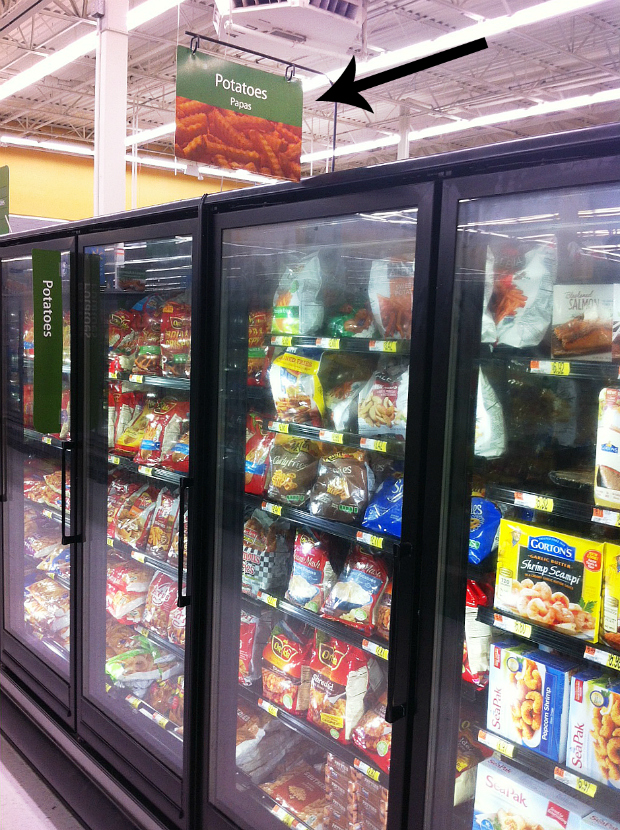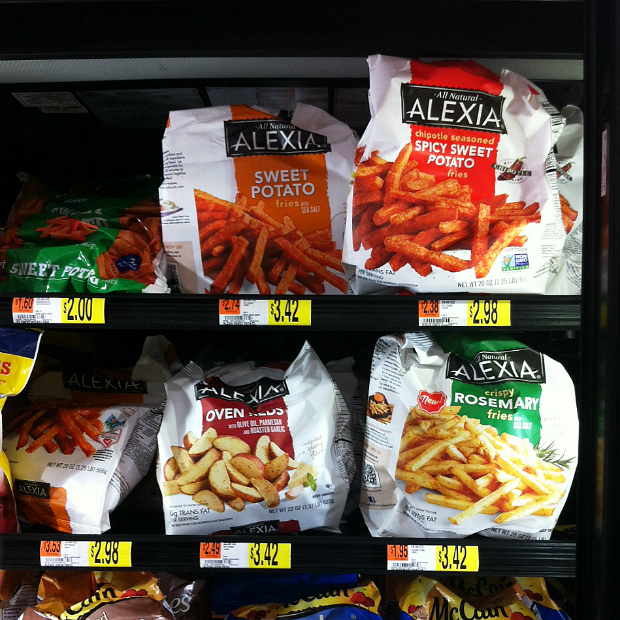 Two days ahead
Make basil green goddess dressing (based on this recipe)
Make garlic aioli (recipe below)
One day ahead
Set up drinks and glassware that can sit at room temperature. I organized everything on a bar cart right inside the door to the porch so guests can help themselves when they walk in.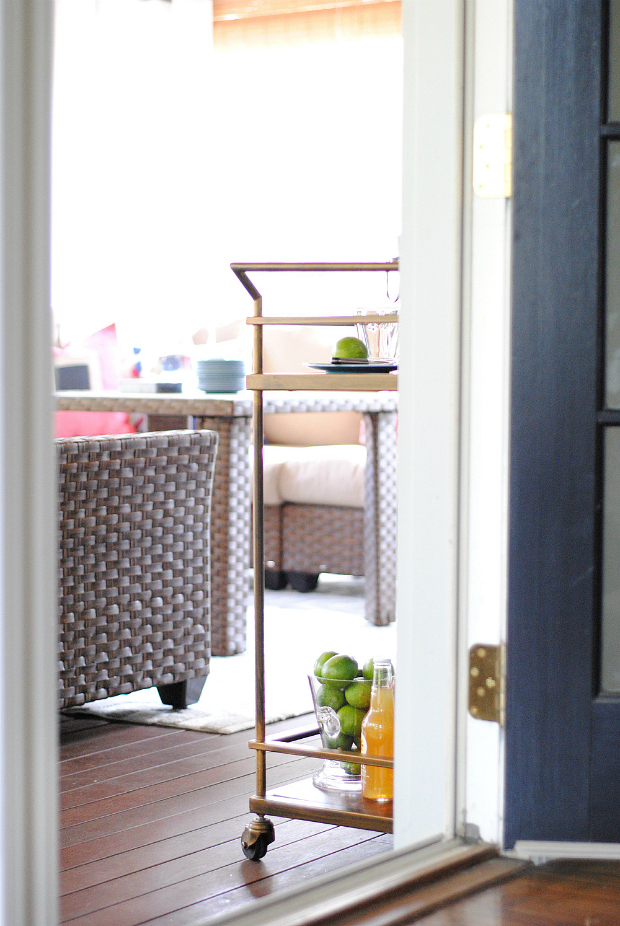 Don't forget a pitcher for water and an ice bucket! I like to have club soda and Izze sparkling juices because both can be used as cocktail mixers or as drinks by themselves. I purchased a few different Izze flavors, plain club soda, and grapefruit club soda and set out a bottle of vodka and a small plate with a lime and a knife. Extra limes are in a glass bucket on the bottom of the cart. I left room on the bottom for another bucket to be filled with ice and a bottle of white wine later.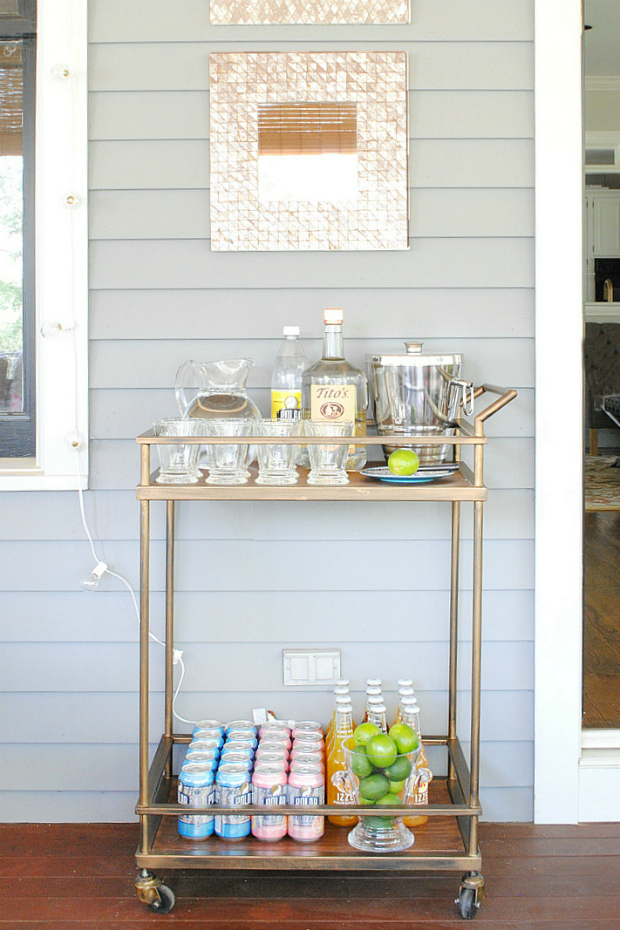 Set out some appetizer plates, cocktail napkins, forks, and another pitcher for water where you expect to put the food.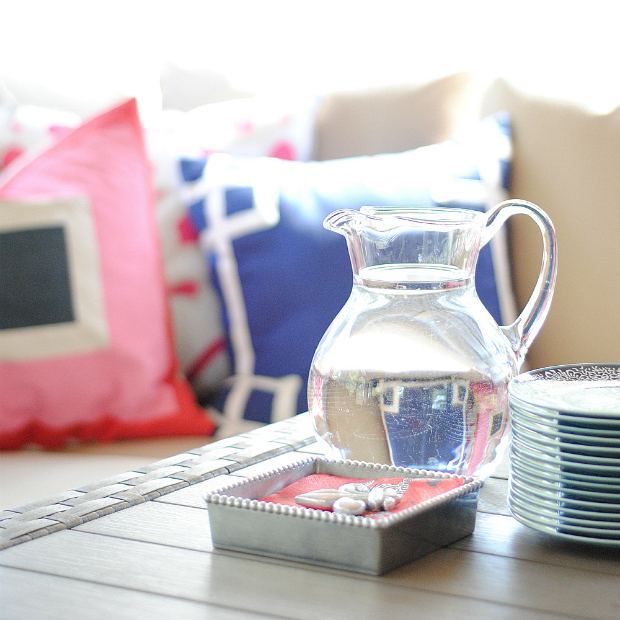 A few hours before the party
Shred the cheese, chop the tomatoes, and rinse the black beans for the sweet potato fries nachos.
Chop parsley and grate parmesan for the truffle fries.
Get serving platters and utensils out.
An hour before the party
Preheat the oven.
Turn on the globe lights.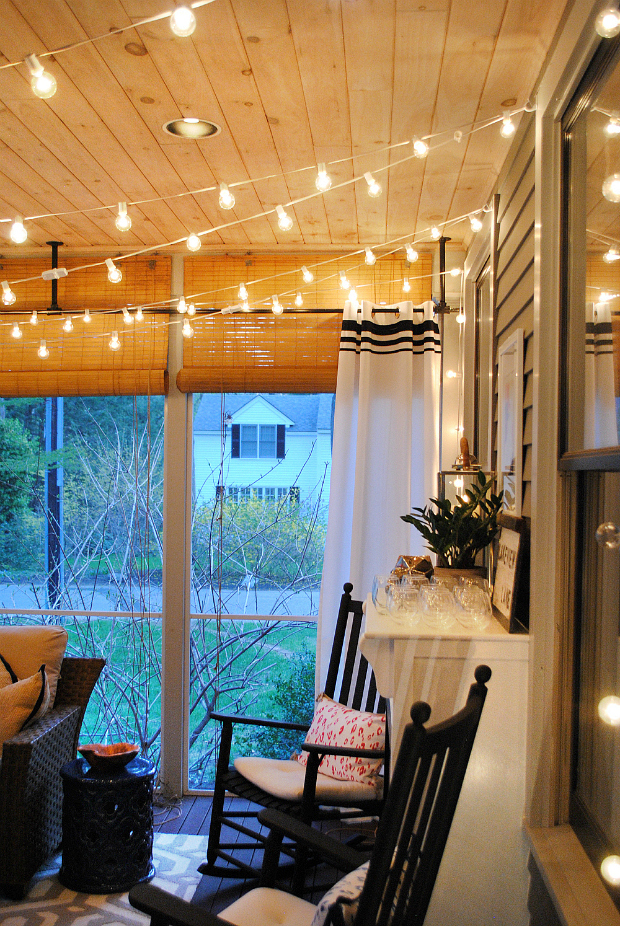 Fill a wine bucket with ice and nestle a bottle of white wine in it. Place on the bar cart with the other supplies. I put wine glasses on the fireplace mantle since the bar cart was getting full.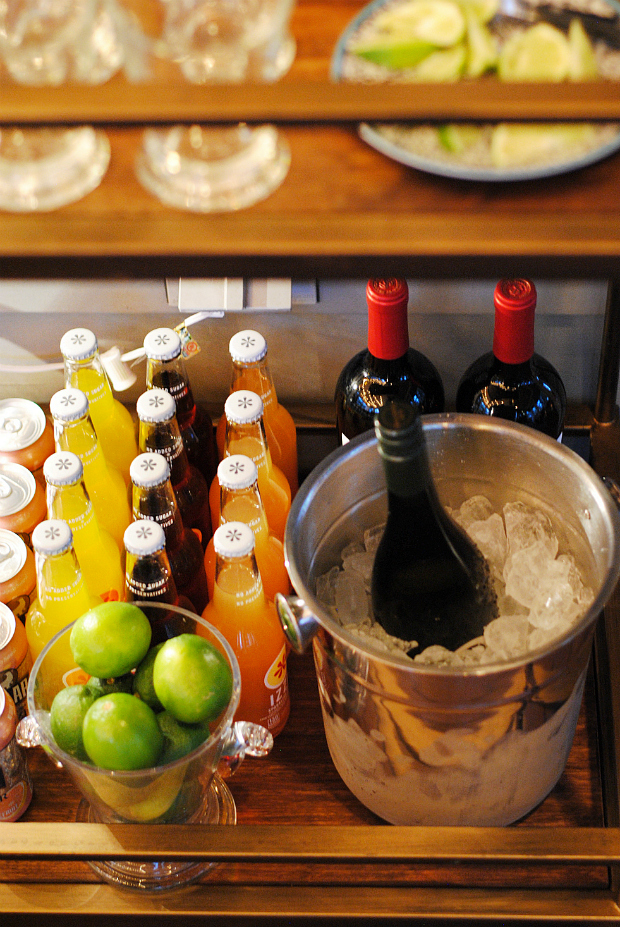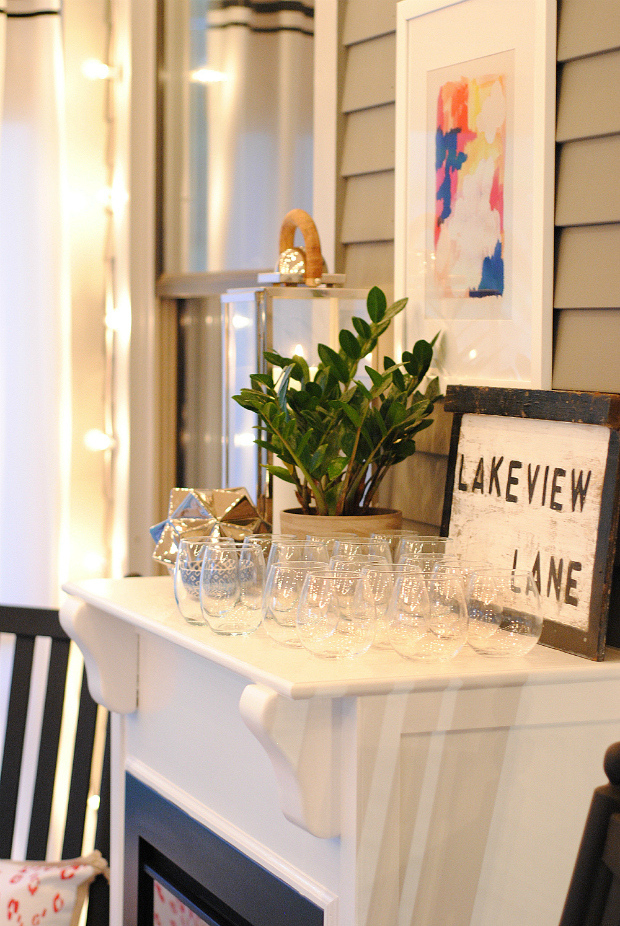 Thirty minutes before the party
Place rosemary fries, sweet potato fries, and onion rings on three separate baking sheets. Place in the oven and bake for the times stated on the packaging.
Spoon the green goddess dip in a small bowl on the platter where the onion rings will go.
Place guacamole in a bowl and put on the platter where the sweet potato fries will go.
When the sweet potato fries are finished baking, top with beans and cheese and return to the oven for a few minutes until cheese is melted, then add tomatoes and transfer to platter with the guacamole.
Transfer onion rings to the platter with green goddess dip.
See below for truffle fries recipe.
Place all the food on the table where guests will be serving themselves and enjoy yourself! The work is done!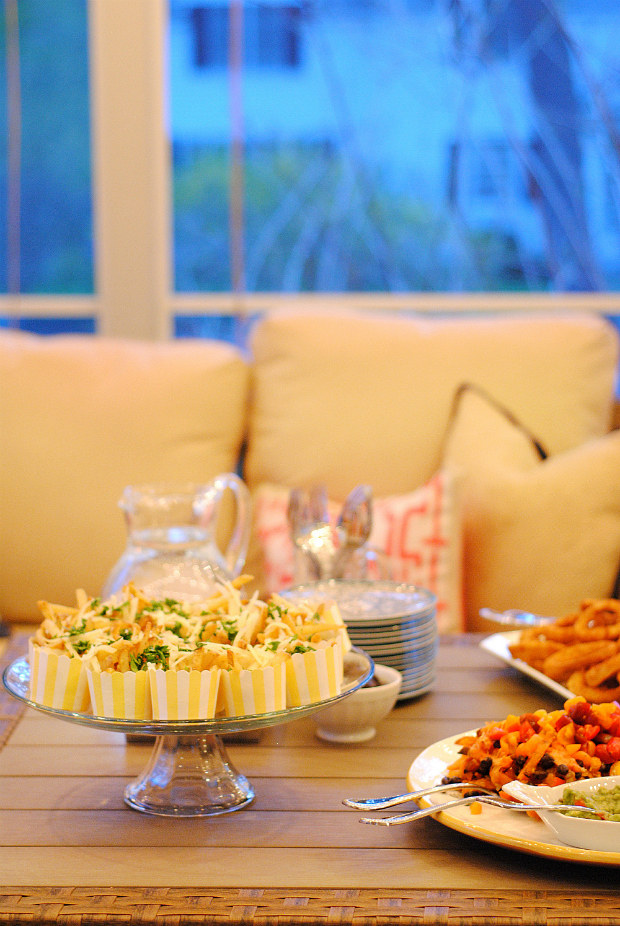 Homemade Rosemary Truffle Fries
Ingredients
1 bag Alexia Crispy Rosemary Fries
truffle oil
1 clove of garlic, pressed
1/4 tsp. kosher salt
1/2 c. mayonnaise
2 tbsp. olive oil
1 tbsp. lemon juice
1/2 c. coarsely grated parmesan
1/4 c. flat leaf parsley, chopped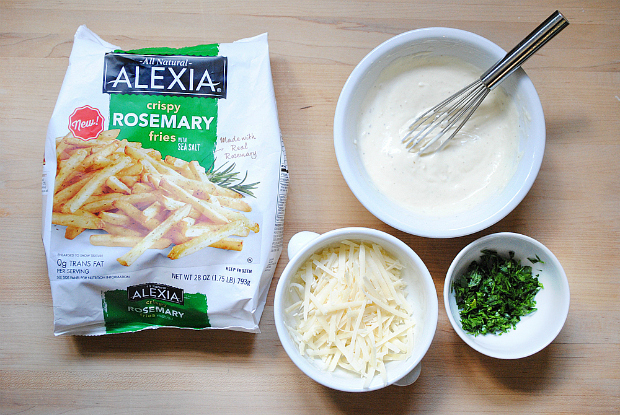 Preheat oven to 425º.
Spread fries in a single layer on a baking sheet. Drizzle with truffle oil – no set amount, just enough for a light coating. Bake about 22 minutes, according to package directions.
To make garlic aioli, whisk garlic, salt, mayo, olive oil, and lemon juice in a small bowl.
When fries are finished baking, scatter the parmesan over them while still hot, then spoon the aioli overtop and toss to coat. Sprinkle with parsley and serve.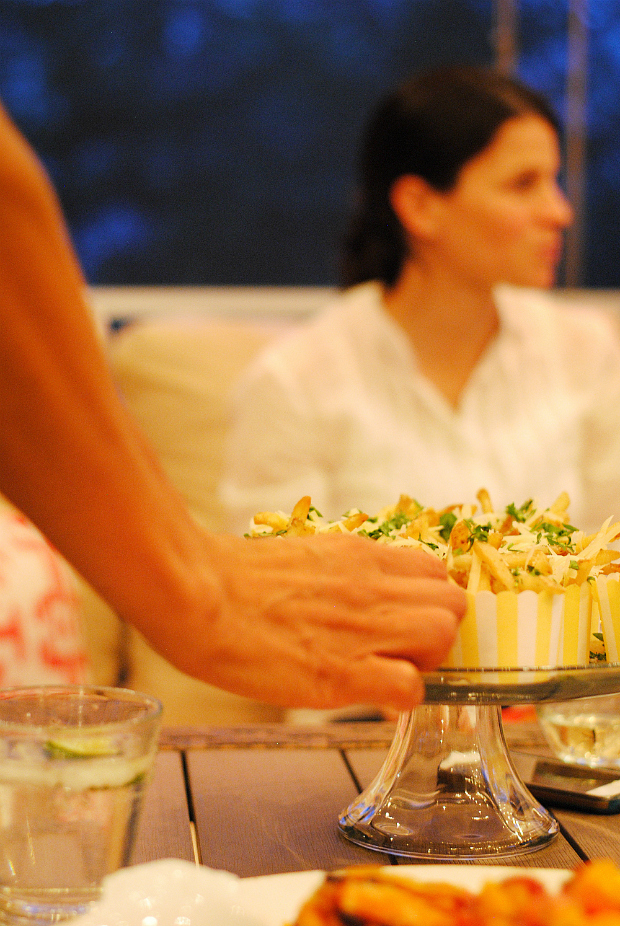 So who's ready to do some entertaining?!
You can connect with Alexia on Facebook and Pinterest for more food inspiration and information about new products and initiatives.