I have a confession. I actually kind of like packing my kids' lunches. Sure, it's one more thing that has to be done before everyone heads off in the morning and sometimes it feels like a chore but I love knowing that my girls are going into their days with lunchboxes full of pretty, tasty food. I snapped photos of a week's worth of easy, healthy lunchbox ideas to show that packing a great lunch for your kids doesn't have to be hard or laborious. And maybe, just maybe, you'll actually come to enjoy it :)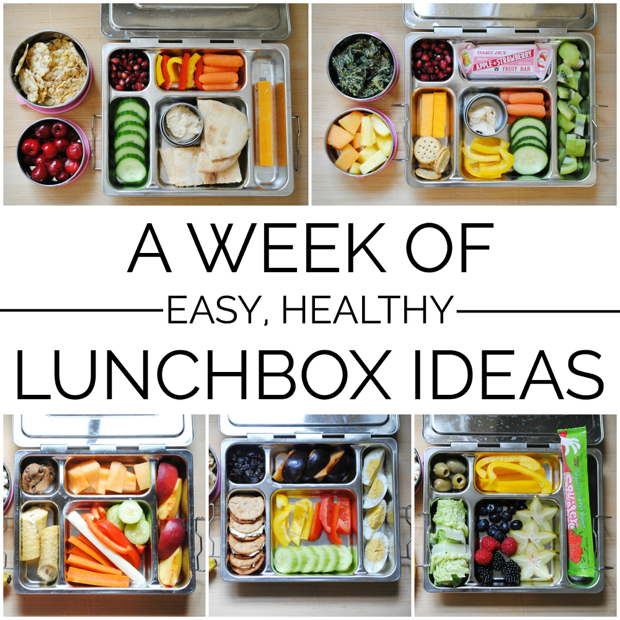 I've figured out a couple of key things that have helped making daily lunches easier. I don't plan ahead what I'm going to pack every day but I do always keep a few things in the fridge to choose from, namely protein sources, fresh vegetables, and fresh fruit. Here are some of my favorites that pack well.
Protein sources
hard boiled eggs
cheese sticks
hummus
summer sausage or pepperoni
ham or turkey
Vegetables
baby carrots
bell peppers
cucumbers
grape tomatoes
sugar snap peas
Fruit
apples
pears
bananas
peaches
plums
berries
pomegranate seeds
melon
kiwi
cherries
oranges
Keeping some variation of these things on hand gives me options when I'm ready to pack lunches and I usually try to vary the contents a little day to day so my girls look forward to seeing what's in there. My first grader has two snack times at school each day so I pack her extra snacks for those.
The other game changer for me when it comes to packing lunches is the metal compartmentalized lunchbox. I use the all-in-one lunchbag from Pottery Barn Kids – it's very similar to the popular PlanetBox but a good bit less expensive. It's only a single thing to put in the dishwasher at the end of the day instead of a jumble of containers and lids and it also gives me a little roadmap for lunch packing. I have to fill all the compartments and I like the puzzle of piecing it all together.
Now here's that week's worth of lunches, as promised! Just a few ideas to get you started.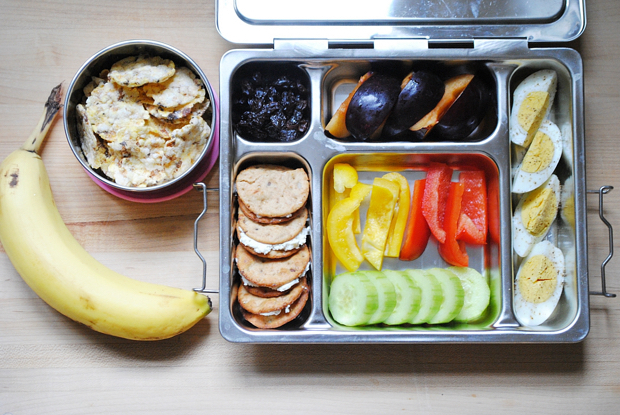 Snacks: popcorn chips, banana
Lunch: raisins, plum, hard boiled egg, cucumbers, red and yellow peppers, boursin cheese and multigrain cracker sandwiches.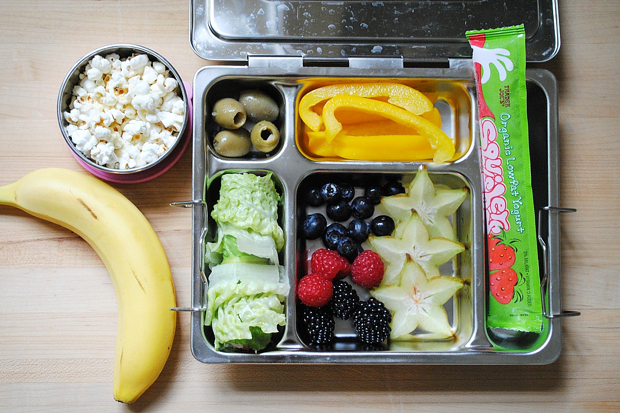 Snacks: popcorn, banana
Lunch: green olives, yellow peppers, yogurt tube, star fruit, blackberries, raspberries, blueberries, lettuce wrap with ham and provolone cheese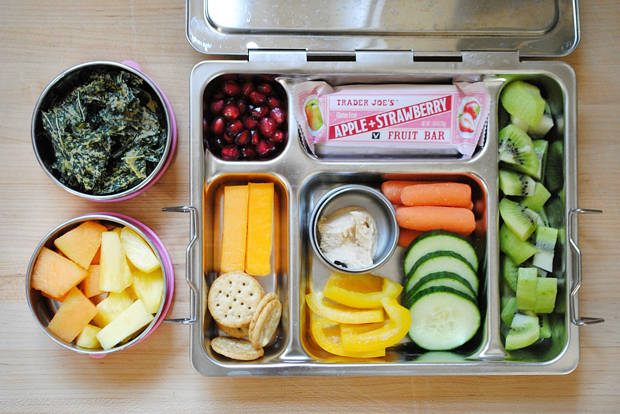 Snacks: kale chips, cantaloupe, pineapple
Lunch: pomegranate seeds, dried fruit bar, kiwi, cucumbers, yellow peppers, baby carrots, hummus, multigrain crackers, mild cheddar cheese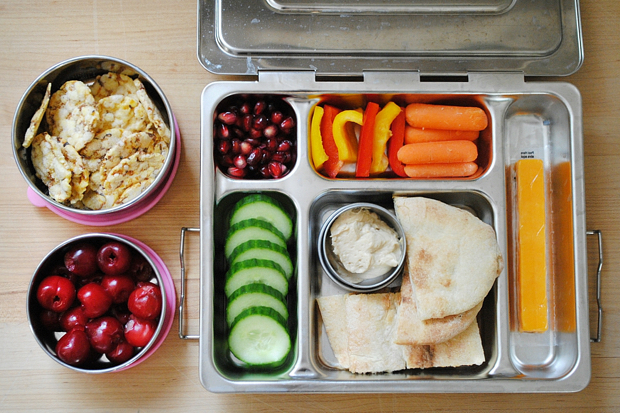 Snacks: popcorn chips, cherries
Lunch: pomegranate seeds, yellow and red peppers, baby carrots, mild cheddar cheese stick, naan bread, hummus, cucumbers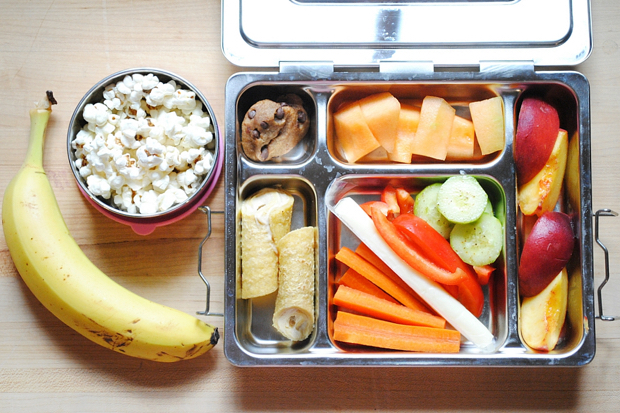 Snacks: popcorn, banana
Lunch: mini chocolate chip cookie (a Friday treat!), cantaloupe, nectarine, cucumbers, red pepper, mozzarella cheese stick, carrot sticks, hummus and corn tortilla wrap
I use this lunchbox most days though I do sometimes pack leftovers like soup or pasta in a thermos. Packing these little boxes has made my life so much easier though and most of the time I really look forward to packing lunches. My girls just have one box to open too instead of lots of little containers and they can see everything in their lunch at a glance. I've found their lunches come home completely eaten much more than they did when everything was packed separately.
What about you? Do you have any lunch packing tricks?