Last week I shared a week's (school week's) worth of easy, healthy lunchbox ideas. Today I'm honing in on the other hectic meal situation when school or work is happening – breakfast!
I do not like to eat the same thing for breakfast everyday. I also never ever skip breakfast unless I'm very sick. I wake up hungry almost every single day. When my girls were little we'd make pancakes, scones, muffins, waffles, eggs, whatever we felt like eating that morning. But when my oldest daughter, who is now in first grade, started school my breakfast world was rocked. I had a hard time figuring out a morning routine that included a good solid breakfast and still got us out the door on time. But over the past few years I've figured out a few standbys that meet my top criteria – some protein for staying power, fruit or vegetable included, and ready in about five minutes. Yep, FIVE MINUTES. Read on for a whole week's worth of healthy and, best of all, easy breakfast ideas.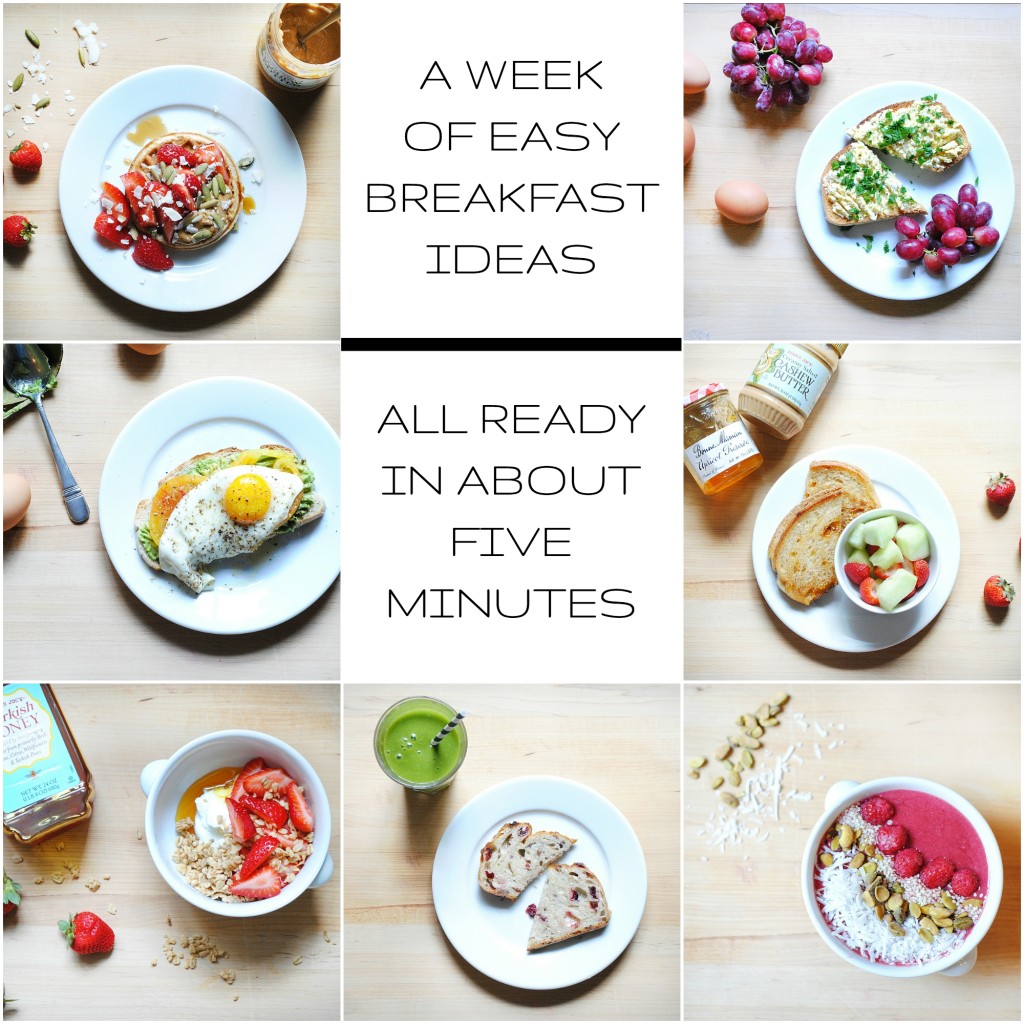 This isn't to say there aren't days that I don't grab a bowl of cereal or a granola bar. Some days are just like that. But I knew very early that I didn't want that to be the regular routine for me or my daughters. I've also noticed that I feel much, much better when I eat a breakfast more like what I have here.
I do have a few "secrets" to share that help keep this to five minutes. Part of where I found myself wasting time in the morning was standing in front of the fridge wracking my brain for ideas. I keep a list – literally a list – of fast breakfast ideas right in the kitchen now. So when I come down in the morning I look at the list and between what I feel like eating and what I have on hand I can make a quick decision about what I want to eat. There are also staples that I almost always have in the house and they make the breakfasts below both possible and super fast.
FROZEN
multigrain waffles
crusty bread
raisin pecan bread
mango
pineapple
bananas
spinach
strawberries
blueberries
raspberries
cherries
PANTRY
unsweetened coconut
pumpkin seeds
sesame seeds
cashew butter
apricot jam
honey
nuts
granola
FRESH
fruit
eggs
tomatoes
avocados
unsweetened yogurt
As you can see, most of the items on the list are either in the freezer or the pantry so they keep indefinitely and last for awhile. You need to replace them when they run out but as long as they're on hand you'll be good to go. Now here are the details on everything pictured above!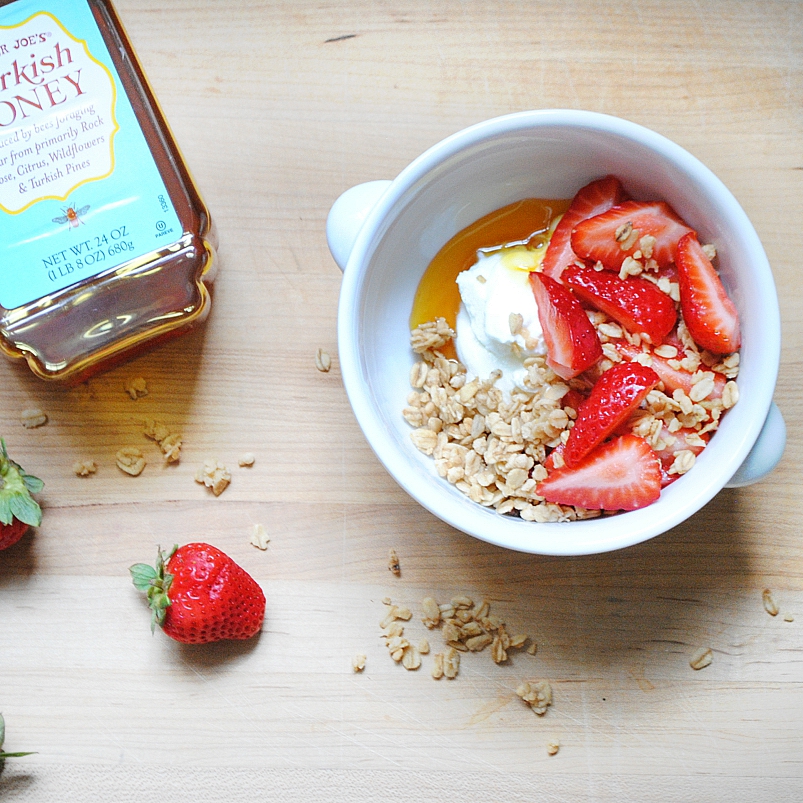 whole milk Greek yogurt, honey, strawberries, granola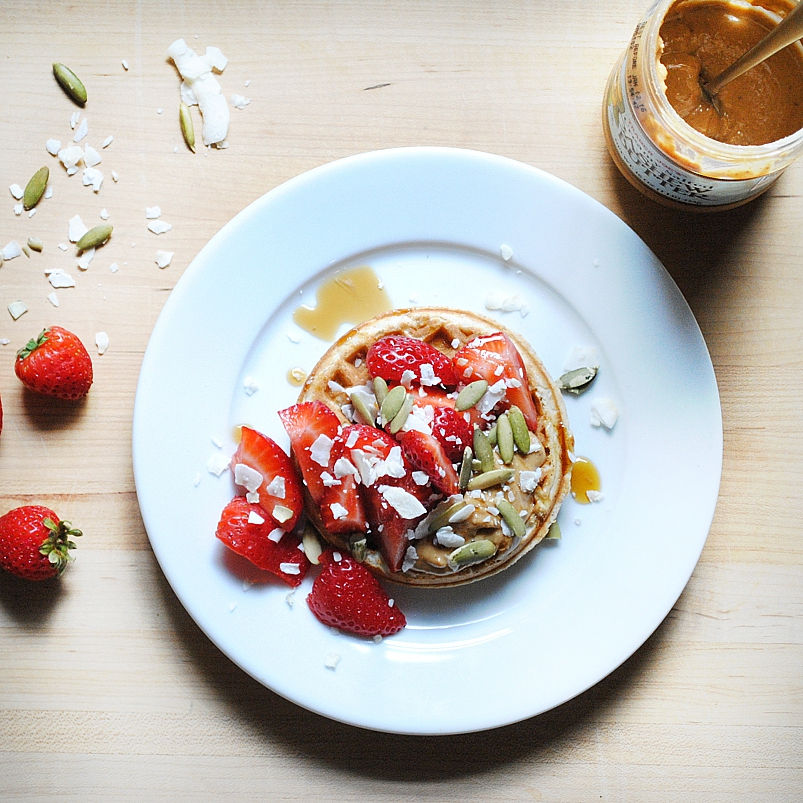 multigrain frozen waffle, cashew butter, maple syrup, strawberries, pumpkin seeds, unsweetened coconut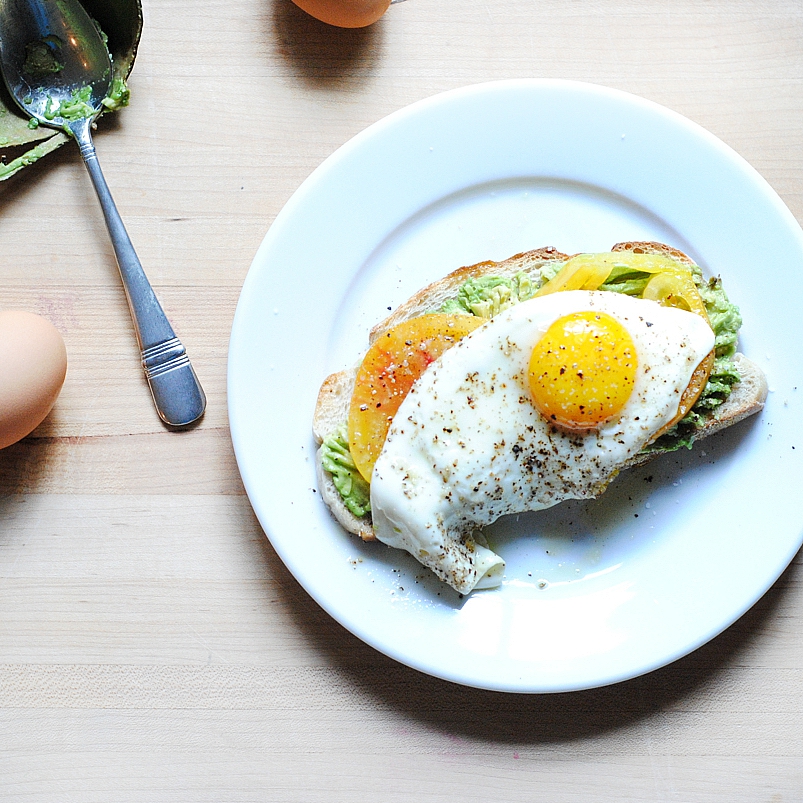 toast, avocado, olive oil, tomato, fried egg, salt, pepper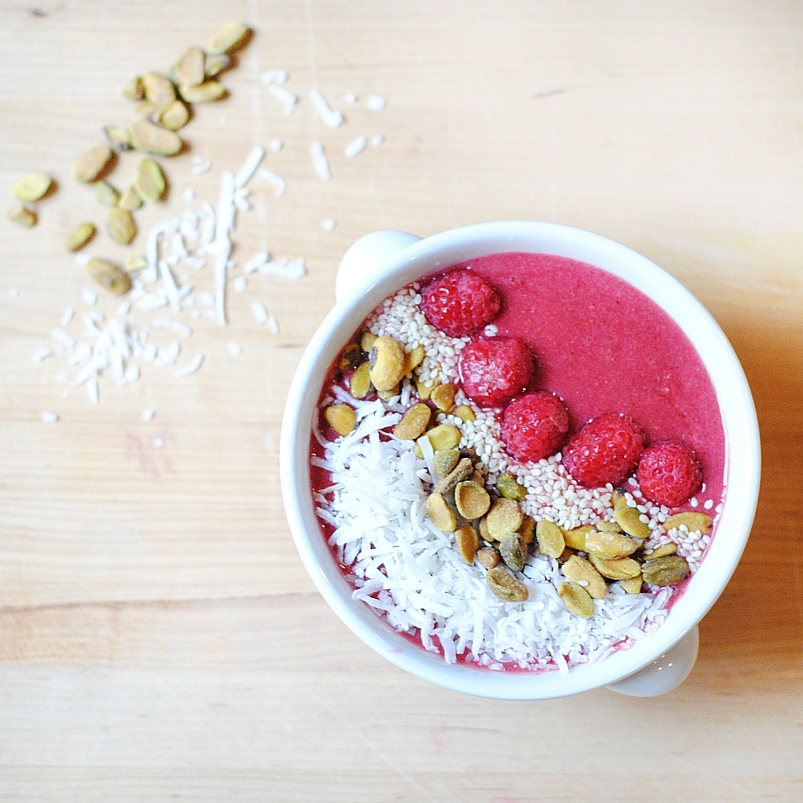 smoothie bowl with banana, strawberry, raspberry, blueberry, and cherry topped with unsweetened coconut, pistachios, sesame seeds, and raspberries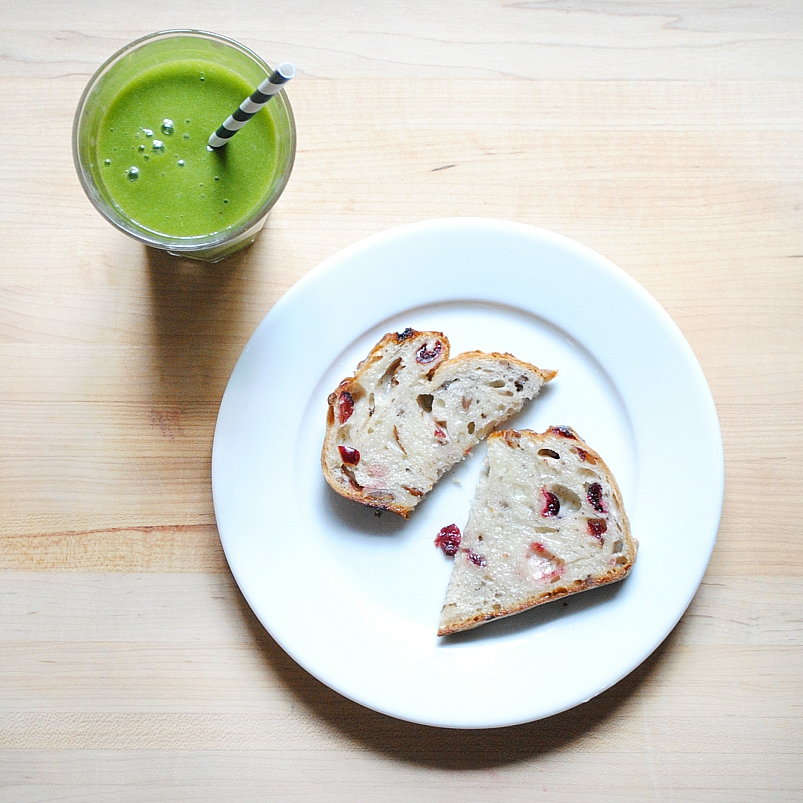 cranberry pecan toast and a smoothie with banana, pineapple, mango, and spinach (my absolute favorite!)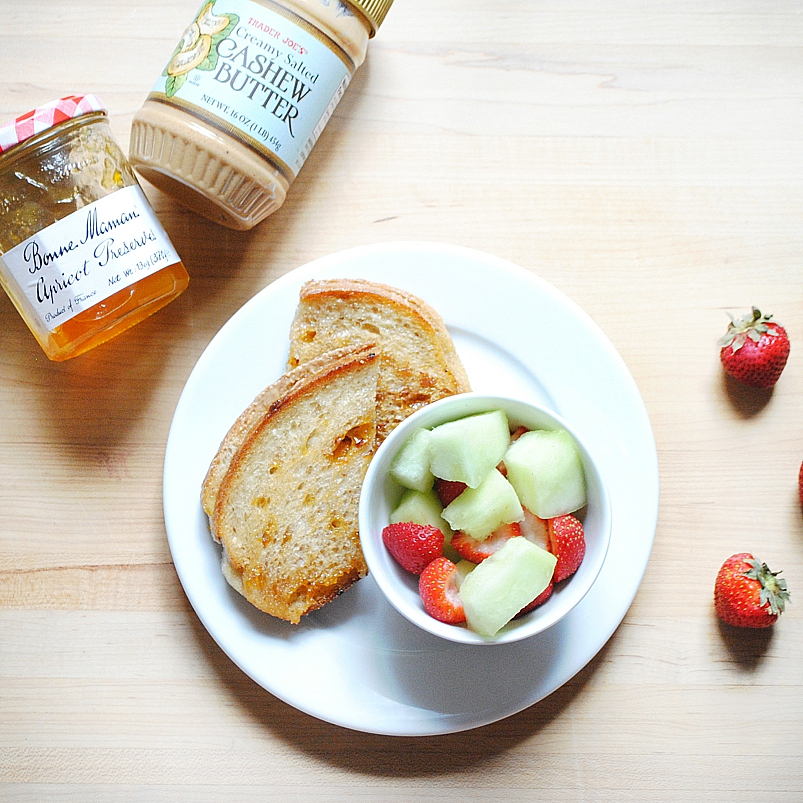 grilled cashew butter and apricot jam sandwich, honeydew, strawberries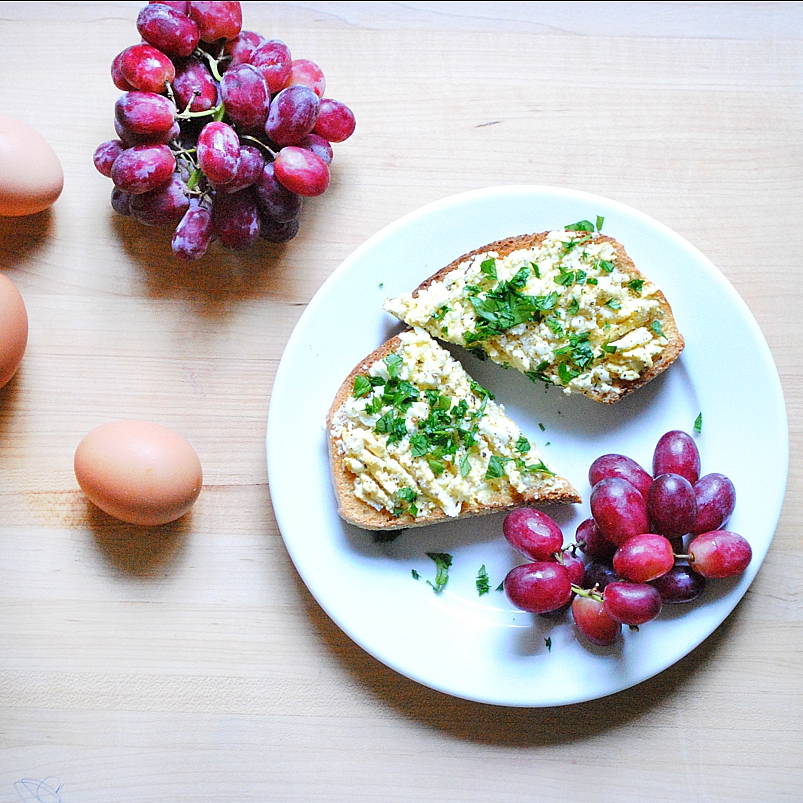 toast, hard boiled egg smashed with a little mayonnaise or yogurt and dijon mustard, salt, pepper, parsley, grapes
I promise you, every single one of these takes right around 5 minutes to throw together if you have the ingredients on hand. I also love my high-speed blender – it makes perfect smoothies in about 30 seconds.
Hope this helps you break out of the breakfast box if you're looking for some fresh ideas. And I'd love to hear yours if you have any breakfast favorites!