Is it soup weather yet where you live? Fall has most definitely hit New England, and even on the days when we've been getting nice summery weather in the afternoon, by dinnertime things have cooled and I am ready for a bowl of something warm! This homemade soba noodle soup is a twist on classic chicken noodle soup – such a great way to stick with something familiar but update it.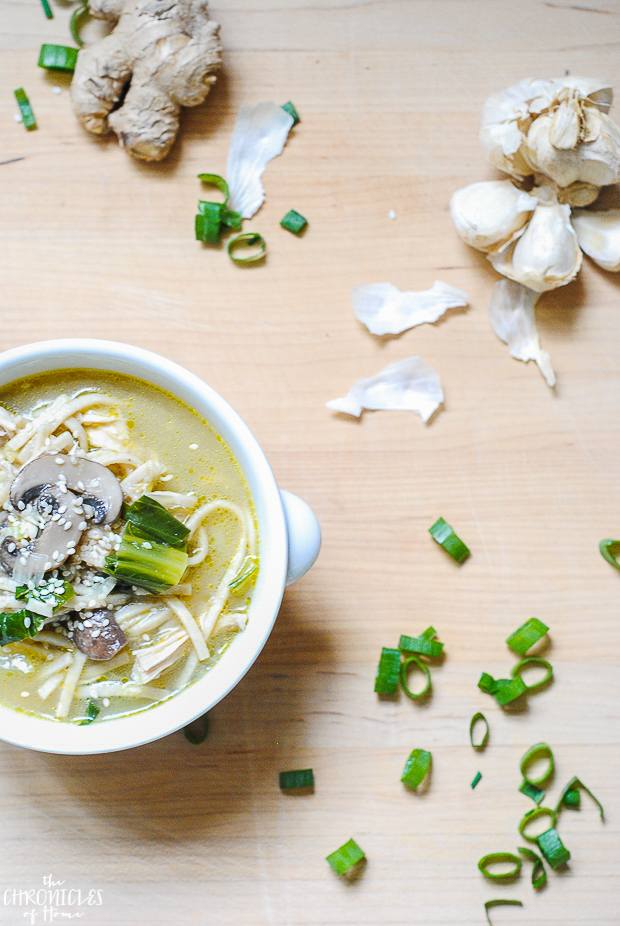 love these bowls – I use them for everything from soup to nuts…literally!
The recipe calls for both miso broth and chicken stock and the miso broth really adds a beautiful flavor layer, so I wouldn't substitute that if you can help it. You can also buy miso paste and mix with water to make your own miso broth. If you can't get it where you live, you can order miso paste (organic, gluten free, and non-GMO) from Amazon with free Prime shipping.
I found this soup hearty and warming but it still had a nice light, wholesome flavor. I'll be making this again for sure – I just might have a new favorite "sick soup." Something about this soba noodle soup tasted so restorative – I think the combination of ginger and garlic, which both have amazing health benefits. But I won't be saving this just for sick days! Hope you love it as much as I do.

Homemade Soba Noodle Soup
A simple, delicious, restorative chicken noodle soup, with asian flavors and soba noodles.
Ingredients
8 oz. soba noodles
2 tbsp. vegetable oil
1 medium onion, diced
10 oz. mushrooms, sliced (I prefer cremini)
3 cloves garlic, minced
1 tsp. fresh ginger, minced
4 c. chicken stock
4 c. miso broth
1 lb. boneless skinless chicken breasts
3 scallions
2 heads bok choy, chopped
Instructions
Cook the soba noodles according to package directions. Drain and set aside.
Meanwhile, heat oil in a Dutch oven or large pot. Add the onions and sauté until translucent, about 5 minutes. Add mushrooms, garlic, and ginger and sauté until mushrooms have started to brown. Season with salt.
Add chicken stock, miso broth, and chicken breasts to the pot and bring to a boil. Reduce heat, cover, and simmer until the chicken breasts are cooked through, 15-20 minutes.
Remove the chicken breasts and shred with forks.
Return the shredded chicken to the pot and add the scallions and bok choy. Cook until the bok choy has wilted. Add the soba noodles to the pot and stir to combine. Taste for seasoning and add more salt if needed.
Ladle into bowls and serve hot.