I haven't exactly been secretive about my new dining room rug. But then I haven't really showed it off in my dining room yet either. I talked about it in my post rounding up six of my favorite modern traditional rugs and mentioned it on Instagram here and here. Sometimes I feel like I am moving at a snail's pace updating this house, which is ironic because I'm constantly making to-do lists and jumping from project to project and battling the occasional (mmmm…maybe often is more honest) exhaustion from DIYing most of the house updates. I'll step back sometimes and look at a room and think, "My gosh, am I STILL not DONE in here?!" Which is how I was feeling about the dining just now with its lack of wainscoting, artless walls, and rather haphazardly styled built-ins.
But. I also plan to be in this house for a long time. I don't want to rush anything and make decisions I'll later want to reverse. Aaaaand…you guys…when I actually looked back at where the dining room was just a year or so ago I realized I actually have done quite a lot in here (a new light fixture, reupholstered chairs, new window treatments, grasscloth wallpaper on the walls, paint). Just take a look at the room fifteen short months ago.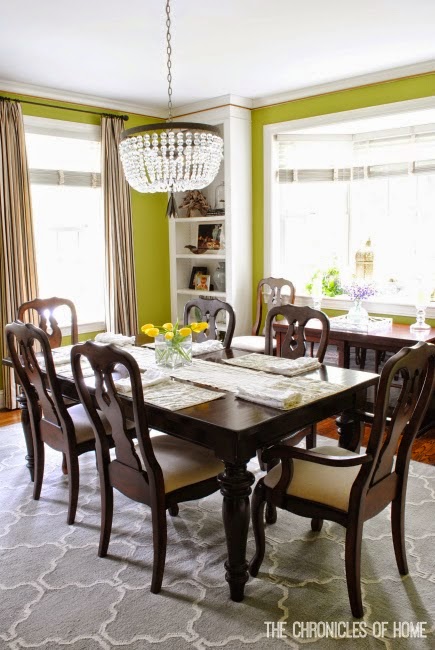 And here it is today.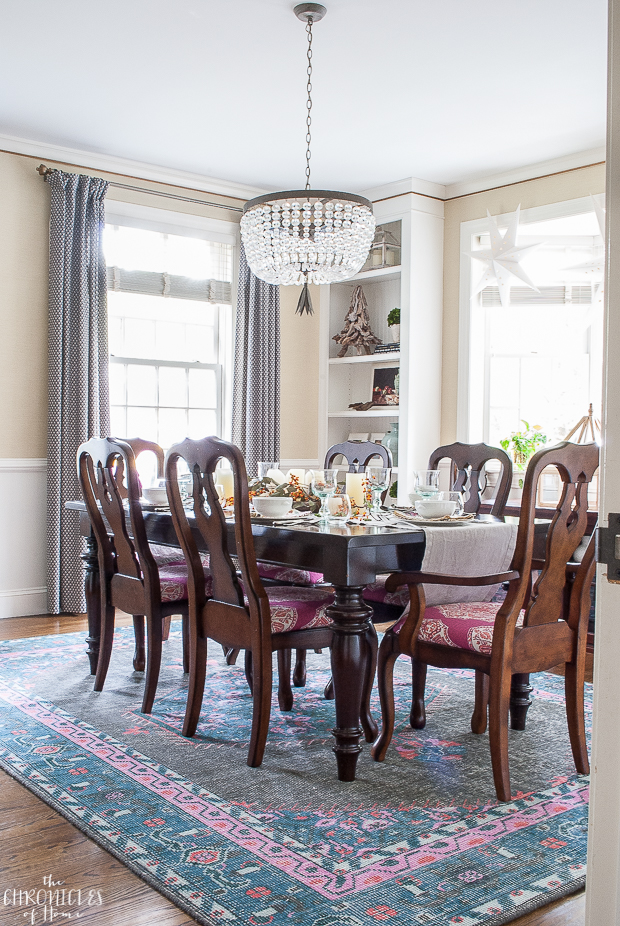 I've been stalling on finishing it up for a few reasons. I need to carve out the time to do the wainscoting below the chair rail. I'm also having major wall art phobia for fear of putting a hole in the grasscloth wallpaper. Truth be told, the one big wall in the dining room will probably stay empty until I am 1030% sure of whatever is going up there.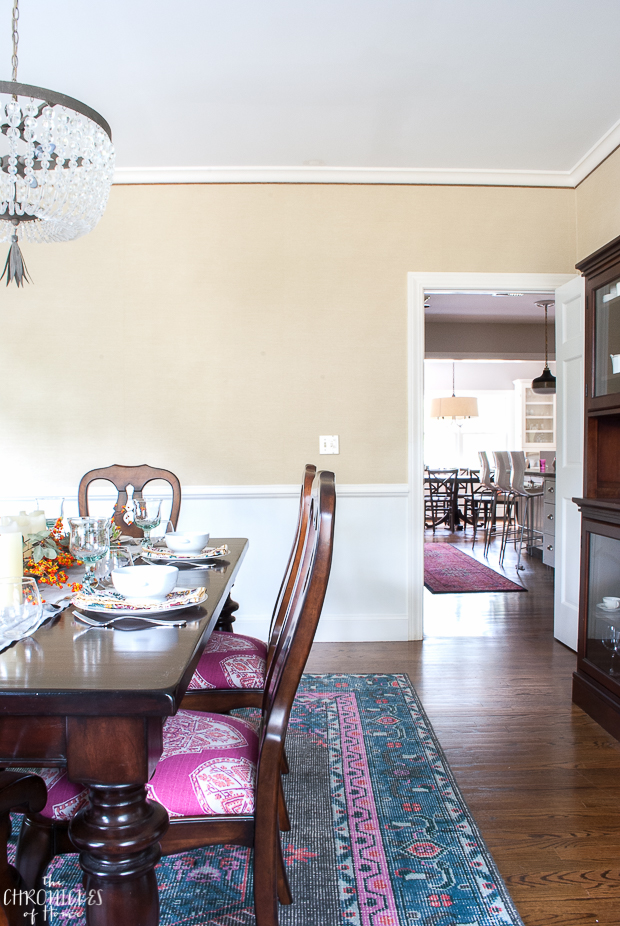 But the other piece that was holding me up was the rug. I really, really like the simple medallion one that I had in here (don't worry, it's been relocated to another spot in the house!) but ultimately I was feeling so drawn to something with color and pattern. And from the second I saw the Surya Zahra rug I was basically obsessed. Like I would maybe die if I didn't have it in my dining room. Then it was on backorder for 100 years. Actually more like 2-3 months but it felt like a hundred years because I just wanted this gorgeous, handmade, colorful goodness in my life as soon as possible. Patience is a virtue, patience is a virtue, patience is a virtue…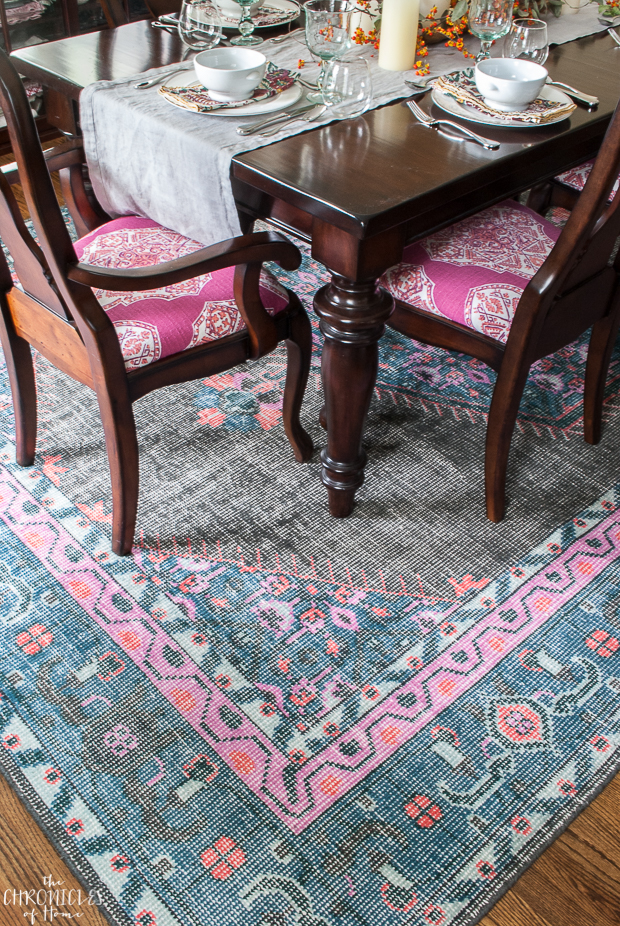 I was positively giddy when it arrived and I unrolled it and actually saw it in person for the first time. It was everything I'd hoped it would be and more. It basically snapped the dining room into the feel I wanted for the room. I realized recently that almost everything I do in the house is working toward this end goal of creating a traditional look with a modern edge. Not modern as in modern design – which can be beautiful, but isn't my aesthetic at all – but modern as in a modern take on traditional. And can you even get over the color palette – pink without being precious, blue somewhere between navy and teal, charcoal gray, and the perfect dashes of this punchy orangey red.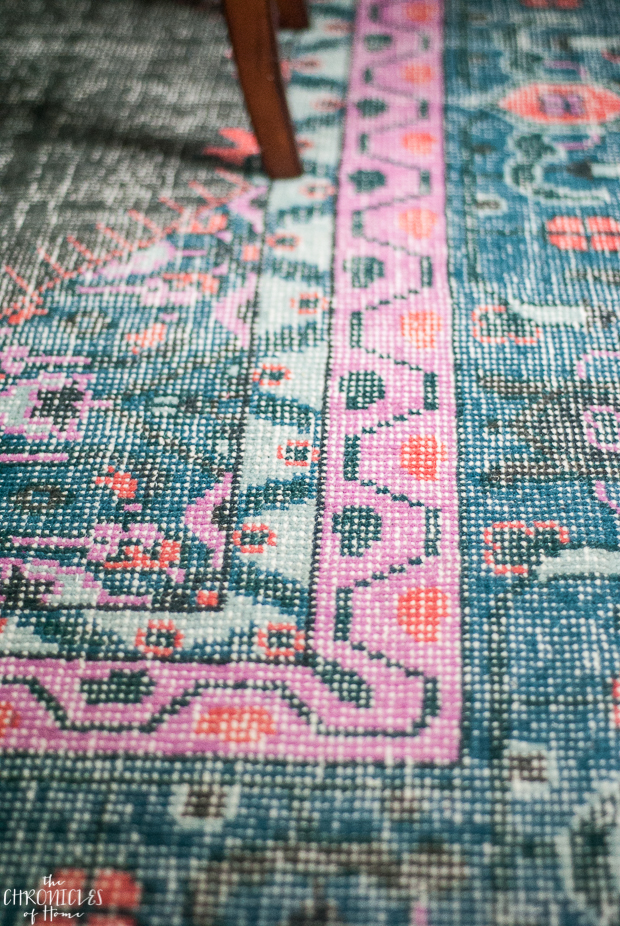 It was just the colorful kick that my traditional dining room table and chairs need. Of course, the pop of pink on the chairs doesn't hurt either :)
I have some great news for you too – right now ALL Surya rugs from Rugs Direct are 40% off. So this one in my dining room, as well as the same rug in all colors, as well as alllllll the Surya rugs. I am a big, big fan of Surya rugs in general – the quality is excellent. Oh and there's more – through the end of November you can get an additional 15% off by clicking on the Rugs Direct ad in my sidebar. Enter your e-mail address and Rugs Direct will e-mail you a coupon for 15% off. How great, right?! If you've been thinking of buying a new rug for any space in your house, now is a great time to do it with the combined savings.
Thank you to Rugs Direct for sponsoring this post. As always, I only share products and companies with you that I truly like. All ideas and opinions expressed are my own.