What do you think of when you see the word "bolognese" on a menu or in a recipe? Until about last year, I thought of bolognese as very red tomato sauce with meat in it that rather thickly coated a plate of pasta. And I found nothing wrong with that, in fact I had a standby bolognese sauce I'd make that was ready in 30-40 minutes. And it was good. But not amazing. When my friend, Michelle, introduced me to this authentic, traditional bolognese sauce she'd had in a restaurant in San Francisco it basically rocked my world. I'm not sure I can go back to the old sauce-y bolognese now that I've experienced the richness and depth of flavor in this traditional bolognese.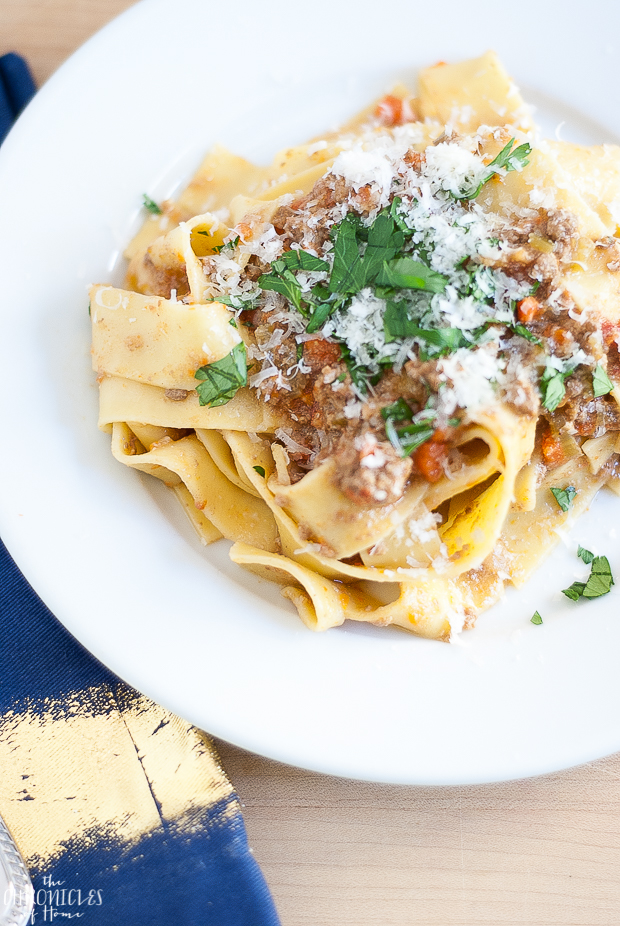 This bolognese doesn't coat pasta like what you may be used to. It kind of mingles with it. It's more meat than sauce really, as most of the liquid cooks off while it's simmering. It doesn't have the crushed tomatoes of most American bolognese recipes, but uses canned diced tomatoes instead. For the liquidy parts of the recipe it calls for milk and white wine, which may sound odd but is actually the more authentic way to prepare bolognese. And it is glorious.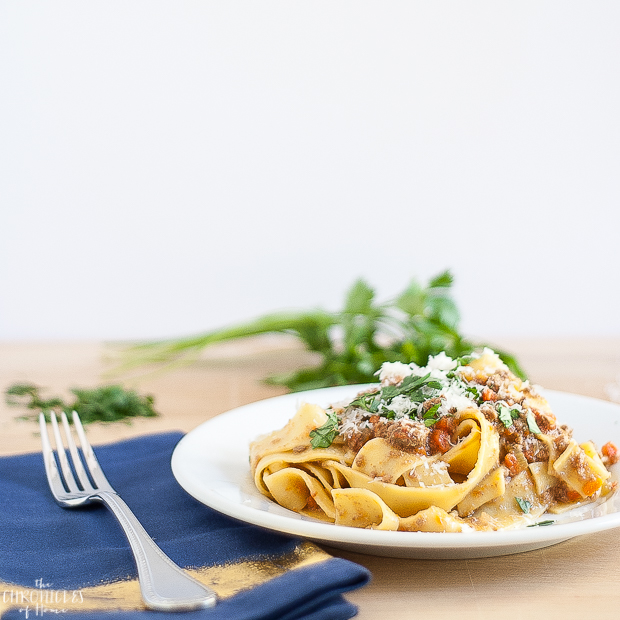 The ingredients are sort of deceptively simple. There is so little in the recipe I definitely thought, "How good can this be?" the first time I made it. But it is just beyond good. Those few simple ingredients are just matches made in heaven. Food heaven. Bolognese heaven.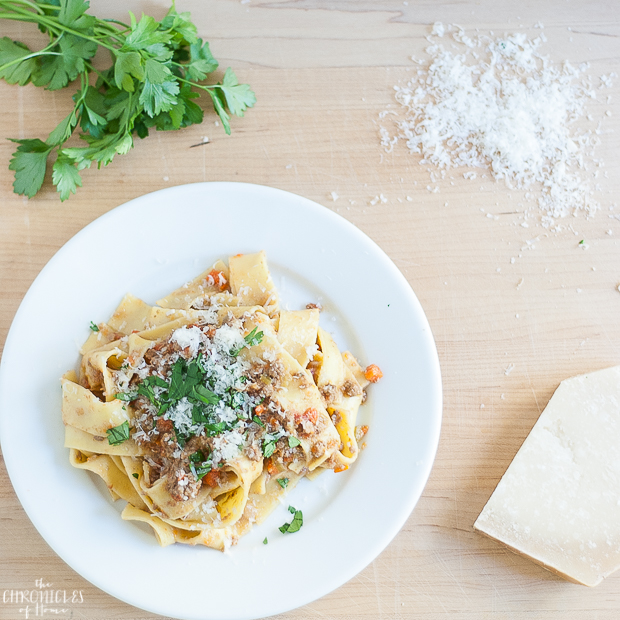 Part of what makes this bolognese out-of-this-world special is the long cooking time. Do not be afraid. You will not be standing in the kitchen for 6-8 hours. The sauce will cook that long, but you will only need to put in 30-40 minutes of active time. After that you just pour bits of things in every now and then. I've even left the house while it's cooking. You can stir every now and then but it's a really low maintenance sauce to make.
The recipe here makes enough for three pounds of pasta. Feel free to cut it down, but I always make it in this big portion so I can split it into thirds and keep a couple batches in the freezer. I promise you, it is so very, very worth the wait.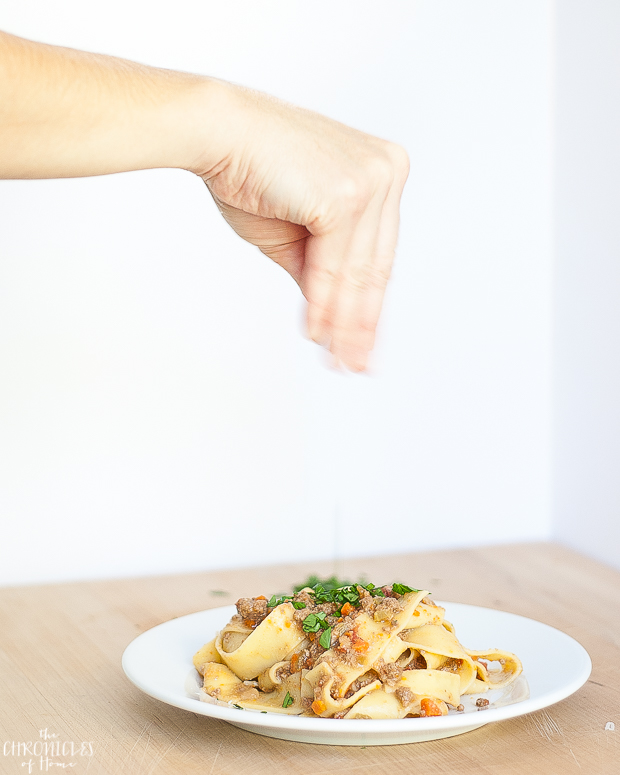 The BEST Traditional Bolognese Sauce
A rich, complexly-flavored traditional bolognese sauce that cooks all day but requires very little hands-on time in the kitchen. Simply amazing.
Serves:
enough for 3 lbs. pasta
Ingredients
½ c. butter
½ c. olive oil
2 c. yellow onion, diced (about 3 medium-large onions)
3 c. carrots, diced (about 8-9 large carrots)
3 c. celery, diced (about 9 large stalks of celery)
1 lb. ground beef
1 lb. ground pork
1 lb. ground lamb
4½ c. milk (I use whole milk)
4½ c. white wine
2-28 oz. cans diced tomatoes
Pappardelle pasta, cooked according to package directions
Freshly grated Parmesan cheese
Chopped parsley
Instructions
In a large Dutch oven melt the butter with olive oil over medium heat. Add the onion and a large pinch of salt. Sauté until the onion is translucent, about 10 minutes. Add the carrots, celery, another pinch of salt, and cook until they have lost their crunch, about 10 more minutes.
Add the beef, pork, and lamb, sprinkle with salt, and cook until all the pink is gone, chopping up with a wooden spoon (or potato masher!) as it cooks. Add the milk, bring to a boil, then lower the heat and simmer for about an hour and a half. It will look curdled - this is okay. Stir occasionally if you happen to walk by and think of it.
Add the wine and simmer another hour and a half, again stirring every now and again if you're in the kitchen.
Add the tomatoes and stir to combine. Reduce heat as low as it will go, and cook for 3 hours. Stir occasionally if you can.
Cook the pasta when you're getting ready to eat. Add the sauce to the cooked pasta and stir gently. Top with Parmesan cheese and parsley if desired.