My husband bought a Panerai watch and he loves it, so I thought I'd treat myself to a new watch!! If I told you there was a product out there that absolutely perfectly blends my love of woodworking with my love of fashion, what would you think I was talking about? Carpenter skinny jeans? Fine leather toolbelt? A golden saw? Can you even imagine?! As far as I know, none of those things exist, but what do exist, and what do mix woodworking and fashion just gorgeously, are wood watches made by Jord. And I have some insider information on deals coming up on these fabulous watches, so keep reading!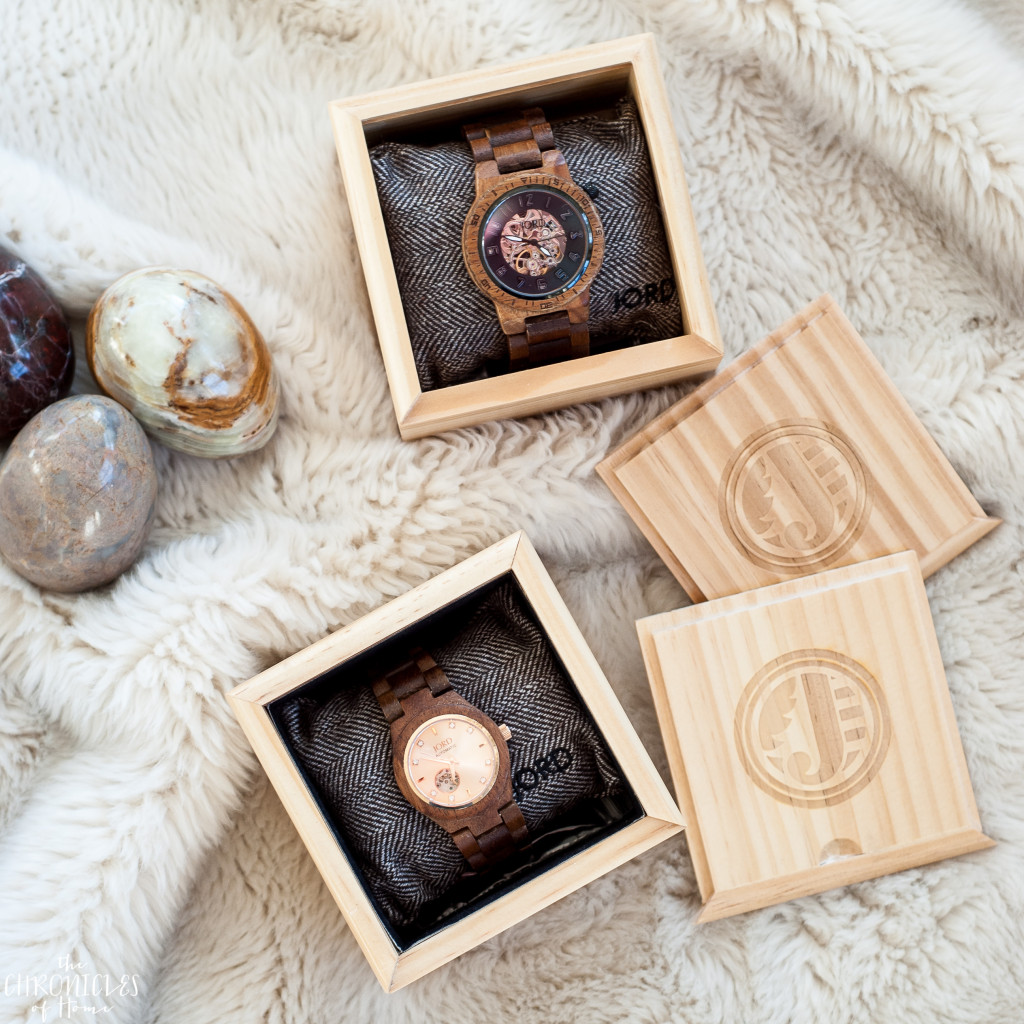 These watches are absolutely breathtaking. The craftsmanship is top notch and there's definitely a cool factor that other watches just don't have. The styles are classic but the use of wood as the material for the bands has an undeniable modern edge. I can't tell you how many comments and compliments I get every time I wear the watch, and how many times people have said, "Wait, is that wood?!"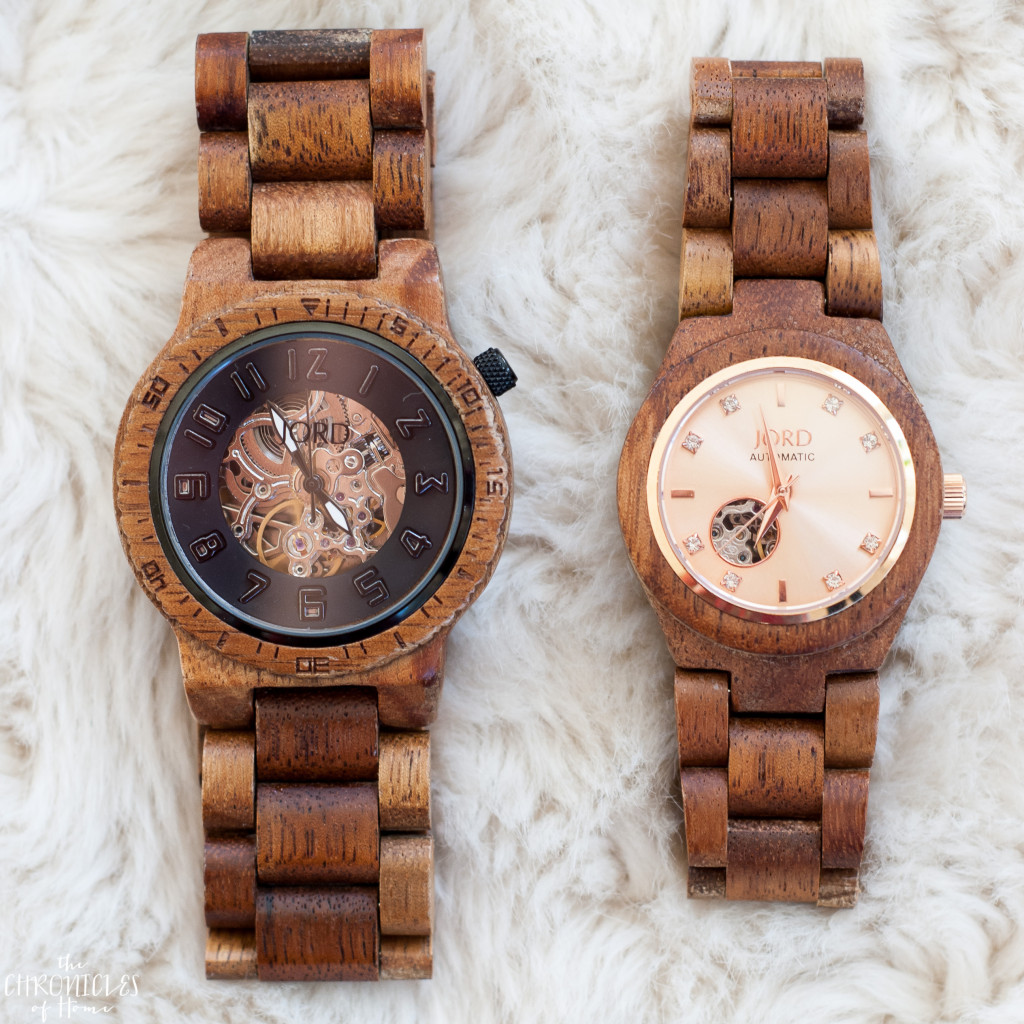 Scott's been wearing the Dover watch in Koa and Black. The size is perfect – chunky but not too oversized – and the visible gears are such a cool feature.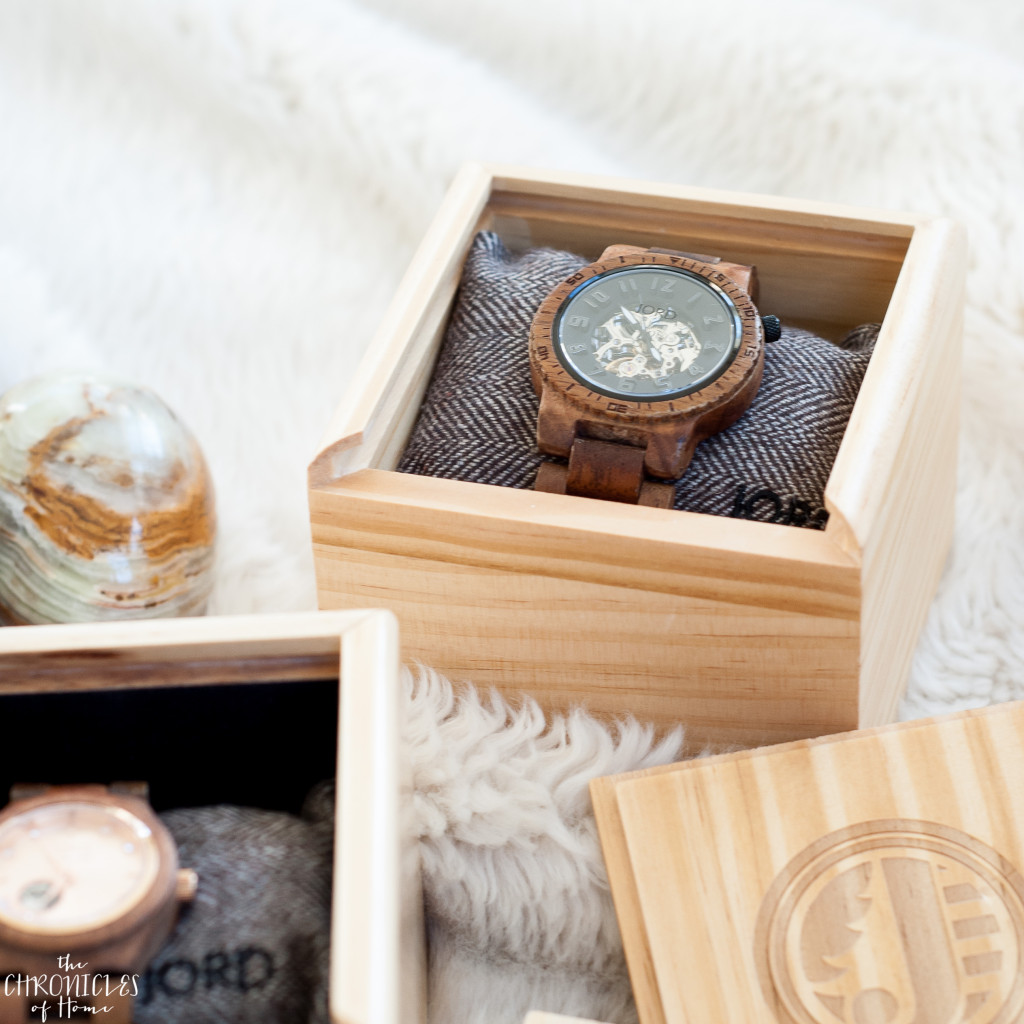 I have the Cora watch in Koa and Rose Gold. The rose gold color is stunning and works so well with both silver and gold jewelry. I haven't found an outfit yet that the watch doesn't look great with. I love the swarovski crystal markers too – such a fun touch of sparkle.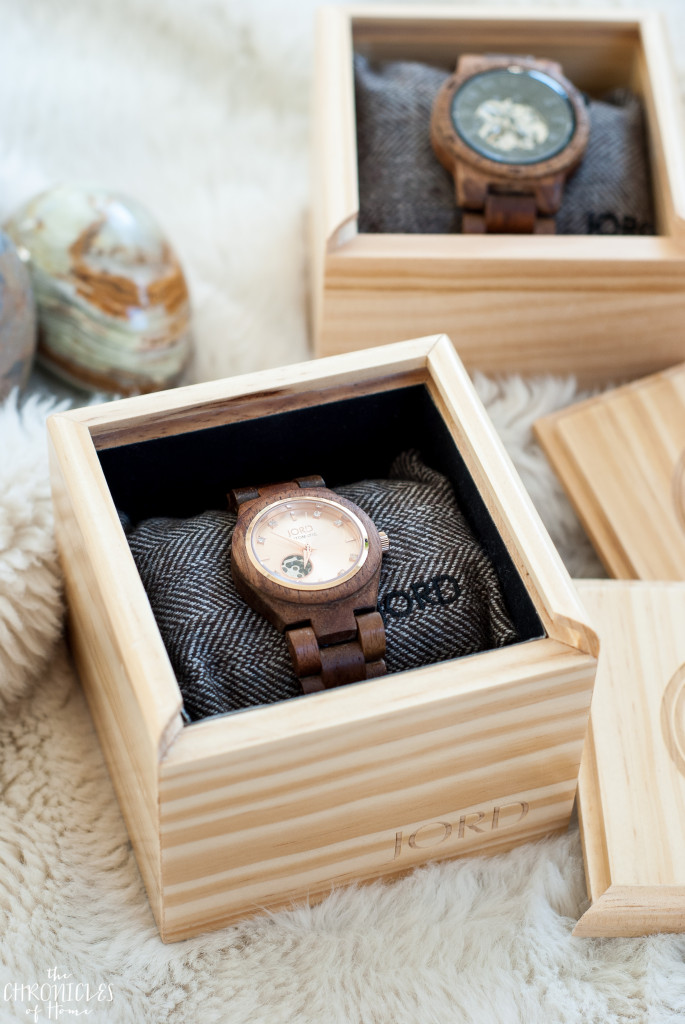 The watches dress up or down beautifully. I don't wear it when I am actually working on carpentry projects, but I wear it with everything from jeans to dresses otherwise. Scott and I snapped a few photos last weekend on our way out to see Elf, the Musical as an early birthday gift for our girls.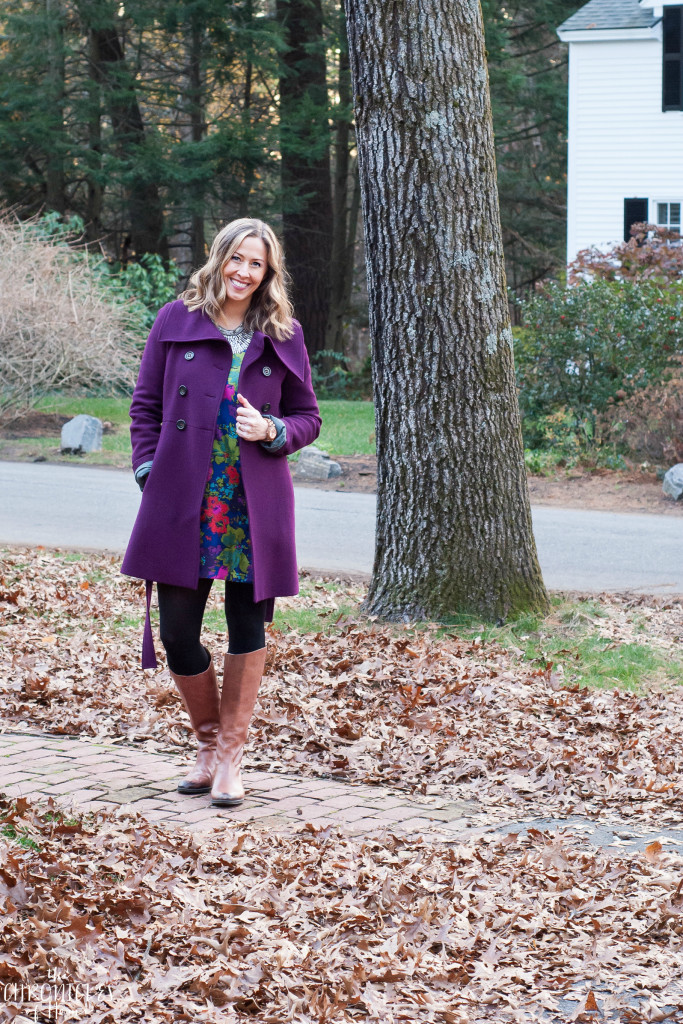 Most of what I'm wearing here is several years old, but the boots are still available, and are one of my favorite wardrobe staples. Much like the watch, I wear them with everything from jeans to dresses! This is a great example of how the Cora watch in Rose Gold is striking, but still neutral enough that it doesn't compete with a colorful outfit.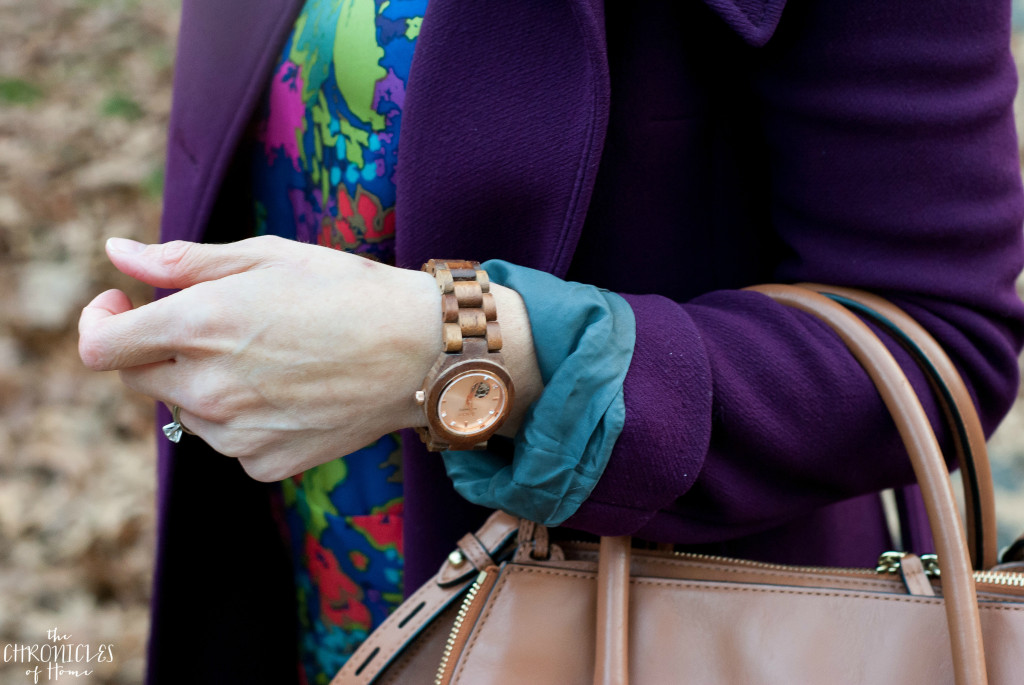 Scott's watch really goes with everything – just like me, he wears it with jeans on the weekends and with dress clothes to work.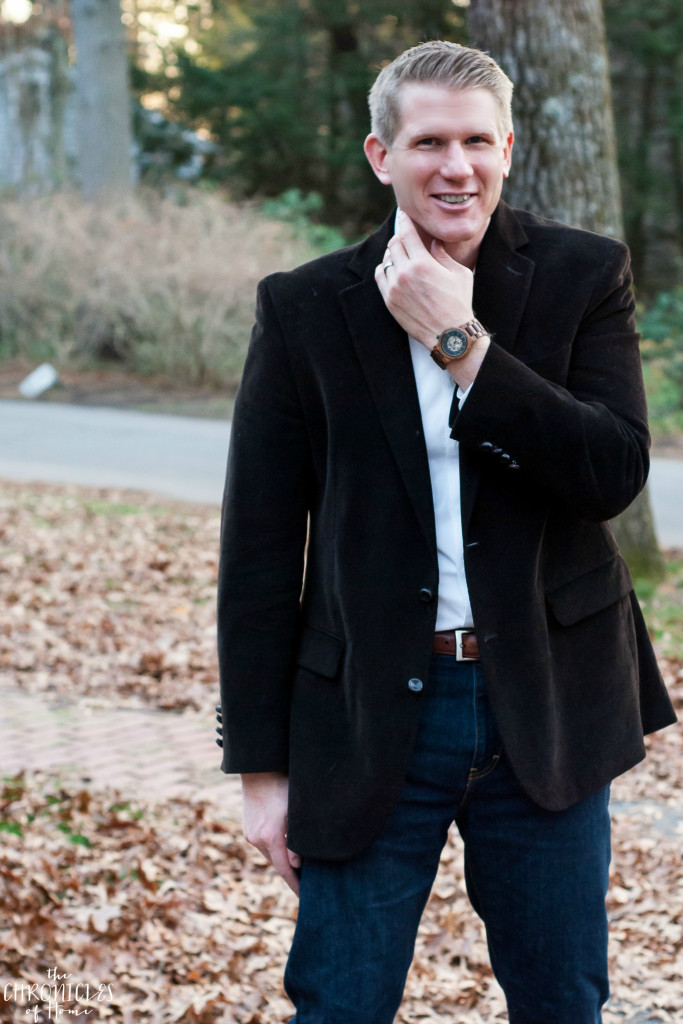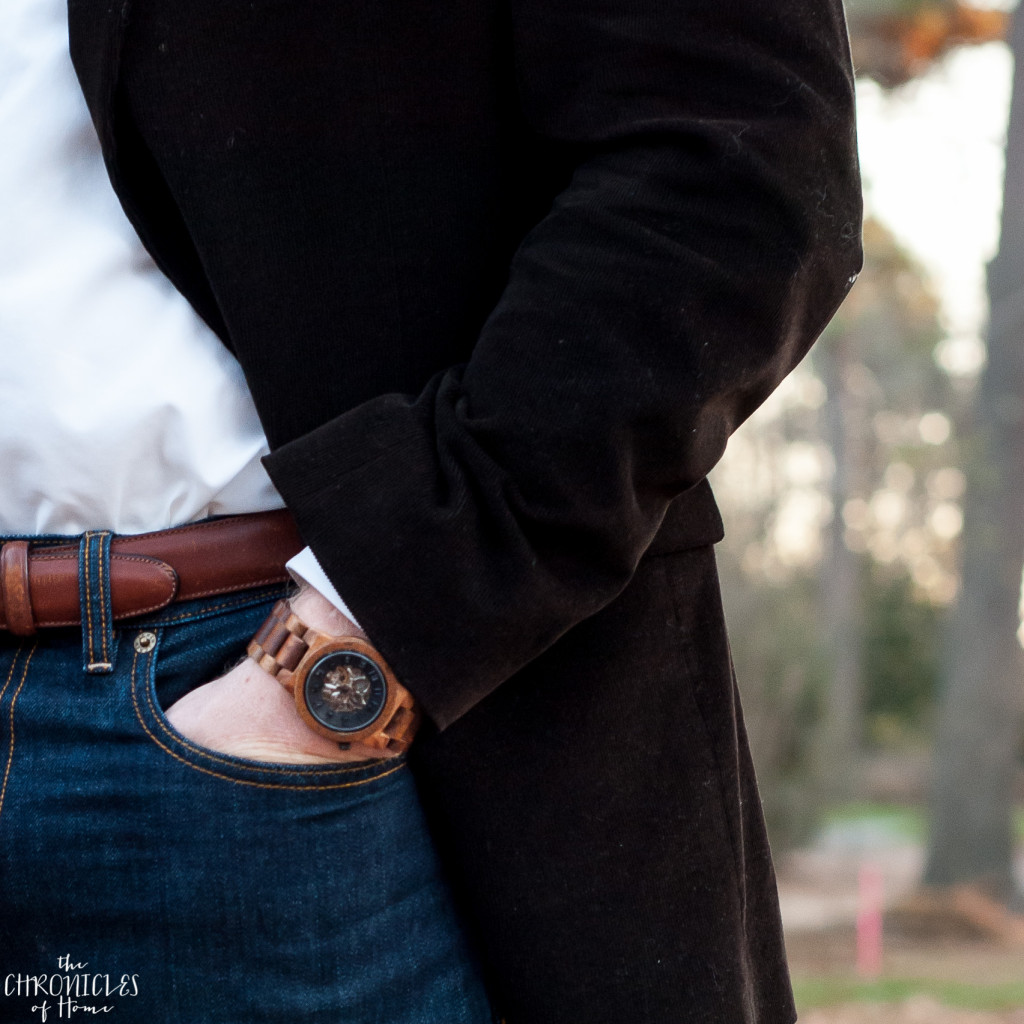 Now…remember those deals I mentioned at the beginning of this post? I have it on good authority that there are some Black Friday deals that Jord is going to be offering to their newsletter subscribers sometime tomorrow. To sign up, scroll to the bottom of the homepage and enter your e-mail address in the text box. But do it soon so you don't miss their specials!!

How amazing would one of these watches be as a holiday gift? While a watch is certainly a classic holiday gift, these wood watches are so unique they would be a really beautiful and unexpected timepiece to give as a gift. I am such of their classic, artisan look and know Scott and I will continue to wear our watches regularly for many, many years to come.
Jord sent me two unique watches to try out and review, but all ideas and opinions about them are sincere and my own.