Can I tell you how many times I typed then deleted then typed the word "healthy" in the title Heathy Pumpkin Muffins? A lot. Sometimes I struggle with using the word "healthy" because nowadays there are SO many different definitions of what "healthy" means. But ultimately, I left the healthy in there. I don't think healthy has to mean vegan, or whole grain, or paleo. For me it means good, real ingredients. And this recipe has those. In fact, all my recipes have those. And for those who eat only whole grains or use honey to sweeten, you just sub in for the listed ingredients and this will fit your eating style. So here we go…healthy (and drop dead delicious) pumpkin cranberry muffins.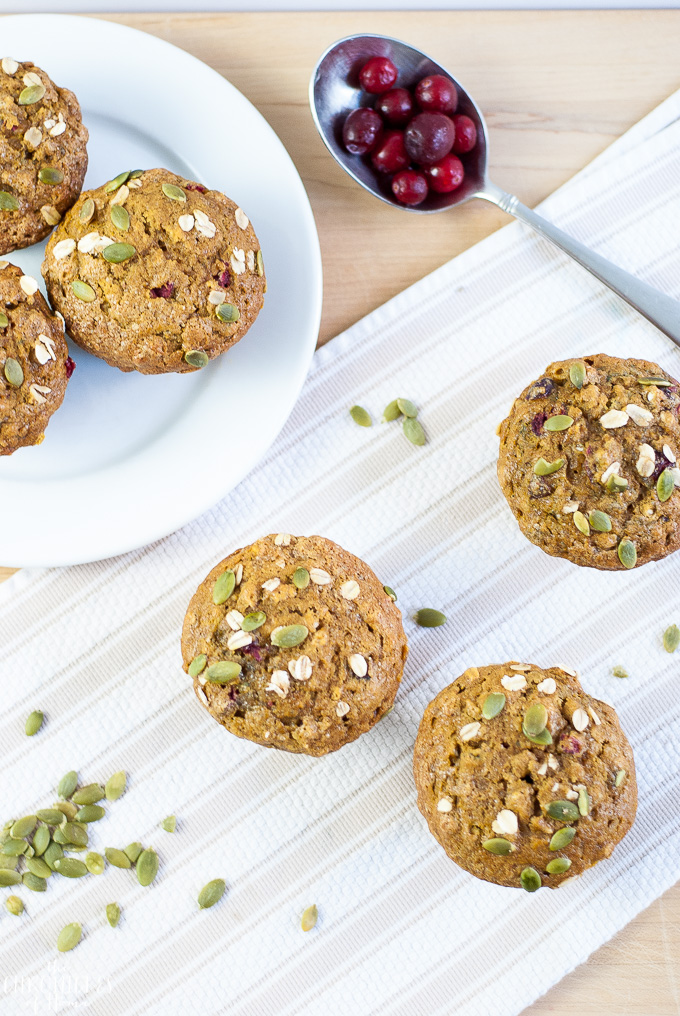 How perfect would these muffins be for Thanksgiving breakfast, or anytime Thanksgiving weekend if you're having houseguests? Though I have been eating lots of them the past few weeks and think they will carry me straight through fall and winter without needing a holiday occasion to make them! They are perfectly spiced and have this lovely complex background flavor from coconut oil, though they don't have an obvious coconut flavor. The sprinkling of raw pumpkin seeds and oats on top are the prettiest finishing touch, and lately, I swear pumpkin seeds make everything better. I eat them by the handful.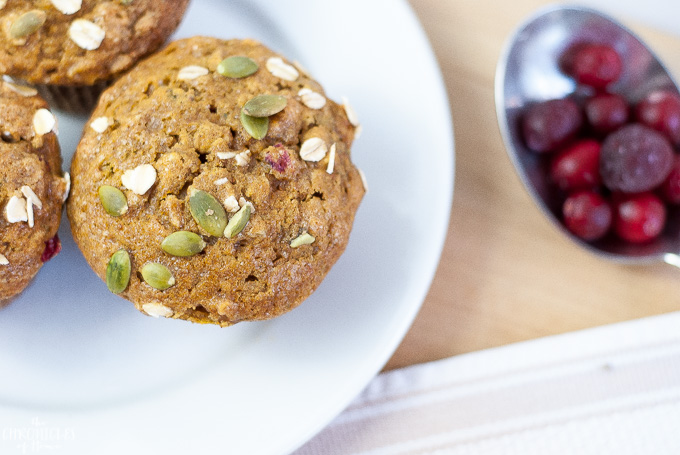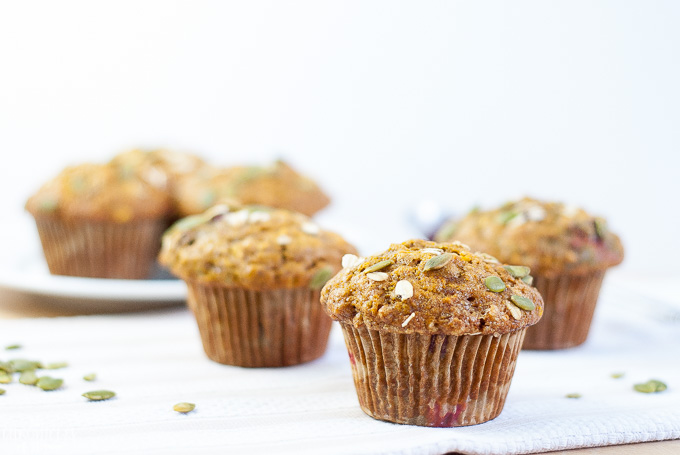 The addition of cranberries is reminiscent of a blueberry muffin, and their tartness is such a nice complement and counterpoint to the richness of the pumpkin.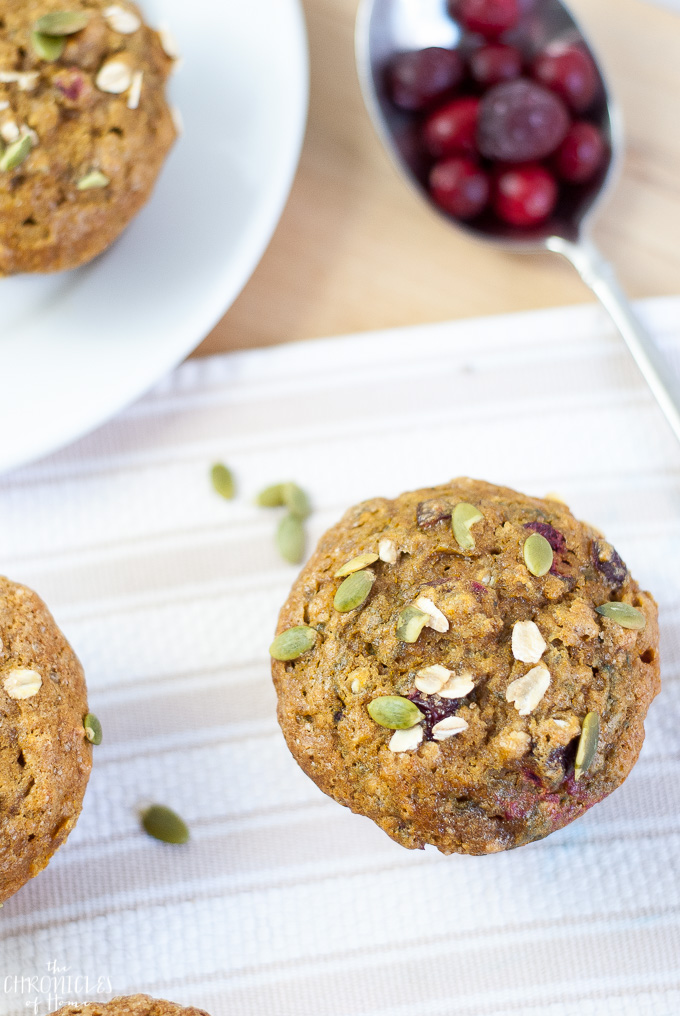 Muffins are one of our favorite weekend breakfasts around here. They only take a few minutes to stir together and then they're out of the oven, warm and ready to eat, by the time you've finished your first cup of coffee.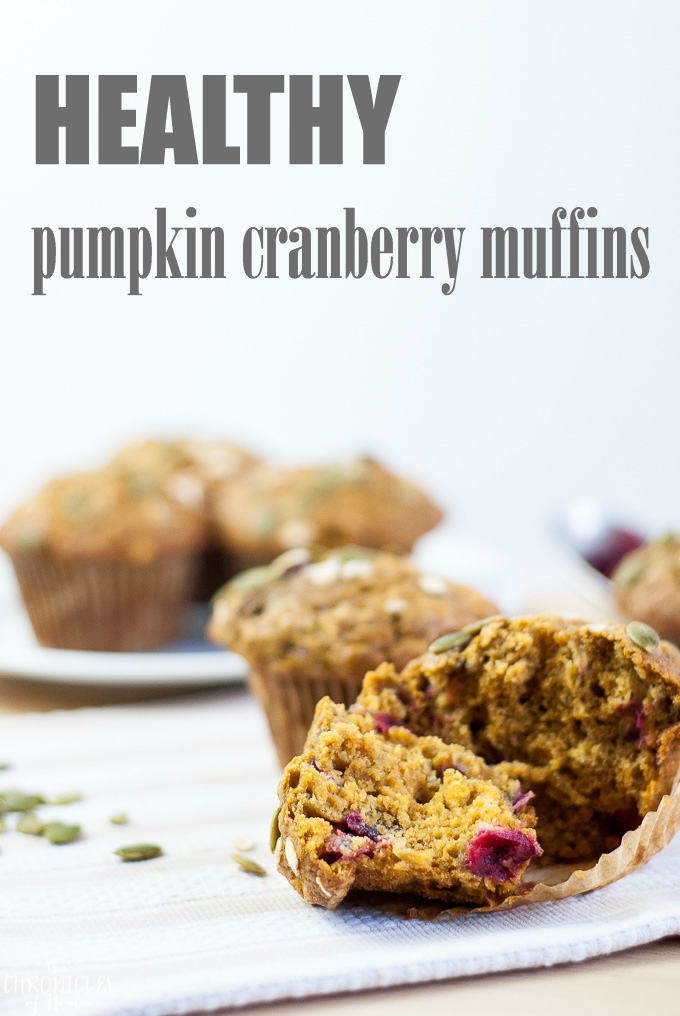 Healthy Pumpkin Muffins with Cranberries
Heathy, sweet, tart, rich, spiced pumpkin muffins with cranberries and oats.
Ingredients
½ c. coconut oil, melted and slightly cooled
¾ c. dark brown sugar
3 eggs
15 oz. can pumpkin
¼ c. buttermilk
1½ tsp. vanilla extract
1½ tsp. baking soda
¾ tsp. salt
¾ tsp. ground cinnamon
¾ tsp. ground ginger
¼ tsp. allspice
2⅔ c. flour
½ c. oats
1 c. fresh cranberries, coarsely chopped
raw pumpkin seeds and extra oats for garnish
Instructions
Preheat the oven to 350º.
Whisk the coconut oil and brown sugar in a large bowl. Add eggs, pumpkin, buttermilk, and vanilla and whisk until smooth.
In a medium bowl, whisk the baking soda, salt, cinnamon, ginger, allspice, flour, and oats to combine. Add the cranberries and toss to coat with the flour mixture.
Pour the dry ingredients into the wet and fold with a rubber spatula until just combined.
Scoop into lined muffin cups - fill all the way to the top of the cups for large muffins or about ¾ of the way for medium-sized.
Bake for about 30 minutes, until a toothpick comes out mostly clean. Cooking times may vary a bit (I cooked on convect).