Yesterday I started wading into Christmas waters with the free Christmas printable I offered you, and today I'm back with a more generic fall/winter vignette, inspired by products available at Gordmans, which is both a brick-and-mortar store chain and a website that offers discounted home goods, clothing, accessories, toys, and more. Gordmans organized a blog hop to show a few different ways you can use some of their home decor goods to help with your decorating this fall and winter. I have the full blog hop lineup at the bottom of this post, but make sure to stop by Sabby Style, the stop before me on the tour, and see how she cozied up her bedroom.
There aren't any actual stores near me so I did all my shopping online, and unfortunately most of the items I picked up are no longer available. But that just goes to show how great the prices are and how fast things move, so if something catches your eye, make sure you don't wait too long to snap it up! Gordmans is offering all of you 20% off right now when you click this link, so there's a little extra incentive to poke around and pick a few new things for your home :)
Ready to see how I put my Gordmans finds together?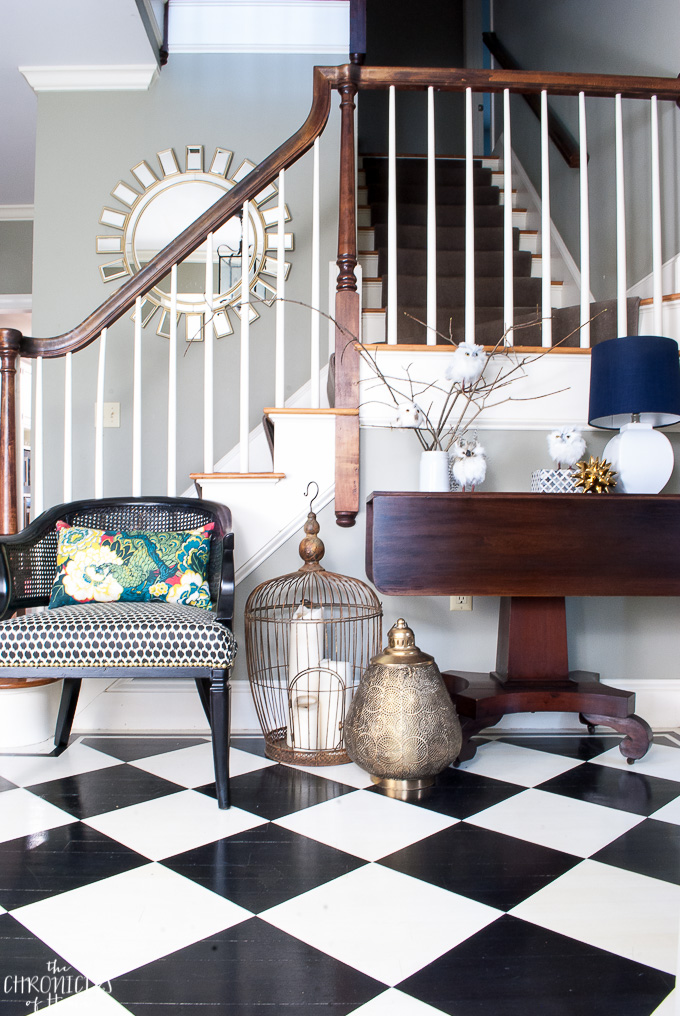 This is the view when you first walk in my front door, and one of my favorite spots in the house to decorate. I kept things pretty simple, using items I already had and mixing in a few new things from Gordmans – a classic white lamp with a navy blue lampshade, a brass candle lantern, and the cutest little white owl figurines you ever did see.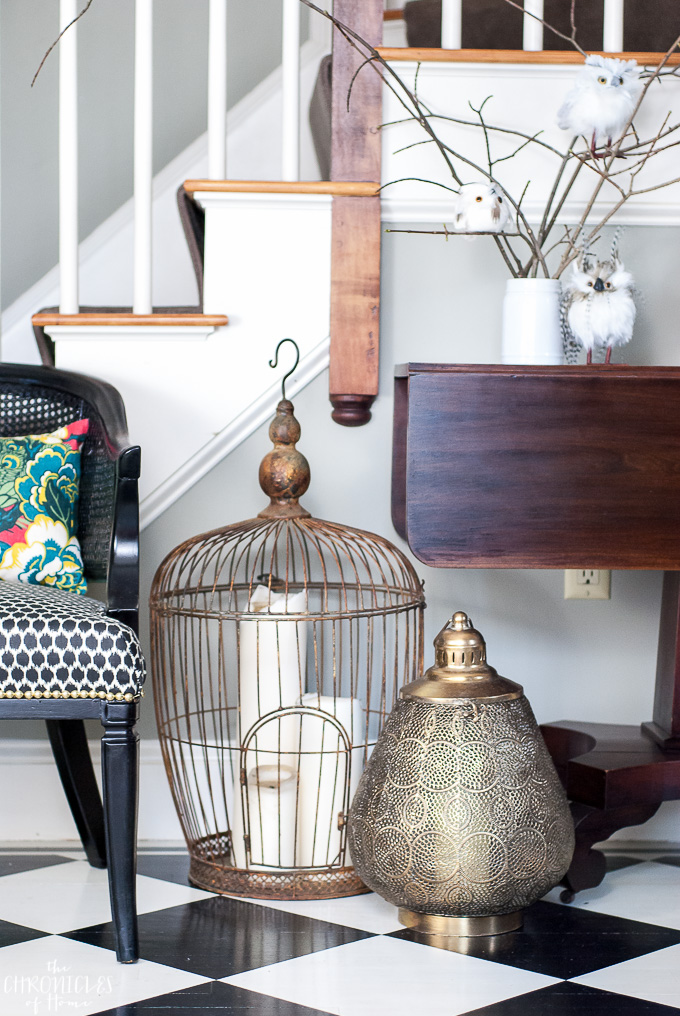 That black and white cane chair was a free castoff I snapped up a few years ago – you can see how I redid it here.
The lamp may be my favorite item out of the Gordmans finds. This particular one is no longer available but Gordmans still has a great collection of lamps to choose from. I love the white porcelain, its classic shape, and the navy lampshade has a subtle but really nice woven texture to it.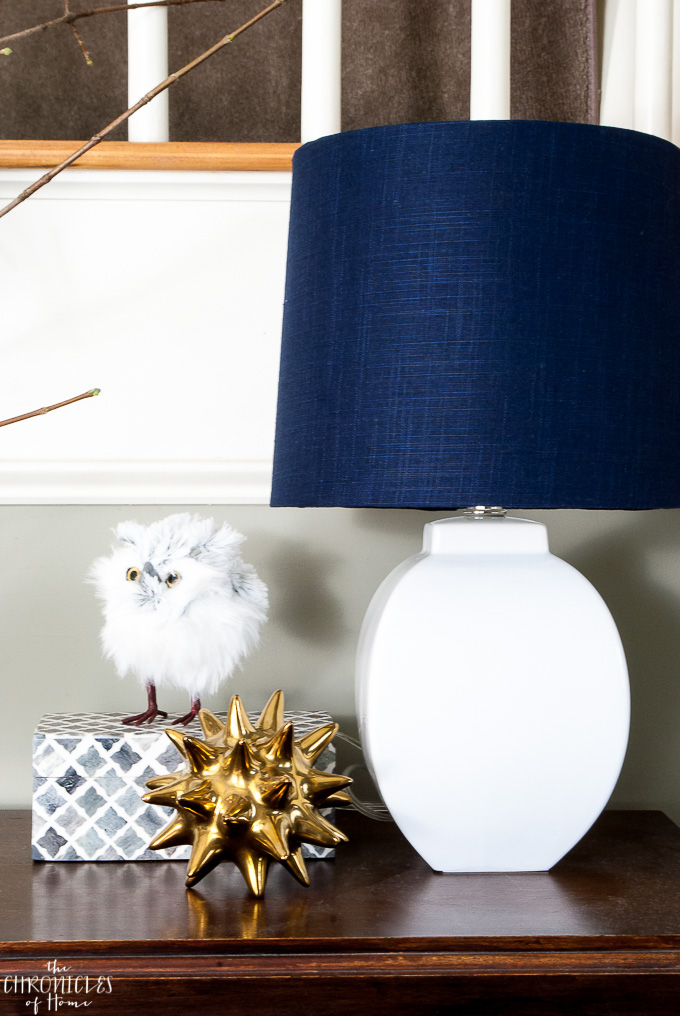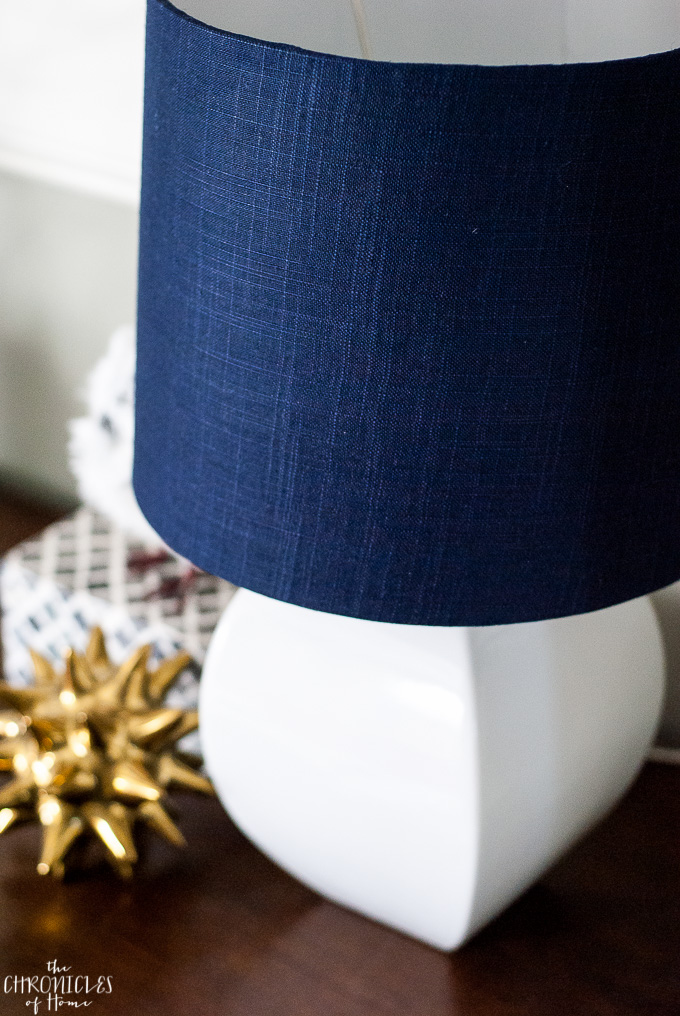 The gold lantern is so pretty in and of itself, but when you light a pillar candle inside at night it gives off the softest, most lovely glow. Perfect for an entryway welcoming guests. I've also used this on my dining room table since getting it. This lantern is also not available any more, but you can check out the other candle holders and lanterns Gordmans has – I especially like this one.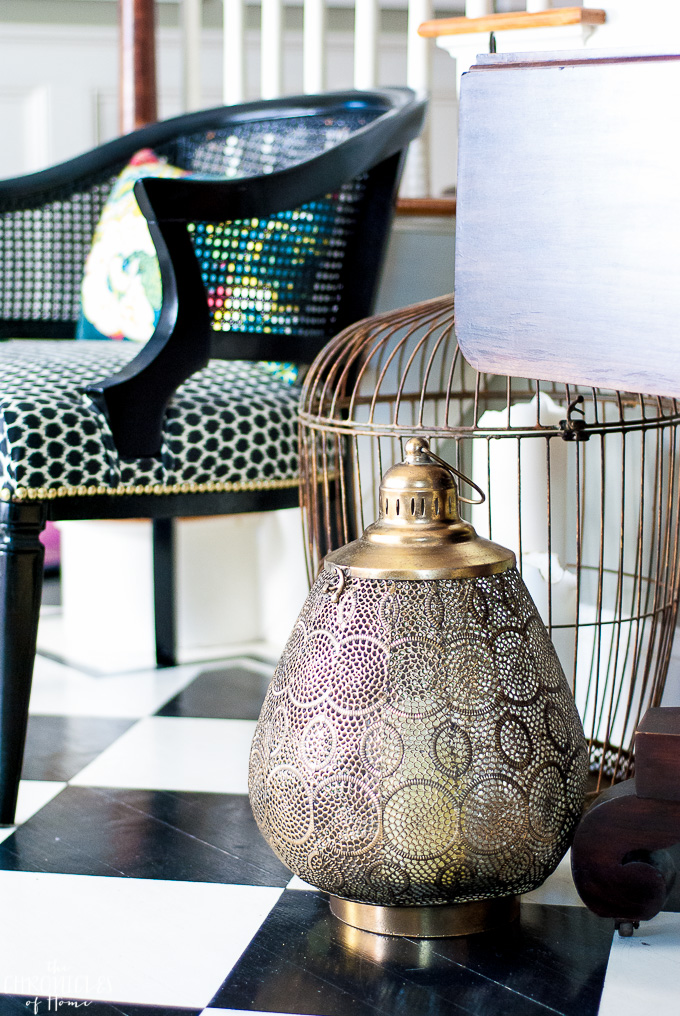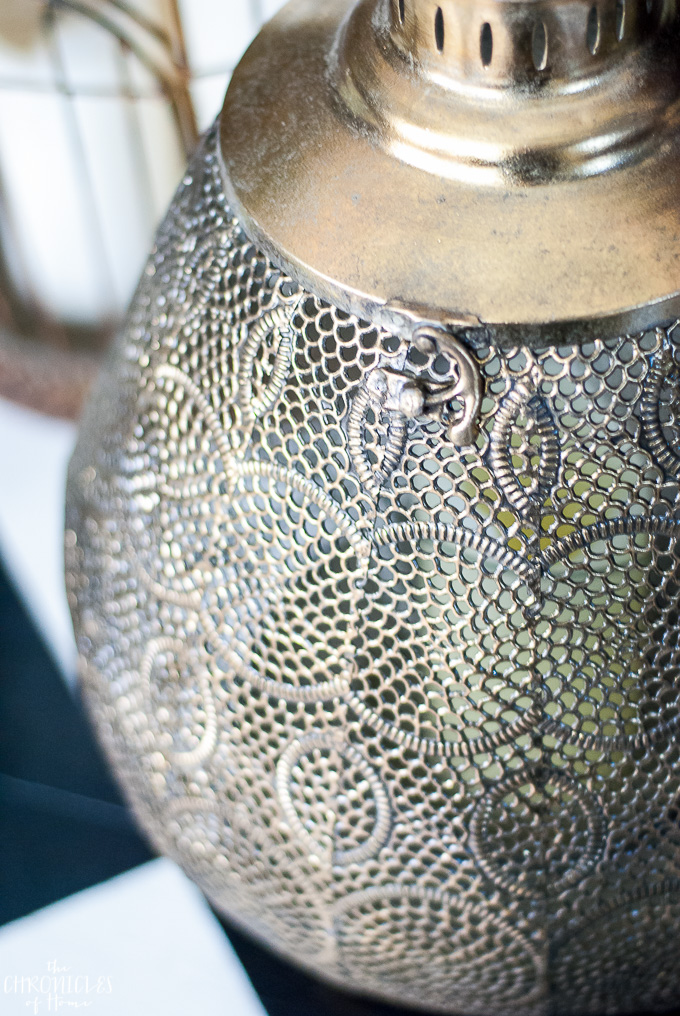 To give those fluffy little owls a perch, I gathered up all the bare branches I used in my Thanksgiving centerpiece (details here and here) and put them in a simple white vase. I used a few different sizes and shapes of white owls, including this one and this one.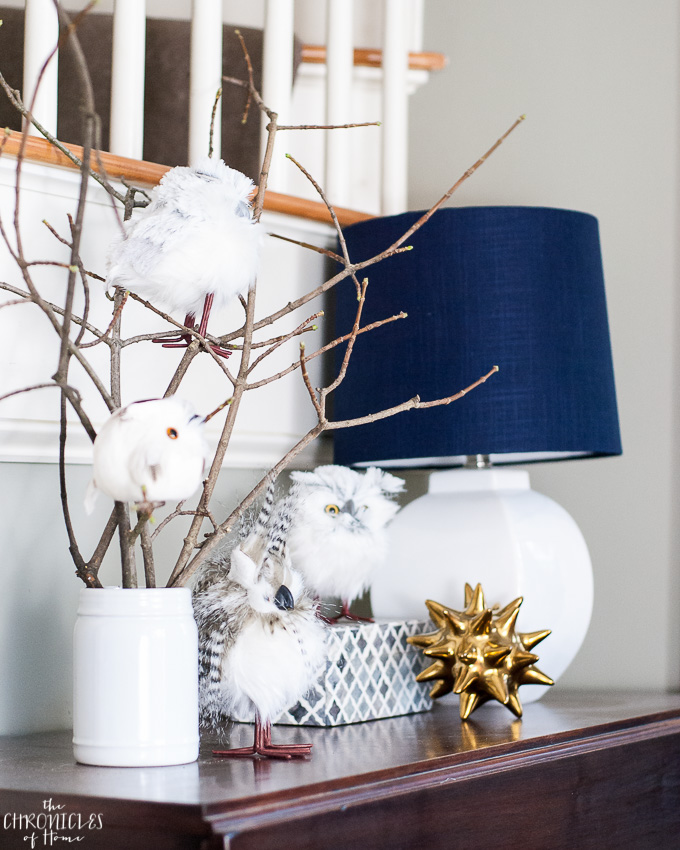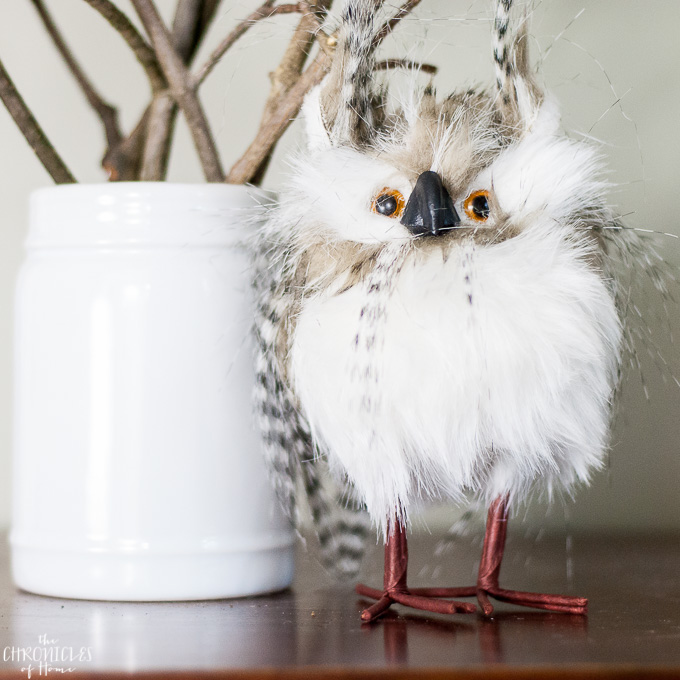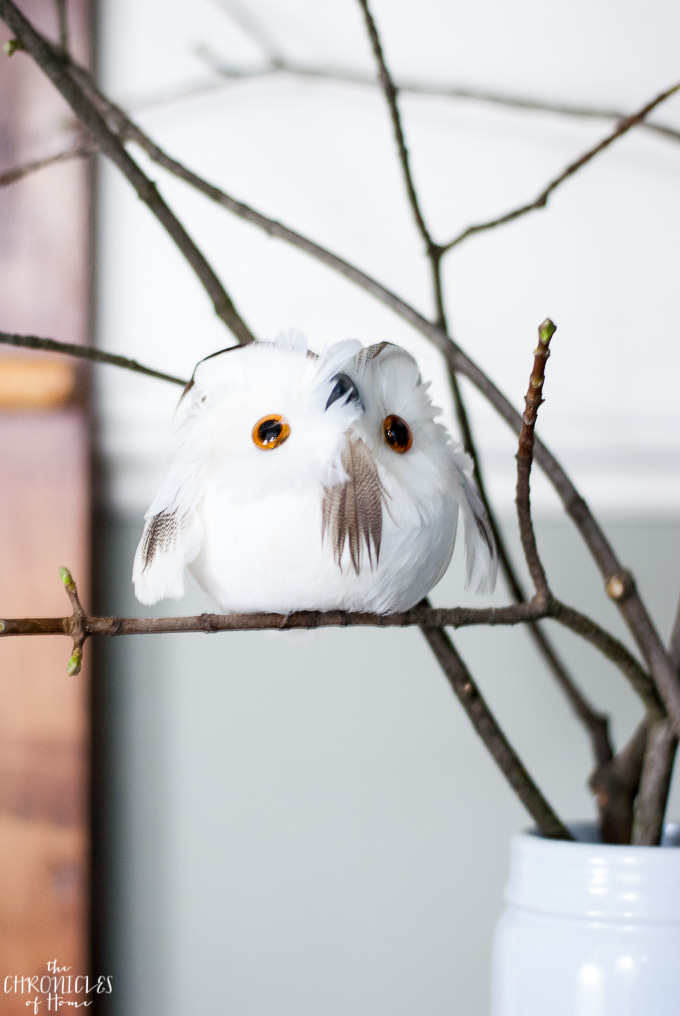 This vignette will translate so perfectly to the holiday season – add some fresh greenery and some sparkle and I'll have a festive display to greet my guests. And more importantly to make me smile every day. My daughters haven't spotted the owls yet but there is no doubt that they'll be poached from their tree the second my girls seem them!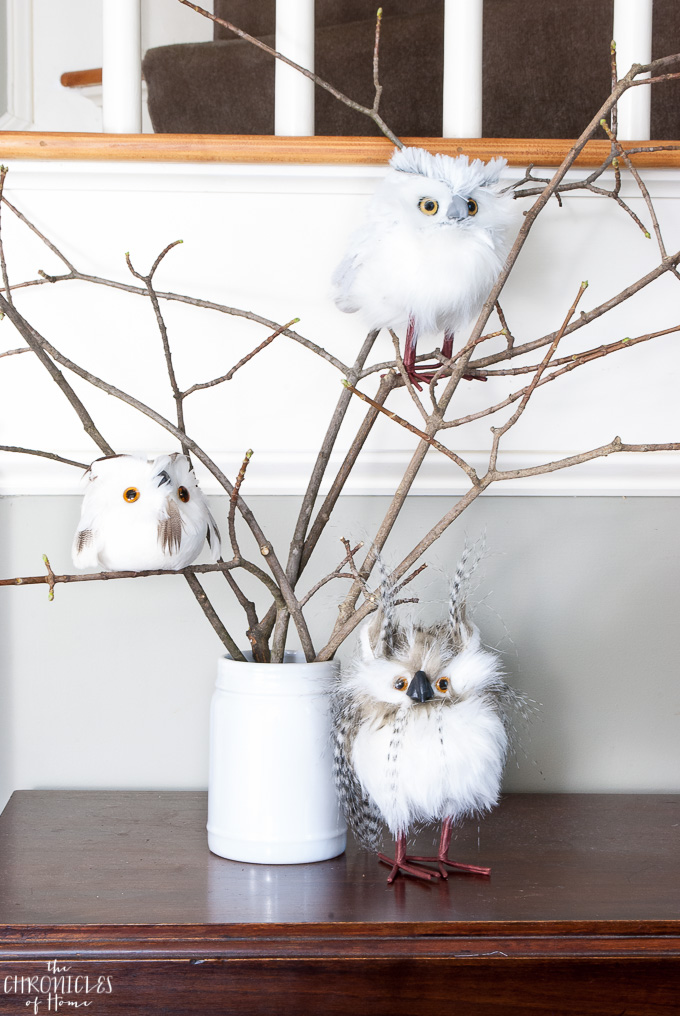 Remember to click this link to get 20% off at Gordmans right now. And also be sure to stop by The Winthrop Chronicles to check out the next stop on the tour. Here's the full lineup:
MONDAY
Life On Virginia Street
What Rose Knows
Our House Now A Home
Katalina Girl
Sabby Style
This post was sponsored by Gordmans but all ideas and opinions expressed are my own. As always, I only share products and companies I truly admire. Thank you for supporting the companies that keep this blog running!