This shop has been compensated by Collective Bias, Inc. and its advertiser. All opinions are mine alone. #MeAndMyTea #CollectiveBias
One of the things I always looked forward to as Christmas approached when I was a girl was homemade Christmas cookies. My mom would bake lots of different kinds and keep them in the freezer so when we wanted dessert we could pull out a selection of them and have a little cookie smorgasbord. In the past couple of years I've scaled back the cookie making because it just felt like too much – both my daughters' birthdays are about two weeks before Christmas and there is so much baking and planning that goes along with that, I'm usually kind of baked out in the weeks leading up to Christmas. But there are a few favorites that I make every year and chewy pecan squares (or triangles, because that's how I like to cut them!) might be my top-of-the-list favorite. They are insanely delicious. And really, really easy to make. So for many reasons, I deem them the best pecan squares around.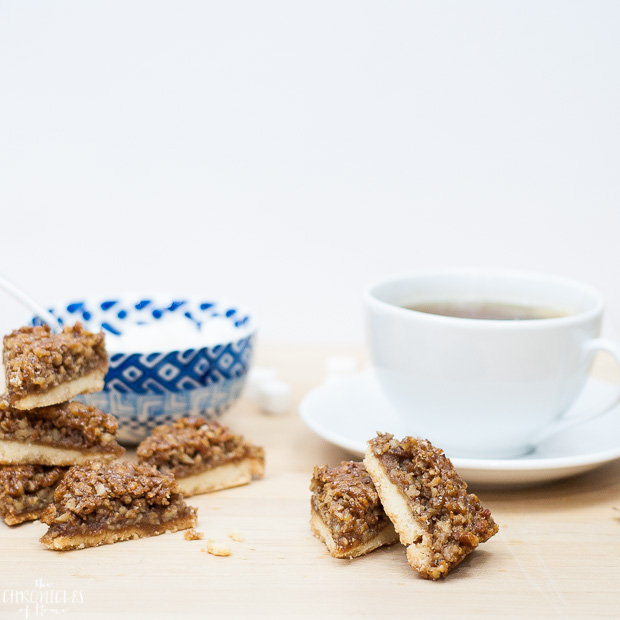 So easy, that I decided to bring my little girls into the mix this year. They really love helping out in the kitchen and I've realized recently that they're both pretty capable of actually helping now. You know, not the "Suuuuuure, you can help" kind of help where you know it's just going to make more work for you, but actual help that moves things along quicker. Plus, I think it's a great life skill that they're getting early exposure to. I also wanted to turn the baking date into a time we could spend together without interruption – especially in the busy-ness of December around here, it's extra hard to find these kinds of moments together.
I picked up some of my girls' favorite tea, Bigelow Constant Comment (think winter spices with a hint of orange, soooo good), at Walmart to turn our cookie baking date into a little tea party.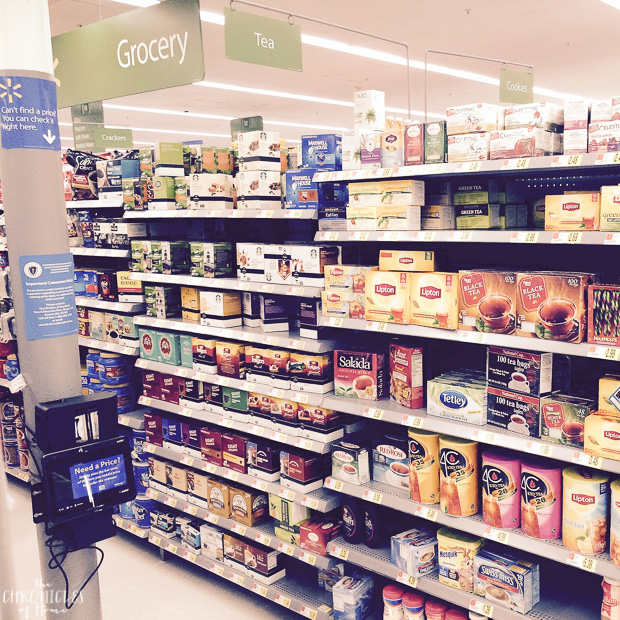 If there is a phrase that elicits more excitement from little girls than "tea party," I don't know what it is. My girls were thrilled. I put Ada in charge of the topping – she chopped four whole cups of pecans using a nut chopper and then measured and stirred the rest of the ingredients over the stove.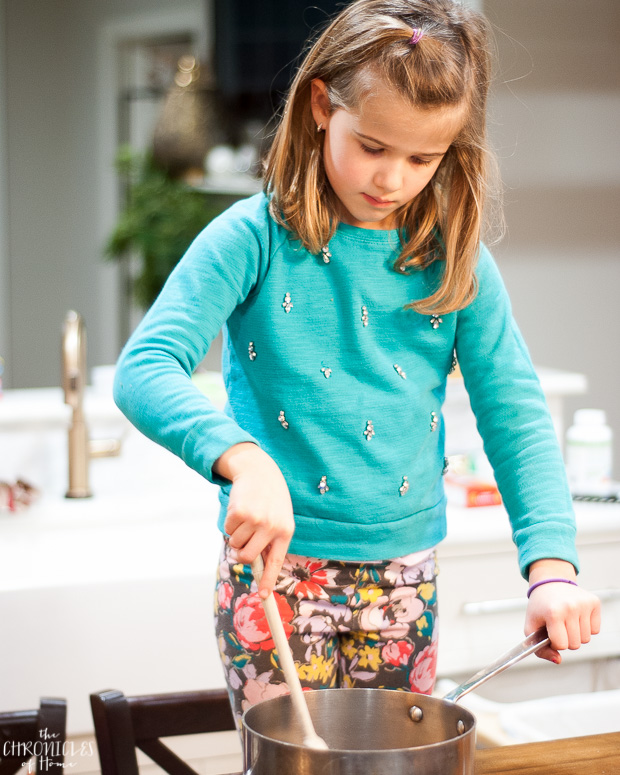 Ellie worked on the crust. She's only just turned five and still needs help with what the measurements mean but she can scoop and level dry ingredients like a pro. I coached her through the steps but she really did the work herself, including pressing the crust into the pan.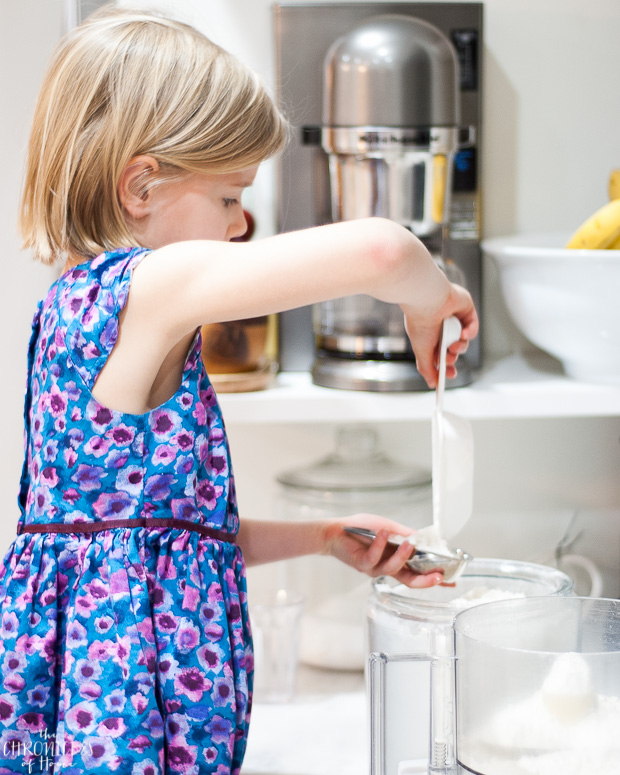 After the cookies came out of the oven, we made some Constant Comment (decaf) tea, stirred in a bit of sugar, and sat at the counter together eating cookies and drinking tea. The rich, buttery cookies were a perfect match with the gently spiced Constant Comment tea and we ate and drank every bite and sip in front of us!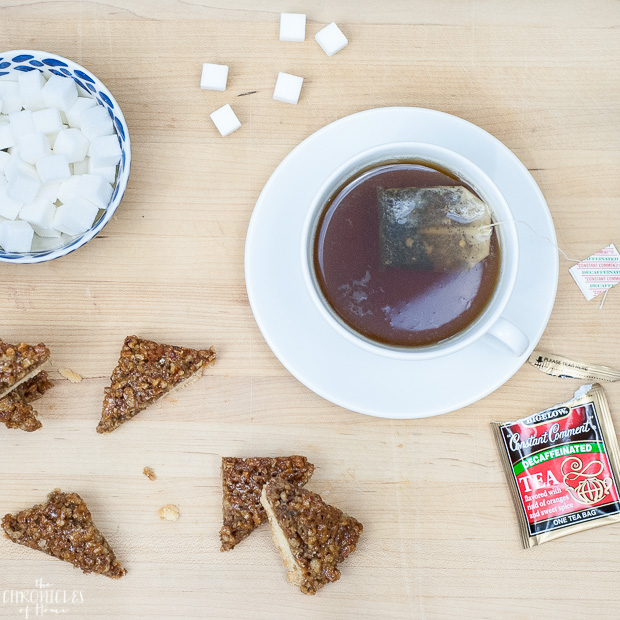 It really was a sweet little moment for me in the midst of so much activity with two birthdays and Christmas all the same month.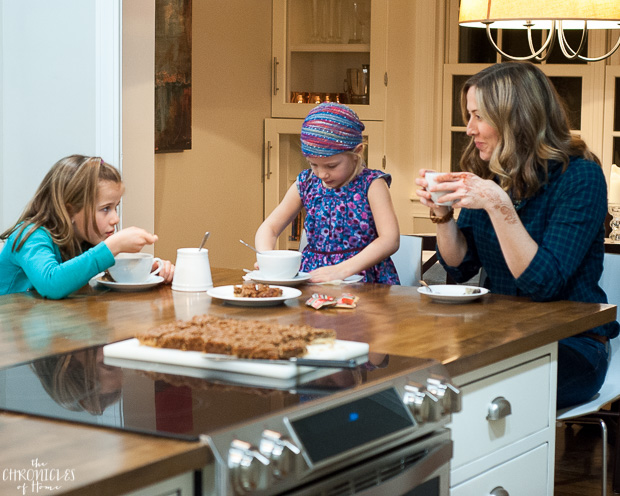 And the cookies? Well, they are just to die for. Kind of like pecan pie but better.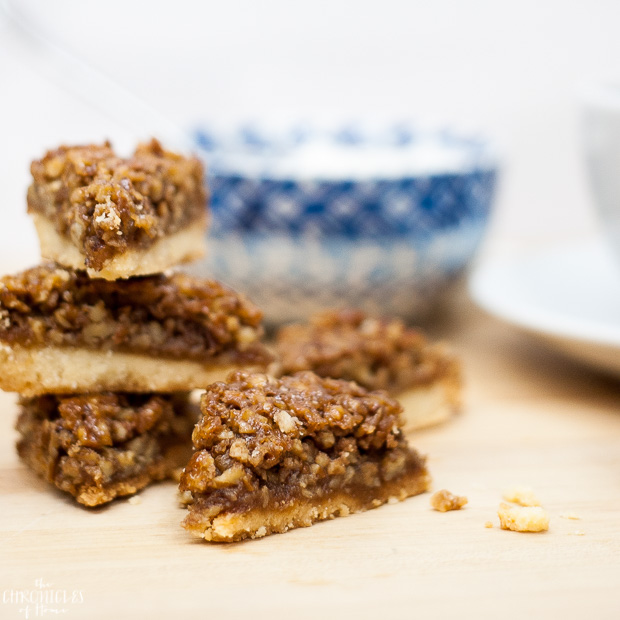 The buttery crust, the caramely, chewy, nutty topping – it's just the perfect mix of everything. We may even make a second batch this week, the first one has gone so fast! And who knows, maybe we'll turn it into another tea party.

Chewy Pecan Squares...or Triangles
Drop dead delicious chewy pecan squares - a little bit cookie, a little bit candy, and a whole lot of buttery, rich goodness!
Ingredients
CRUST
1¾ c. flour
⅔ c. powdered sugar
¼ c. cornstarch
½ tsp. salt
¾ c. unsalted butter, cold, diced
TOPPING
1¼ c. brown sugar
½ c. light corn syrup
¼ c. unsalted butter
4 c. coarsely chopped pecans
½ c. cream
2 tsp. vanilla
Instructions
Preheat oven to 350º. Line a 9x13 baking pan with nonstick foil, leaving about 1" of overhang.
Blend the flour, powdered sugar, cornstarch, and salt in a food processor. Add the butter and process until the mixture clumps together. Pour into the baking pan and press evenly. Bake until the crust is light golden, about 25 minutes. Lower the oven heat to 325º.
Meanwhile stir the brown sugar, corn syrup, and butter in a medium saucepan over medium-high heat until the sugar dissolves and the mixture boils. Add the pecans and cream and boil until it thickens slightly. Stir in the vanilla and pour over the baked crust.
Return the cookies to the oven and bake until the caramel is darker and bubbles thickly, about 20 minutes. Transfer to a rack and cool completely. Use the foil to lift the cookies out and cut into squares, then into triangles, if desired.