This shop has been compensated by Collective Bias, Inc. and its advertiser. All opinions are mine alone. #BringYourBestBowl #Target #CollectiveBias
Who wants a good-for-you, satisfying, protein-packed, deeeelicious breakfast recipe to add to their repertoire? (I mean, really, who doesn't?!) This oat and nut crumble is all of those things and more. But before we get into the details, can we talk for a minute about how glad I am that the fat-free food craze is pretty well dead? I didn't eat nuts for years because I was so afraid of their high fat content. What I didn't realize then is that they are full of vitamins, minerals, protein, and good fats. Nuts practically make up their own food group for me now and I have no less than seven different nut varieties in my pantry at all times and am a blissfully recovered nut-phobe. I often work them into my breakfasts for a little punch of protein, and added them with abandon to this oat and nut breakfast crumble.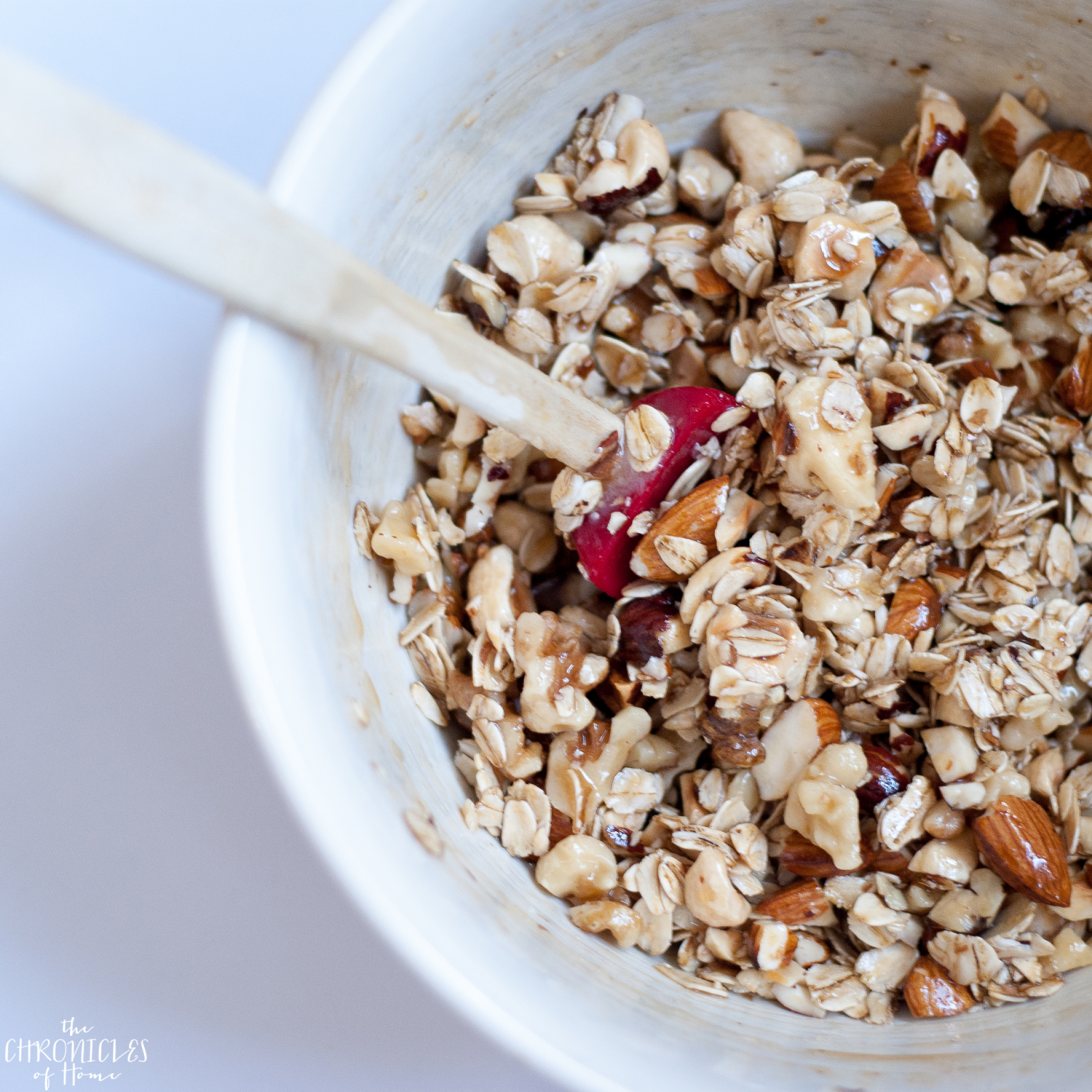 On my last trip to Target (like I ever need an excuse to go) I went to grab some Quaker® Oats for this recipe and saw an endcap stocked with a few different Quaker® Oats products, dried fruits, nuts, nut butters, honey – basically lots of great ideas for making a yummy bowl of oatmeal for breakfast. Quaker® is actually hosting a really exciting Bring Your Best Bowl contest right now – you share your best 2-5 ingredient recipe including Quaker® Oats and could win $250,000! Plus the top recipe entries will be created and sold in stores for a limited time in the fall of 2016. The contest is on from now until March 12, 2016 and the winner will be announced in November 2016. So if you are a culinary goddess (or heck, just have an oatmeal dish you love), enter your recipe into the contest here for a chance to win!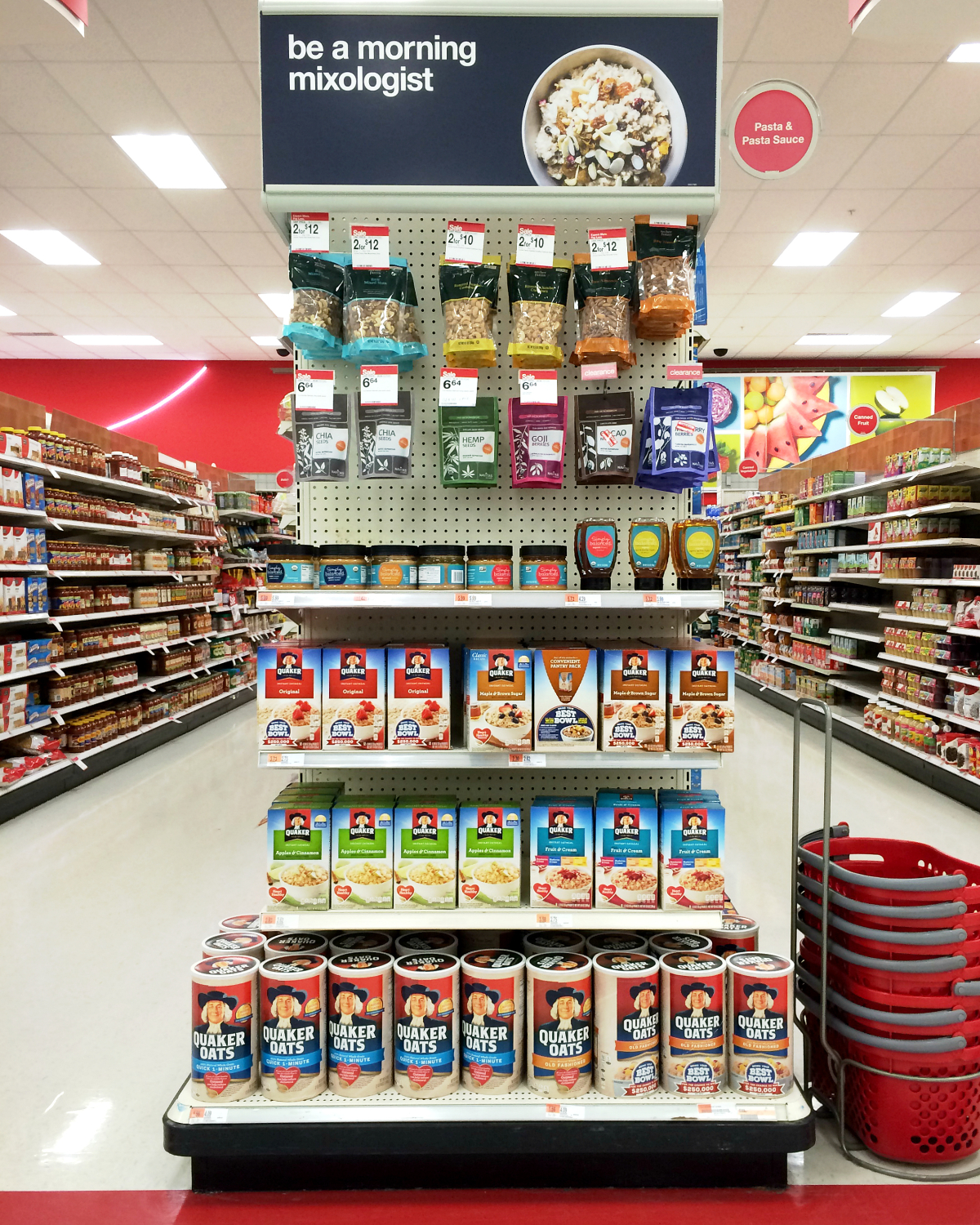 Now about that oat and nut crumble I mentioned…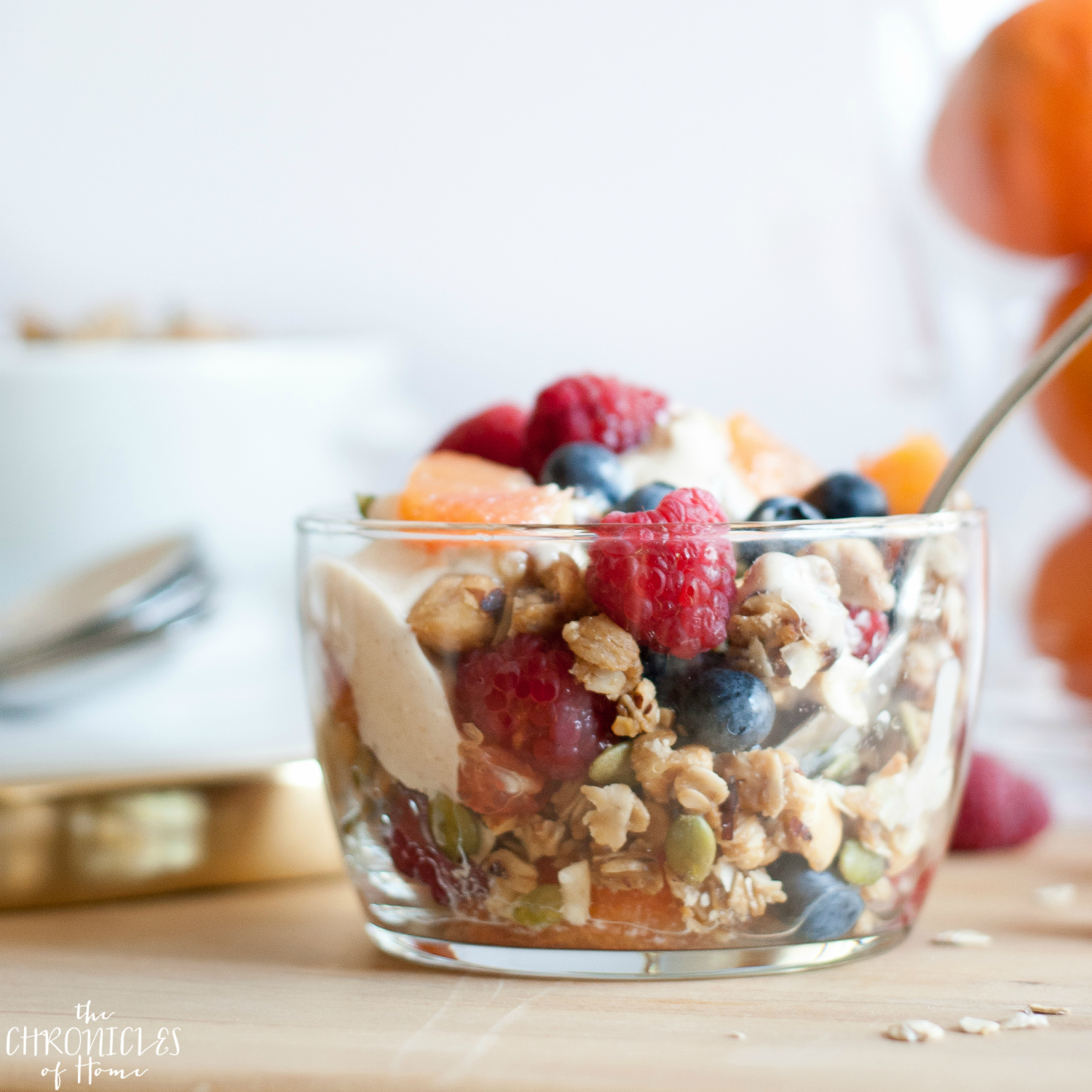 Fruit crumbles are one of my favorite desserts so I set out to make a breakfast version with all the yummy flavor and texture but more appropriate for breakfast than dessert. The topping bears some resemblance to granola but ultimately reminded me more of a dessert crisp or crumble topping, so I'm going with it. I decided to use fresh instead of baked fruit (Cara Cara oranges, raspberries, and bluberries), a simple maple/cinnamon/vanilla yogurt drizzle (yum) instead of whipped cream, and a crumble topping made with Quaker® Oats, almonds, walnuts, hazelnuts, and raw pumpkin seeds. And other delicious things too but I'm trying not to be too wordy, as I tend to be when I start talking about food.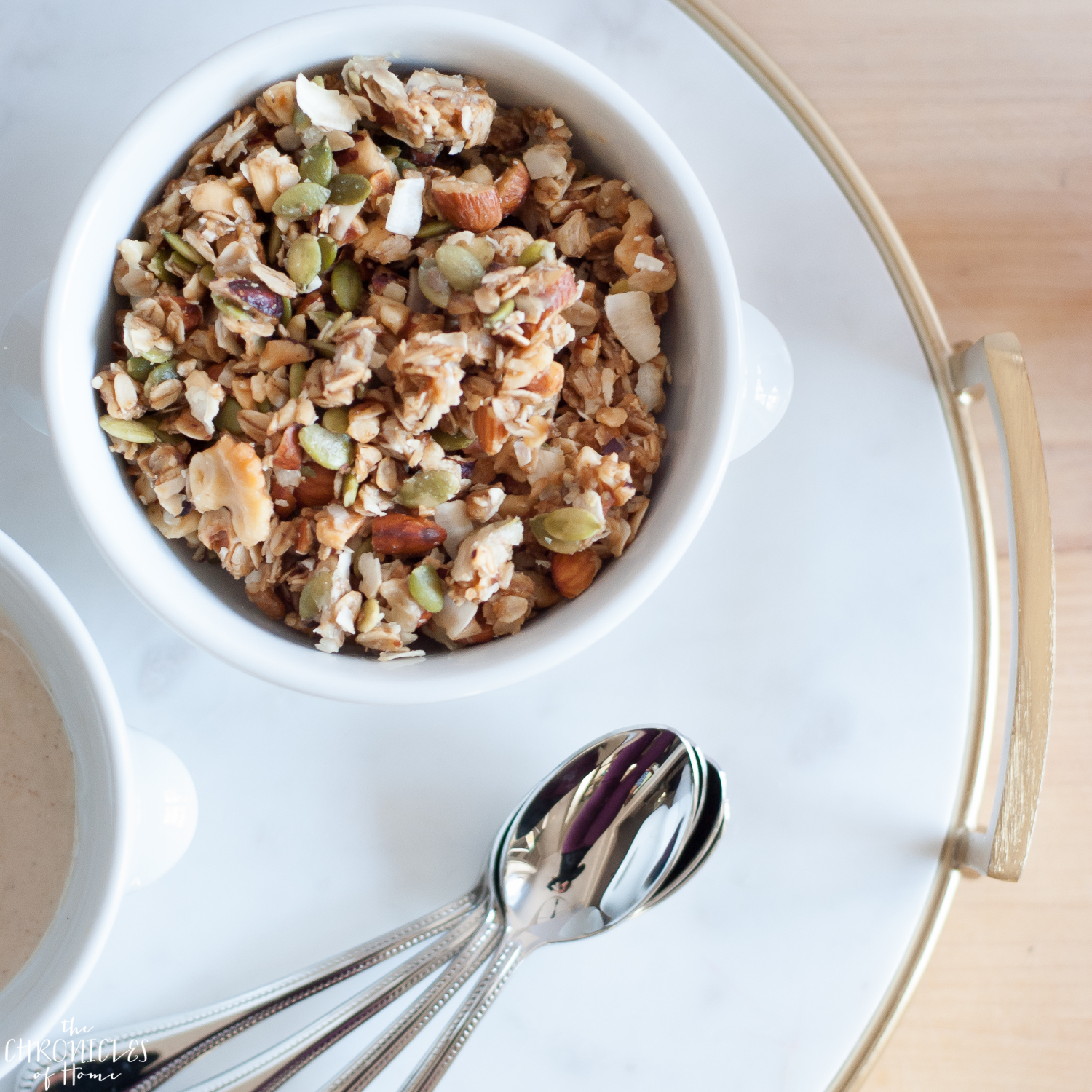 I find breakfast ruts one of the hardest to break out of but this here was a big hit, with me and with my daughters. I think they might have thought I was actually serving them dessert for breakfast – my five year old asked for more "custard and the crunchy stuff" for dessert after lunch yesterday, and isn't it nice to say, "Sure!" with a clear conscience instead of the battle in my head that happens every time she asks for a cookie after lunch ("Should I say yes?" "Did she already have one today?" "How much sugar has she had?" "Maybe we'll just wait until tomorrow…") "Yes" is so much simpler.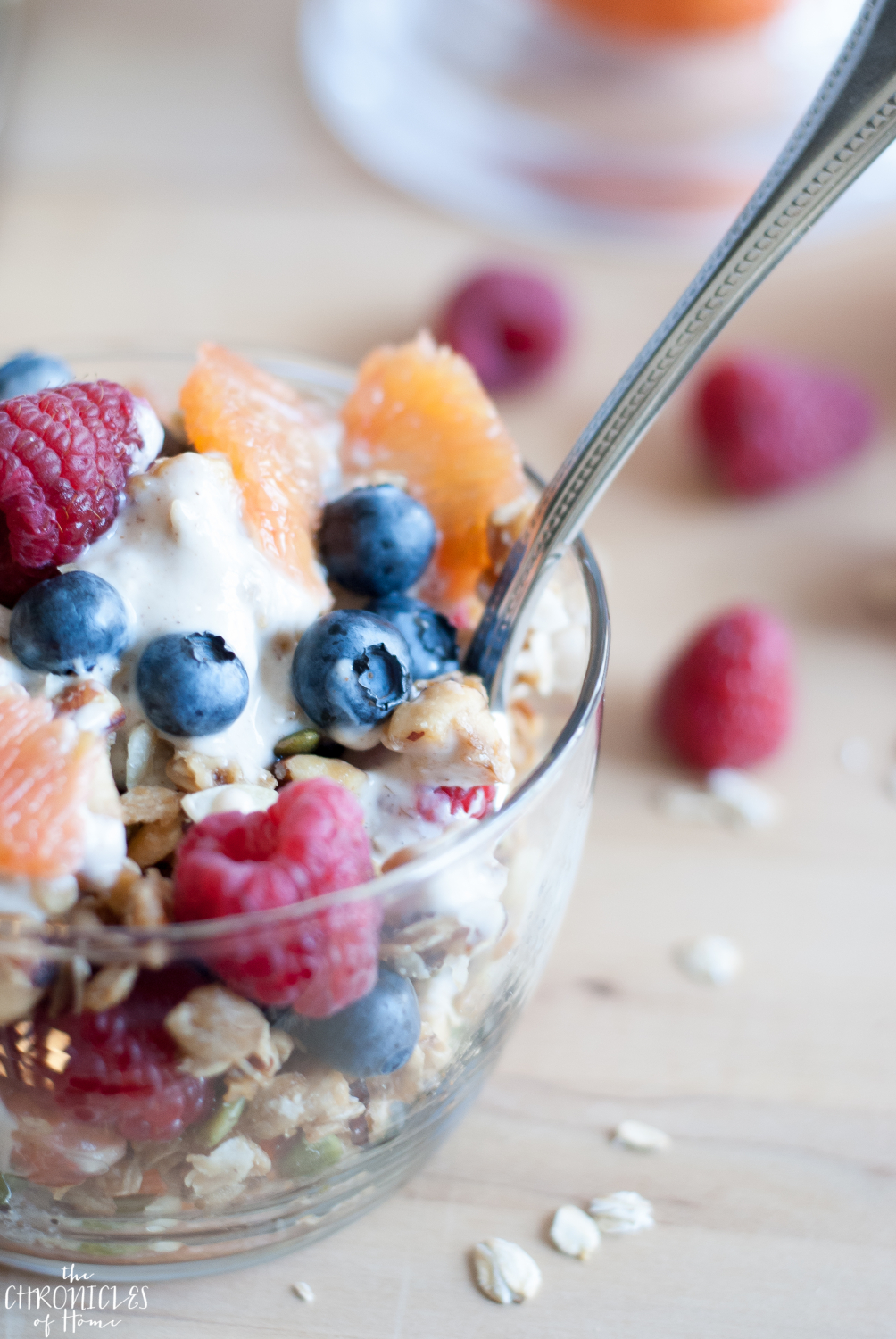 Oat and Nut Breakfast Crumble
A delicious, filling, protein-packed breakfast crumble with oats, nuts, fresh fruit, and a cinnamon yogurt drizzle.
Ingredients
3 tbsp. coconut oil, melted (virgin has the best flavor)
¼ c. raw almonds, roughly chopped
¼ c. walnuts, roughly chopped
¼ c. pecans, roughly chopped
3 tbsp. maple syrup
½ c. Quaker® Old Fashioned Oats
¼ c. unsweetened coconut flakes
¼ tsp. kosher salt
¼ c. raw pumpkin seeds
- - - - - - -
1 c. whole milk plain yogurt
¼ tsp. vanilla extract
2 tsp. maple syrup
¼ tsp. cinnamon
- - - - - - -
Cara Cara oranges, segmented (any navel orange will do)
fresh raspberries
fresh blueberries
Instructions
Preheat oven to 375º.
Stir melted coconut oil, almonds, walnuts, pecans, maple syrup, oats, coconut, and salt in a medium bowl until well mixed. Spread onto a baking sheet and bake for 7-10 minutes, until lightly golden. Remove from the oven and stir in the pumpkin seeds.
While the crumble is baking, whisk the yogurt, vanilla, maple syrup, and cinnamon in a small bowl until smooth.
To assemble, layer some of the fruit with the cooled crumble - fruit, crumble, fruit, crumble is a nice layering pattern to follow - then top with a hearty drizzle of the cinnamon yogurt.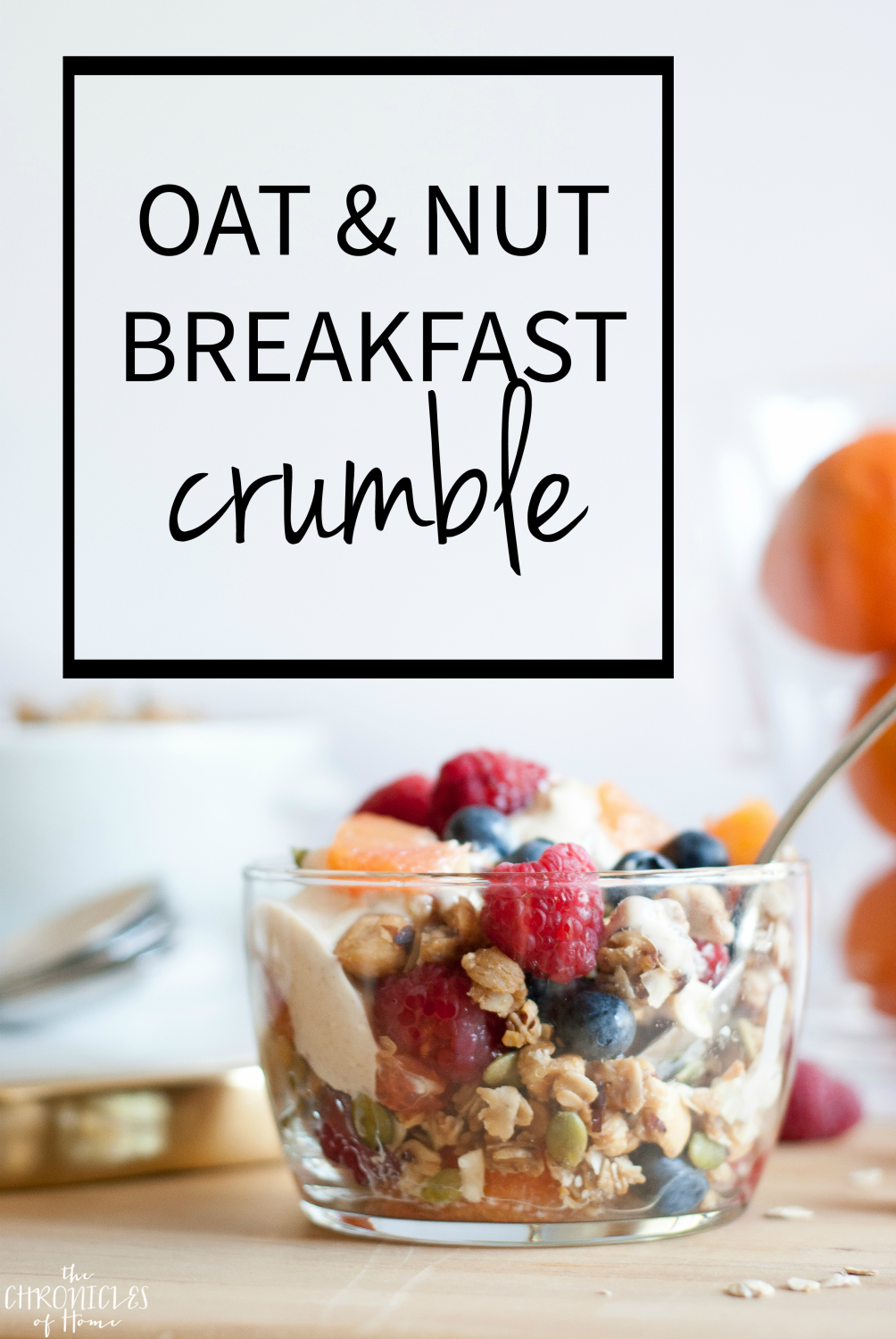 Looking for more breakfast inspiration? Click the photo below to see all the breakfast recipes I've ever published.