Yesterday I shared plans for the guest room overhaul I'm about to get started on…you know, the one that has sat stalled mid chair rail and fabric wall for almost two years. Sometimes people will say to me, "How do you get so much done??" and in the back of my head I'm picturing projects like this that have been in limbo for years and think, "Ummmmm, yeah right." One of the several reasons I lost direction on this room was the bedding situation – apparently finding high quality twin bedding is like searching for the lost city of Atlantis. Most twin bedding I found felt exceedingly juvenile to me, either in the patterns or the quality of the fabric, and I just couldn't see any of them in a guest room used almost exclusively by adults. And then along came Pemberley Rose…

I swear, my jaw practically hit the keyboard when I first lay eyes on the bedding options. While Pemberley Rose's product line is child-focused, the bedding is anything but childish. All the duvets and shams are 100% linen with knife-edged velvet trim available in four different colors. It was just the kind of bedding I'd had in mind for the guest room's new look – simple, classic, with just enough detail to make it interesting. I'm planning to bring some color into the room with upholstered headboards, wallpaper, and a few throw pillows, so the crisp white is the perfect backdrop for the other colors coming into the room but it's still a fresh and simple statement in and of itself. I absolutely love it.
Here's a glimpse of the bedding in the room, but remember that the wallpaper will be changing and there will be a kelly green headboard behind those pillows. I actually really like the way the fabric wall looks in these photos but in person it came out a bit wonky and has a stained appearance in spots from the adhesive I used. So it will be replaced with the one I shared yesterday.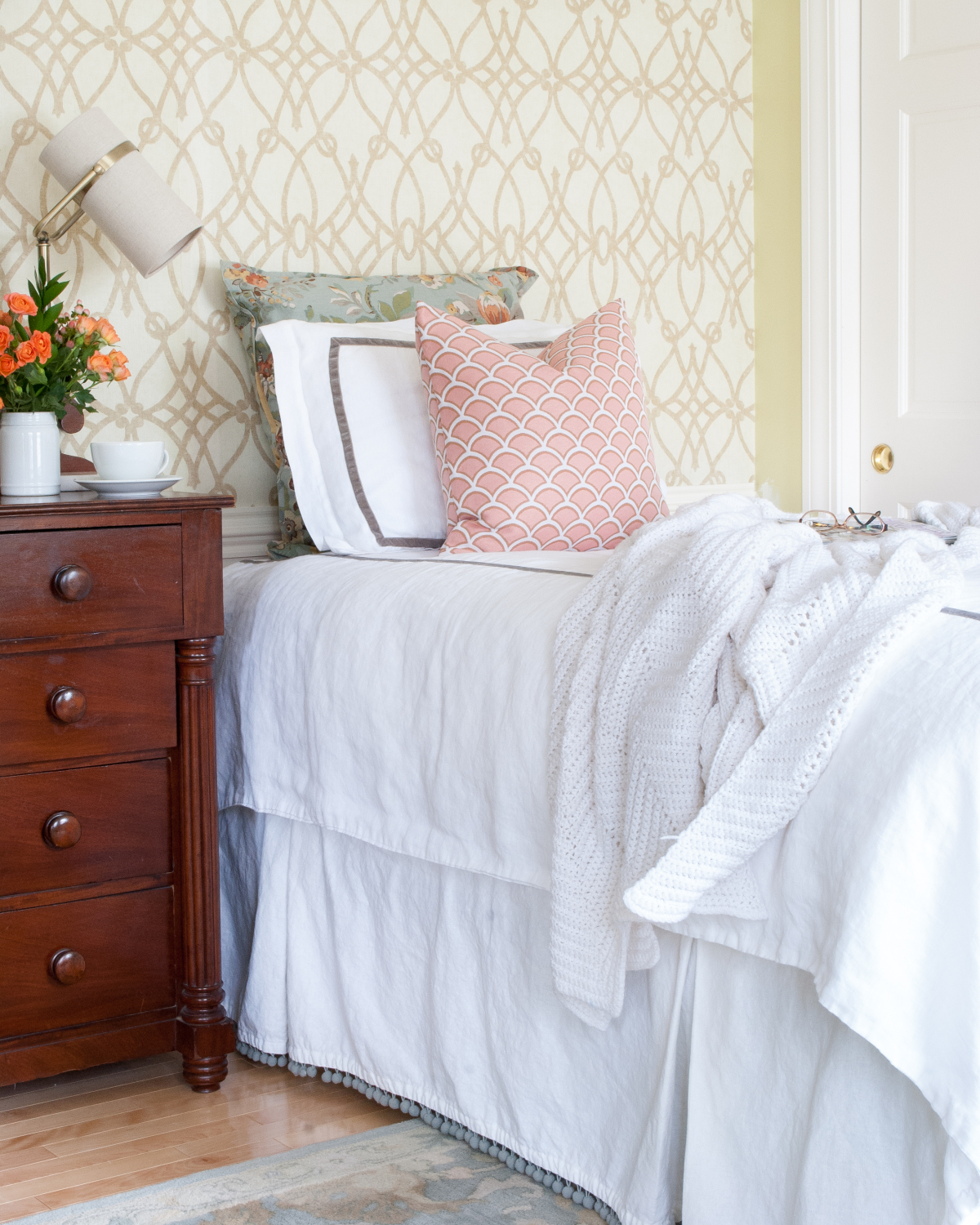 pom pom bedskirt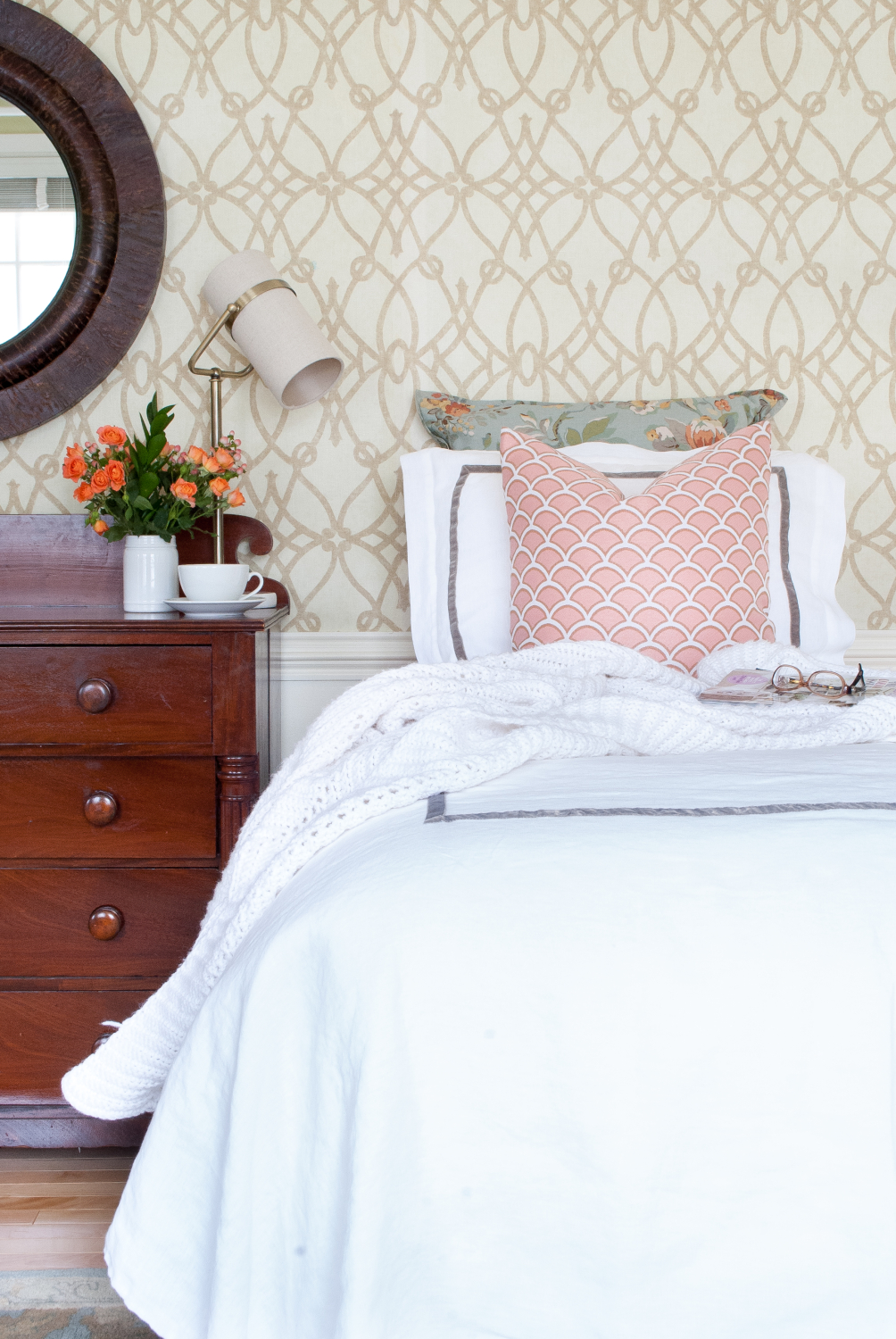 There are two twin beds in this room so I'm using two velvet trim linen duvets and two velvet trimmed flanged edge linen shams, both in grey, but the duvets come in both twin and full/queen sizes. It's hard to get a sense of the texture in photos but the duvets and shams have that classic, slightly rumpled, woven look of linen that is just timeless. And the soft texture and sheen of the velvet is so lovely in person.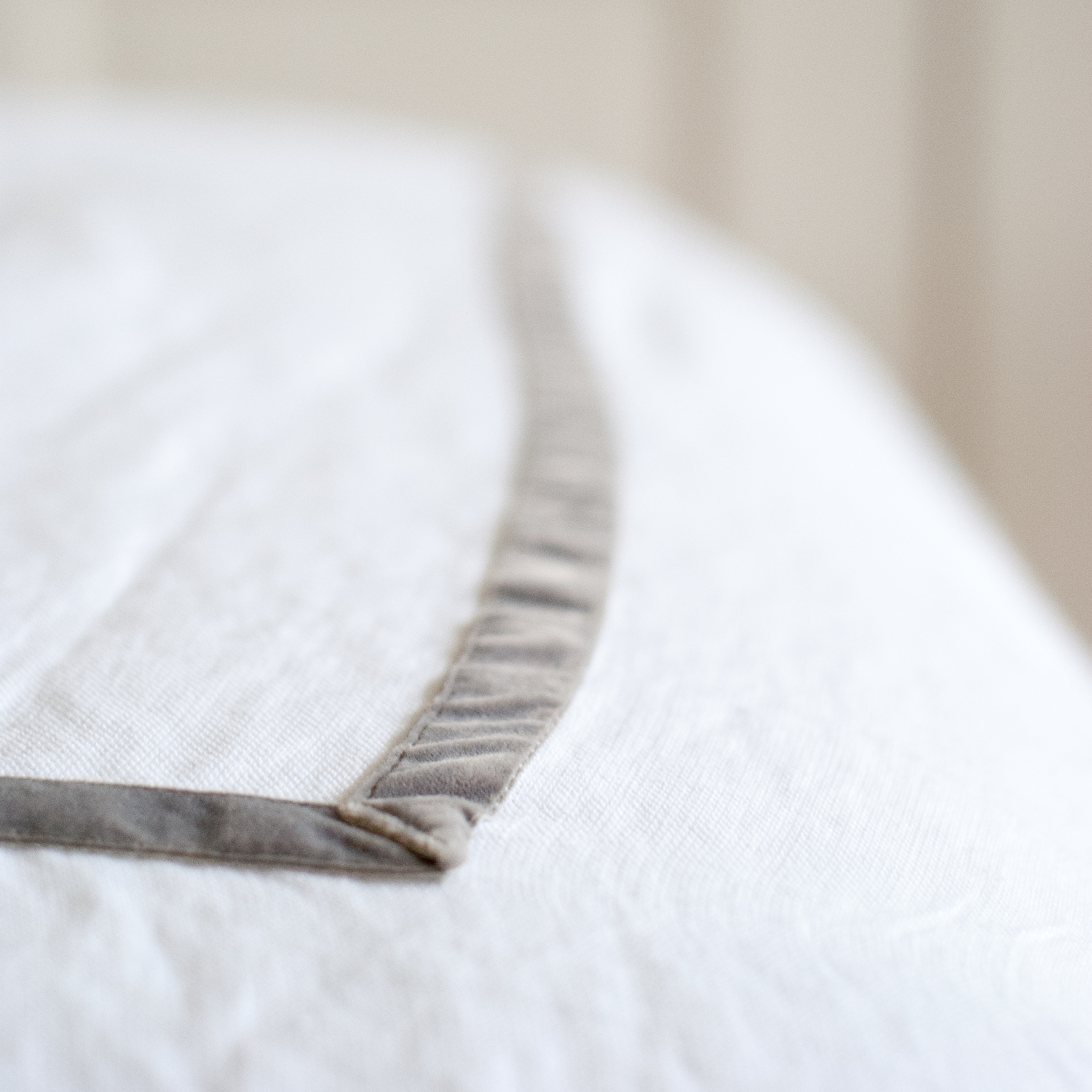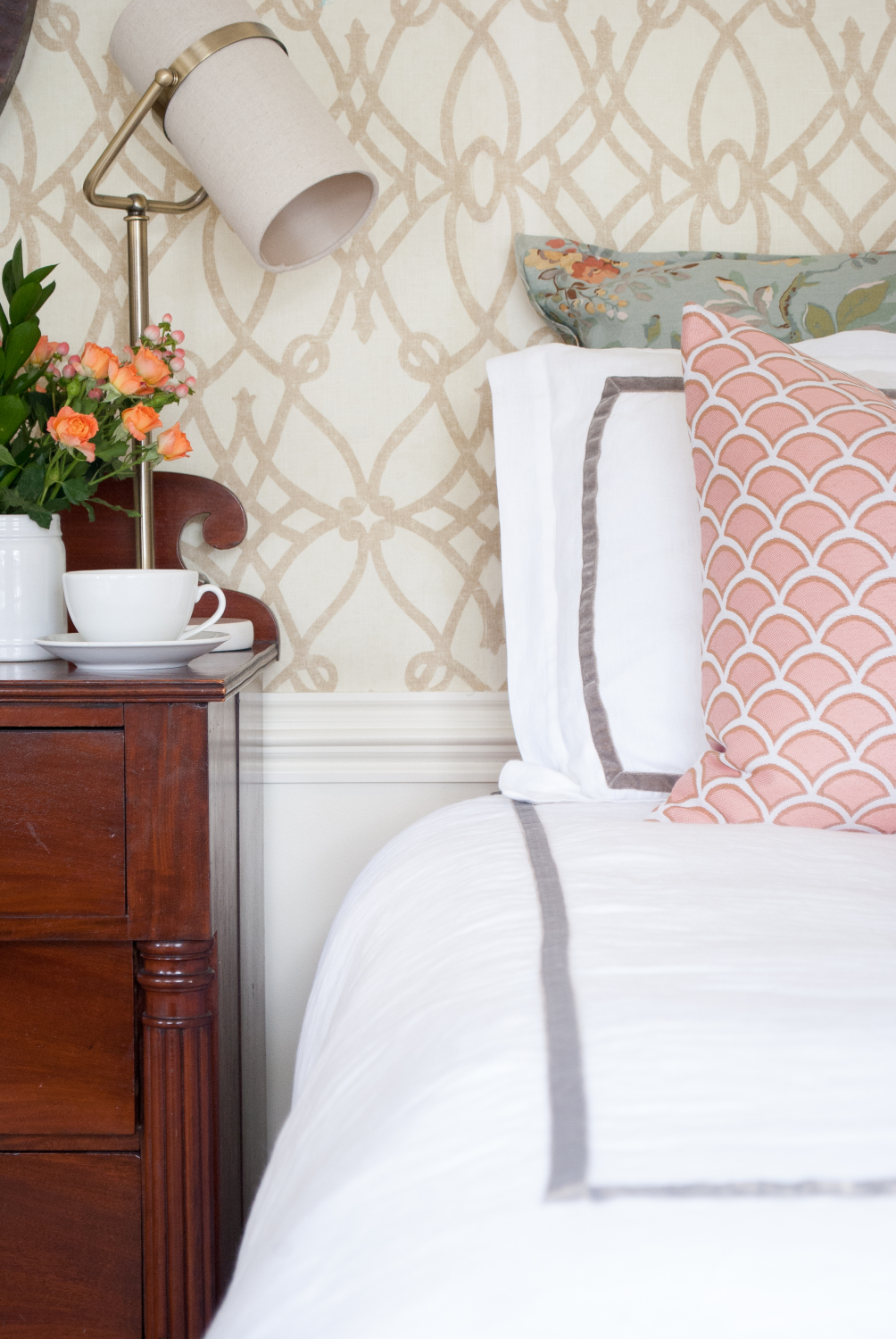 While I've used this bedding in a room designed for adults (and don't you think it's perfectly suited for an adult room??), I love that Pemberley Rose has designed children's bedding that is ageless. It may cost a bit more than some other children's bedding retailers but the quality is top notch and if used in a child's room, they would never grow out of it. So when you look at it as something that will grow with children regardless of their age, and will coordinate with anything, I think it's a worthwhile investment. Likewise for a room like this, where I don't plan on changing anything for a long, long time and want something that is great quality and classic.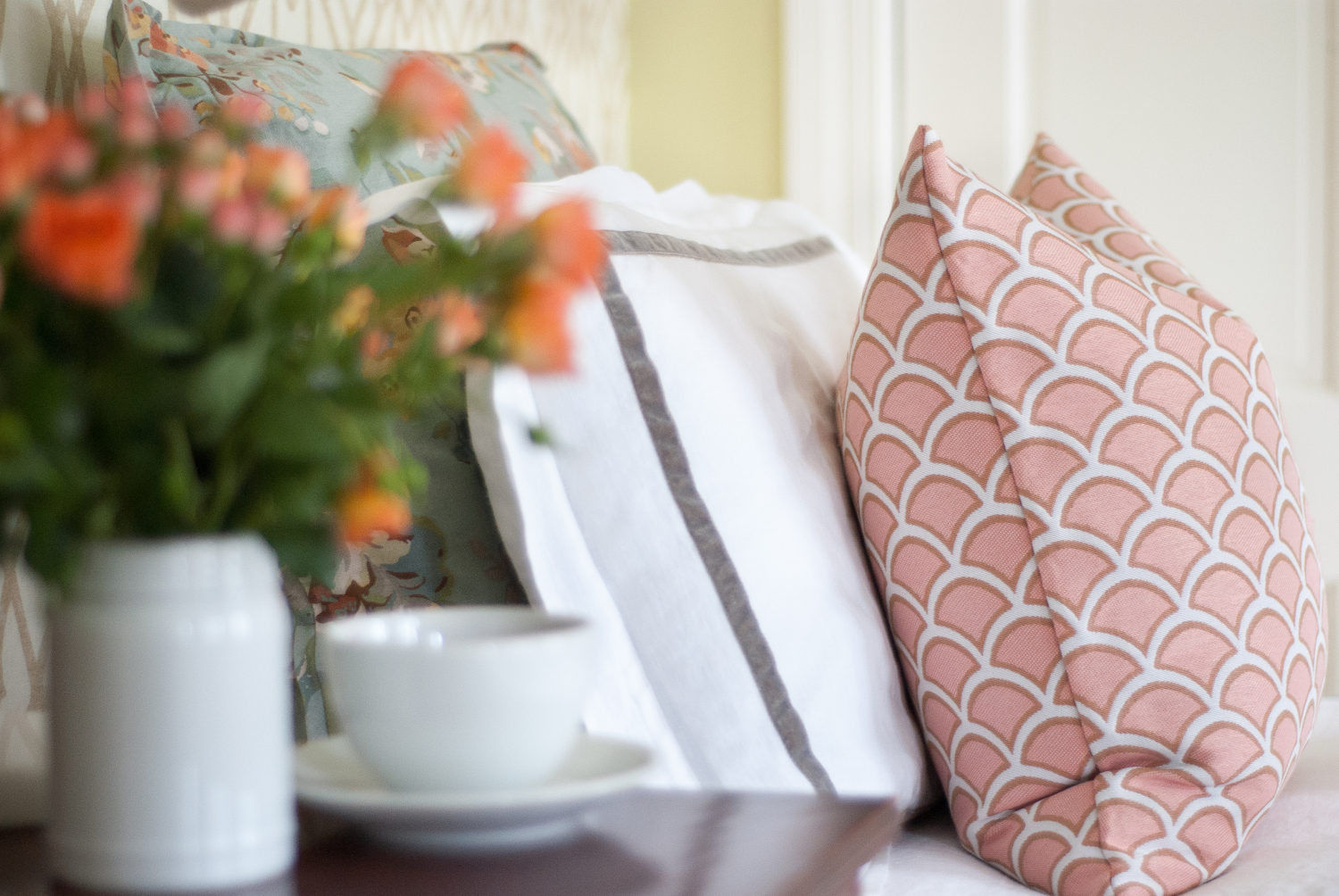 I think it's obvious that I'm a fan, and while Pemberley Rose sent me this bedding to review and photograph, I assure you that my gushing is 100% sincere. It would be a beautiful, luxurious addition to any bedroom in the house.