This shop has been compensated by Collective Bias, Inc. and its advertiser. All opinions are mine alone. #BigLotsOutdoor #CollectiveBias
I'm spending this week at my parents' house in Pennsylvania while my girls have school break, and spring has definitely sprung here. So many trees and bushes are blooming or already covered with leaves and flowers, and the warm afternoon temperatures have us all outside soaking up the sun, riding bikes, and generally finding any reason we can to be outdoors. Everyone around here seems to be getting their yards ready for outdoor living and my parents are no exception. They have a really gorgeous backyard pool area and they usually have the winter cover taken off in late March or early April. It's still too cold to swim but it looks prettier back there with the blue water shining in the sun than when it's all covered up for winter. They have been starting to do some pruning and planting in preparation for summer pool season and this week added an outdoor woven wicker gazebo to one end of the pool deck.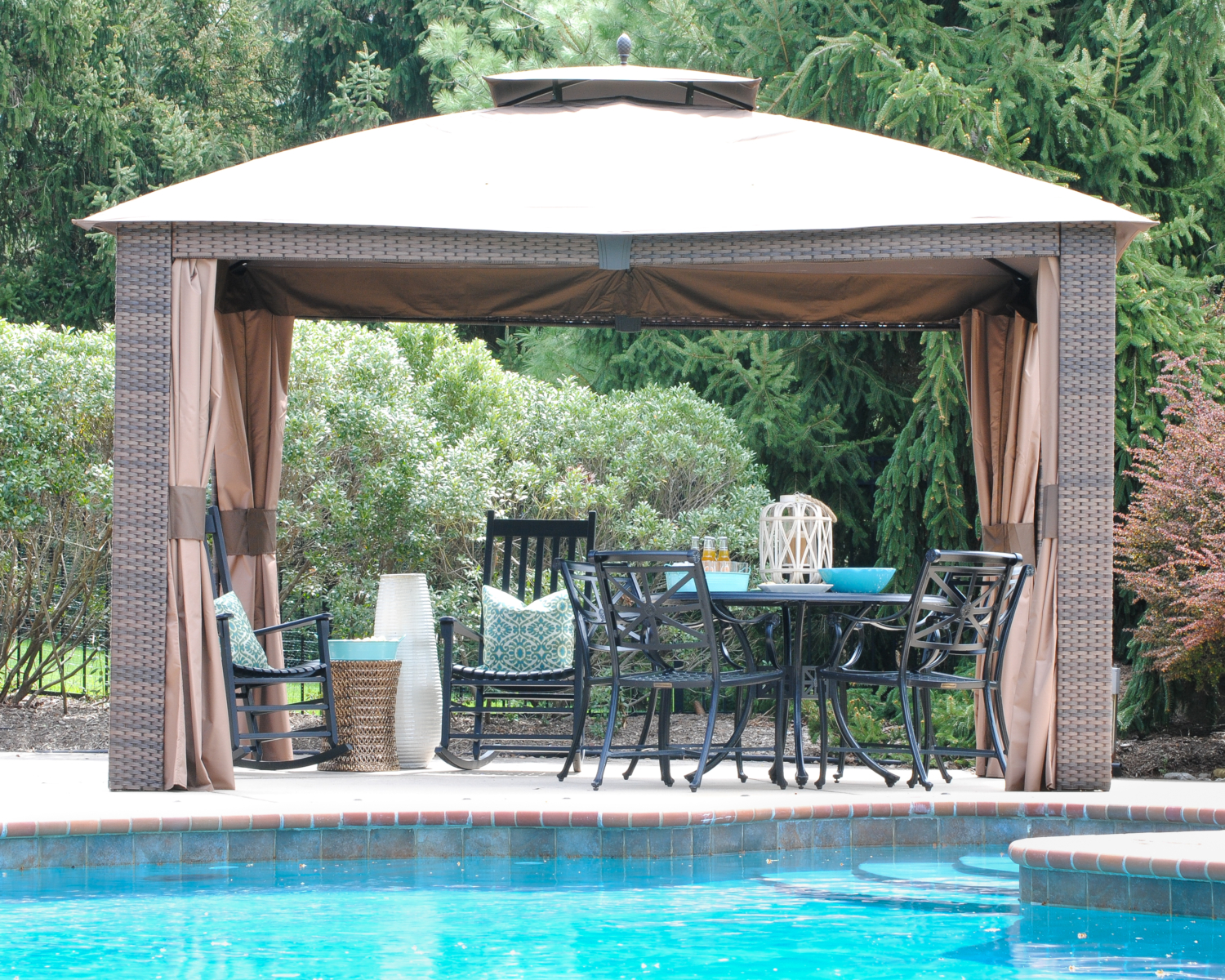 I headed to Big Lots with my mom over the weekend and we browsed through their outdoor furniture selections. They had a ton of high-quality, value-priced, on-trend lawn, garden, and outdoor décor products, including patio furniture, gazebos, and grills. I noticed a lot of the pieces could be mixed and matched to create an outdoor space perfect for any size or shape area. There were several gazebos but the Sonoma Gazebo with its beautiful resin woven wicker was really a standout.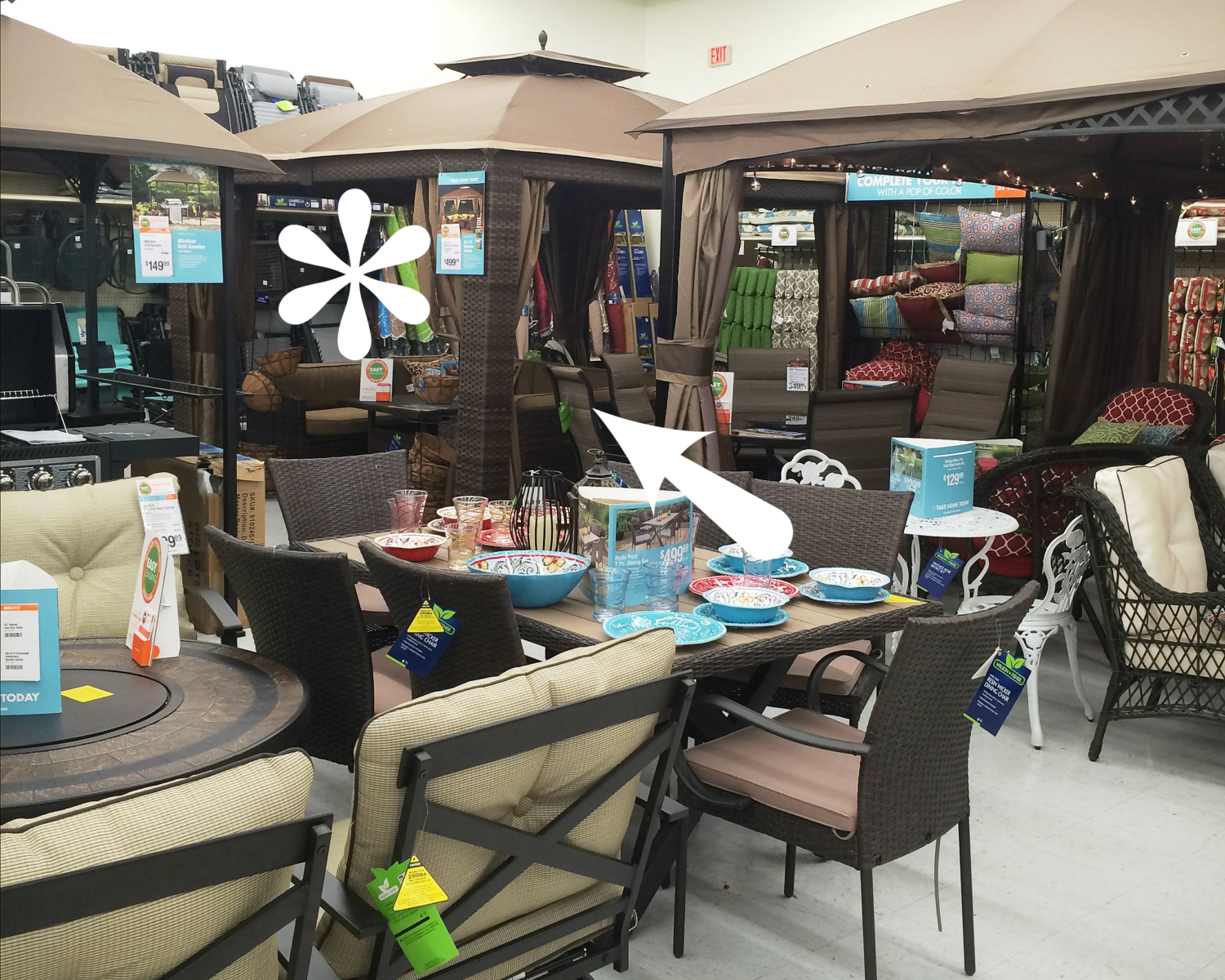 I was nervous about getting it home in my car – the assembled gazebo is 10′ x 12′ – but the Big Lots employees working in the Furniture department rolled this unbelievably compact box out from the back. It was still a big, heavy box, but compared to the size of the gazebo I couldn't believe the size of the box. I was really impressed with how friendly and helpful everyone was too. They rang up my whole purchase in the back of the store so I didn't have to haul everything up front and wait in line and then two guys rolled it out to my car and loaded it for me. Doesn't great customer service always put you in a good mood?? Just a note though – styles and assortment vary by store so call ahead if there's something in particular you're looking for to be sure they have it.
Once back at my parents' house I got to work assembling the gazebo. I needed a hand a couple of times because it's so big, but I was able to do most of it myself in a couple hours. The package comes with everything you need for assembly except a Phillips head screwdriver, but I did opt to use a socket wrench for a lot of the bolts and this sped up assembly a lot. Once assembled we pulled some patio furniture underneath to test it out and it is such a cozy spot to sit outdoors.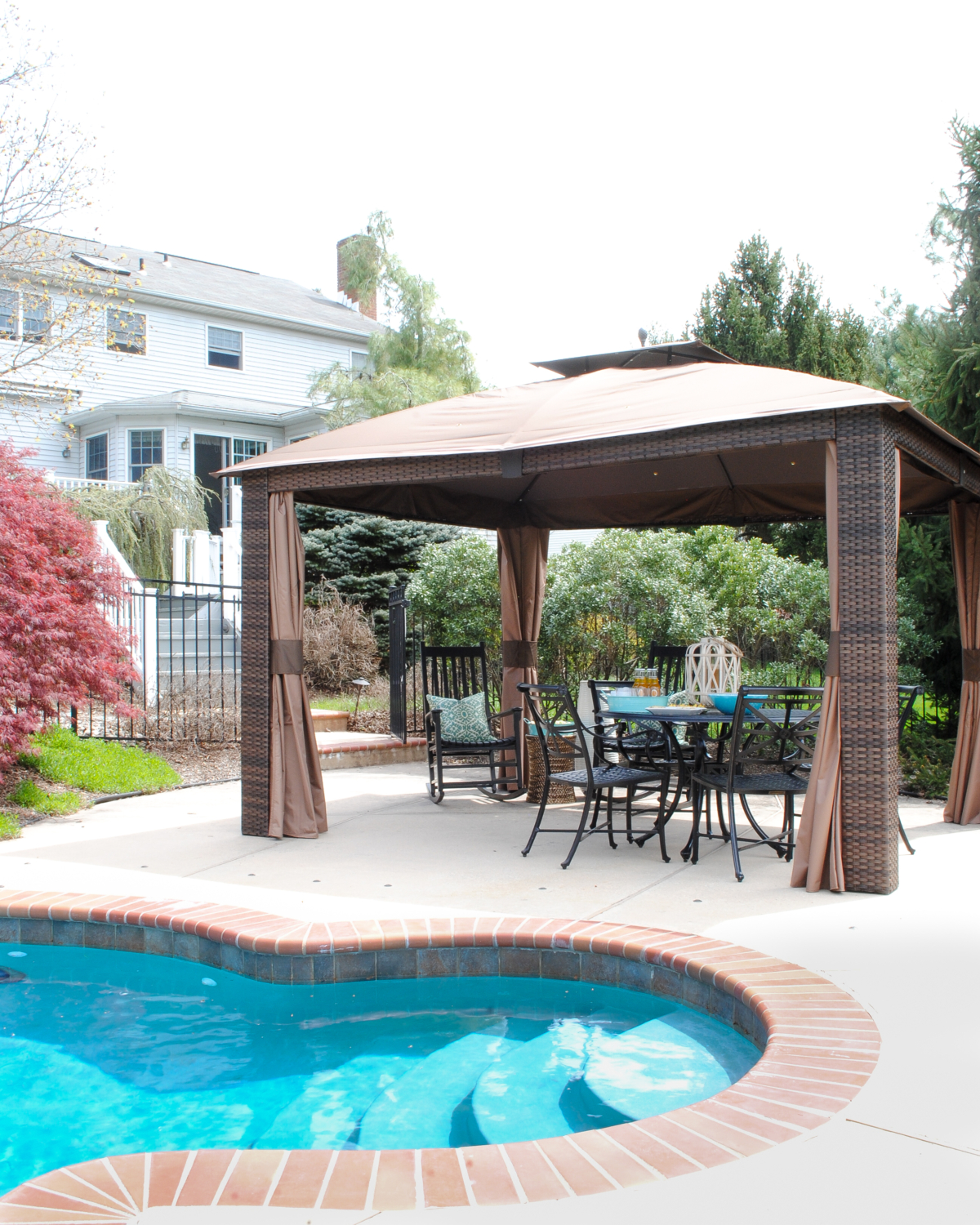 The shade from the canopy overhead will be awesome on hot summer days and the curtains in the corners can be moved to any location to block further sun when it starts to set later in the day. The gazebo also comes with full mosquito netting, and coming from a person who swells like a blowfish at the mere brush of a mosquito, this is a pretty fantastic feature. It's like a screened porch you can put anywhere. And for a heck of a lot less than actually building a screened porch attached to your house :) Plus the woven wicker construction adds a bit of outdoor luxury to any outdoor space, poolside or in the yard.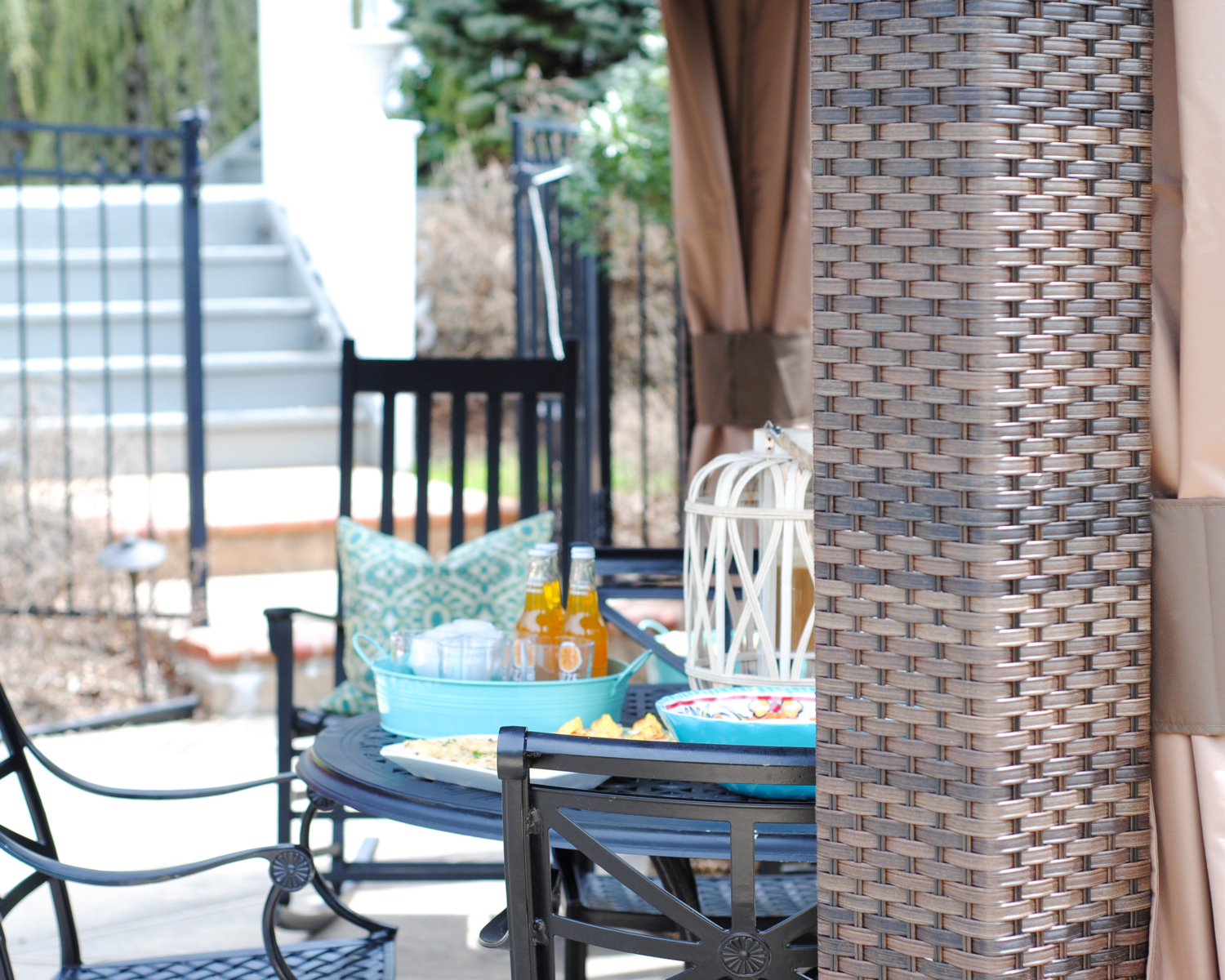 My parents do a lot of outdoor dining and entertaining in the summer so we put together a little family lunch to really give the gazebo a test run. This is my favorite kind of gathering – make-ahead food, simple, and outdoors. We had chicken cutlets, deviled eggs, cut veggies with buttermilk ranch dip, fruit kebobs, and portable, make-ahead s'mores.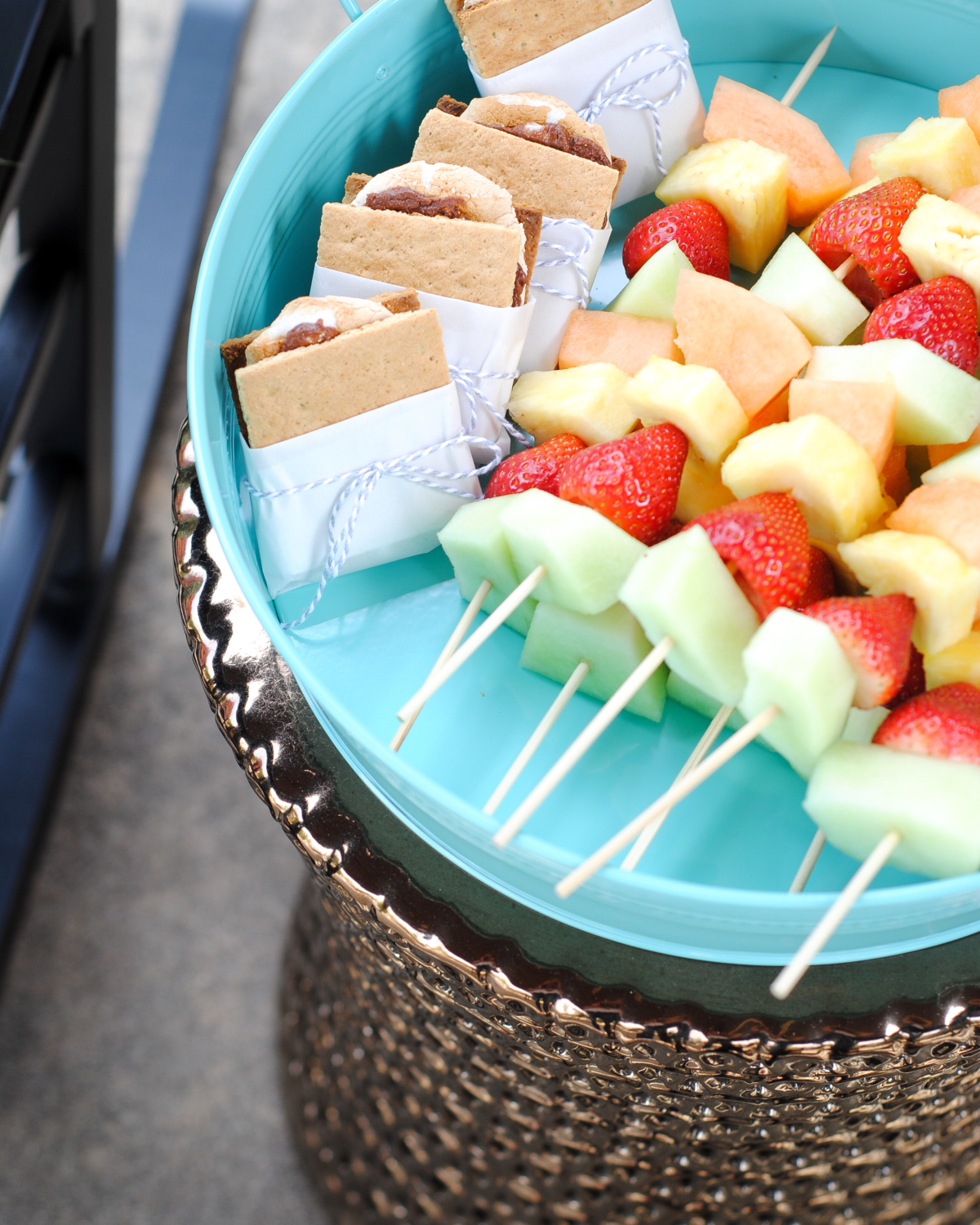 I picked up some lanterns, planters, pretty aqua trays, and other dishes and drinkware from the Big Lots outdoor section. Just like with the gazebo, I was so impressed with the value for quality.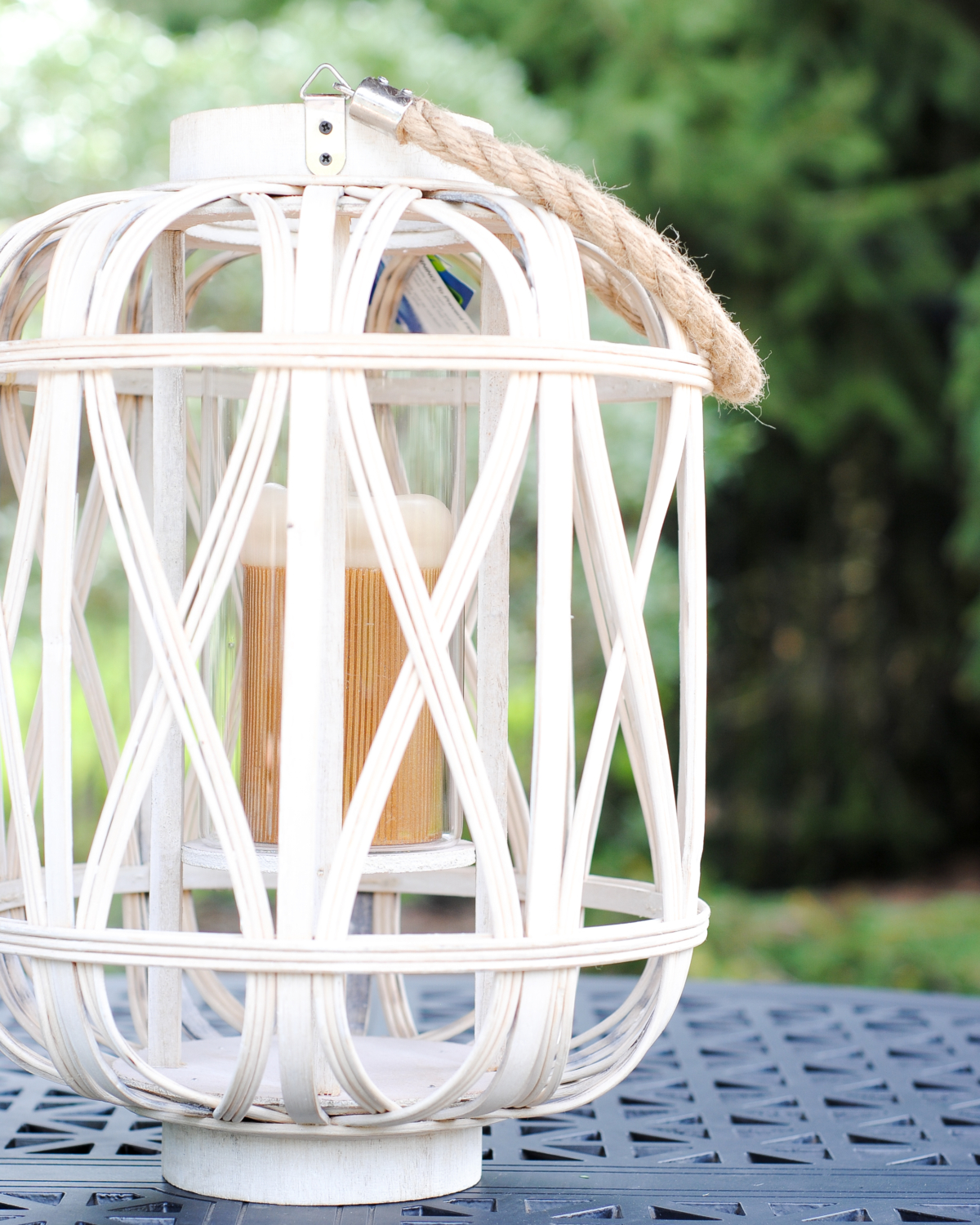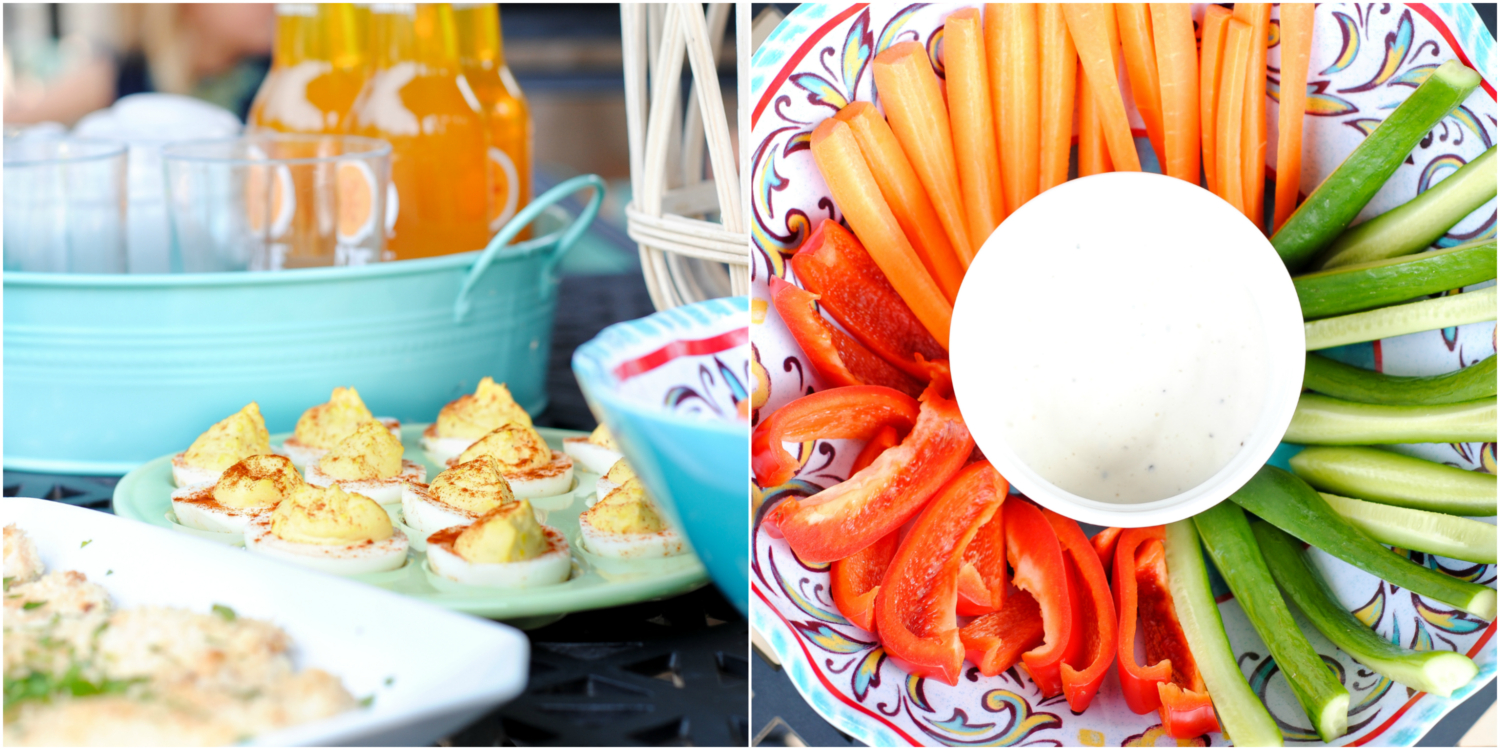 Here are my top tips for making a gathering like this both simple and special:
Plan food items that can be made ahead and then make everything you can before the party. I cut the veggies, the fruit, and hard boiled the eggs the day before. My mom made the chicken the night before.
Think outside the box with your serving plans. Instead of bowls of cut fruit, thread pieces onto skewers for a festive look. Wrap items simply but with attention to detail – humble parchment paper and bakers twine make the s'mores look like little presents.
Bottled drinks – juice, soda, water, or anything at all really – look more special than just glasses of water. I like to buy an assortment of bottled drinks and then pour into glasses at the table.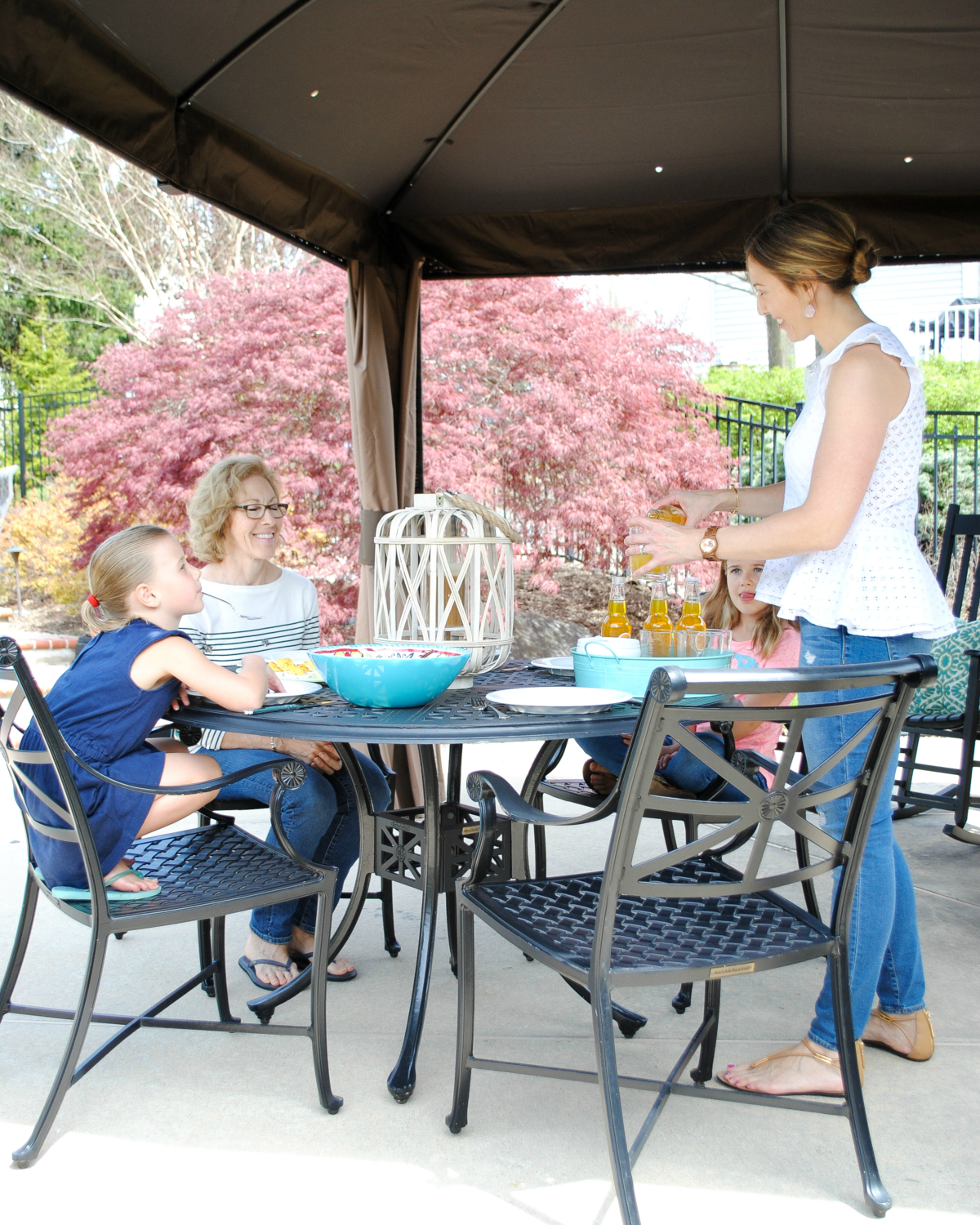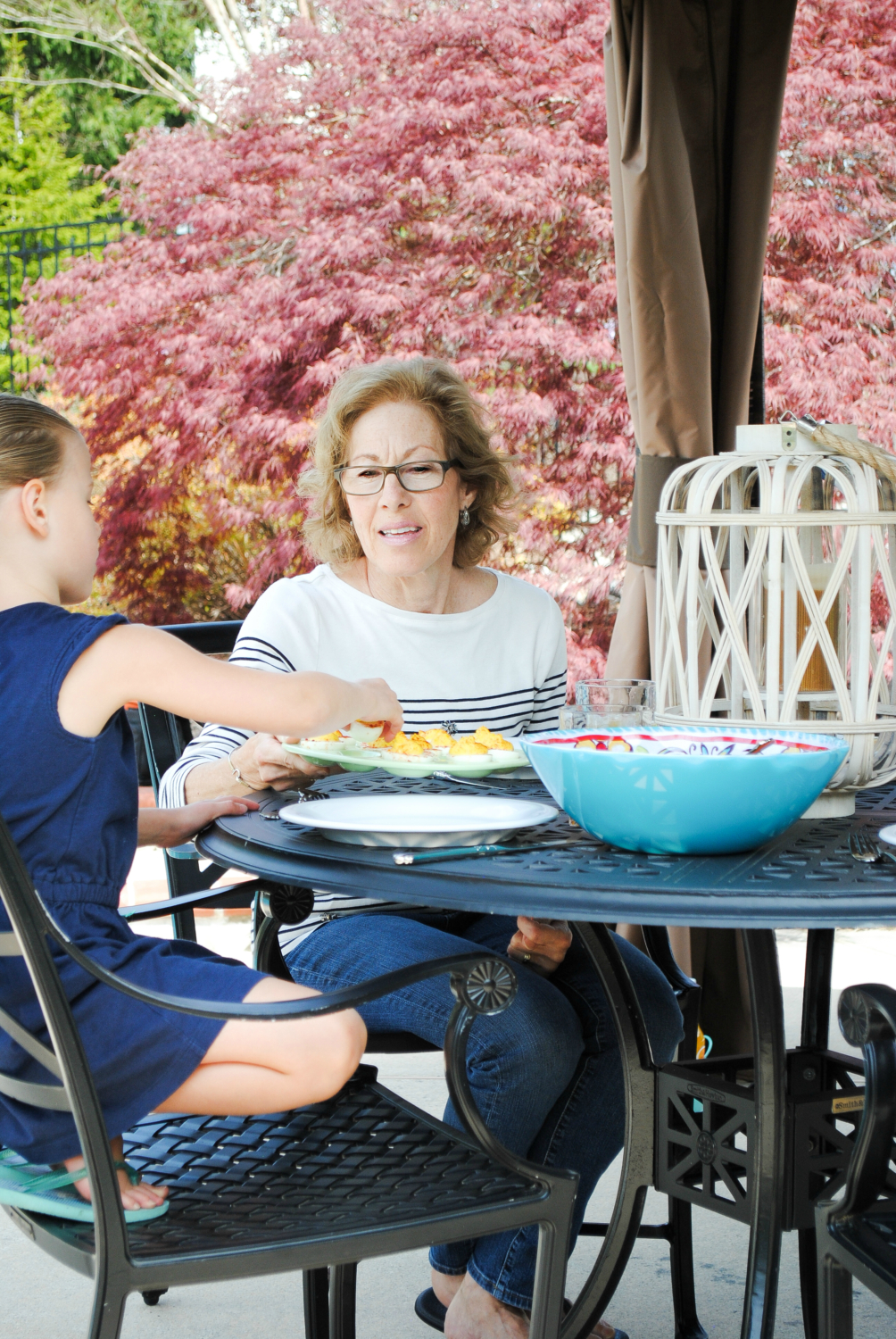 Now how about my secret for make-ahead, packable s'mores?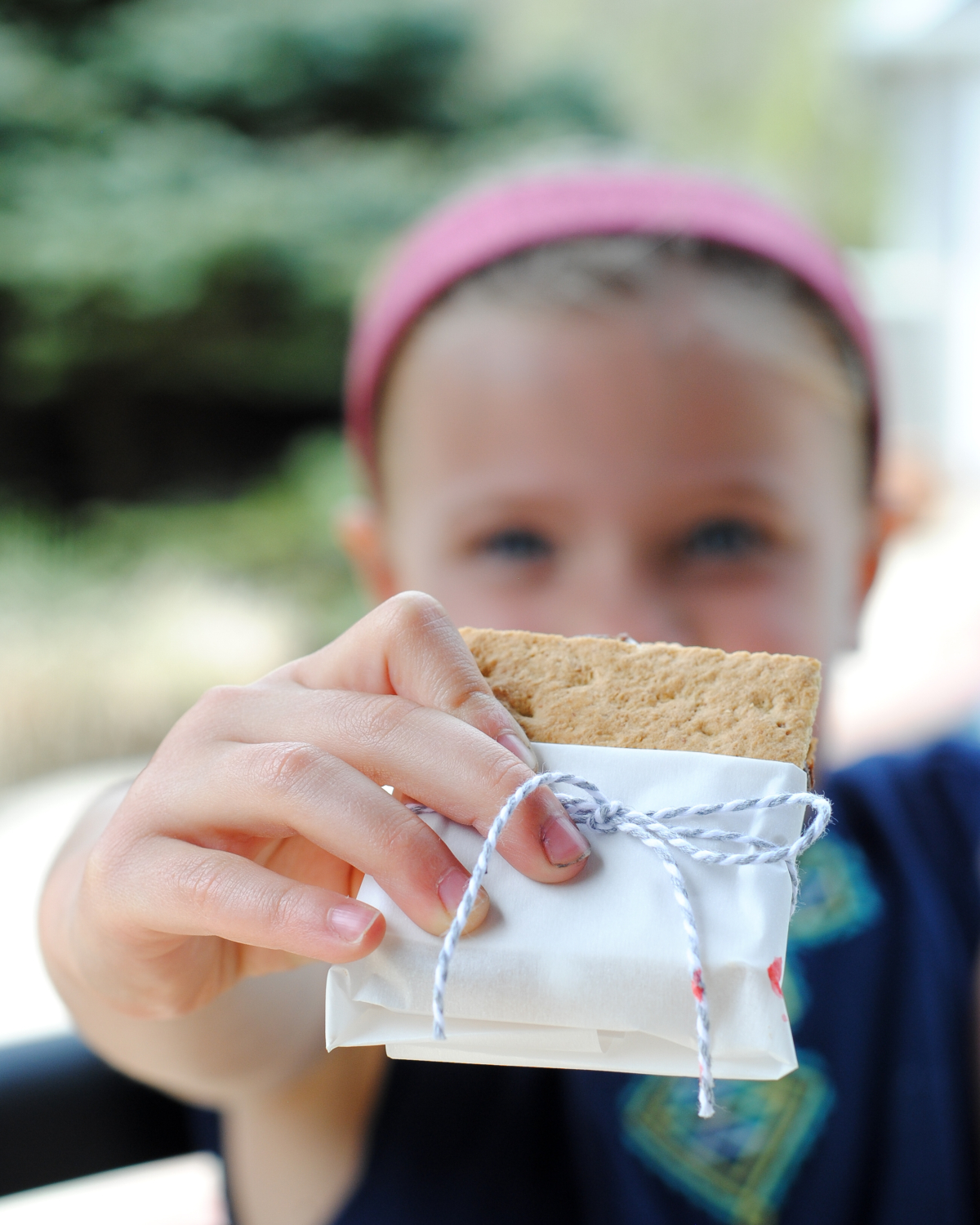 Break graham crackers in half, place on a baking sheet, and top each half with a jumbo marshmallow. Place under the broiler for 3-4 minutes then remove from the oven and let cool slightly. Meanwhile, spread an equal number of graham cracker halves with chocolate frosting. Press a marshmallow and a frosting half together, pack them up, and eat whenever. No mess and no fuss. I can't say they are exactly as good as ones fresh off the campfire, but they're a lot less messy and they are great for making ahead or packing for picnics. And I heard exactly zero complaints about them.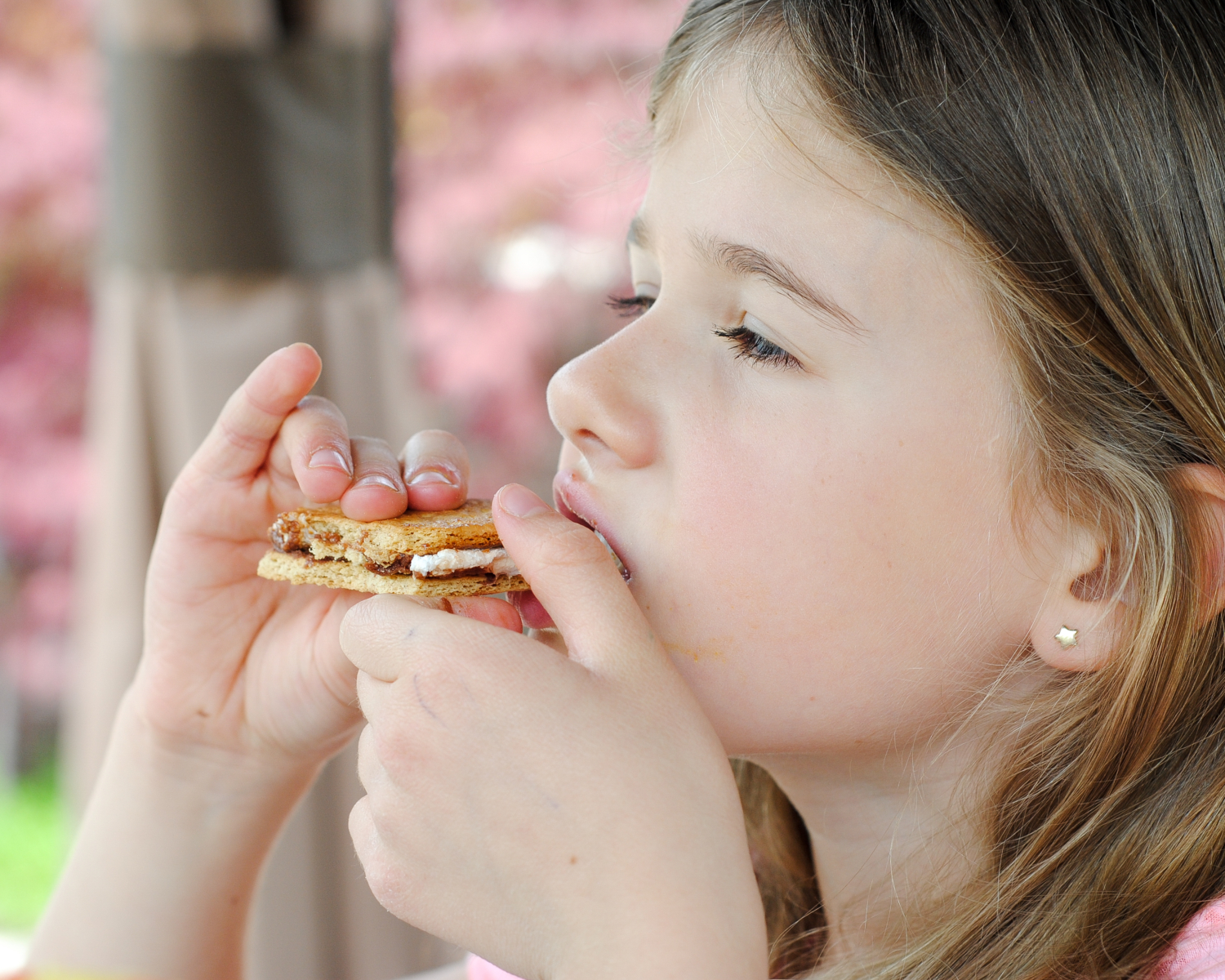 This week's weather and gazebo lounging has me counting the days until I am down here again for a few weeks this summer! I see more yummy lunches in the shade in my future…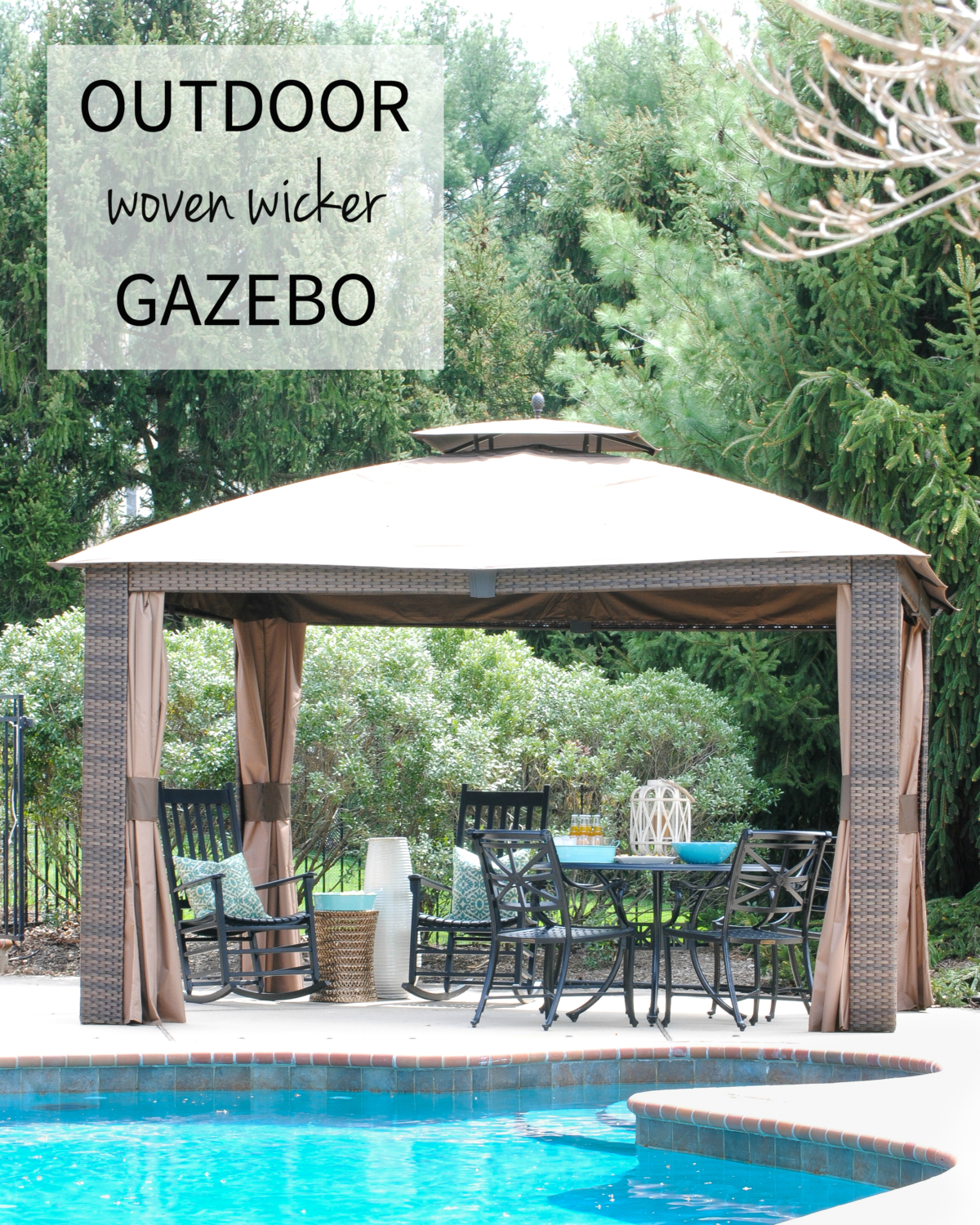 What are you doing to get ready for summer? My mind is racing with everything I need to do when I get home to get my outdoor spaces looking even half as great as my parents'!