It's been a little while since we had a Blogger Stylin' Home Tours – the last one was Christmas and now in late April, instead of sharing Spring Home Tours, Lindsay came up with the idea of doing a Work & Play theme, showing where we all work at home and where in our homes we like to play. If you're coming here from Place of My Taste, welcome! If not, be sure to head over and see Aniko's patio – it is so beautifully, colorfully, and cleverly done! Thank you for taking the time to stop by if you're new around here. I consider myself a "modern homemaker," enthusiastically tackling everything from carpentry to cooking. I have classic style with a contemporary twist and believe a family home can be both stylish and comfortable.
My husband, Scott, and I bought this house two years ago and we plan to stay here for a loooooong time. We've done a lot in the two years we've lived here but there is still A LOT to be done to make this house into the one we want it to be and know it can be. For the first year we lived here, I didn't have a dedicated workspace. Half of the third floor in our house is finished and we intended for that to be my office but, truth be told, we have let that room become a dumping grounds for furniture we're either not using right now or are waiting to reupholster, our treadmill, my fabric hoard, and a few rogue moving boxes that have not managed to get unpacked. Eventually (maybe next year?) I will address that space and put into motion some plans I have for it.
In the meantime, working at the kitchen counter with things strewn about all over the place was definitely not working for me, and we have this little nook off the back of the family room, so I turned it into a small office area for myself and it has functioned really well for me over the past year. If I'm not working on a project, this is where you can find me working on my laptop most days.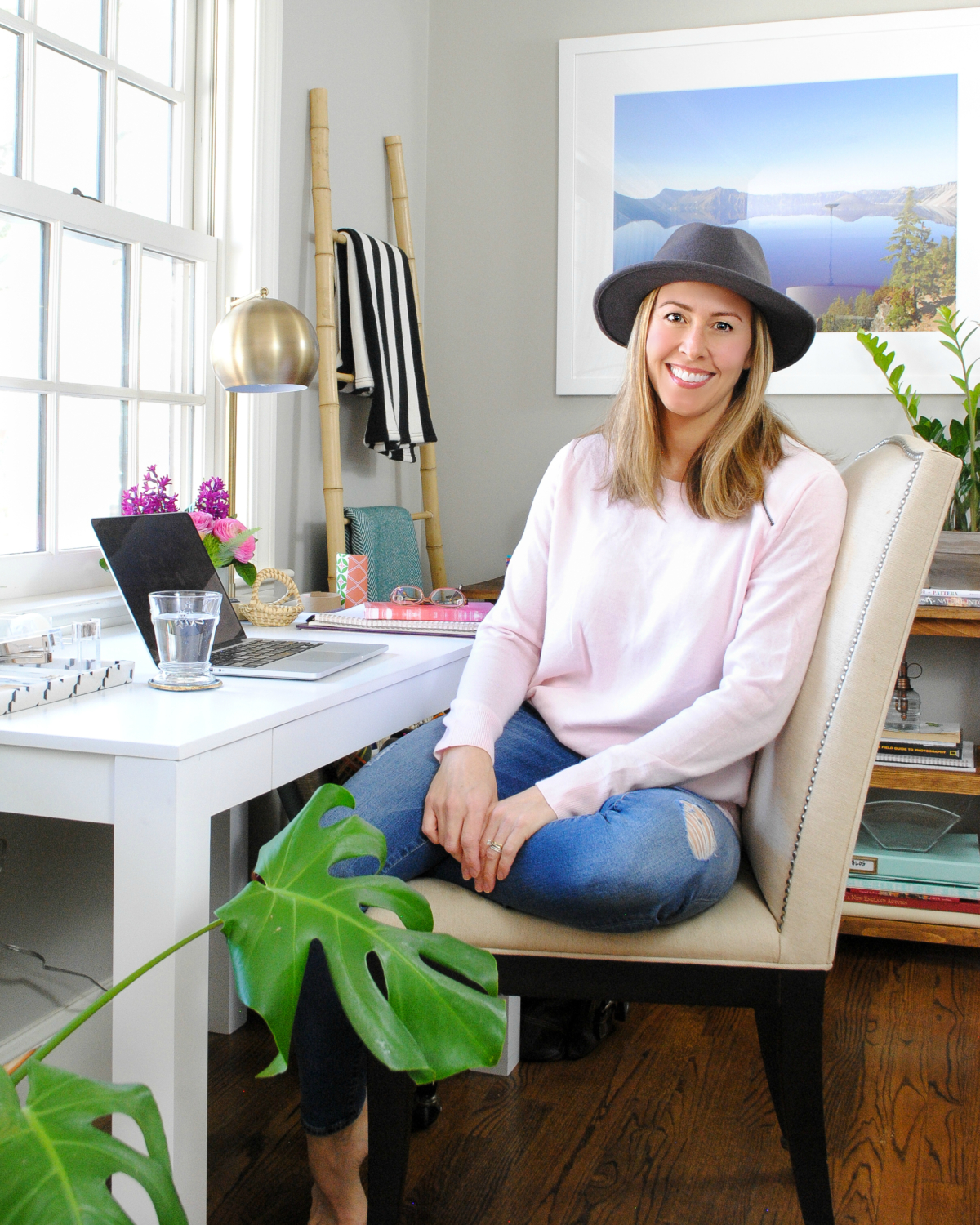 This is a pretty accurate representation of how I look at home most days too – bare feet, no jewelry, and jeans (or exercise clothes if I've worked out that morning). I use that console table you see behind me (tutorial for building it here) to hold miscellaneous supplies, folders, my camera, and other work items I can't fit in my desk.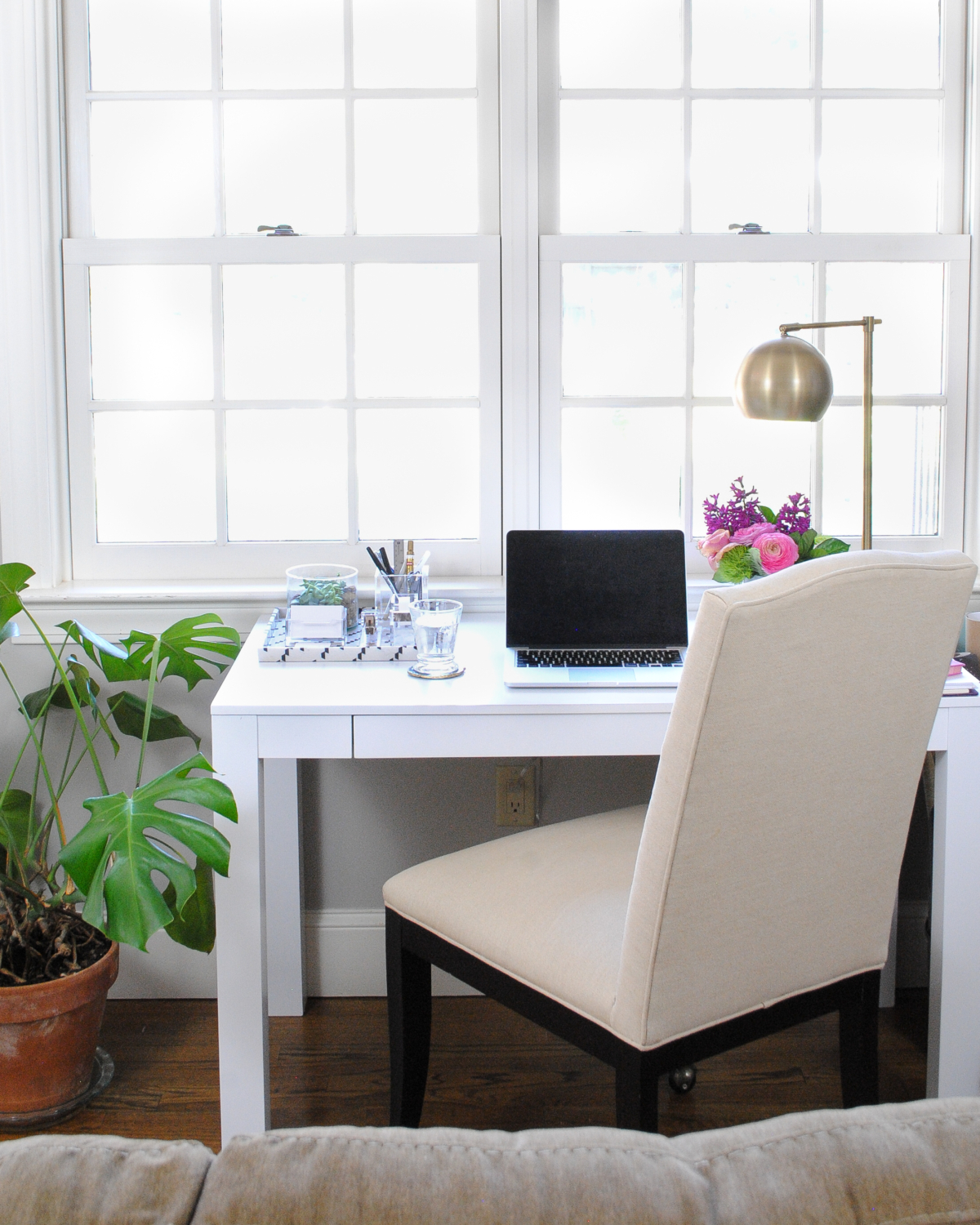 The classic white parsons desk has a small front drawer that holds odds and ends and I use an old dining chair we had as my desk chair (I added casters to it to make it more of a functional desk chair).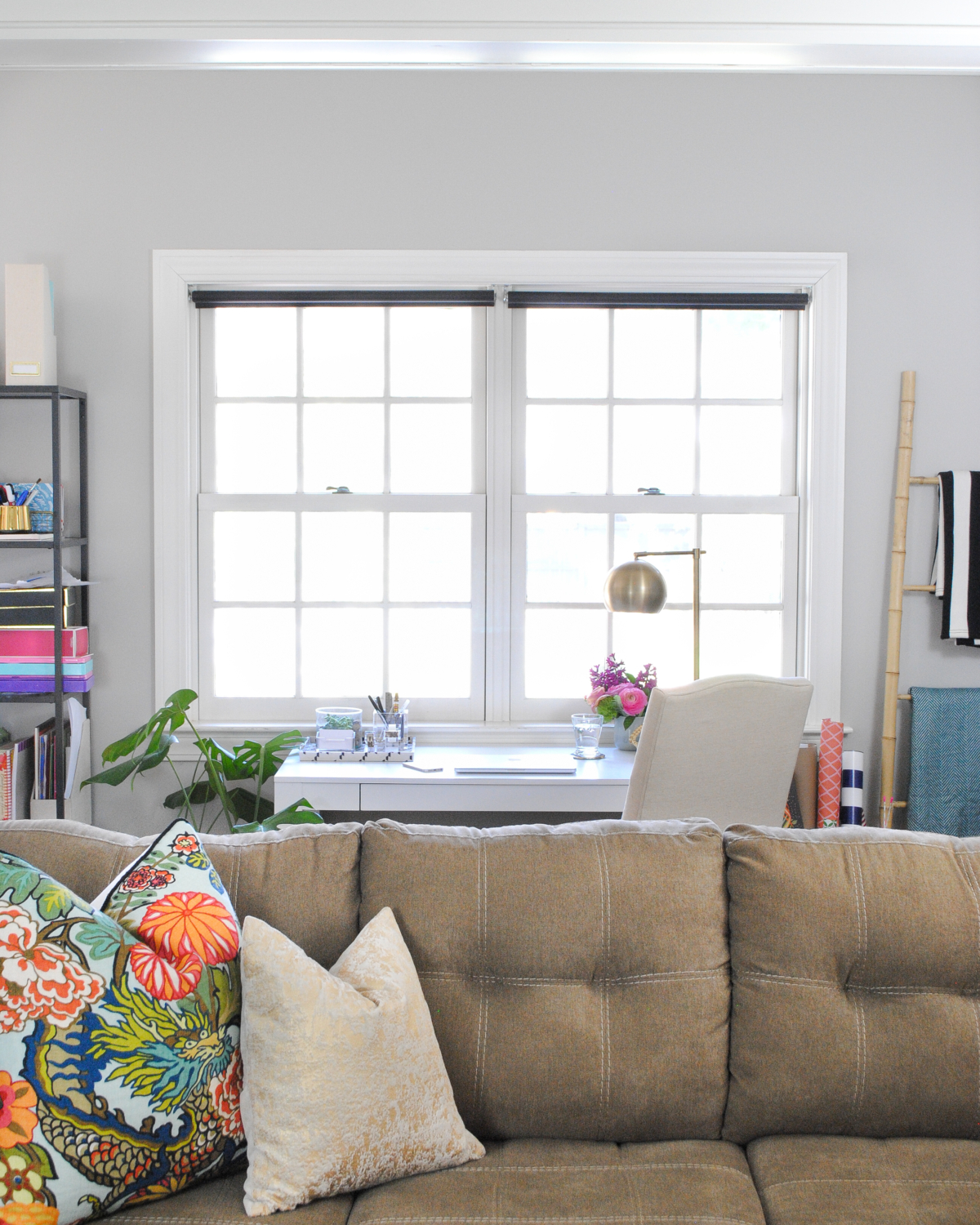 You can see in the photo above how the desk is tucked in the back of the family room, behind the sofa. My favorite part about this placement is that it looks out over the backyard.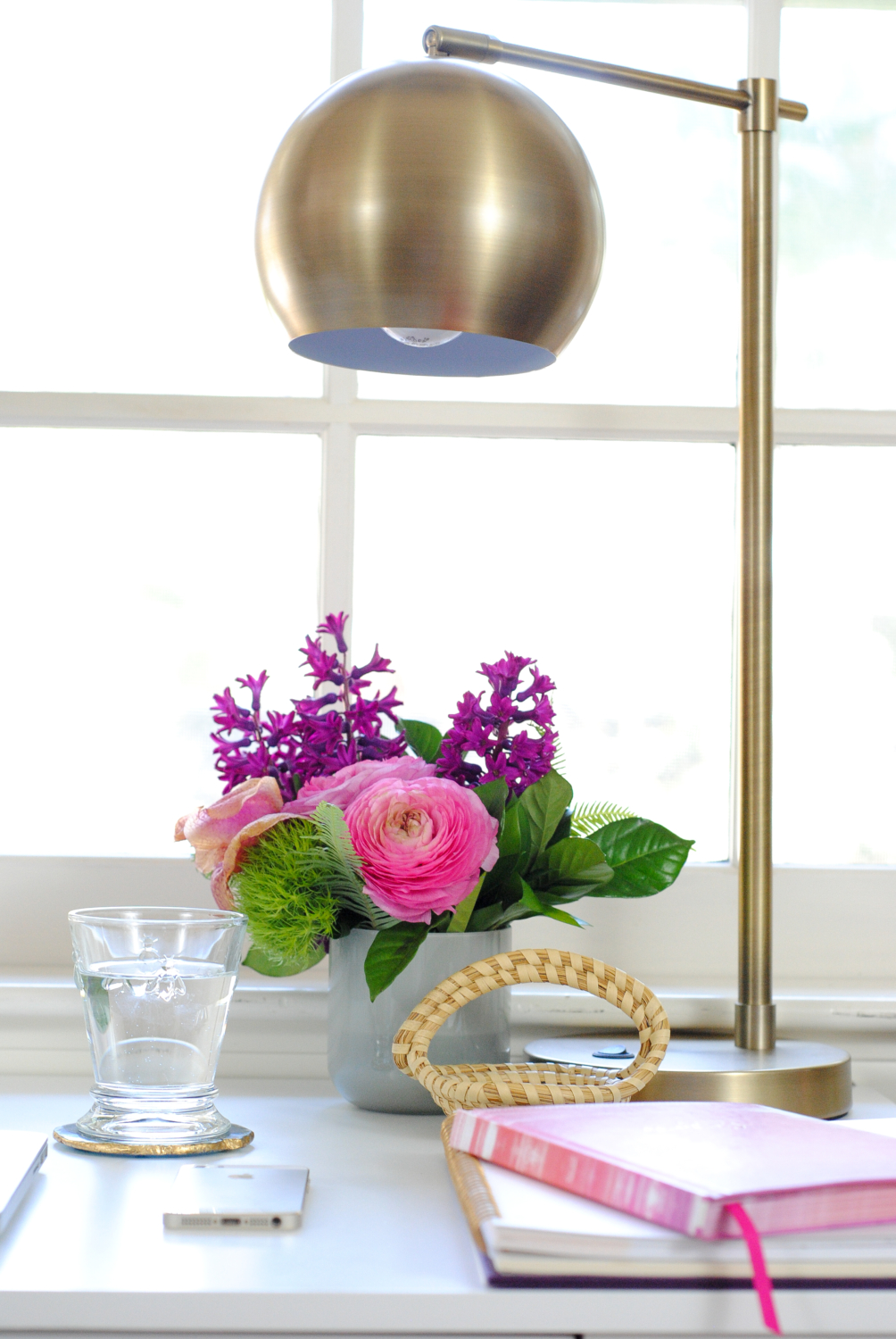 This brass lamp wasn't available online for a long time but it looks like it's able to be ordered now with the store pickup option. I love its simplicity and it's the perfect size for a desktop (or bedside table).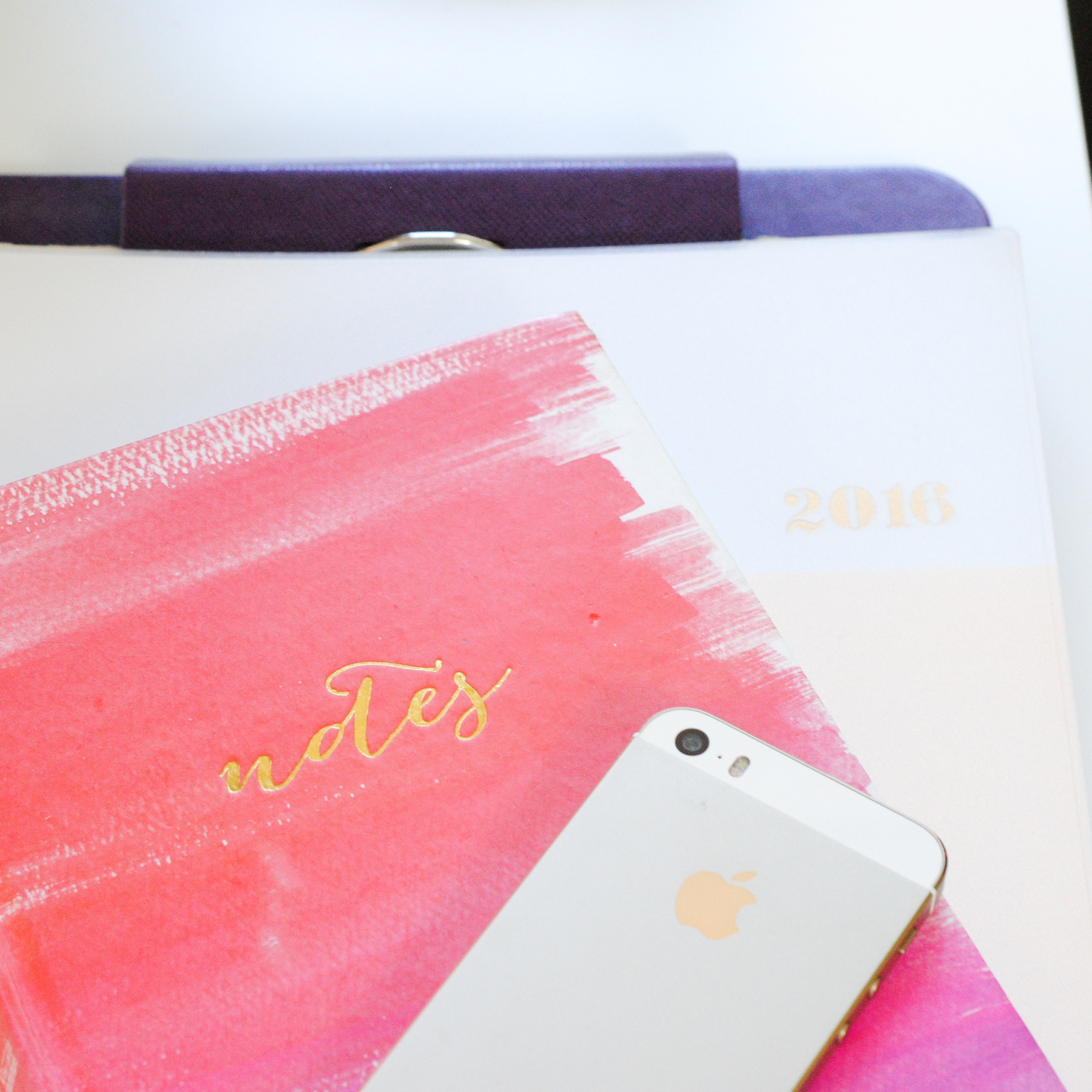 I try (sometimes unsuccessfully) to keep the top of my desk somewhat tidy. But I almost always have my paper calendar (I am a total dinosaur and still write everything in my paper calendar), a notebook of some kind, and my phone on the desk, next to my laptop.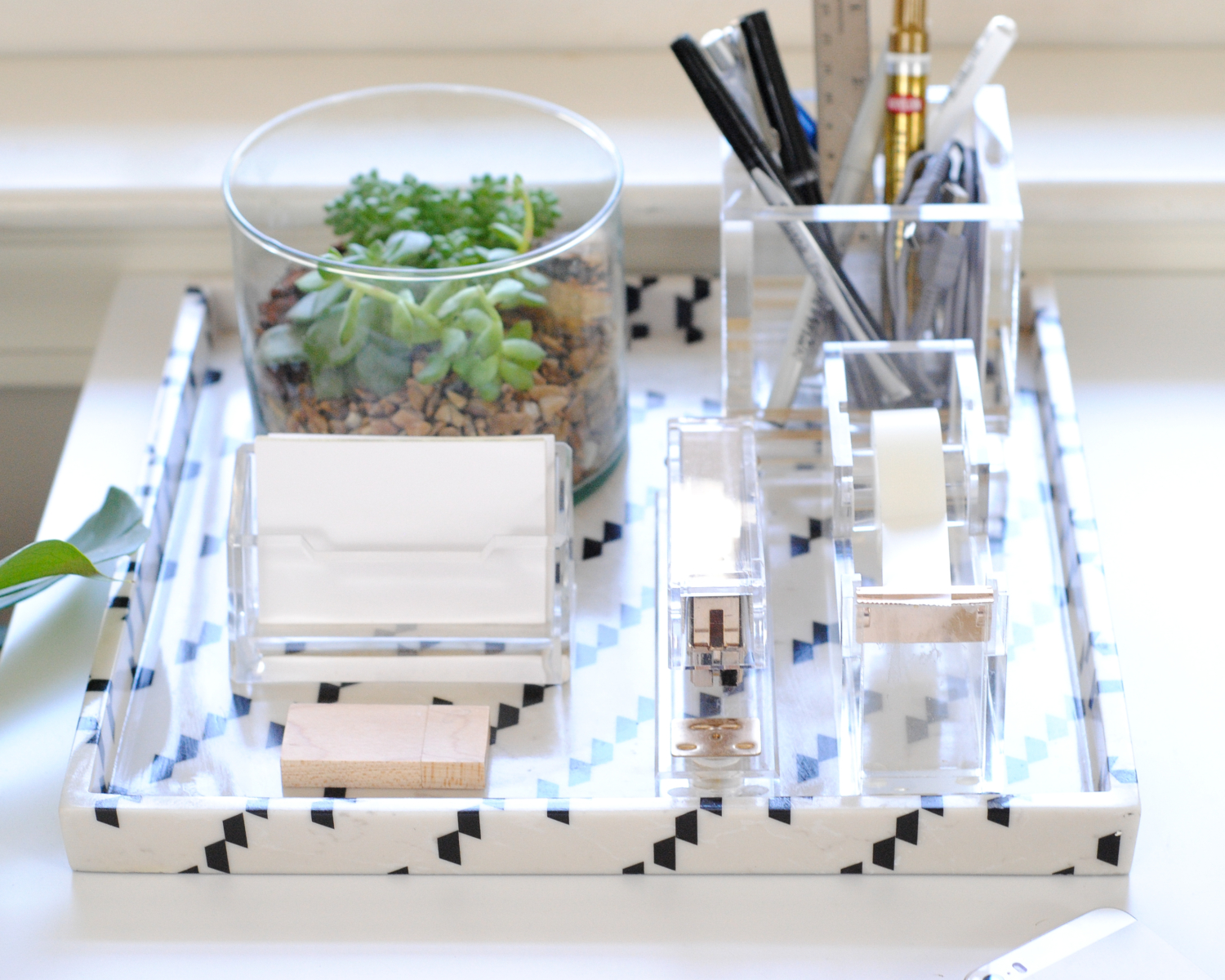 I keep a small tray on the other side of my desk that holds a cup for pens and pencils, a notecard holder, my stapler, and tape dispenser (you can buy them in a bundle here with a phone dock/ruler included).
Now for the "play" portion of this tour. I actually struggled a little bit to figure out what to share with you here. With two little kids in the house, our whole house is a playground! But the place where I like to play the most, or at least relax, in both our last house and this one, is the screened porch. I wish we lived in a climate where I could use it for longer, but then the months when I can use it are that much sweeter. In our last house we had a tiny little porch that I loved. When we were looking to move, a screened porch wasn't a "must have" but it was definitely something I was hoping for in our new house. When we found our current house I was just so happy that it included a spacious, airy screened porch and I couldn't wait to make it usable for our first spring and summer here.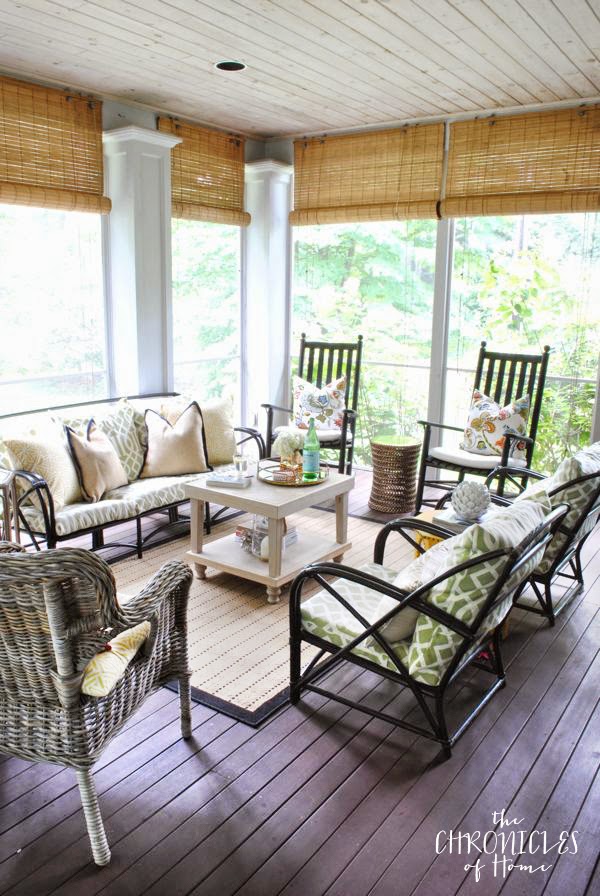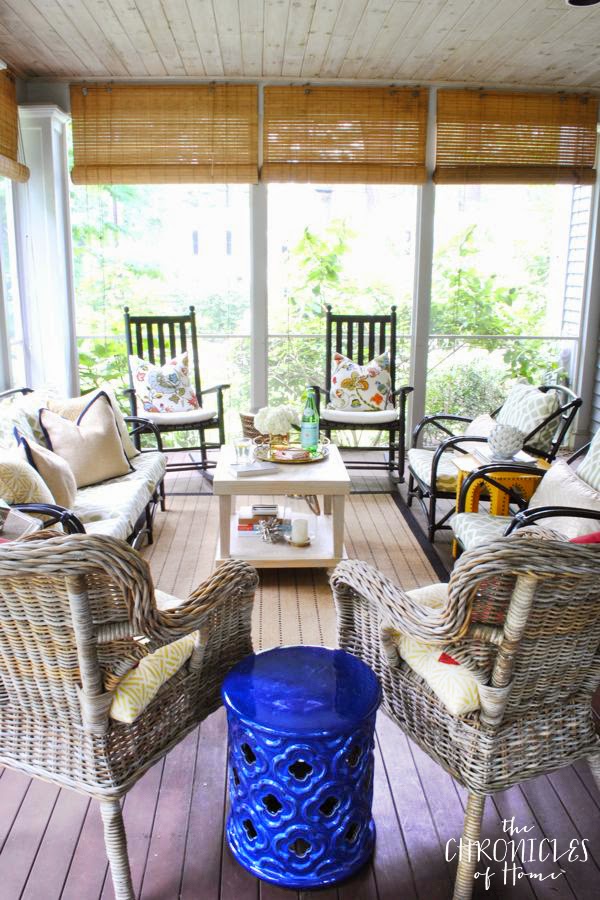 The furniture from our old house fit fine, and as much as I adore the vintage rattan sofa and chairs (which I can't seem to let go and are still sitting in my attic) I jumped at the chance to give this room a makeover last spring as part of Home Depot's Patio Style Challenge. I added a woven wicker sectional, two matching chairs, a custom curtain rod and outdoor curtains, and installed an electric fireplace in the room.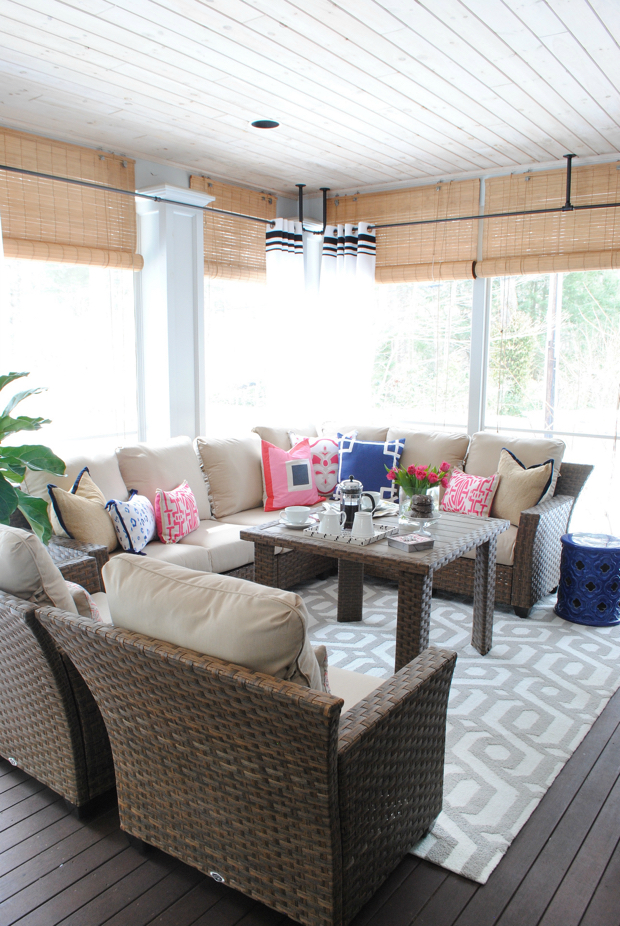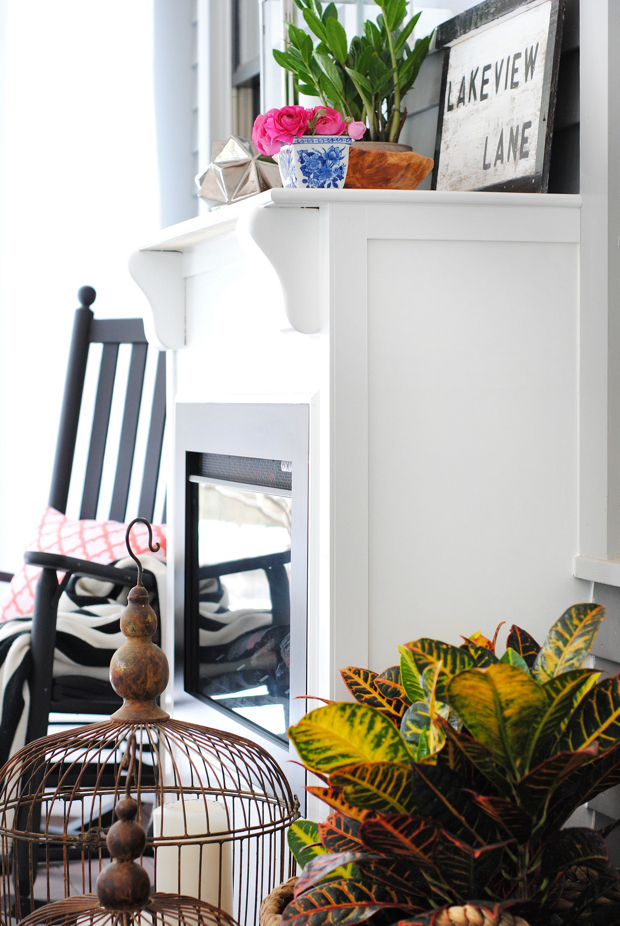 Last week I shared the new coffee table in the room, which is the only change I plan to make to the seating area.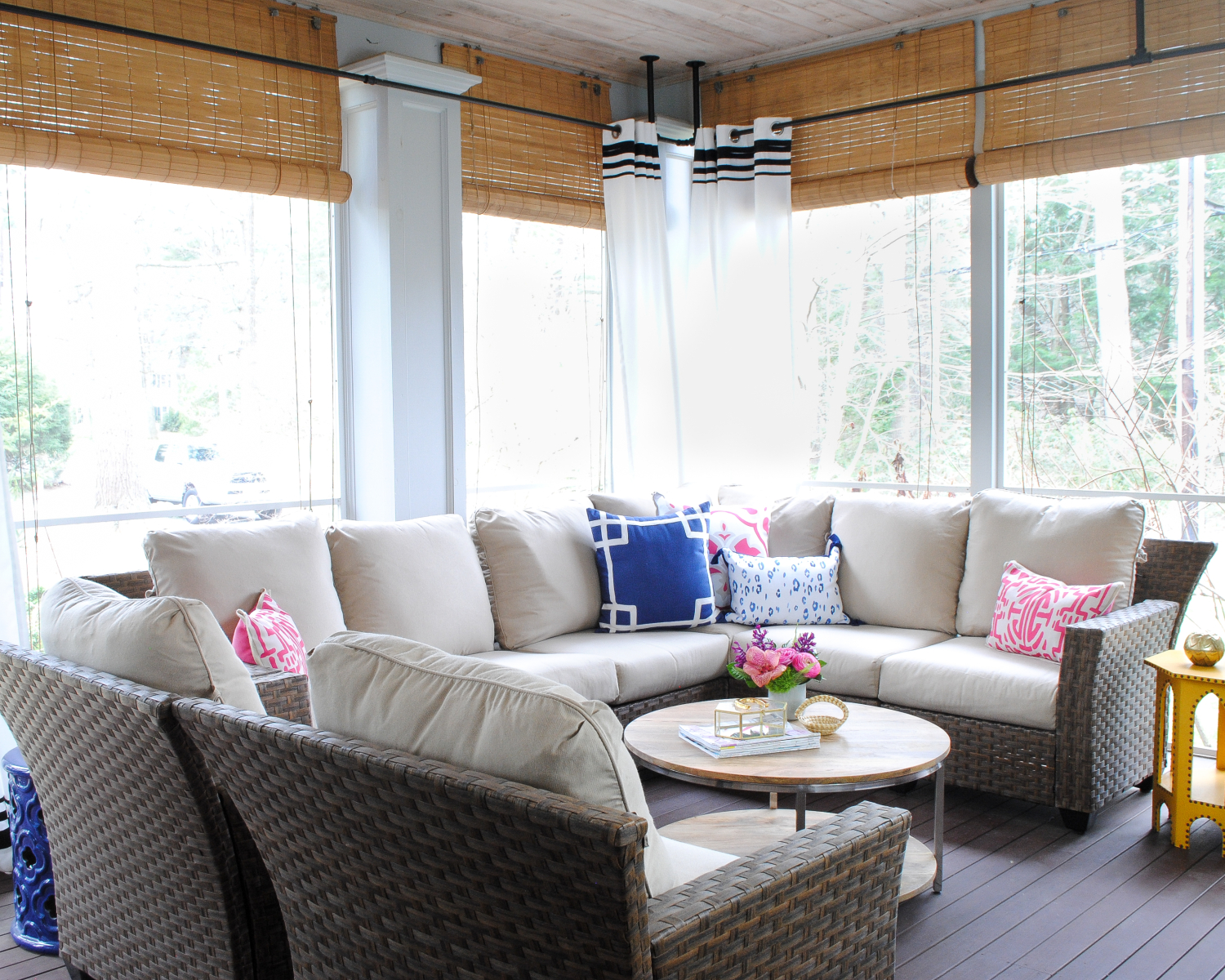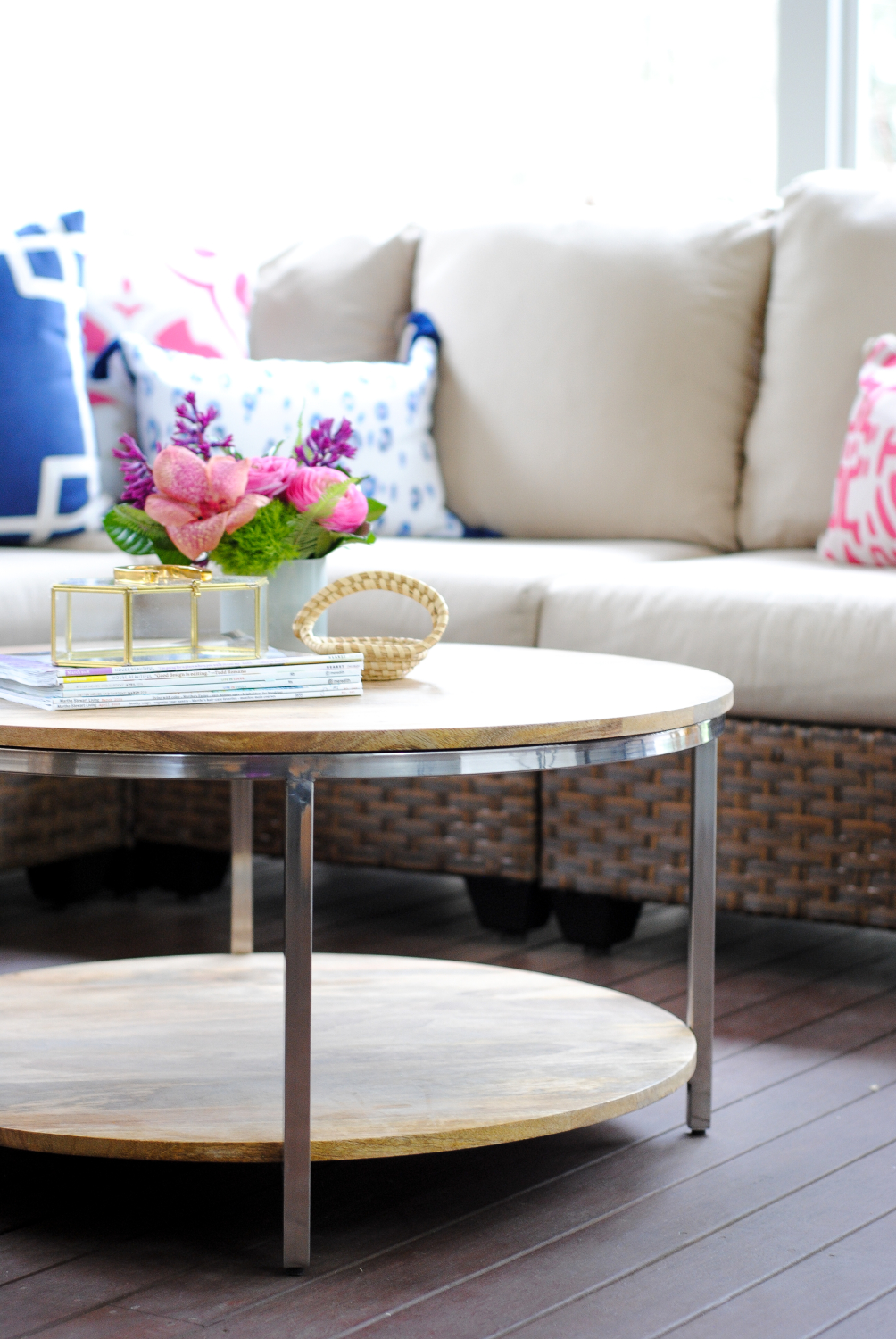 wood and chrome coffee table
The only thing I still want to do to this room is add a dining table that will seat eight. We often eat outside on summer nights but mosquitoes are a major problem where I live (hence the popularity of screened porches) so on nights when we're going to be eating later or are hosting a dinner party, the screened porch gives us the chance to be semi-outside without getting gobbled up by mosquitoes. Last year I had this adorable bistro set on the porch, but I definitely want to add a rectangular table this year. I'm not sure yet if I'll purchase something or make it.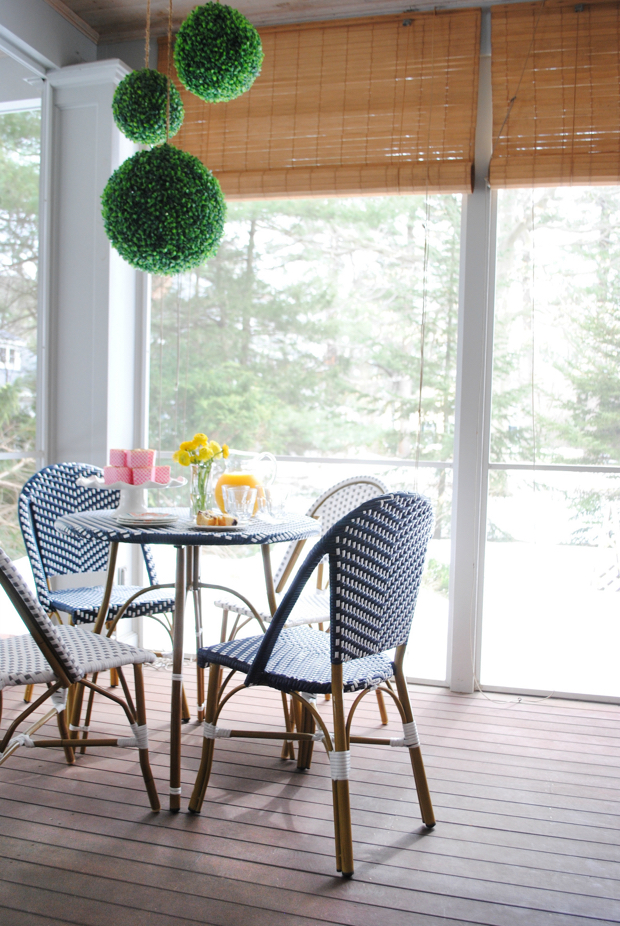 Thanks again for joining me today. Make sure to stop by the next house on the tour, Life on Virginia Street. Sarah's home office is to die for.
You can see all of this week's tours by using the links below, which I'll update each day as they go live.
The White Buffalo Styling Co.
Emily A. Clark
Cuckoo 4 Design
Bliss at Home
Iron & Twine
Nesting with Grace
Place of My Taste
The Chronicles of Home
Life on Virginia Street
Bright Green Door
Our Storied Home
WithHEART
The Wicker House
Primitive & Proper
DesignPost Interiors
My Fabuless Life
The House of Silver Lining
Thistlewood Farms
Simple Stylings
Restless Arrow
Katie Gavigan Interiors
Hi Sugarplum
The Décor Fix
A Designer at Home
Style Mutt Home
A Creative Day Blog
Style Your Senses