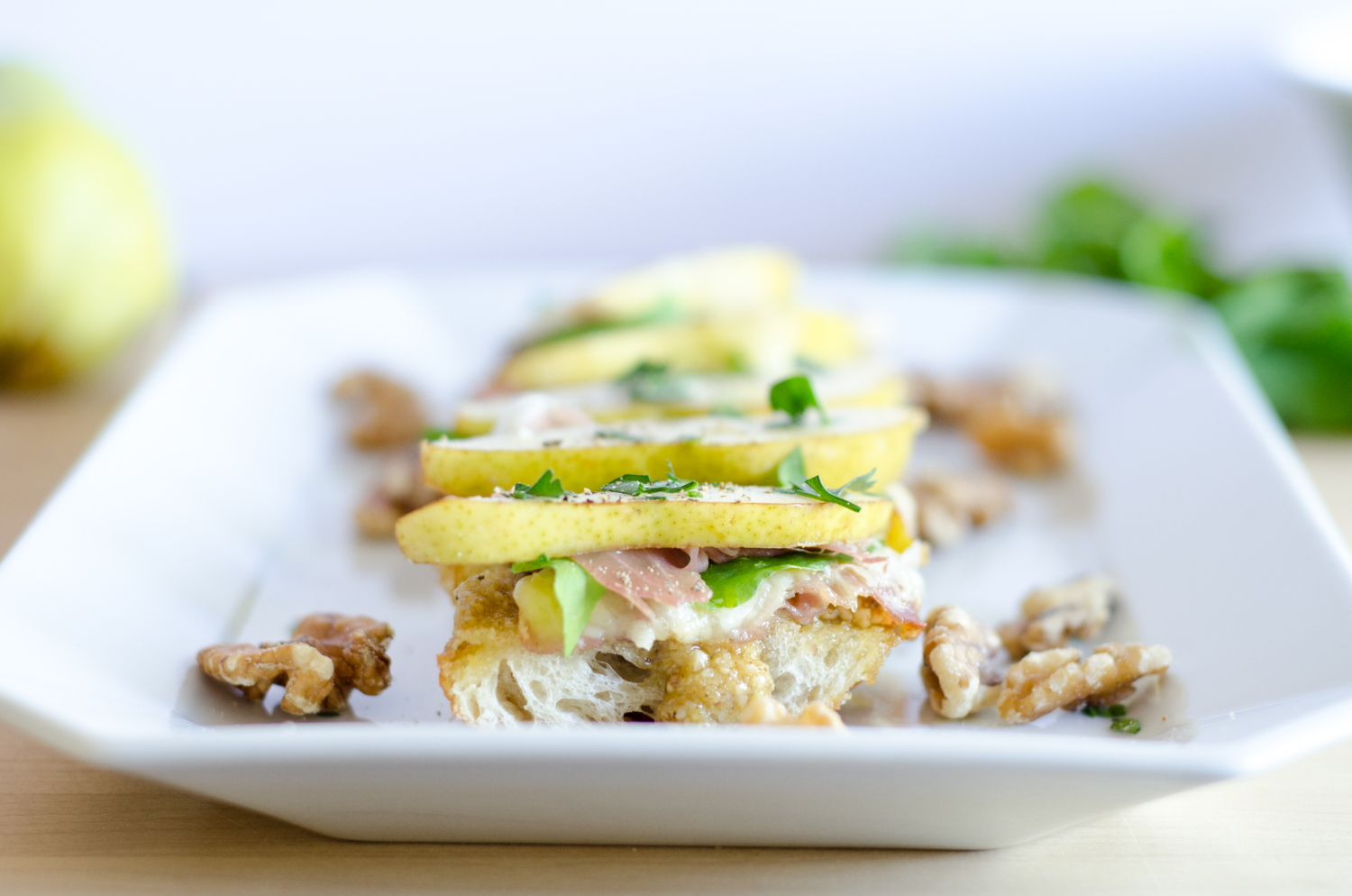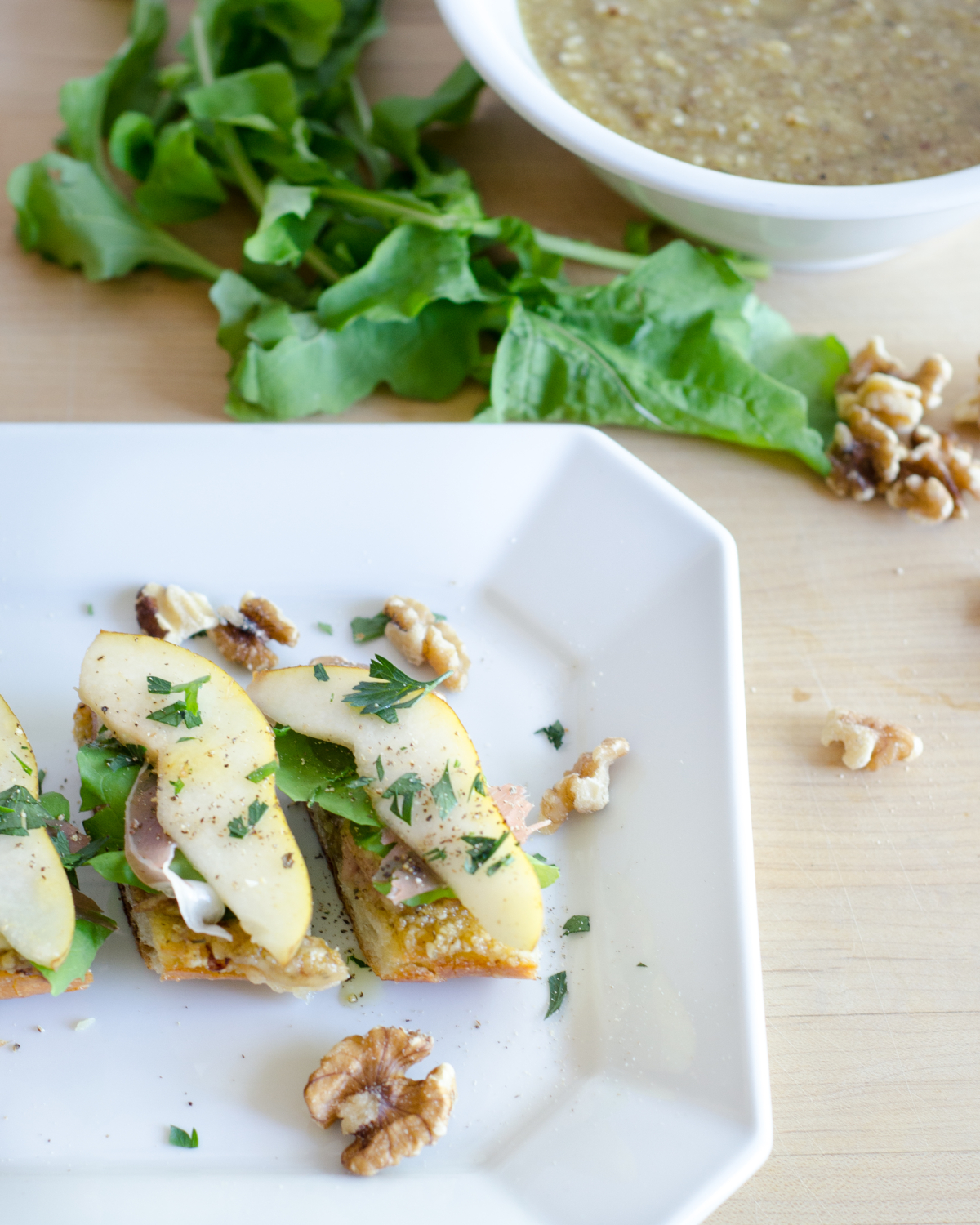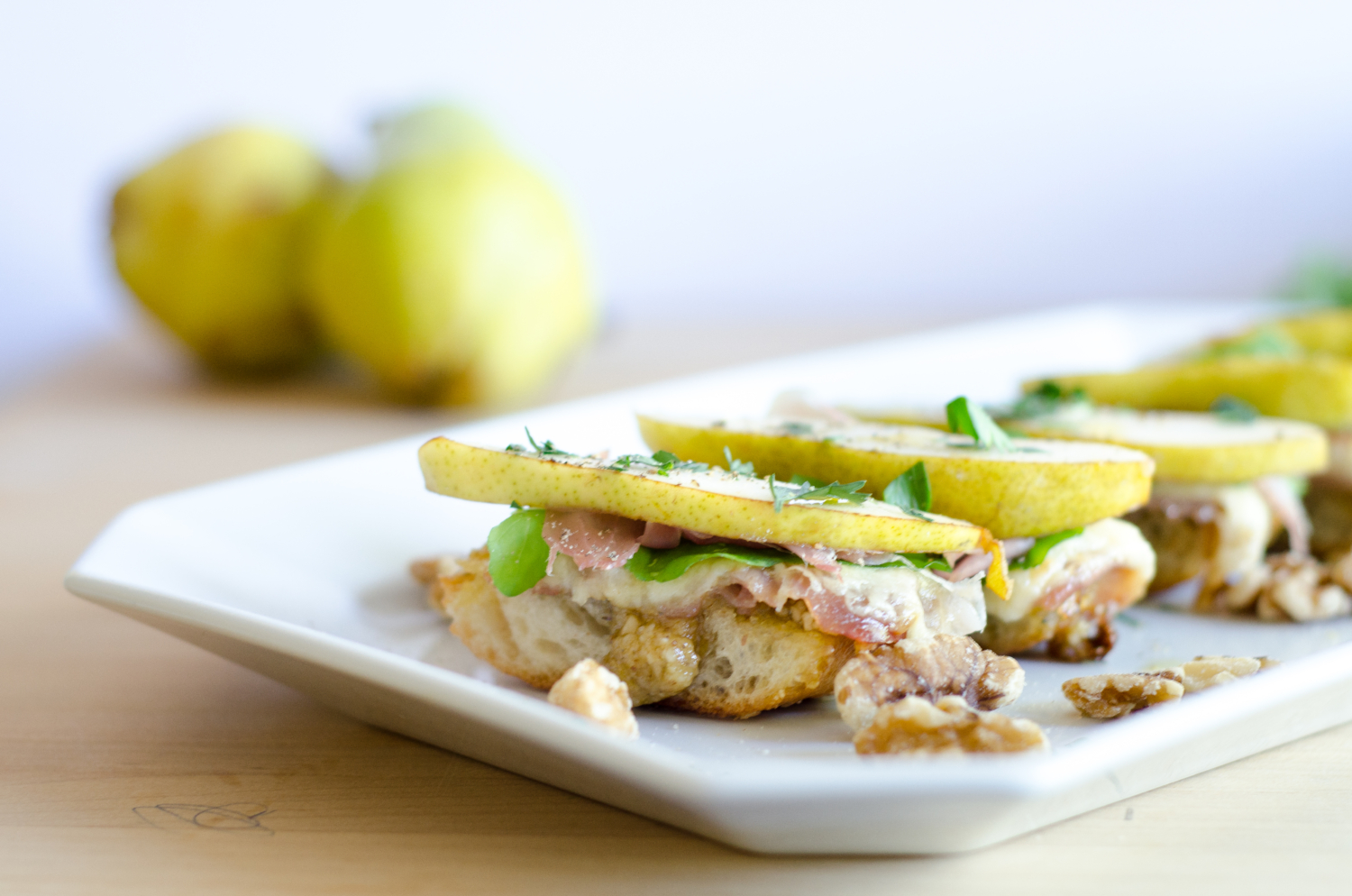 You guys…this walnut pesto, pear, and prosciutto crostini is to die for. Serve this as an appetizer for your next fall gathering and people will go absolutely crazy for it. It's the perfect combination of nutty, sweet, salty, creamy, juicy, and fresh. Basically everything wonderful about food is in this dish. It's hard to play favorites in this crostini because all the parts are so great – juicy fall pears, salty prosciutto, creamy Havarti cheese – but if I had to pick the one component that really steals the show, that makes this dish, it would be the walnut pesto.
Exceedingly simple, the combination of walnuts, olive oil, honey, thyme, salt, and pepper turns to pure magic when pulsed in a food processor to become this pesto. I defy you to not sneak a spoonful straight out of the bowl while you're assembling the crostini. Traditional pestos call for pine nuts but walnuts are the perfect choice for this riff on pesto. They have enough flavor and crunch to stand up to the honey and thyme so you still get this great nutty depth of flavor that is complemented, not overpowered, by the other ingredients in the pesto. And, hey, it doesn't hurt to know that California walnuts are the champion of plant-based omega-3s among nuts, as well as having 4 grams of protein and 2 grams of fiber per ounce. Delicious and great for you! Don't you love when that happens?
You can easily turn this into dinner as well – just leave the baguette in larger pieces and you have a filling, totally delicious, and complete meal. Guess what I had for dinner last night?? I'm already planning to make this as a fall appetizer for one of the parties I'm hosting the next couple of months though. It's become a fast favorite around here and is as pretty as it is delicious – just perfect for your next party.

Walnut Pesto, Pear, and Prosciutto Crostini
A delicious crostini appetizer that is easy to make but complexly flavored with walnuts, honey, prosciutto, and pears.
Ingredients
1 c. California walnuts
½ c. extra virgin olive oil
2 tbsp. honey
1 tbsp. fresh thyme
1 fresh baguette, halved lengthwise
8 oz. Havarti cheese, sliced
4 oz. Gruyere cheese, grated
1 c. arugula
4 oz. prosciutto, cut or torn into strips
2 pears, quartered, cored, and sliced thin
Instructions
Preheat the oven to 450º.
Toast the walnuts in a dry frying pan or in a toaster oven until brown, about 6 minutes. Transfer to the bowl of a food processor. Add the olive oil, honey, and thyme and pulse until the walnuts are coarsely chopped. Season with salt and pepper to taste and pulse again until the walnuts are finely chopped.
Place the baguette halves cut side up on a baking sheet lined with parchment paper. Spread the walnut pesto over the tops, and top with the Havarti slices and grated Gruyere. Bake until bubbly, about 5 minutes.
Let cool slightly then use a serrated knife to cut the baguette into slices about an inch thick. Top each crostini with a few arugula leaves, a piece of prosciutto, and a pear slice. Grind some pepper over the tops and serve warm or at room temperature.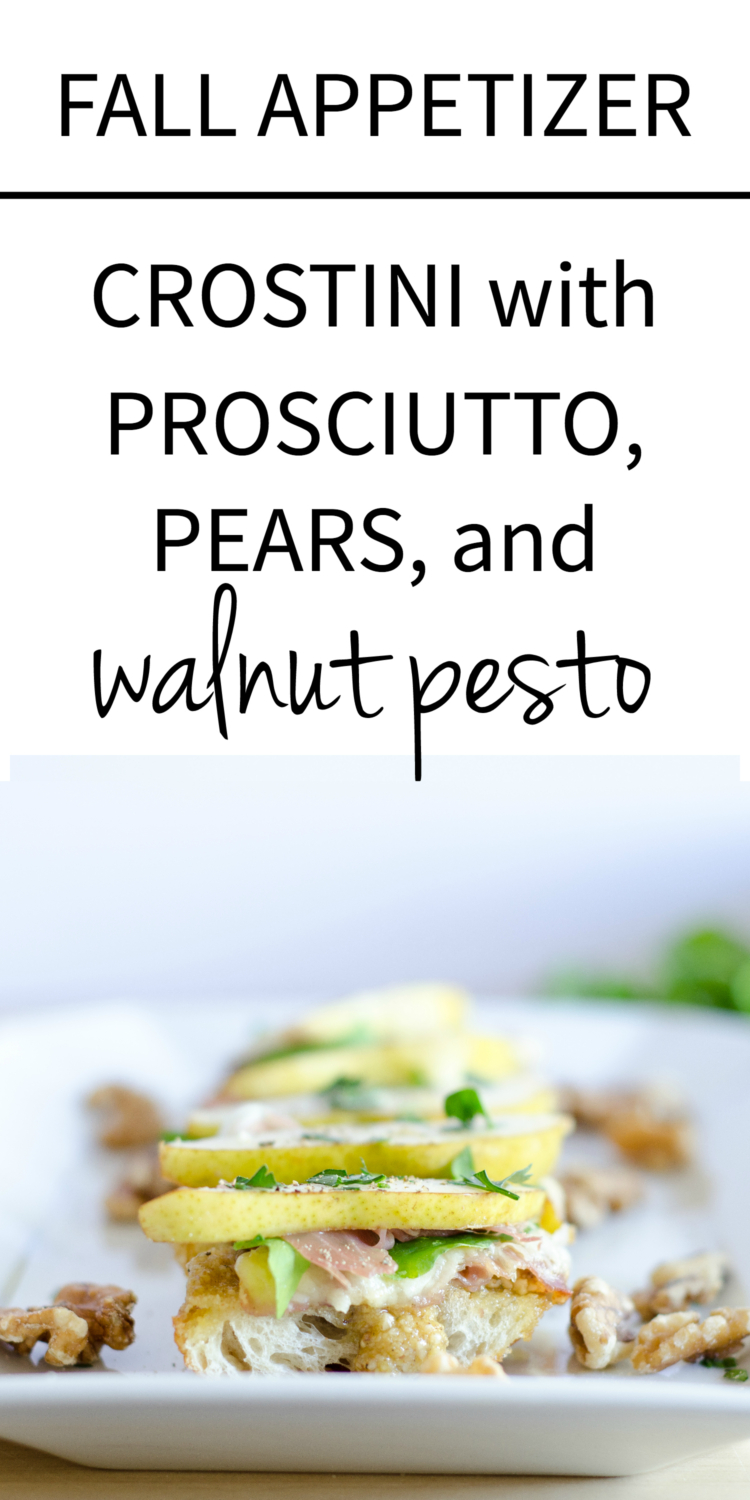 I was selected for this opportunity as a member of Clever Girls and the content and opinions expressed here are all my own.