I've really struggled the past few years to come up with gift ideas for my kids (7 and 9 years old) that I felt really excited about. I sat down early this year (with my kids!) and combed through catalogs and brainstormed things that we thought they'd like and I'm really excited about some of the ideas we came up with. I'm always looking for gifts that will keep on giving – things that they can play with repeatedly over the course of the coming year, not just a one and done thing. After lots and lots of looking, here's my kids gift guide 2017 with my top fifteen picks for kids gifts this year. Most of these would be appropriate for elementary-aged children.
Kids Gift Guide 2017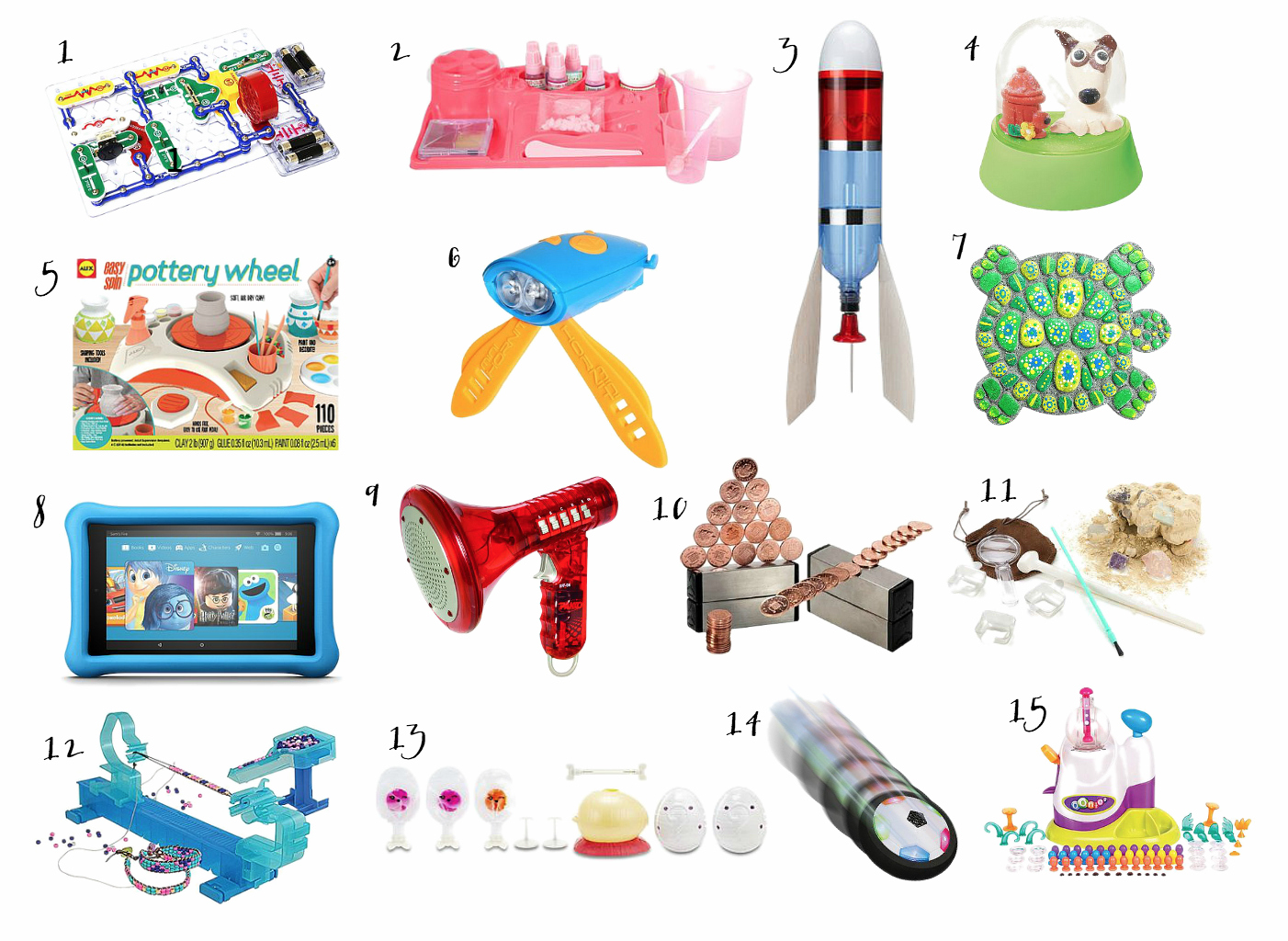 Snap Circuits – My 9 year old is always wanting to "invent" things (her words) but I don't feel like she has the right tools (both mental and actual tools) to get started. With this kit, kids can build over 300 projects (r

adio, doorbell, burglar alarm, etc.), so it both teaches them how to construct and wire projects and includes all the pieces they need to do it. I'm not going to lie…I'm pretty excited to play with this myself. This toy is STEAM (science, technology, engineering, art, math) at its best. 

Lip Balm Lab – Living in the northeast, it feels like we apply lip balm every ten minutes to combat the cold, dry winter air. I'm not usually into the "make your own perfume, soap, etc." kits but this actually seems useful to me since it'll be another STEAM-related activity that we can actually use!
Meteor Rocket – This is a classic baking soda and vinegar rocket but a super cool one – it launches 100′ feet in the air!
Make Your Own Glitter Snow Globes – Both of my kids were all over this idea. And I can't deny the allure of a snow globe, they're so pretty and magical. Kids mold included clay into different shapes and then create scenes inside their own snow globes. Super cute.
Kids' Pottery Wheel – We have about all the marker-pencil-crayon-paint art supplies we can handle so I love the idea of adding something different to the mix with this beginners pottery wheel.
Mini Hornit Bicycle Lights and Sounds – A few of my kids' friends have these and they've been talking about them for months. They clip onto any kids' bike or scooter and produce light and sound effects. It makes biking just a little more fun and has the bonus of being a safety feature too when kids are out on bikes at dusk.
Paint Your Own Stepping Stone – This one kind of surprised me but both of my girls were super into these stepping stones. They're heavy, actual stones that kids can paint and then place outdoors in a garden or flower bed. I love the idea of adding something my kids made to our outdoor spaces. There are a variety of different shapes available.
Kids' Kindle Fire – We gave this to my older daughter when she was 7 and this year we'll be giving one to the younger daughter, who is now 7. It's been a GREAT kids tablet at a reasonable price point and is something that will be able to grow with them for many years. It's a regular tablet that just has some kids' safety features built in.
Multi Voice Changer – My younger daughter loves anything silly and this voice changer will surely keep us all cracking up. Just after 8 a.m. on weekends, please…
Magic Penny Magnet Kit – Kids can play with 

geometry, shapes, positions, symmetry and more with this magnetic kit. My younger daughter has been fixated on it for months!

Crystal Mining Kit – This was just given to my younger daughter and both of my girls were SUPER into it. I'll warn you, it's messy, but nothing more than most kids' art activities. The kit comes with a solid sand block that kids chip and saw away at to unearth crystals. My kids loved this.
Wrap Bracelet Kit – The newest addition to the Rainbow Loom family, this kit has everything needed to make beaded wrap bracelets. My older daughter was just given this and loves it. The bracelets are pretty cool too, I would totally wear them!
Smooshins – I tried fighting this one but my girls are obsessed with the idea of them. You basically hatch these little surprise creatures inside plastic eggs. But it's different than Hatchimals. And there are refills so they can keep adding to their collections.
Ultraglow Soccer Disk – If you have an open space indoors, this soccer disk is perfect for playing ball inside without worrying about flying balls smashing up your house.
There you have it! My kids gift guide 2017. I hope this gives you some ideas if you're trying to come up with some new ideas for your little ones. Between my girls' December birthdays and Christmas, I think we'll be adding a lot of these to our house this year!