Today I'm sharing my third and final Christmas tour – so far I've shared my mudroom and family room with you, my entryway and living room, and today I'm showing you my Christmas kitchen and dining room. Today's tour is part of an online tour of homes organized by Marty from A Stroll Through Life. I'm up first on the tour today, but the last house yesterday was Laura from Inspiration for Moms who, funny enough, shared her kitchen and dining room too, AND we used the exact same napkins in our dining rooms, though she used hers as placemats and I used mine as napkins. Apparently we're on the same wavelength!
The overarching theme for my Christmas decorating this year has been SIMPLE. I used a lot of garlands and wreaths and added white twinkle lights where I can see them shining somewhere no matter where I am downstairs, and everything outside of that was focused on easy. I don't want to feel overwhelmed by decorating for Christmas because that really defeats the whole point of the season – of embracing joy and focusing on the people we love most. And the truth is that some years I've gotten so hyper-focused on new ideas for the blog and layers and layers of decorations that I missed some of the joy. I'm allllll joy this year :)
To add just a little sparkle to my Christmas kitchen, I looped a pre-lit garland across the opening between my kitchen and family room (you can see more of the family room HERE).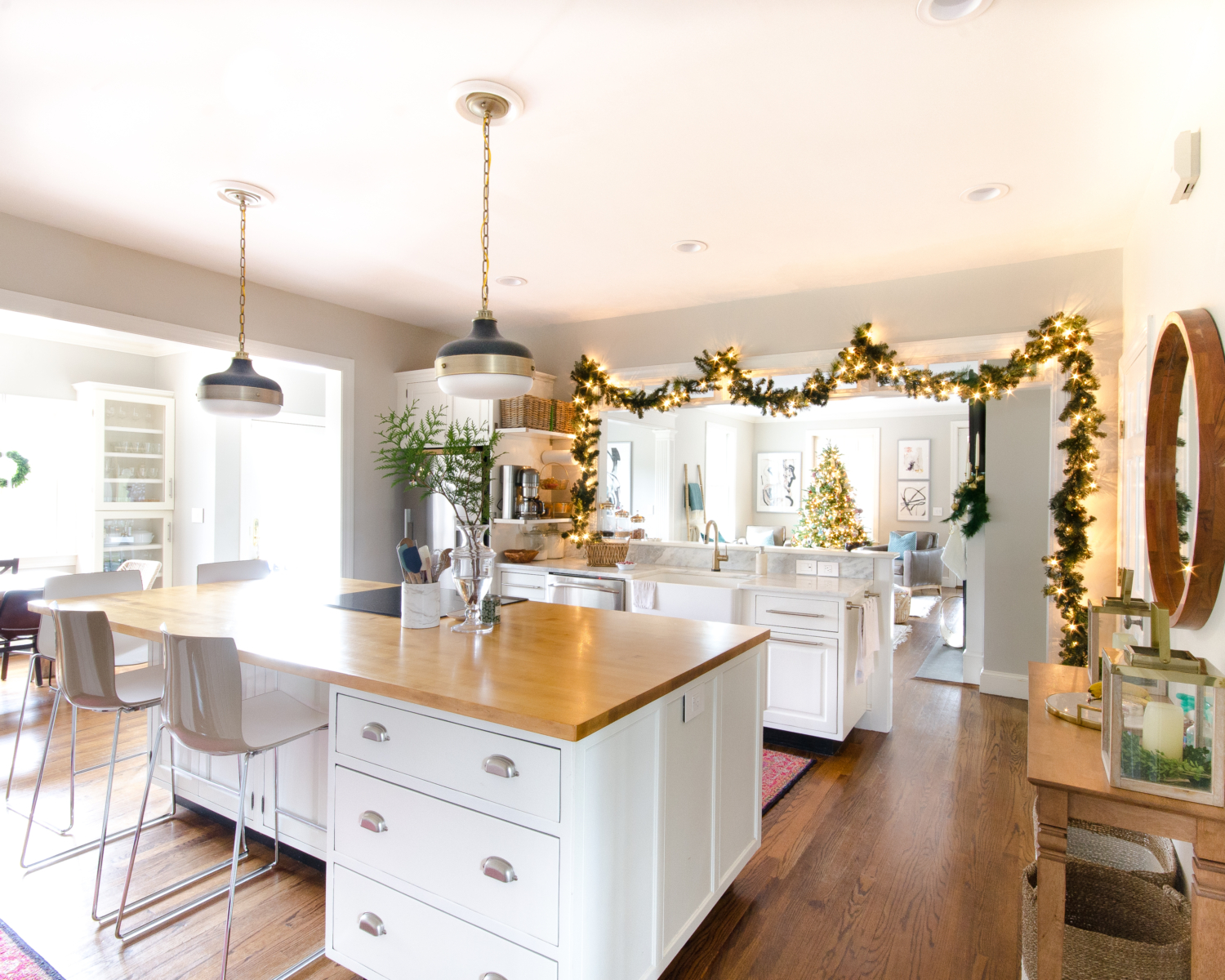 Kitchen pendants
Counter stools
Faucet
Round mirror
In the breakfast nook at the back of the kitchen, I hung some preserved boxwood wreaths in the window and lay a folded blanket on the table as a runner.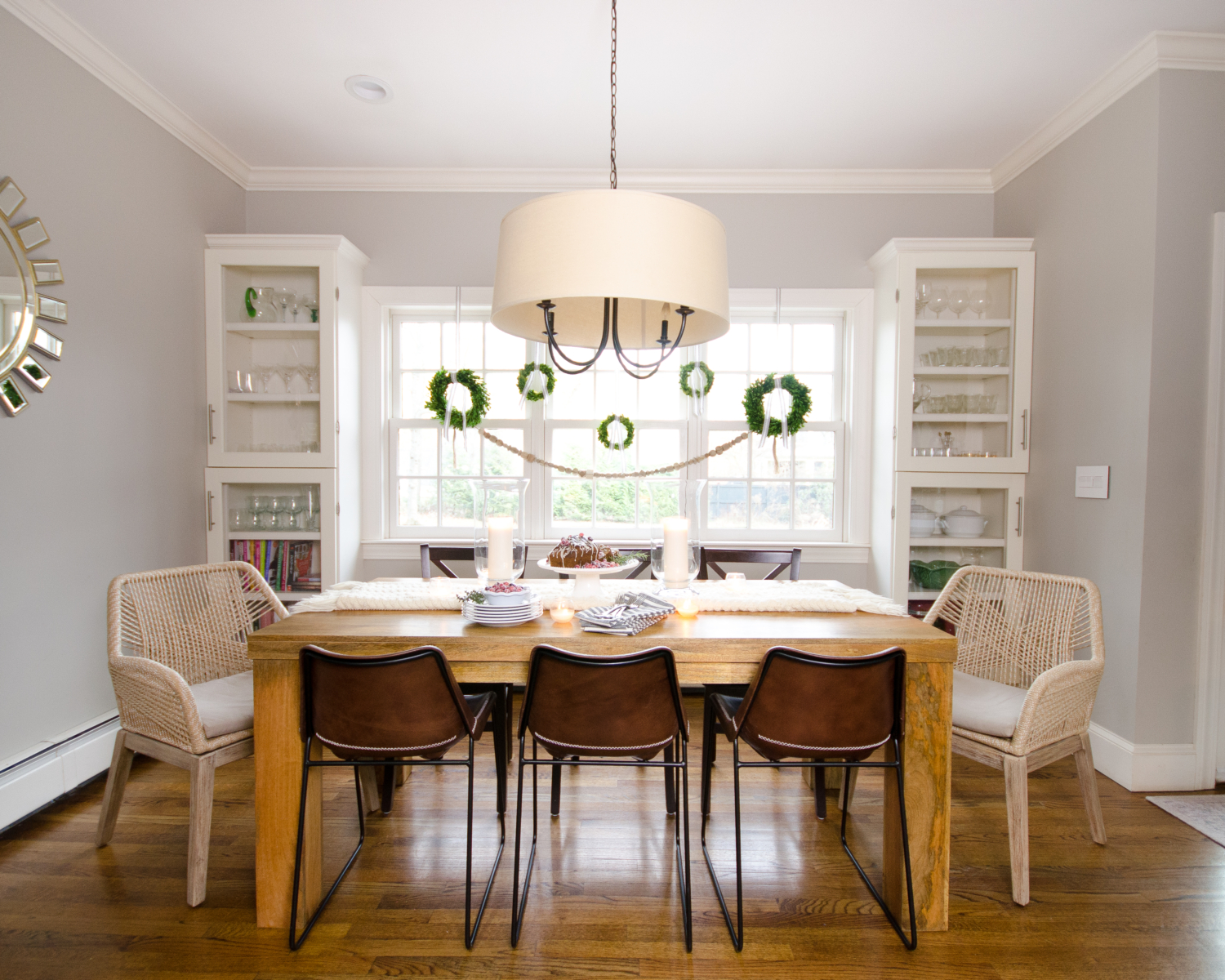 Preserved boxwood wreaths
Drum pendant light
Kitchen table
Rope chairs
Leather side chairs
Striped napkins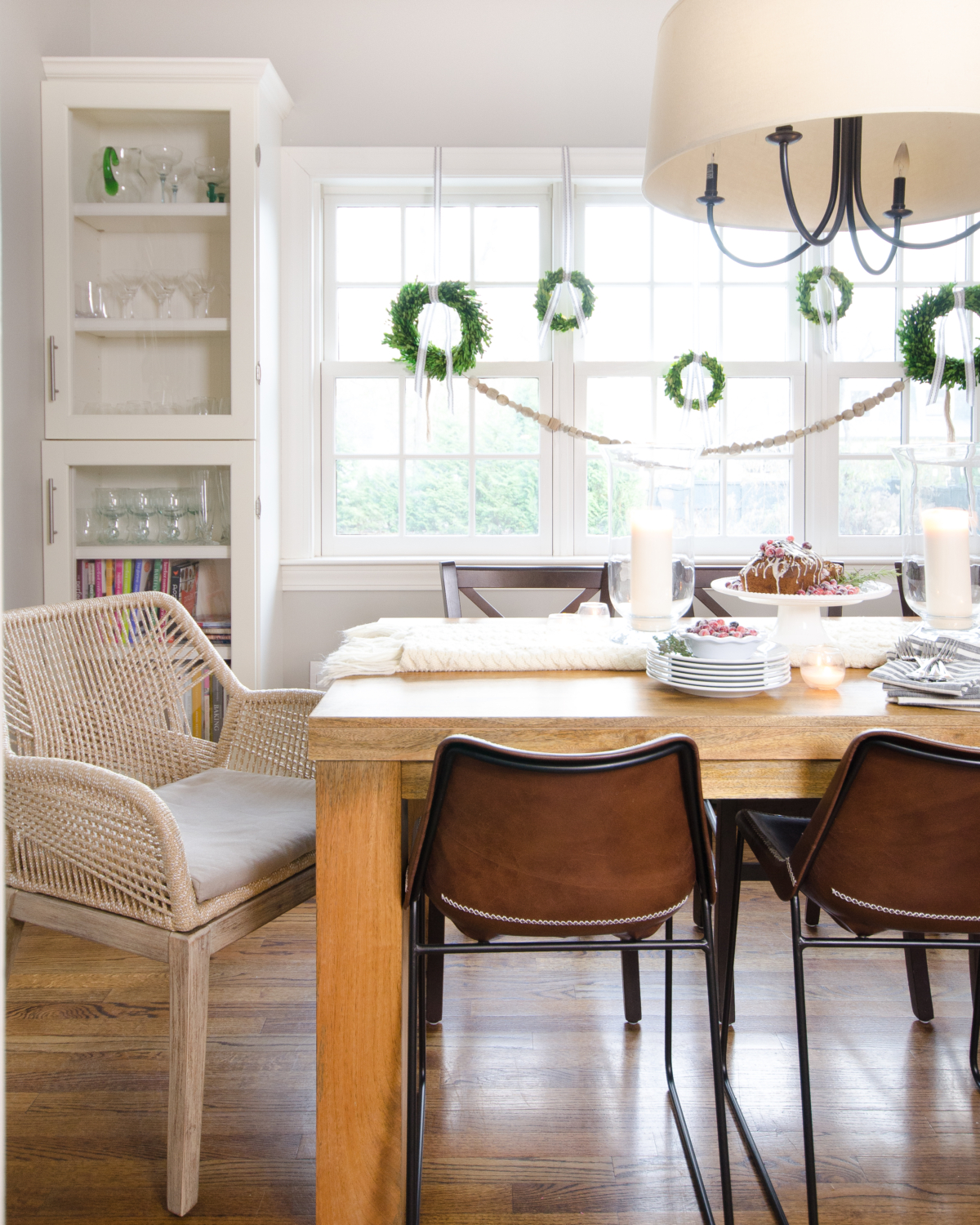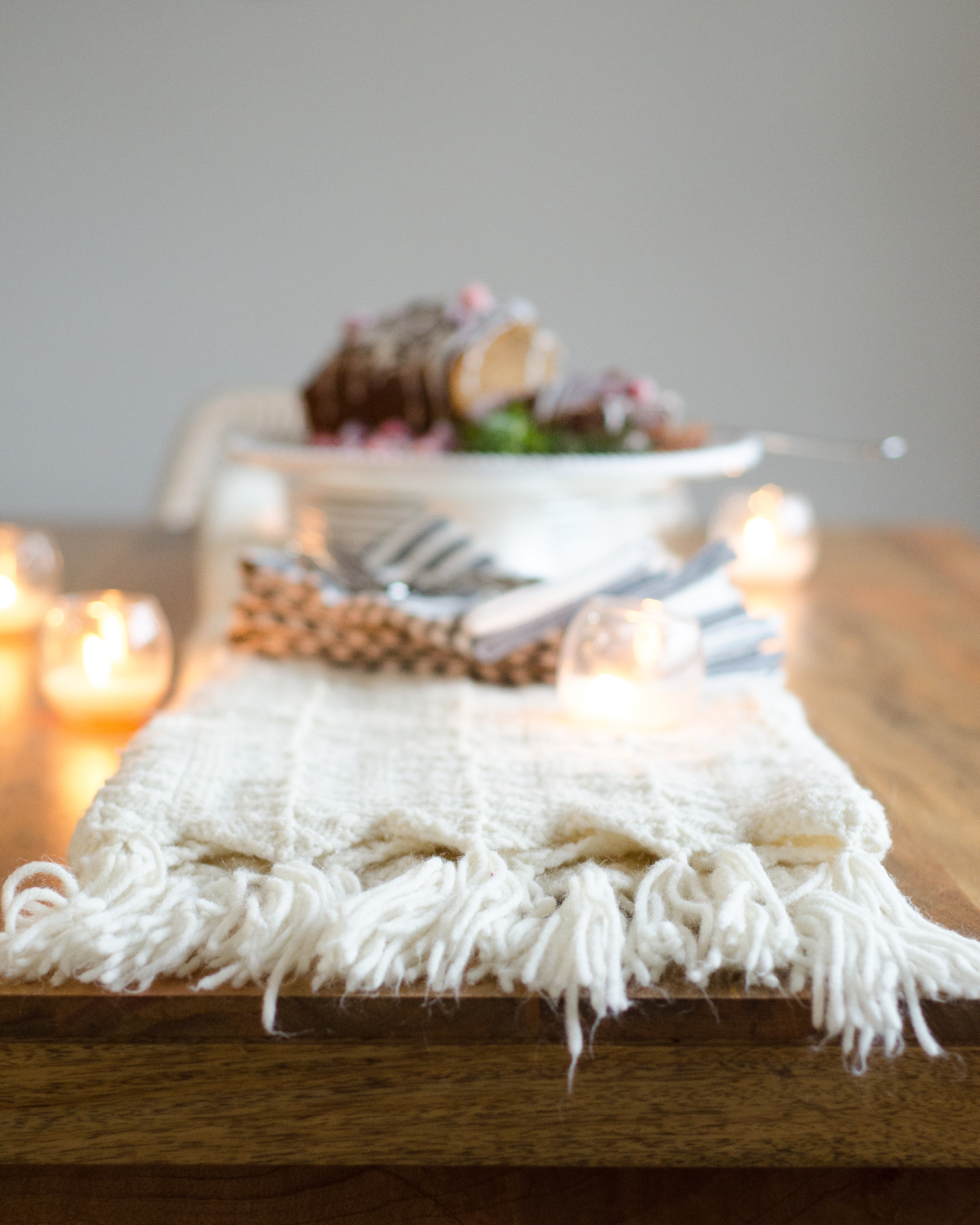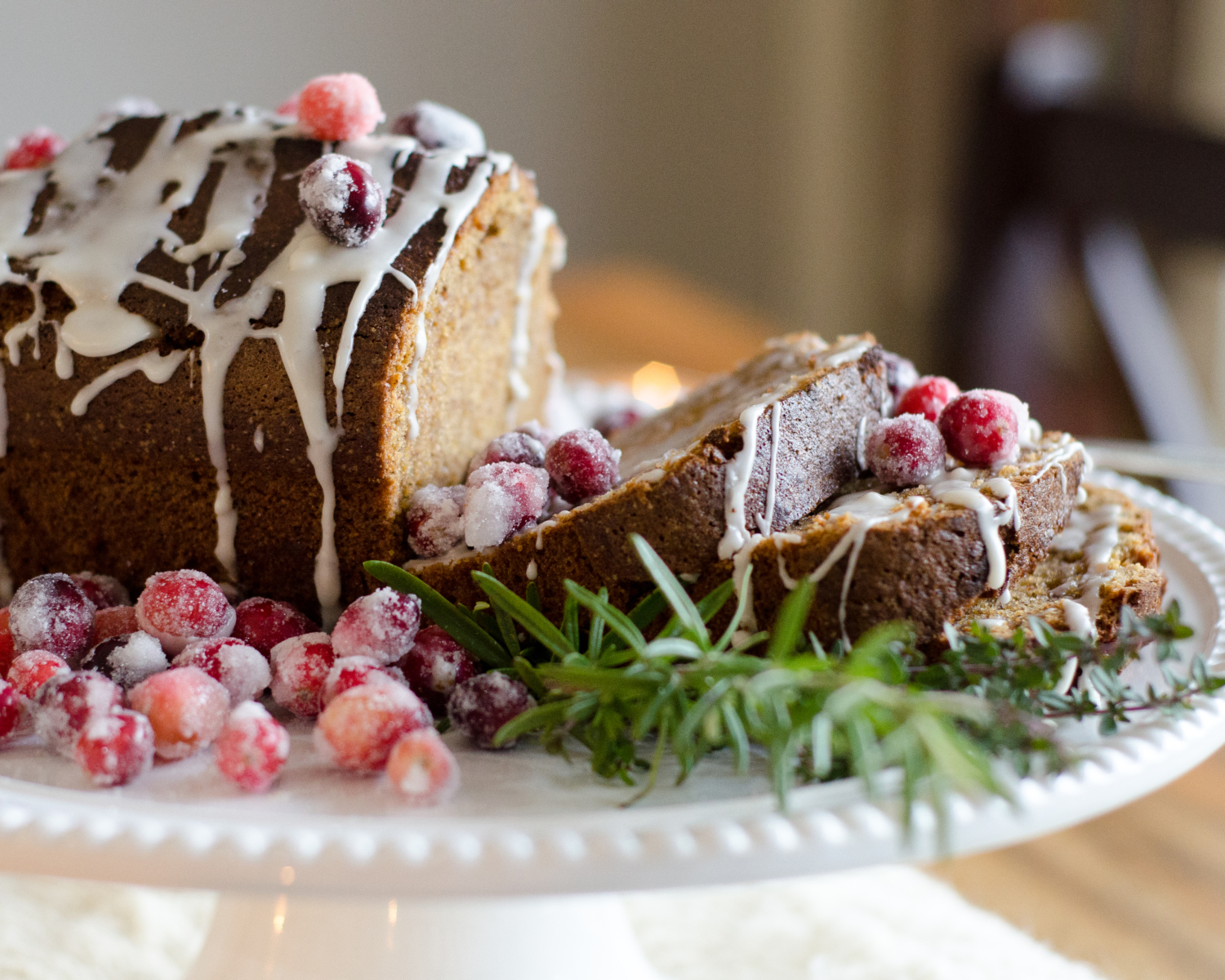 I seriously want to put sugared cranberries on every single Christmas breakfast and/or dessert I make this year. They're so beautiful and super easy to make! The only downside is it's hard not eat half the sheet pan before you top your baked goods!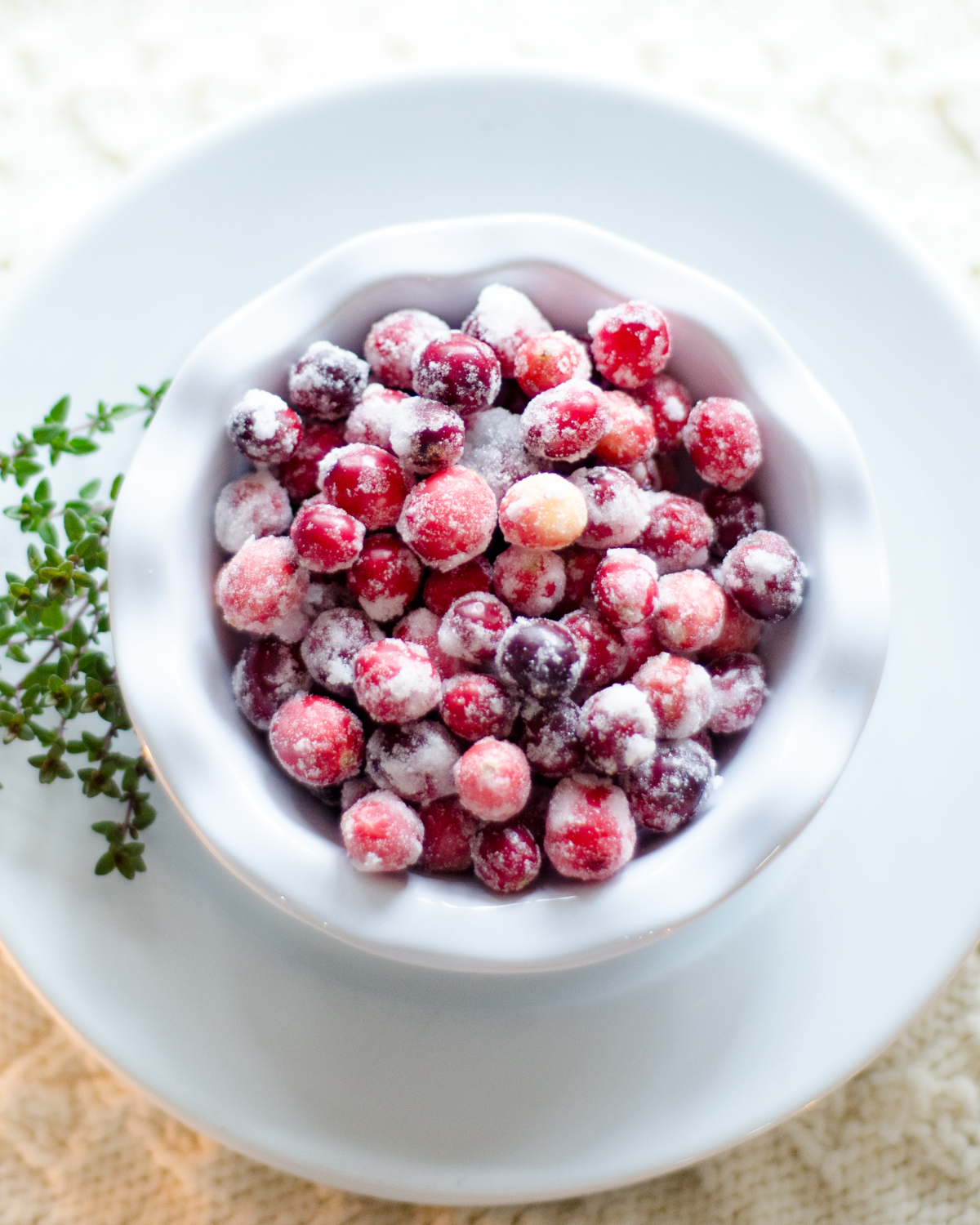 In the dining room I set a really simple table with cute Christmas crackers for the kids during Christmas dinner and a village of my favorite ceramic houses as a centerpiece.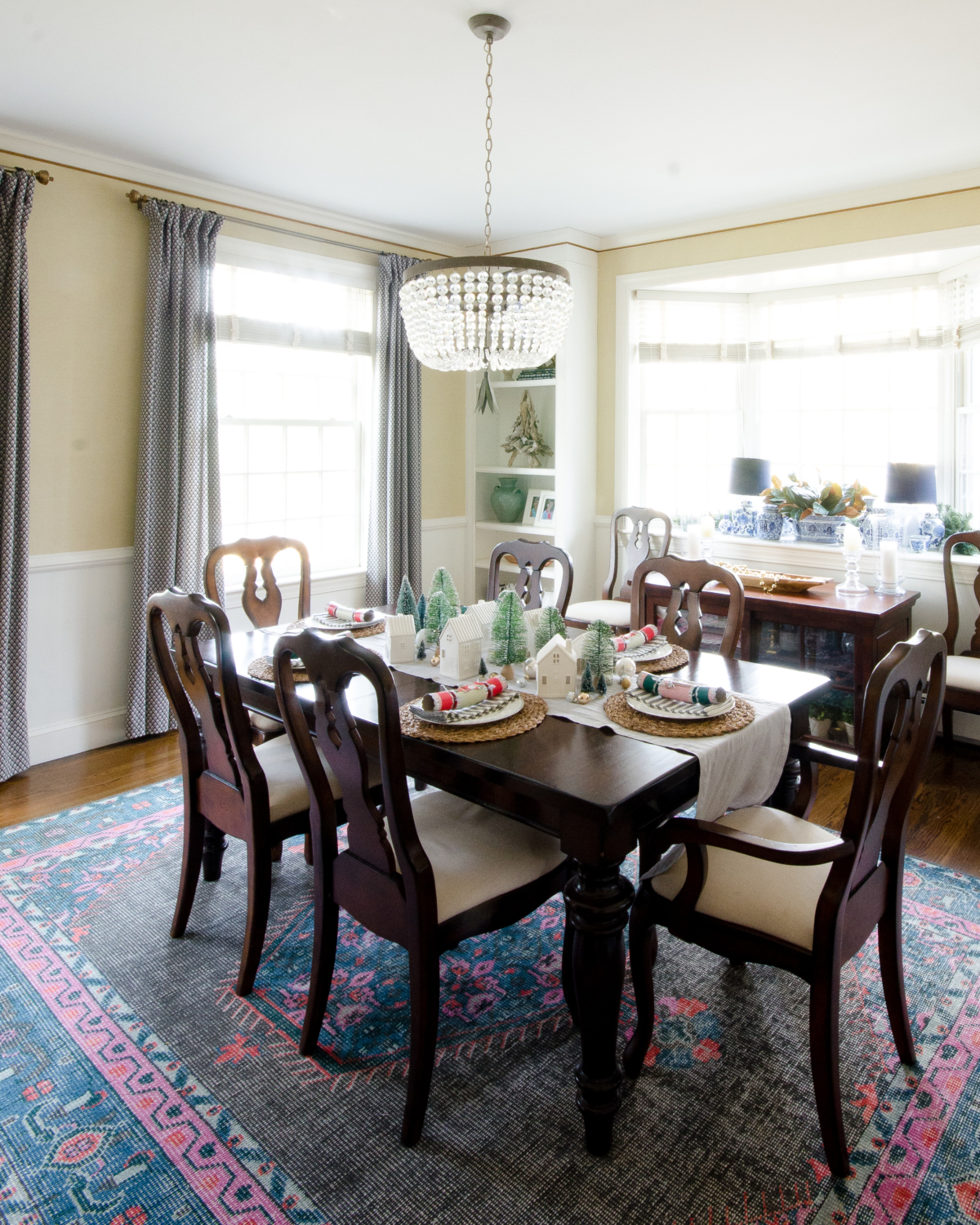 Pendant
Dining table
Dining chairs (similar)
Woven placemats
Striped napkins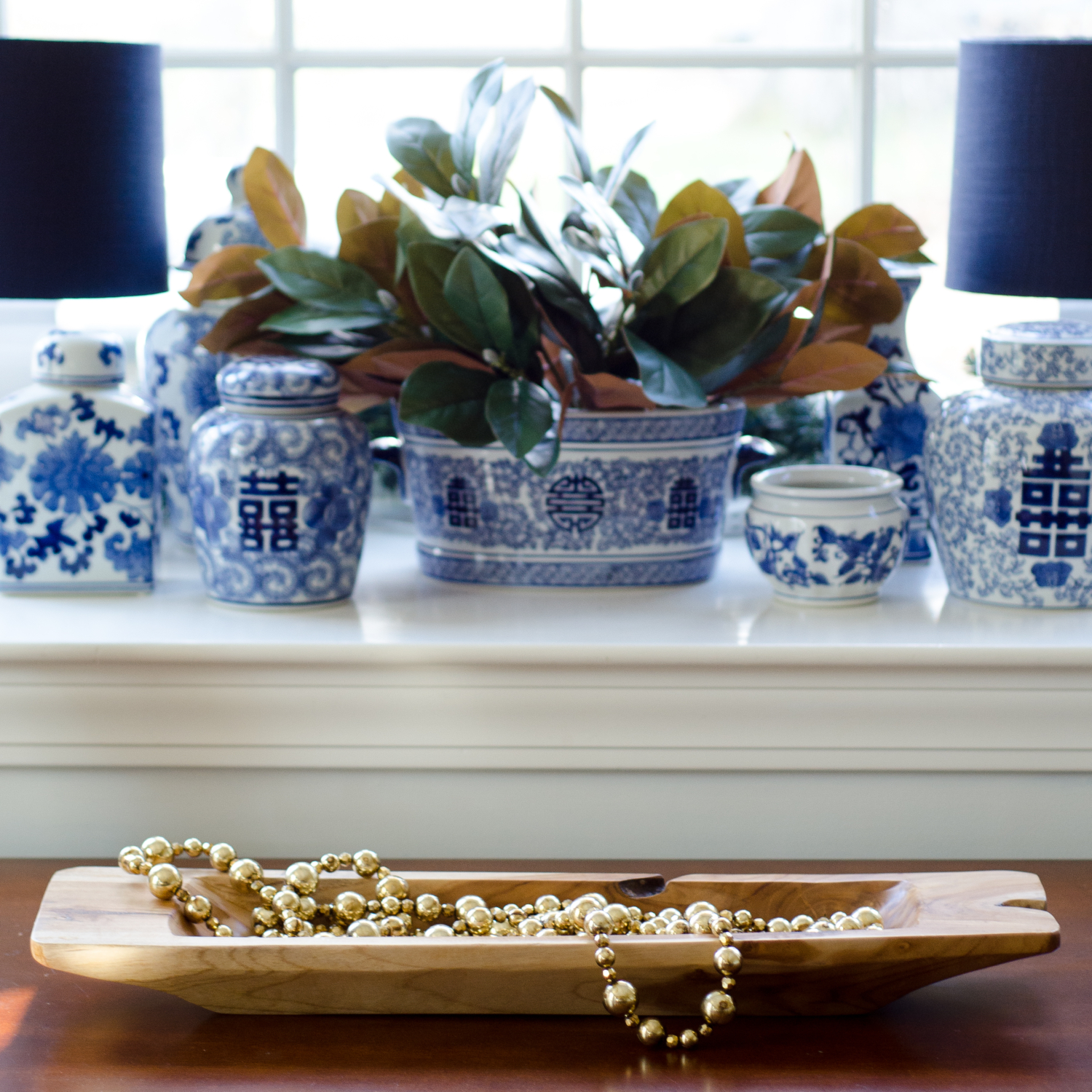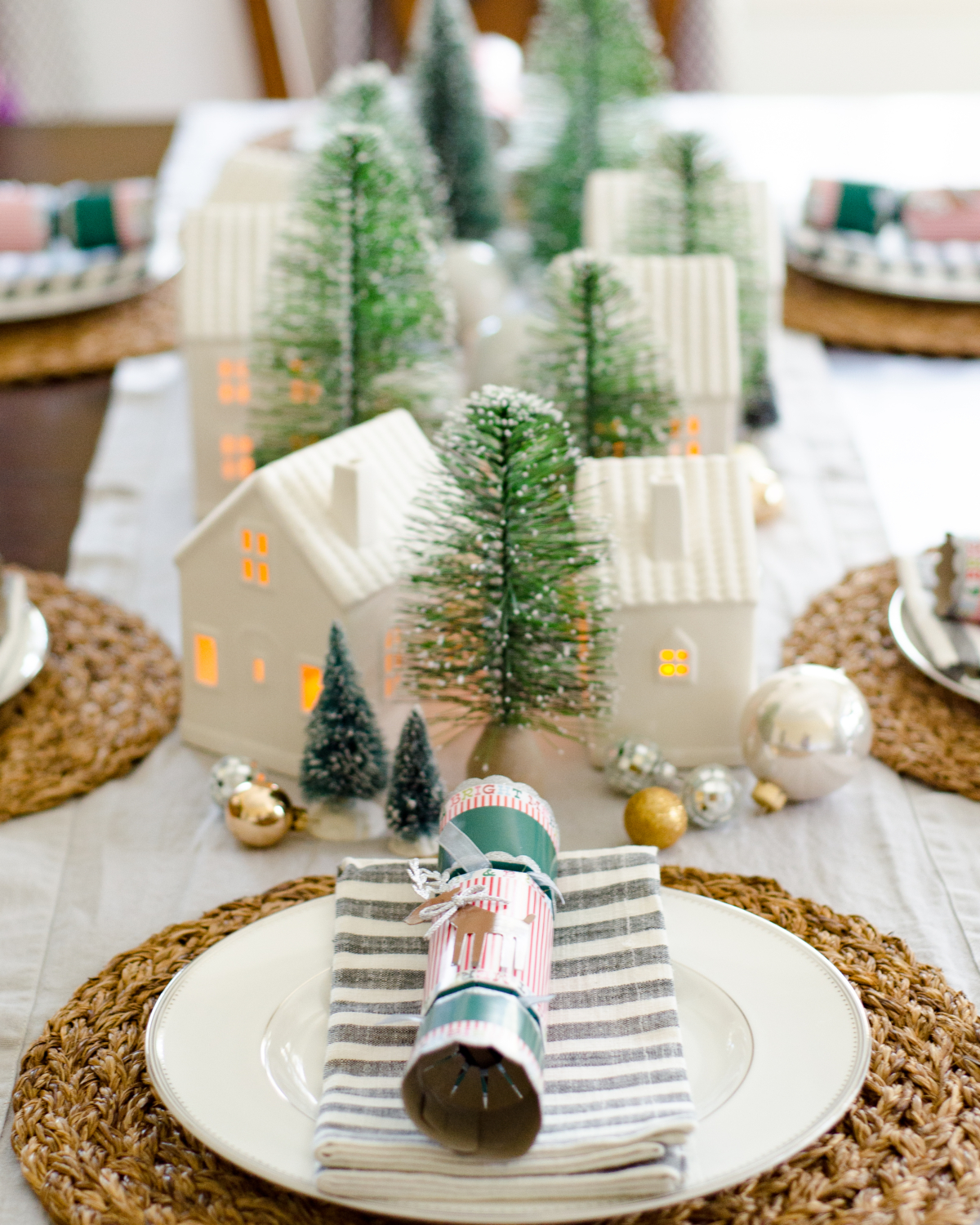 Small ceramic house (similar)
Large ceramic house (similar)
Woven placemats
Striped napkins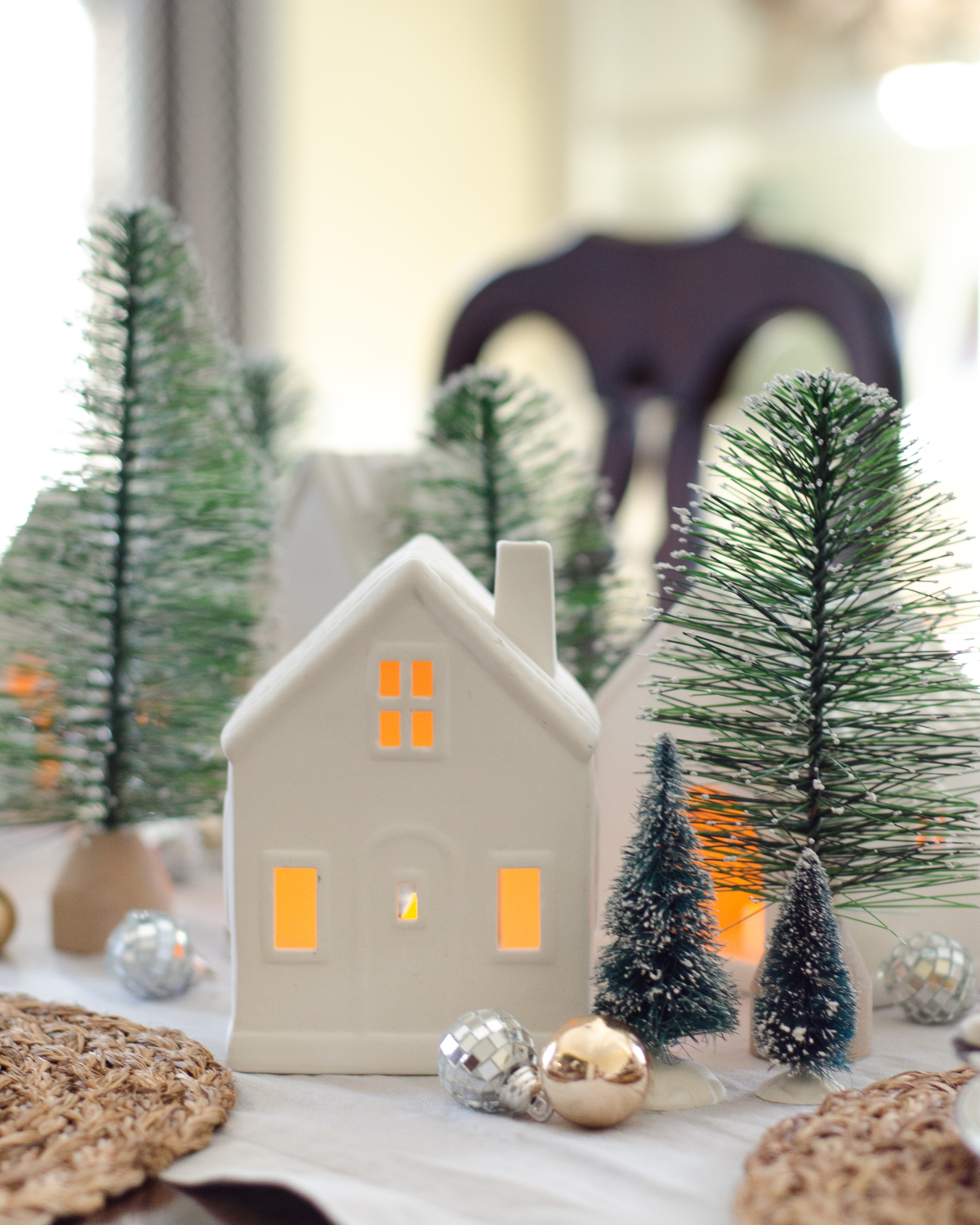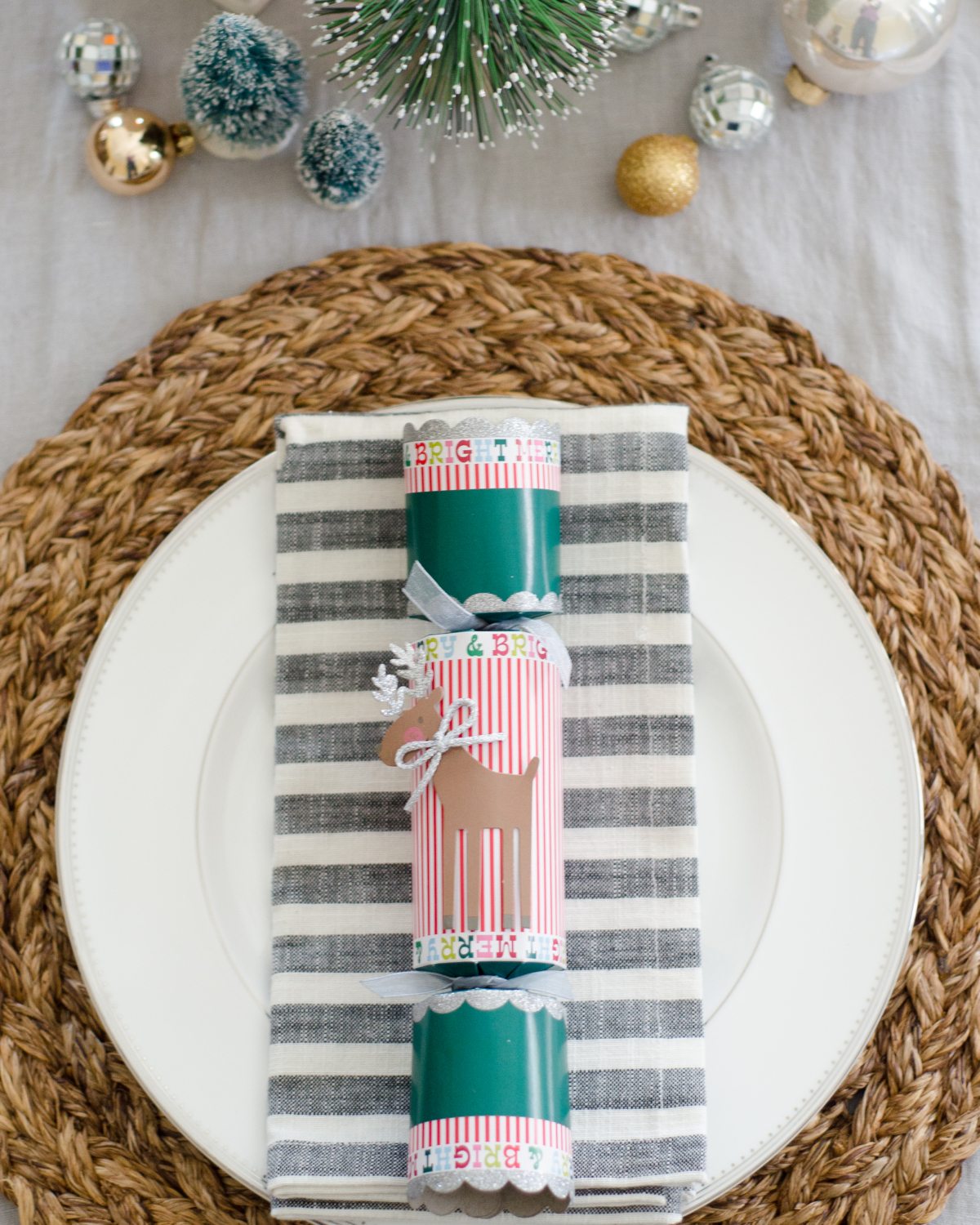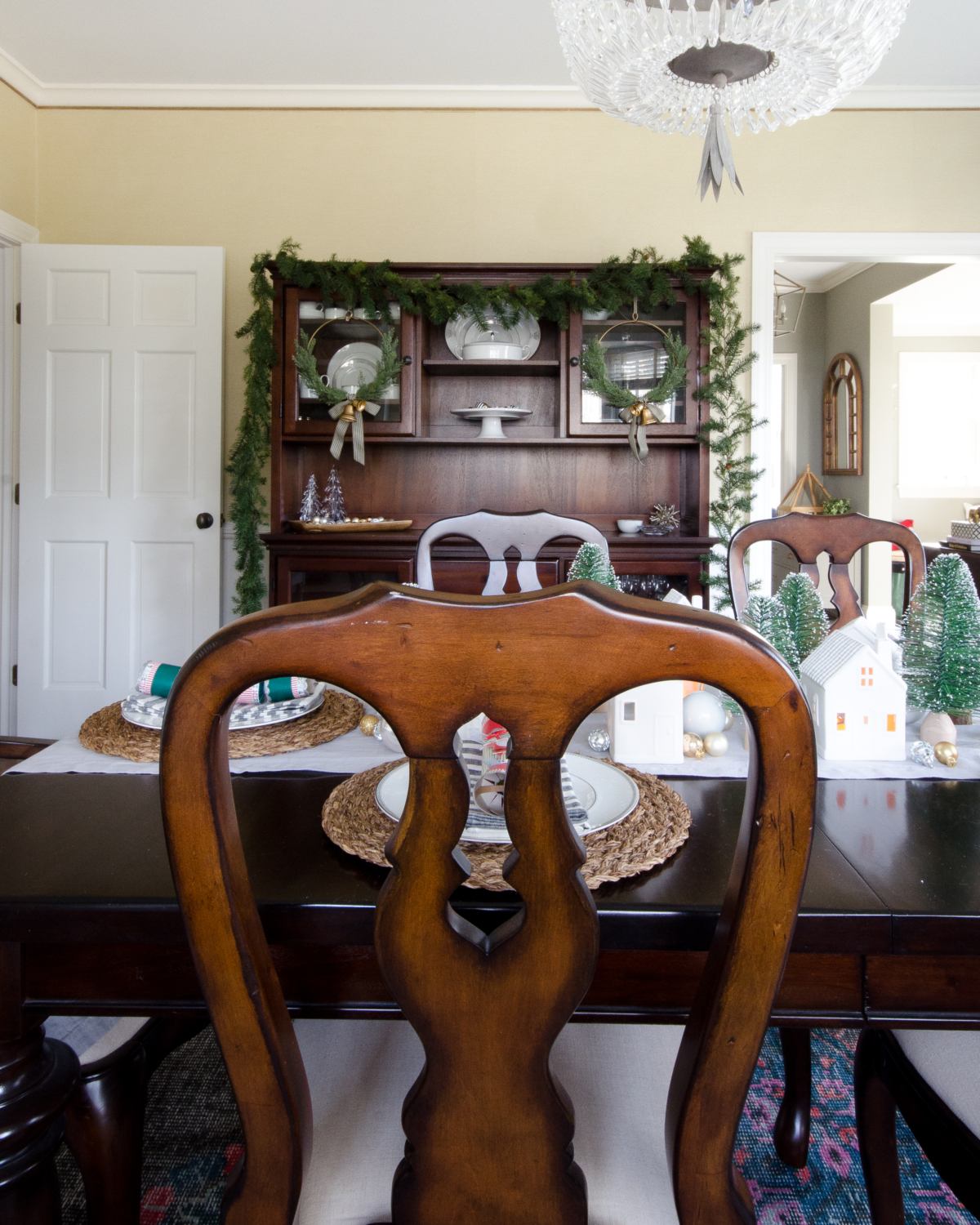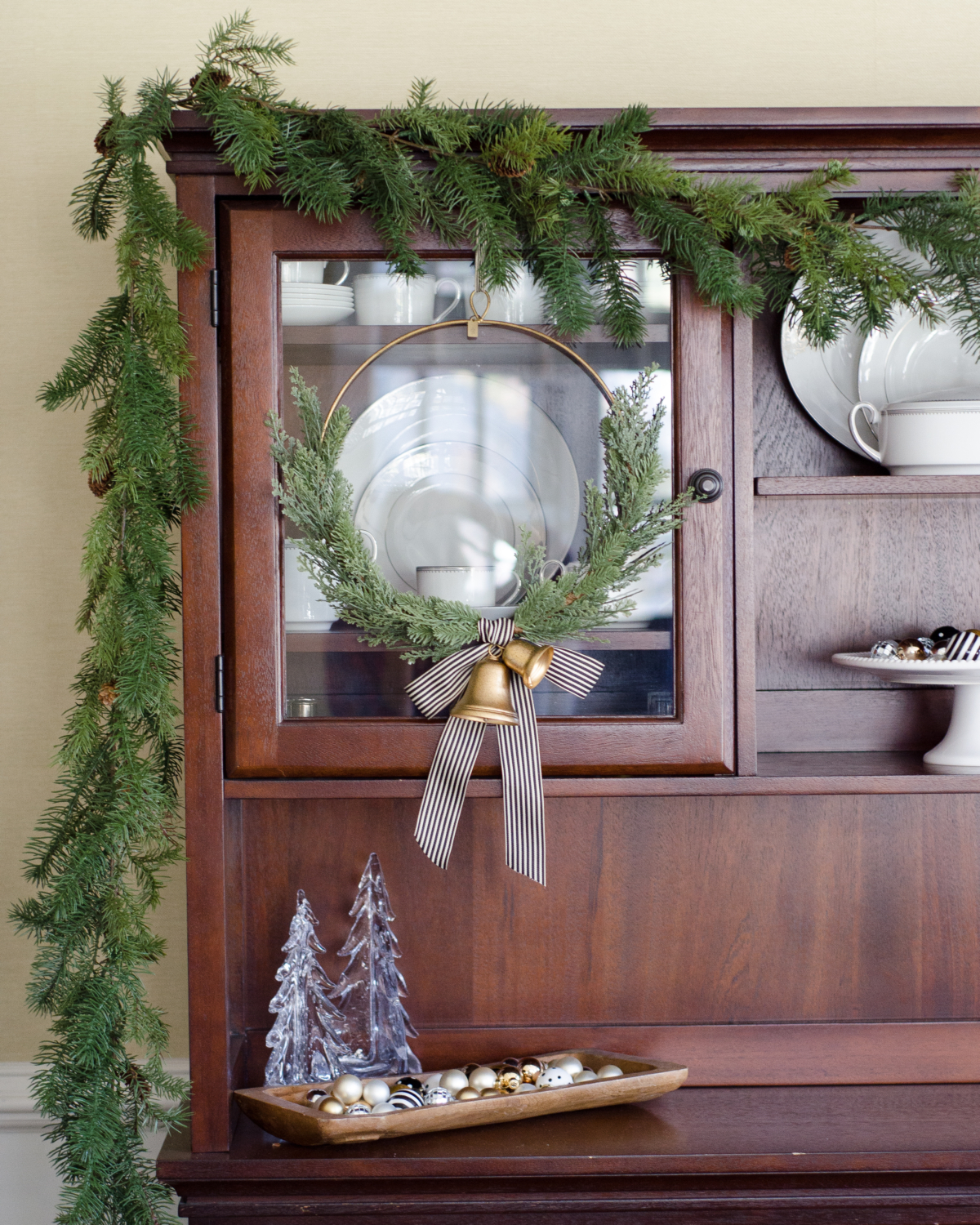 Black and white striped grosgrain ribbon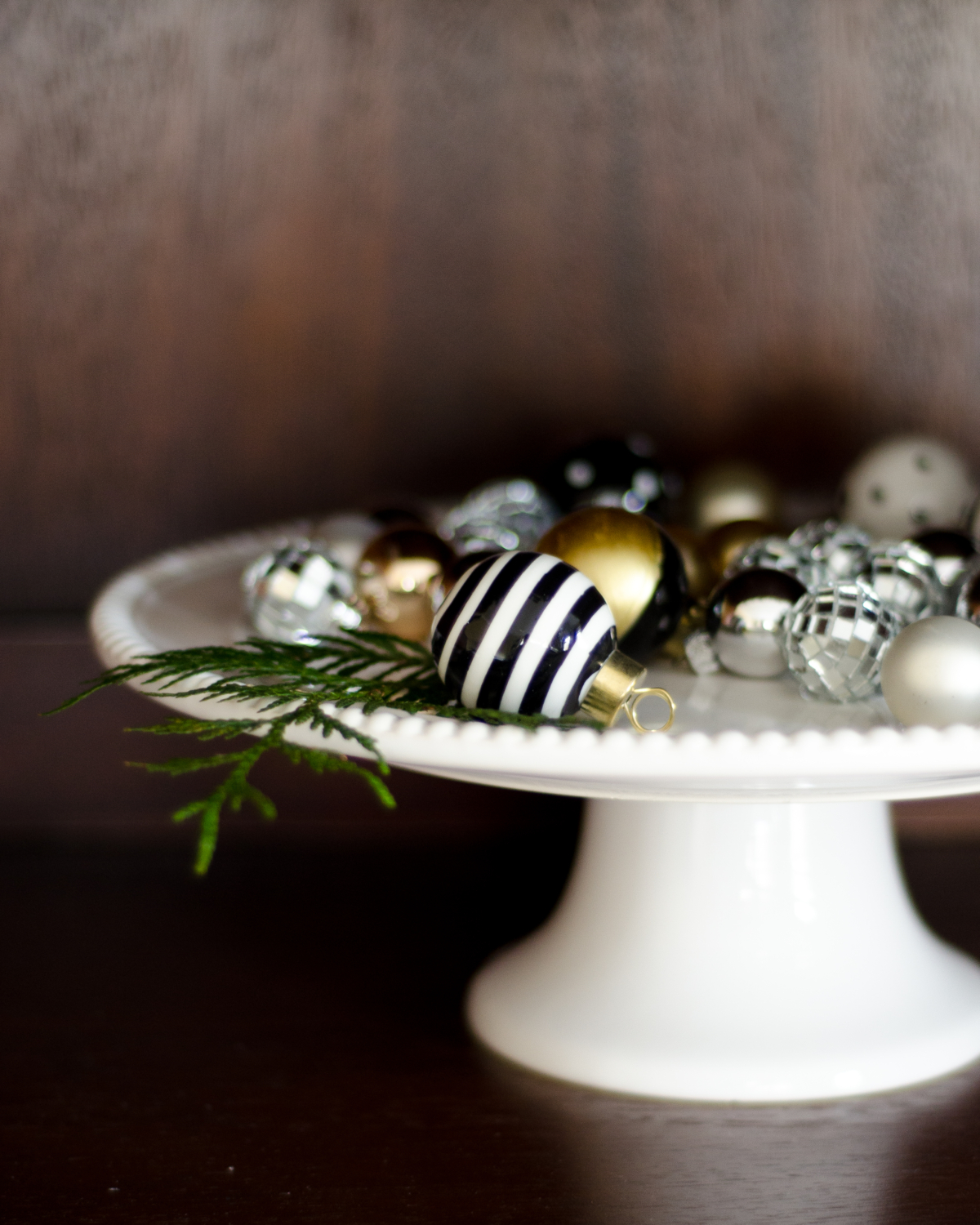 Thank you for joining me this year to see how I decorated my house for Christmas! I hope you found some inspiration for decorating your own home while you were here. Remember you can catch the other two parts of my house this Christmas HERE and HERE in addition to my Christmas kitchen and dining room today. And to continue along with this week's tour head to Christy at Our Southern Home next. Here's the full tour lineup this week
Monday – Dec 4th
Tuesday – Dec 5th
Wednesday – Dec 6th
Thursday – Dec 7th
Friday – Dec 8th