Disclosure: Solay sent me this mattress for review but all ideas and opinions expressed are sincere and my own. I REALLY love this mattress so far!
I was sort of under the impression that everyone had heard of the bed in a box phenomenon by now, but then I was explaining to a friend recently how small the box was that held my new king-sized mattress and she said, "Wait, what?! A whole king sized mattress fit in a box that size? How is that possible???" Honestly…I don't know how it's possible. I don't know how it works to squeeze a full-sized king mattress in a 17″ x 17″ x 46″ box without wrecking it beyond repair. But it is possible and my new mattress from Solay emerged unscathed and perfect when I (carefully) sliced it open last weekend. Most bed in a box mattresses are foam only but Solay offers one of the only bed in a box mattresses that is made of both springs and foam. Using new technology, they're able to compress the springs in a way that keeps them intact and ready to bounce into their proper position when unboxed. See how the whole thing went down in this short video:
If you 
have
heard of this whole bed in a box thing but have always thought it would be crazy to buy a mattress on the internet without actually lying on it first, Solay is for you. Here's why:
Solay lets you sleep on your mattress for 101 nights (more than 3 months) and if you decide the mattress is not for you, can can return it FOR FREE. You read that right. Solay will come pick it up, donate it to a local charity, and issue you a full refund.
All Solay mattresses ship for FREE and are delivered 3-7 days after you place your order.
While most bed in a box mattresses are just memory foam, Solay mattresses are a hybrid of coils and breathable foam. So you get the best of all mattress worlds – support, low bounceability (technically called motion transfer reduction I think but you know what I mean, right?), and cooling properties.
The mattress is designed to suit all sleepers – side, back, and stomach sleepers alike. The adaptive foam and supportive springs are meant to provide comfort and support for everyone.
You can also get 20% OFF any mattress by entering the code JEN20 at checkout on Solay's website. You truly have nothing to lose and everything to gain.
Click HERE to see Solay's mattresses.
And remember…20% off with code JEN20!
I've been sleeping on the new mattress for just a few nights now but I'm a big fan so far. My husband was skeptical but is giving it a try. He's super old school when it comes to mattresses – he's always liked really hard, spring mattresses (which I hate). I was doing a little research and came across this information, which I found helpful in convincing him to give this Solay bed in a box mattress a try.
Remember that foam mattresses are very different from traditional mattresses. Giving your body time to adjust to the feeling is part of owning a foam mattress. As your back and body are now fully supported and you experience less tossing and turning, you may feel a little back tension and stiffness in the first few weeks. However after, you should feel better than ever as there is less pressure on your body and the natural alignment helps decompress your back. This is why it is recommended to try a foam bed for at least 30 days, and why the long trial period proves important. (source)
Of course, with Solay's 101 day money back guarantee, you're all set to try their mattress for three times that period at no risk, since you can return it for a full refund within 101 days of trying it out.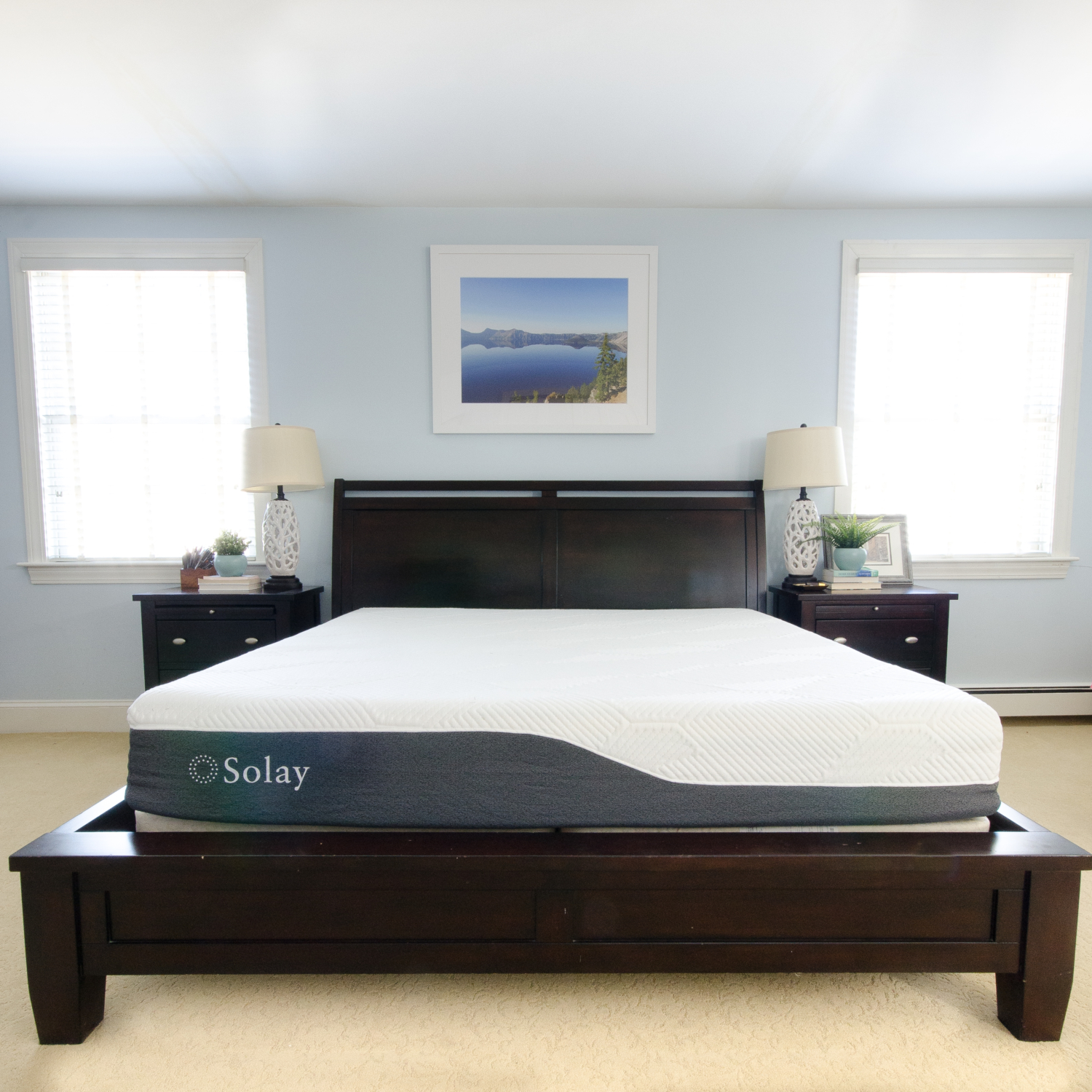 I'm going to circle back with you and write a 30-day review so I can tell you how I'm sleeping on the Solay bed in a box mattress at that point. But so far…I am loving it. I find the mattress super comfortable, soft but still extremely supportive, and I'm especially loving the low motion transfer. My husband tends to be a floppy sleeper and I'm used to getting bounced all over the bed while I'm trying to sleep (I do not love this, even though I'm used to it). I've really noticed how little the mattress moves when he or I shift on it. Just look how happy I am making my new Solay bed in a box mattress.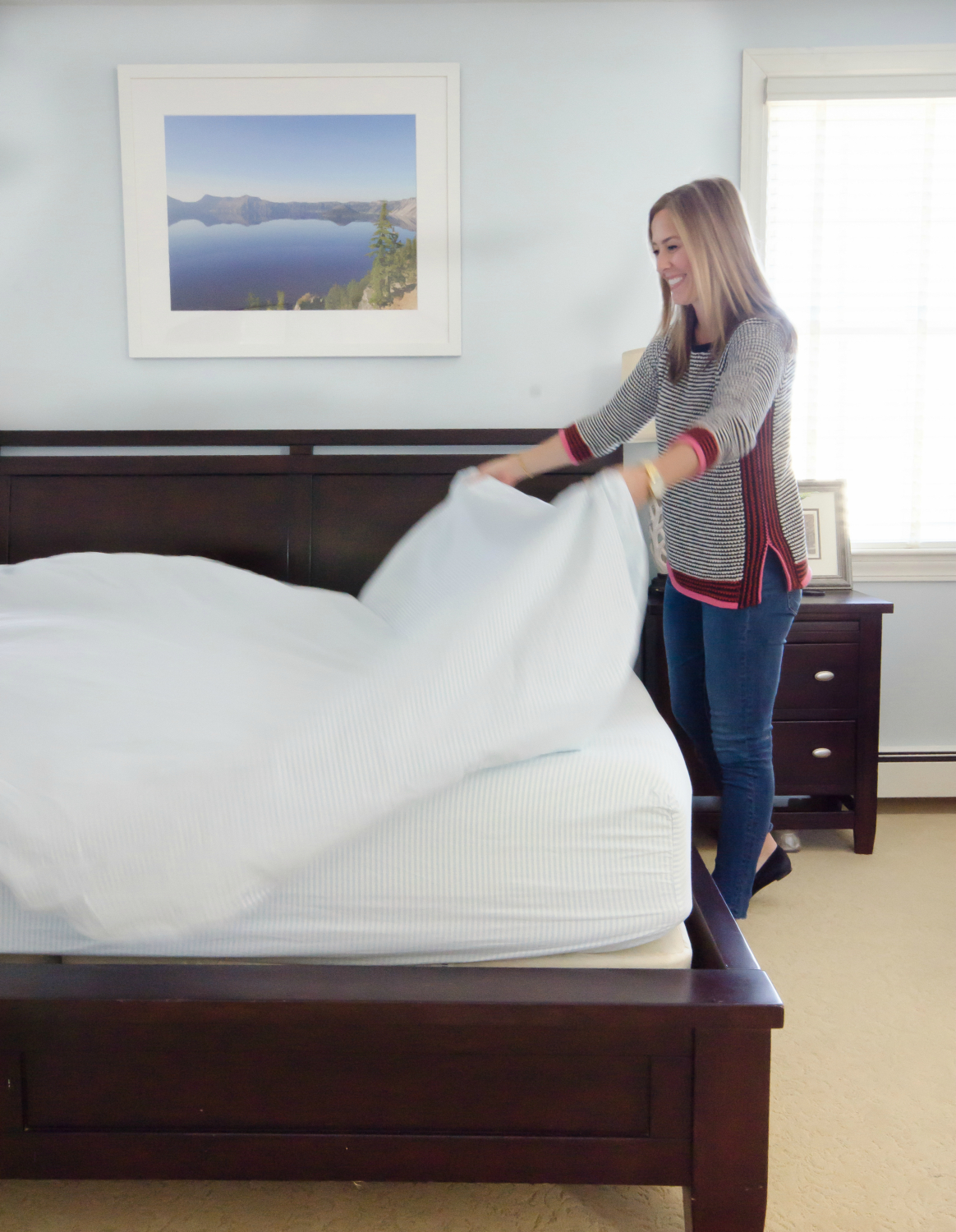 I'll check back in 30 days to give you an update on my Solay bed in a box mattress situation!